MTN, UBA, UNILEVER tick up, investors gain N43 billion
With 18 gainers and 16 losers, most sectoral indices rode on the back of gains by mid and large-cap stocks to close positive.
Nigerian Stocks continued its bullish run at the last trading session of the week. The Nigerian All-Share index rose by 0.24%. Consequently, the year-to-date return advanced to 29.94%.
The All Share Index (ASI), advanced from its opening index of 34,803.00 points to close at 34,885.51 points. The aggregate market value of all quoted equities also increased from its opening value of N18.184 trillion to close the week at N18.227 trillion.
A total volume of 190.2 billion units of shares, valued at N3.33billion exchanged hands in 3,976 deals. TRANSCORP was the most traded shares by volume with 37.4 million units, while MTNN topped by value at N1.79billion.
The NSE Consumer Goods and Oil & Gas indexes leaped by 0.14 and 0.06% respectively. On the contrary, the NSE Insurance and Banking Indexes depreciated by 1.93 and 0.23% respectively while the Industrial Goods Index closed flat.
 With 18 gainers and 16 losers, most sectoral indices rode on the back of gains by mid and large-cap stocks to close positive.  NAHCO (+9.09%) was the top gainer today, while PORTPAINT (+9.09%) led the laggards today.
Top gainers
NAHCO up 9.09% to close at N2.4
FIDSON up 7.25% to close at N5.47
UNILEVER up 5.77% to close at N13.75
UBA up 1.82% to close at N8.4
MTNN up 1.31% to close at N155
Top losers
PORTPAINT down 8.42% to close at N2.61
MANSARD down 6.40% to close at N2.34
NEM down 3.14% to close at N2.47
GUINNESS down 1.55% to close at N19
GUARANTY down 1.13% to close at N35
Outlook
Nigerian stocks recorded gains amid falling oil prices prevailing at the US trading session on Friday.
Major gains by large capitalized stocks that include MTN Nigeria, Unilever, UBA added N43 billion to the Nigerian Stock market capitalization.
Nairametrics envisage cautious buying amid significant price volatility currently in play at the Nigerian Stock market.
Naira remains stable across forex markets as external reserve continues to rise
The Naira remained stable against the dollar at the Investors and Exporters (I&E) window on Friday, closing at N394.67/$1.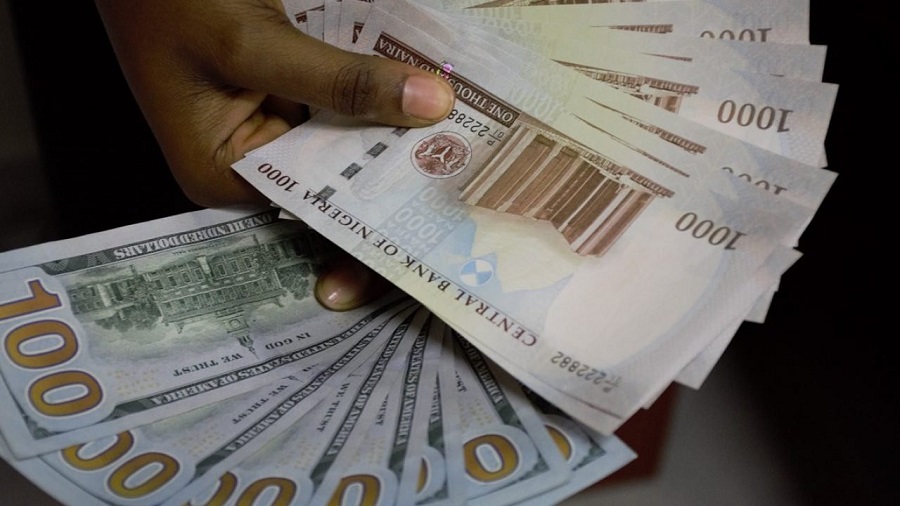 On January 15, 2021, the exchange rate between the naira and the dollar remained stable to close at N394.67/$1 at the NAFEX (I&E Window) where forex is traded officially.
This is exactly the same rate that was recorded the previous trading day, 14 January 2021.
Also, the exchange rate at the black market where forex traded unofficially maintained stability at N475/$1. The exchange rate at the parallel market closed at N475/$1 on the previous trading day of January 14, 2021.
This is as Nigeria's external reserve continues to experience a steady rise.
The exchange rate disparity between the parallel market and the official market is about N80.33, representing a 16.9% devaluation differential.
NAFEX
The Naira remained stable against the dollar at the Investors and Exporters (I&E) window on Friday, closing at N394.67/$1, the same rate that it closed on the previous trading day.
The opening indicative rate was N393.12 to a dollar on Friday, representing a 44 kobo drop when compared to the N392.68 that was recorded on Thursday, January 14, 2021.
The N414.76 to a dollar was the highest rate during intra-day trading before it closed at N394.67 to a dollar. It also sold for as low as N389/$1 during intra-day trading.
Forex turnover at the Investor and Exporters (I&E) window declined by 81.3% on Friday, January 15, 2021.
According to the data tracked by Nairametrics from FMDQ, forex turnover dropped from $215.63 million on Thursday, January 14, 2021, to $40.31 million on Friday, January 15, 2021.
The average daily forex sale for last week was about $169.93 million, which represents a huge increase from the $34.5 million that was recorded the previous week.
The exchange rate is still being affected by low oil prices, dollar scarcity, a backlog of forex demand and a shaky economy that has been hit by the coronavirus pandemic.
Oil price steady rise
Brent crude oil price is currently at $54.88 per barrel on Monday, as it moves towards the $60 mark, a strong sign that global demand could sustain price increases in 2021.
Nigeria's crude oil price benchmark for 2020 was $40 while it projected an oil production output of 1.8 million barrels per day.
Nigeria has a production capacity of 2.5 million barrels per day but is subject to OPEC's crude oil production cuts, which are expected to help sustain higher oil prices.
The higher oil prices and steady production output have positively impacted Nigeria's external reserves, rising sharply to $36.304 million according to central bank data dated January 14, 2020.
This is the highest level since July 2020 and a sign that higher oil prices and steady output levels may be contributing significantly to Nigeria's foreign exchange position.
Nigeria rising external reserves
The external reserve is about 5% off the $38.2 billion held as at this time last year.
Nigeria needs the external reserves to hit $40 billion if it is to adequately meet some of the pent up demand that has piled up since 2020 when oil prices crashed and the pandemic caused major economic lockdowns.
Nigeria is also close to obtaining a World Bank $1.5 billion facility which will boost external reserves when it is disbursed.
Nairametrics understands that the central bank might be required to devalue further and relax some of its capital controls if it is to receive the funds from the world bank.
COVID-19 Update in Nigeria
On the 17th of January 2021, 1,444 new confirmed cases and 15 deaths were recorded in Nigeria
The spread of novel Corona Virus Disease (COVID-19) in Nigeria continues to record significant increases as the latest statistics provided by the Nigeria Centre for Disease Control reveal Nigeria now has 110,387 confirmed cases.
On the 17th of January 2021, 1,444 new confirmed cases and 15 deaths were recorded in Nigeria.
To date, 110,387 cases have been confirmed, 89,317 cases have been discharged and 1,435 deaths have been recorded in 36 states and the Federal Capital Territory. A total of 1.15 million tests have been carried out as of January 17th, 2021 compared to 1.13 million tests a day earlier.
COVID-19 Case Updates- 17th January 2021,
Total Number of Cases – 110,387
Total Number Discharged – 89,317
Total Deaths – 1,435
Total Tests Carried out – 1,154,138
According to the NCDC, the 1,444 new cases were reported from 21 states- Lagos (901), Plateau (136), Kaduna (57), FCT (54), Ebonyi (53), Akwa Ibom (52), Nasarawa (32), Osun (29), Ogun (28), Imo (16), Oyo (16), Edo (15), Kano (14), Rivers (10), Ekiti (7), Borno (6), Abia (5), Benue (4), Yobe (4), Kebbi (3), Anambra (2).
Meanwhile, the latest numbers bring Lagos state total confirmed cases to 40,624, followed by Abuja (14,598), Plateau (6,753), Kaduna (6,178),  Oyo (4,695), Rivers (4,392), Edo (3,261), Ogun (2,859), Kano (2,591), Delta (2,102), Ondo (2,070), Katsina (1,723), Enugu (1,583), Kwara (1,566), Gombe (1,489), Nasarawa (1,301), Ebonyi (1,259), Osun (1,215),  Abia (1,134), and Bauchi (1,107).
Borno State has recorded 865 cases, Imo (857), Sokoto (677), Akwa Ibom (667), Benue (657), Bayelsa (608), Niger (547), Adamawa (540), Anambra (515), Ekiti (473), Jigawa (425), Taraba (258), Kebbi (251), Yobe (211), Cross River (169),  Zamfara (162), while Kogi state has recorded 5 cases only.
READ ALSO: COVID-19: Western diplomats warn of disease explosion, poor handling by government
Lock Down and Curfew
In a move to combat the spread of the pandemic disease, President Muhammadu Buhari directed the cessation of all movements in Lagos and the FCT for an initial period of 14 days, which took effect from 11 pm on Monday, 30th March 2020.
The movement restriction, which was extended by another two weeks period, has been partially put on hold with some businesses commencing operations from May 4. On April 27th, 2020, Nigeria's President, Muhammadu Buhari declared an overnight curfew from 8 pm to 6 am across the country, as part of new measures to contain the spread of the COVID-19. This comes along with the phased and gradual easing of lockdown measures in FCT, Lagos, and Ogun States, which took effect from Saturday, 2nd May 2020, at 9 am.
On Monday, 29th June 2020 the federal government extended the second phase of the eased lockdown by 4 weeks and approved interstate movement outside curfew hours with effect from July 1, 2020. Also, on Monday 27th July 2020, the federal government extended the second phase of eased lockdown by an additional one week.
On Thursday, 6th August 2020 the federal government through the secretary to the Government of the Federation (SGF) and Chairman of the Presidential Task Force (PTF) on COVID-19 announced the extension of the second phase of eased lockdown by another four (4) weeks.
Governor Babajide Sanwo-Olu of Lagos State announced the closed down of the Eti-Osa Isolation Centre, with effect from Friday, 31st July 2020. He also mentioned that the Agidingbi Isolation Centre would also be closed and the patients relocated to a large capacity centre.
Due to the increased number of covid-19 cases in Nigeria, the Nigerian government ordered the reopening of Isolation and treatment centres in the country on Thursday, 10th December 2020.
READ ALSO: Bill Gates says Trump's WHO funding suspension is dangerous
FG yet to purchase Covid-19 vaccines – Minister of State for Health
According to a disclosure made by the Minister of State for Health, the FG is yet to purchase any COVID-19 vaccine.
The Federal Government has said that it is yet to purchase any Covid-19 vaccines as the country is still assessing the prices of different shots, their availability and the logistics required for a nationwide roll-out.
This is coming at a time when developed economies are rolling out the vaccines in their countries and concerns have been raised about the availability of the Covid-19 doses in the African continent.
This disclosure was made by the Minister of State for Health Adeleke Olurunnimbe Mamora, during a telephone interview with Bloomberg.
What the Minister of State for Health is saying
Mamora said that once the government determines which vaccines are accessible and affordable, authorities then have to consider storage and distribution issues as they prepare to give shots to 200 million people.
He said, "We haven't made any purchases at this point in time.'' He added that the government expects to have a definitive plan by the end of January.
Nigeria is working with the World Health Organization backed COVAX programme and hopes to receive its first doses in January. The Minister for Finance, Budget and National Planning, Zainab Ahmed, had said that the country is working on what type and quantity of Covid-19 vaccines to procure and financial provision will be made in the 2021 budget for the vaccines.
COVAX is a global initiative backed by the World Health Organization which aims to provide equitable access to Covid-19 vaccines, especially to poor countries.
What you should know
It can be recalled that Bloomberg had reported that experts and a state governor had expressed doubts about the ambitious plan by Nigeria to vaccinate as much as 40% of its population this year due to lack of resources and infrastructure.
The Chief Executive Officer of Nigeria's National Primary Health Care Development Agency, Faisal Shuaib, said on Thursday the country expects to receive 100,000 doses of Pfizer Inc's shot at the end of January through the Covax initiative.
Nigeria has officially reported 107,345 Covid-19 cases, with 1,413 casualties, but testing is not easily accessible for most people, with only about 1.1 million tests conducted so far.