FG proposes additional tax exemption for small businesses
The FG has proposed, in the draft Finance Bill 2020, the exemption of small businesses from payment of tertiary education tax.
The Federal Government has proposed the exemption of small businesses from the payment of Tertiary Education Tax (TET), which is being collected by the Federal Inland Revenue Service (FIRS) in the new draft Finance Bill 2020.
This disclosure was made by the Chairman, Drafting Sub-committee and member of Fiscal Policy Reforms Committee, Mr Ajibola Olomola, at a virtual consultation and stakeholder engagement on Friday to discuss the economic and fiscal policy drivers underpinning the bill.
According to a report from Punch, the Fiscal Policy Reforms Committee which is chaired by the Special Adviser to the President on Economic Matters, Dr. Adeyemi Dipeolu, pointed out that currently, all companies registered in Nigeria are required to pay TET at 2% of assessable profits for each year of assessment.
Mr Ajibola Olomola said the proposal for Finance Bill 2020, "is to introduce an amendment to the Tertiary Education Tax Act, to exempt small businesses from Tertiary Education Tax.''
He said that this is part of the measures and incentives being introduced by the Federal Government to assist small businesses.
Going further, Olomola said, "The Finance Bill 2020 will include certain provisions that allow the tax authorities to deploy information technology for the collection of taxpayer information of tax and reduce the cost of collection.
"In light of this proposal, stringent rules are also proposed to secure taxpayer confidentiality from unauthorized access by third parties. The Finance Bill 2020 will look to introduce significant penalties for breach of data confidentiality by tax officials."
Why this matters
This new proposal from the Federal Government comes at a time most businesses especially small enterprises are still battling with the devastating effect of the coronavirus pandemic. This is expected to help mitigate the impact of the VAT rate increase on small vulnerable businesses.
What you should know
Nairametrics had reported that the Federal Government provided some tax incentives to small businesses in the 2019 Finance Bill, which was signed into law by President Muhammadu Buhari. Some of these tax incentives include reducing corporate tax rate from 30% to 20% for MSMEs, with turnover of between N25 million and N100 million per annum, exempting micro-businesses with a turnover of less than N25 million per annum from corporate tax payment.
The Minister of Finance, Budget and National Planning, Mrs Zainab Ahmed, said that during the 2021 budget presentation, President Buhari indicated that the Finance Bill, "is to support the realization of our 2021 revenue projections and that we will be adopting appropriate counter-cyclical fiscal policies that will enhance the efficiency of fiscal incentives."
JAMB bans use of email by candidates for UTME, DE registration
JAMB has announced that candidates for the UTME and Direct Entry will no longer be required to provide their email addresses at the point of registration.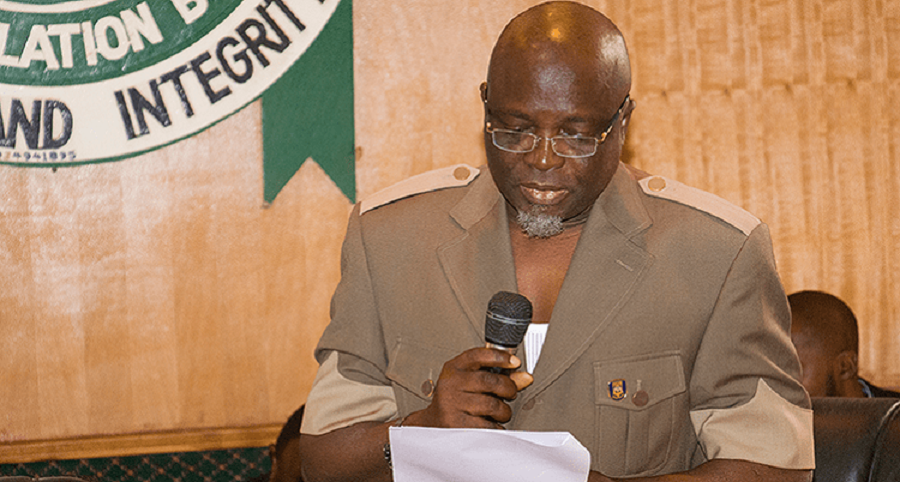 The Joint Admission and Matriculation Board (JAMB) has announced that candidates for the Unified Tertiary Matriculation Examination (UTME) and Direct Entry will no longer be required to provide their email addresses at the point of registration.
The new adjustment is to protect candidates from various forms of manipulation and distortion of their personal details by some fraudulent cyber café operators.
The Registrar of JAMB, Prof. Is-haq Oloyede, who made the disclosure while addressing newsmen at the board's headquarters on Wednesday in Bwari, Abuja, said the change, would take effect from Thursday, April 15, 2021.
What the JAMB Registrar is saying
Oloyede said, "They gain access to profiles of these candidates under the pretense of creating an email address for them. Then they change and block the candidates from receiving messages from the board. They also extort them after they change their passwords.
In view of this, the board has come up with adjustments to our operations. The first decision is that beginning from Thursday, April 15, candidates would no longer be required to provide any email address during registration from this year onwards.
It is by going to these cyber cafes to open emails that these candidates are open to abuse and stealing of their personal data,'' he said.
He said that the board now had a mobile app that would allow candidates to deal directly with the board with their smartphones or via SMS to '55019' code option.
The code option, he explained, would allow candidates to check admission status as well as all other verifications via SMS.
He said, "Printing of examination slips, results notification or raising tickets can be done anywhere by using candidates' registration number only. However, at the close of registration every year, we would need the email addresses of the candidates so we can have access to as many of them as possible.
At the conclusion of registration, candidates are expected to send their email addresses through the mobile app or text message to the 55019 code twice, for validation. This is to update their profile with JAMB as the email will no longer be used as access to their profile, but rather as a communication tool with candidates.''
While advising candidates to guard their phones with utmost care as it was the weapon for all transactions, Oloyede said that henceforth, all JAMB owned Computer-Based Tests (CBT) centres across the country, would only allow candidates with ATM cards into its centres.
He said that in order to cut down on the activities of fraudsters who hijack candidates to extort money from them, the centres would no longer allow candidates go outside the centres to pay for their e-pins and other cash transactions.
The JAMB Registrar said, "Only candidates with ATM cards will be allowed into all JAMB owned CBT centres, it can be that of their parents as long as they have the pin for the transaction.
"Those without ATM cards can go to other privately owned CBT centres where they can pay cash to register but we will not take cash or transact outside our centres.''
What you should know
Meanwhile, in a related development, JAMB had said that the board lost over N10 million in 2020 to activities of fraudsters who penetrated their payment portal for ad-hoc staff.
The JAMB Registrar said that the money, which was meant to pay JAMB ad-hoc staff from the 2020 Unified Tertiary Matriculation Examination (UTME), was hijacked by the suspected fraudsters.
JAMB had a few days ago confirmed the commencement of registration for the 2021 UTME/DE examinations after the initial hiccup.
It stated that applicants must provide NIN at the point of registration with the registration by Direct Entry candidates to run concurrently with that of UTME candidates.
FG grants 8 barge operations licenses as cargo movement to Onitsha port, others set to commence
The government is likely to generate billions of naira in revenue from the movement of cargo from Lagos ports to other inland ports across the country.
The Federal Government has issued operating licences to about 8 barge operators to move containers from Lagos Ports to Onitsha River Port and other inland ports through the country's inland waterways.
This is as the government is likely to generate billions of naira in revenue with the planned movement of cargo from Lagos ports to Onitsha River Port and other inland ports across the country.
According to a report from Thisday, the Federal Government would likely generate as much as N30 billion annually from that operation if well managed, although the Nigerian Inland Waterways Authority (NIWA) is yet to make the estimated revenue from the effort public so as not to jeopardize the project.
This is coming after some government officials had in August 2020, announced that some government maritime agencies are working on modalities for the commencement of transportation of containers from Lagos ports to Onitsha River port through barges.
The Managing Director of NIWA, George Moghalu, at a meeting with the stakeholders in Lagos, said that moving cargoes by waters through barges would be cheaper than roads adding that the initiative was part of ongoing efforts to solve the gridlock in Lagos ports.
What the Managing Director of NIWA is saying
He said that NIWA management decided to have a meeting with the barge operators that it has already licensed to fashion out ways to make the project successful.
Moghalu specifically said, "So it is all about moving cargo between Lagos and Onitsha and other inland ports. We have licensed about eight barge operators. A lot of people have applied but we are being very careful because we have the Standard Operating manual, which we strictly insist that you have to meet all the requirements. At the same time also we do not lose sight of the fact that NPA also licenses barge operators. We try to synergise our operations so standards are not compromised."
He said the use of the nation's waterways would save the country's decaying infrastructure and the money spent on repairing and rebuilding them and increase revenue generated by the government.
On the security of cargo, the NIWA boss said: "Even on the road, there are security challenges. So, there are security challenges everywhere and there is no way we would discuss the movement of cargoes without looking at the security challenges. There's a case of getting everybody involved, the Navy, Police, the NIWA Police, Marine Police and even the local communities because security is everybody's concern and we all have to address it."
He pointed out that the charges for using the waterways would be cheaper than moving cargoes by road as the modalities for moving cargoes from Lagos to Onitsha is being worked out.
He said, "People are creating unnecessary fear about insecurity, when I came into the office and made up my mind to explore the possibility of using our inland waterways, everybody discouraged me. Then we did a trial run using Onne to Onitsha and it worked.
It is about identifying the channel, and surveys on a regular basis. We have our report guiding those that are going to use it and they will use it. I don't want to be discouraged and I don't want anything to dampen my enthusiasm like the enthusiasm of those working with us, the channels are navigable and the consignment will move."
In case you missed it
The National Inland Water Ways Authority had last month, made public its intention to move 1000 containers per trip from Lagos ports to Onitsha river port within a maximum duration of 4 days.
It said that the idea of hauling containers from Lagos ports via Burutu Ports to Onitsha River Port is to deliberately avoid the two small bridges of Gbarekolo and Bumandi, which are too tiny and shallow for sea-moving badges or vessels to ply.
Nairametrics | Company Earnings
Access our Live Feed portal for the latest company earnings as they drop.