FCMB Wins "Best SME Bank in Africa" Award
The Bank won the prestigious award at the Asian Banker Middle East and Africa Regional Awards held virtually on November 5, 2020.
First City Monument Bank (FCMB), a foremost financial services provider in Nigeria, has been voted as the Best SME Bank in Africa. The Bank won the prestigious award at the Asian Banker Middle East and Africa Regional Awards held virtually on November 5, 2020. The development is another confirmation of FCMB's outstanding performance in offering exceptional services, including funding, capacity building and other value-added supports, to Small and Medium Scale Enterprises (SMEs).
The Asian Banker is an authoritative platform for strategic business information for the financial services industry worldwide. The annual Awards organised by the firm is one of the most comprehensive, transparent and respected in the industry covering the full spectrum of topics and areas that constitute the financial services system.
According to the Asian Banker, FCMB emerged as the Best SME Bank in Africa following, "series of online surveys across the region to gather feedback from thousands of customers per market. In the survey, we also asked customers to rate how well their main Banks have helped them during the crisis. The results and rankings are a true reflection of the voice of the customers".
The organisers further stated that, "FCMB has introduced various digital initiatives into the SMEs segment, such as digital loan products (Quickloans) and its New Mobile banking platform. In addition, the Bank launched a platform, which was a first of its kind, to help women owned businesses scale up, by leveraging access to financing schemes, mentorship programmes, as well as training and networking opportunities. FCMB has equally helped SMEs to enhance capacity, thereby improving their business operations, connect with peers and access to trusted service professionals. The Bank has a 25% market share in the SME business, and in 2019 had more than 300,000 new accounts in this segment. We commend FCMB for its incredible contributions towards ensuring the growth and sustainable development of SMEs within the region". 
Commenting on the award, the Managing Director of FCMB, Mr. Adam Nuru, described it as another milestone and a clear demonstration that the various strategic initiatives and solutions offered by the Bank are yielding the desired results and appreciated in Nigeria and internationally.
According to him, "we are excited to have been recognised by the Asian Banker for our market leading propositions and support to SMEs, which continue to make real impact on businesses and the economy in general. This award is another validation that we are on track in our customer-centric approach to financial services delivery. We will continue to expand the frontiers of our innovation and go the extra mile to deploy offerings that consistently enhance customer experience. We thank the Asian Banker and the respondents for considering us worthy as the Best SME Bank in Africa. We dedicate this award to our customers who have made FCMB what it is today''.
Speaking while receiving the award, the Executive Director, Business Development, FCMB, Mrs. Bukola Smith, stated that, "as a resilient, inclusive and responsive institution, we have continued to deploy solutions to transform the challenges posed by COVID-19 to opportunities for our customers by leveraging on our robust technology, digital transformation drive and highly professional team. Our SME Banking offerings have significantly changed lives through job and wealth creation, among other benefits. This is because, we believe that the only way we can succeed is when our customers succeed. We are very proud to be the Best SME Bank in Africa, particularly coming after KPMG rated us as the Best SME Bank in Nigeria in the 2019 Nigeria Banking Industry Customer Experience Survey report. This latest award will undoubtedly inspire us to perform better". 
For more information about FCMB and its propositions for SMEs, please visit www.fcmb.com/business-banking.
JustLiquidity; The best place for easy and decentralized Crypto
JustLiquidity aims to be the leading top decentralized exchange on the Binance SmartChain, with revolutionary developments and product's
Introduction of Julwallet feature (NFTs minting and NFTs shop)
NFTs and NFT artists have been trending a lot in the African art space
NFTs or NonFungibleTokens as it stands, are redefining the very outlook of various forms of creative work like art, video, music, characters in a game etc. NFTs by their very definition represents unique data on the digital ledger or blockchain. Unlike Fungible tokens on the blockchain, these tokens are not interchangeable as they represent something unique in themselves.
Justliquidity has introduced a few products to the general public that makes creating, storing, selling and sending NFTs all on the Binance SmartChain as BEP1155 token, the Julwallet is one of its revolutionary products that has all these features in it and more in development currently.
Our Telegram group and Twitter handles are:
CHI Limited celebrates its maiden Hollandia Dairy Day
The Hollandia Dairy Day Conference is a public interest initiative created to highlight the importance of dairy in everyday nutrition and healthy living in Nigeria.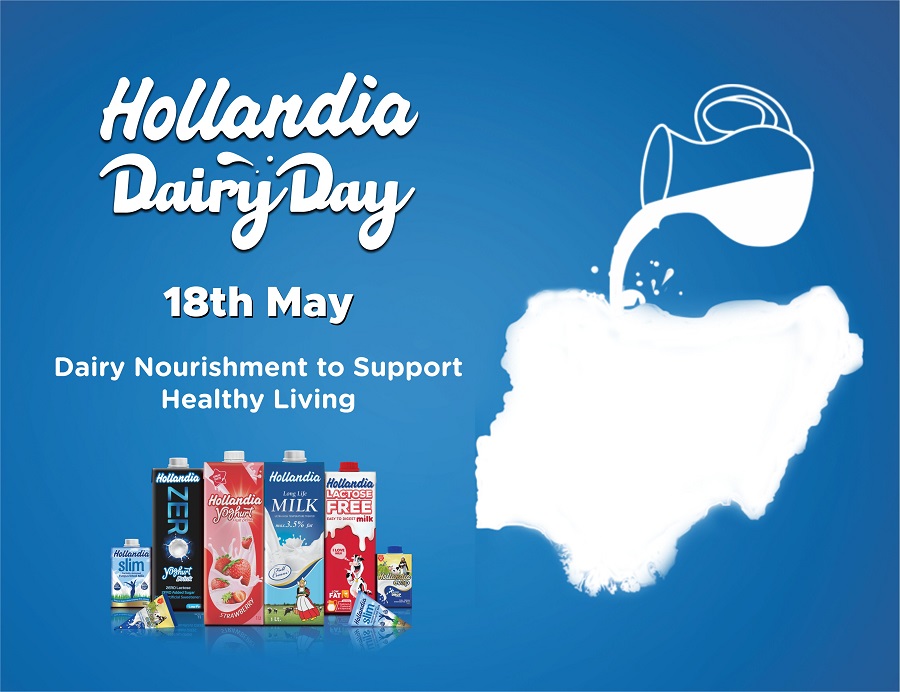 Nigeria's leading dairy brand, Hollandia, is set to hold the maiden edition of its Hollandia Dairy Day. The event which will be celebrated on the 18th of May 2021 will provide a veritable platform to drive national discourse on the unrivaled health and nutrition benefits of dairy consumption to people of all ages.
Set to be hosted as a conference, the theme of this year's event is "Dairy Nourishment to Support Healthy Living", and it focuses on the vital role dairy consumption plays in our everyday nourishment, its benefit to our overall health, and why dairy products should be included in our diets every day.
This conference, which is designed as a hybrid of physical and virtual event, will feature presentations, interviews and panel discussions from health experts and nutritionists as they provide insights and share perspectives to guide informed decisions about dairy consumption as part of a daily balanced diet. The event is opened to the public through the brand's multiple social media platforms.
According to a report by the Food and Agriculture Organization of the United Nations, 2019, Nigeria has low dairy consumption levels per head – 15 to 20 liters' per capita consumption. This is partly attributable to low purchasing power of the average Nigerian household, who rank milk and dairy products as non-essential luxuries and prioritize other staple foods such as rice, beans, and yam.
By provoking the conversations and stimulating public action/intervention, Hollandia aims to drive consciousness for dairy consumption and its importance to achieving optimum health, and to get many more Nigerians drinking, using, and consuming dairy products.
The past year has presented unprecedented shocks and disruptions, including a global COVID-19 pandemic. As communities throughout the world look for ways to minimize the risk of COVID-19, maintaining and boosting good health is top of mind for many. Dairy foods such as milk and yogurt contain essential nutrients, including Vitamins A and D, Zinc and Protein, which support immune function.
The Hollandia Dairy Day Conference is a public interest initiative created to highlight the importance of dairy in everyday nutrition and healthy living in Nigeria.
Nairametrics | Company Earnings
Access our Live Feed portal for the latest company earnings as they drop.