Nigerian stocks on steroids, investors on hat trick
Market breadth closed positive as NESTLE led 41 Gainers as against 5 Losers topped by ROYALEX.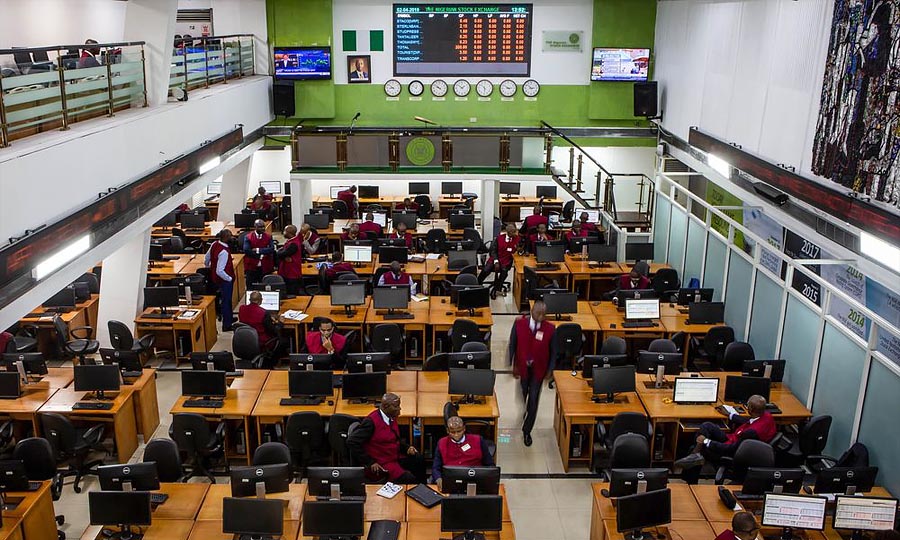 Nigerian bourse continued its impressive run for 3 days amid many odds weighing other financial markets.
The All Share Index gained by +1.58% to close at 29,437.60 points, as against +0.70% appreciation recorded on Tuesday. Nigerian Stock Exchange market capitalization now stands at N15.4 trillion.
Its Year-to-Date (YTD) returns currently stands at +9.67%.
That said, Nigerian bourse trading turnover dropped by 2.68%, as against the 13.14% gain recorded on Tuesday. ZENITHBANK , FIDELITYBK, and ETI were the most active to boost market turnover.
Market breadth closed positive as NESTLE led 41 Gainers, as against 5 Losers topped by ROYALEX at the end of today's session – an unimproved performance when compared with the previous outlook.
Top gainers
NESTLE up 10.00% to close at N1292.5
CONOIL up 9.80% to close at N19.05
FLOURMILL up 6.42% to close at N28.2
TOTAL up 5.97% to close at N118.9
DANGCEM up 2.17% to close at N155.3
Top Losers
ROYALEX down 8.00% to close at N0.23
CUTIX down 6.84% to close at N1.77
HONYFLOUR down 1.03% to close at N0.96
AFRIPRUD down 0.85% to close at N5.85
MAYBAKER down 0.33% to close at N3.05
Outlook
Nigerian Stocks got fired up amid falling oil prices and the U.S dollar gained strongly at the mid-week trading session.
Buying pressure was significantly seen across leading NSE 30 Stocks like Dangote Cement, Nestle, and not forgetting Total which recently declared a profit after tax of N500million in Q3 thereby beating market analysts forecasts.
Nairametrics, however, envisages cautious buying as the COVID-19 crisis seems to be getting out of hand in Nigeria's key international markets that include Western Europe and the United States.
Coinbase debuts on Nasdaq at around $100 billion valuation
Coinbase resumed trading on the Nasdaq Composite Index today under the ticker "COIN".
Coinbase, a Cryptocurrency exchange made its highly anticipated debut on Nasdaq on Wednesday, April 14, 2021, becoming the first company devoted entirely to cryptocurrency to enter the US stock exchange.
The IPO of Coinbase Global today was a big turning point for the cryptocurrency business. It had a rousing debut on Wall Street with the digital currency exchange's stock growing as high as $429, giving it a market cap of $100 billion for a brief period of time.
According to analysts, retail trading accounts for 90% of Coinbase's income, with the majority of trading taking place in the United States and focusing mainly on the two main cryptos: Bitcoin and ETHUSD. Dubbed the most talked-about IPO on Wall Street, Coinbase resumed trading on the Nasdaq Composite Index today under the ticker "COIN."
What this means
Given Coinbase's reception, Crypto optimists insist Bitcoin will not go anywhere in the near future, but will instead become more mainstream. They see the Bitcoin craze as the "start of a new era" in the digital currency world, rather than a passing phase.
Due to Bitcoin's young and unpredictable existence, investors and public corporations are also wary of investing in it. However, as long as the currency's popularity is sustained, the bubble hypothesis can be debunked as control and acceptance of the currency spreads further down the line, according to analysts.
It is important to note that Coinbase has a strong correlation with Bitcoin and as it benefits from its bullish run, it can also be hit by a downturn in the market.
What you should know
Coinbase has become popular amongst cryptocurrency optimists since being founded in 2012, for providing an easier way to exchange shares of digital currencies.
Coinbase announced last week that its first-quarter sales jumped 847% to $1.8 billion and that it currently has 56 million confirmed customers.
Coinbase is now one of the largest publicly traded firms in the United States, with a market cap of more than $100 billion.
Only 83 companies in the S&P 500 index have a market value greater than $100 billion.
The combined market value of Nasdaq Inc., which operates the Nasdaq Stock Market, and Intercontinental Exchange, which owns the New York Stock Exchange, is greater than Coinbase's.
Jaiz, Wema surge as NSE Banking Index drops
At the end of the trading session today, the NSE banking index dropped by (-0.71%) to settle at 348.20 from 348.28 index points.
At the end of the trading session today, the NSE banking index dropped by (-0.71%) to settle at 348.20 from 348.28 index points. This profit was less than the previous days (+2.19%). The NSE banking index started today's trading session on a bearish trend. The market saw 3 gains, 3 stalemates, and 4 losses.
Jaiz Bank left the claws of the bears with a profit (+5.00%) settling its price at N0.63 as it eyed the N1 mark. Analysts speculate that this milestone may be surpassed by the end of the year. Wema banks topped the gainers with a significant (+5.26%), putting it on the top 5 list on the NSE-ASI.
Wema Banks share price stood at N0.58 at the end of the trading session.
Zenith Bank was saved from sell-off by posting a profit of (+0.46%) pushing the price to N22.00 from N21.90.
Sterling Bank led the losers as they made a significant loss of (-8.33%) dropping the price to N1.68 from N1.80 held the previous day.
Union Bank also dropped by (-3.06%) dropping the price at N4.75 from the previous close of N4.90.
Fidelity Bank saw a loss of (-0.80%) dropping the price to N2.47 from the previous day's close of N 2.49. Technical analysis trended bearish from the beginning to the end of the trading session. GTB was not left out of the loss in the NSE Banking Index starting the day at N28.95 to close at N28.80 showing a -0.52% decrease.
UBA posted zero profit to hold the price at N6.95 which was exactly the same price as the previous days close.
Access Bank held another stalemate to hold the price at N8.10. Finally, EcoBank also saw a stalemate putting the market price at N4.80.
Outlook
Market sentiment still shows major consolidation as NSE Index companies have 3 gains, 3 Stalemates and 4 losses.
Analysts project recovery from the NSE Banking Index before the end of the week.
Nairametrics advises cautious participation in the market amid growing uncertainties.
Nairametrics | Company Earnings
Access our Live Feed portal for the latest company earnings as they drop.