NLC, TUC suspend nationwide strike
Hike in electricity tariff to be suspended for 2 weeks, while new pump price of petrol remain unchanged.
The Nigerian Labour Congress (NLC) and the Trade Union Congress (TUC) have suspended the planned nationwide strike and protest that was to commence on Monday, September 28, 2020, over the recent hike in electricity tariff and petrol pump price.
This follows the agreement reached between the Federal Government and the organized labour during the meeting held by both parties which started on Sunday night and dragged on till the early hours of Monday morning.
The disclosure was made by the Minister of State for Labour and Employment, Festus Keyamo, through a tweet post on his twitter handle.
READ: Electricity tariff increase is suspended for 2 weeks
In the agreement between the Federal Government and organized labour, the hike in electricity tariff is to be suspended for a period of 2 weeks, while the new pump price of petrol is to remain unchanged.
According to the agreement, which was seen by Nairametrics, both parties agreed to set up a technical committee on Electricity Tariff reforms, comprising Ministries, Agencies, Departments, NLC and TUC, which will work for a duration of 2 weeks with effect from Monday, September 28, 2020, to examine the justification of the new policy in view of the need for the validation of the basis for the new cost-reflective tariff.
This is due to the conflicting field reports which appear different from the data presented to justify the new policy by NERC, metering deployment, challenges, timelines for massive rollout.
READ: FG earmarks $1.6 billion for sea-port construction 
The technical committee is to be headed by the Minister of State for Labour and Labour, Festus Keyamo.
Other members of the committee include the Minister of State Power, Godwin Jedy-Agba, Executive Chairman, National Electricity Regulatory Commission (NERC), James Momoh, Special Assistant to the President on Infrastructure, Ahmad Zakari as the Secretary.
Also in the committee are Onoho'Omhen Ebhohimhen, Joe Ajaero (NLC), Chris Okonkwo (TUC) and a representative of electricity distribution companies.
READ: Aviation Unions threaten to shut airspace on Monday, as NLC insists on strike
The terms of reference for the technical committee include;
To examine the justification for the new policy on cost-reflective electricity tariff adjustments.
To look at the different Electricity Distribution Companies (DISCOs) and their different electricity vis-à-vis NERC order and mandate.
Examine and advice government on the issues that have hindered the deployment of the 6 million meters.
To look into the NERC act under review with a view to expanding its representation to include organized labour.
Explore Economic and Financial Data on the Nairametrics Research Website
FG & LABOUR reach agreement at 2:53am. Deregulation to stay as Govt rolls out palliatives for labour (details in 2 weeks); Electricity tariffs suspended by Govt for 2 weeks with a joint Committee headed by @fkeyamo to examine the justification for the new policy. Strike suspended pic.twitter.com/9tOTlJ9o1l

— Festus Keyamo, SAN (@fkeyamo) September 28, 2020
Covid-19: Oxygen demand in Lagos State has risen 5 times – Sanwo-Olu
Governor Sanwo-Olu has lamented the rising second wave of the pandemic in Lagos as the demand for oxygen increases by 5 times.
The Lagos State Governor, Babajide Sanwo-Olu has warned that the rising second wave of the pandemic in Lagos has seen the demand for oxygen rise 5 times from 70 six-litre cylinders per day to 350 six-litre cylinders at Yaba Mainland Hospital alone.
The Governor also urged that all malaria-like symptoms should henceforth be considered as COVID-19 virus infection unless and until proven not to be so.
This was disclosed in a statement released by the Lagos State Government on Tuesday.
"Over the last few weeks, the demands for oxygen has risen from 70 six-litre cylinders per day to 350 six-litre cylinders in our Yaba Mainland Hospital. This is projected to more than double to 750 six-cylinders, before the end of January 2021," the Governor said.
He added that the State Government has decentralized provision of oxygen and other services needed for Covid-19 patients, citing provision of oxygen kiosks.
"ln addition to providing oxygen at our isolation centres, the Lagos State Government has decentralized the availability of oxygen across the State through the provision of 10 oxygen and sampling kiosks. Oxygen therapy and other related services will be provided to patients that require them.
"Five of these 10 oxygen centers have been commissioned while the remaining five will be ready for use within the next four weeks. It is our expectation that these sampling kiosks would be easily accessible to residents that require oxygen therapy at the level of LGAs as stabilization points prior to onward transmission to our Isolation centres, if required.
"This strategy is to further increase the fighting chance of Lagos residents that have contracted the virus and require immediate oxygen therapy," he stated.
The Governor said that Lagos is closely monitoring plans by the FG to acquire vaccines and said the State has also resumed discussion with potential manufacturers. He also said the State is building its own regulatory framework for vaccine distribution.
"We are closely monitoring ongoing action by the Federal Government to procure COVID-19 vaccines for use in Nigeria. We have also opened discussions with vaccine manufacturers so that when the vaccine comes eventually we can ensure that Lagosians are catered for.
"In the meantime, we are developing a strategy that will articulate the criteria, guidelines and regulatory framework for providing and monitoring vaccinations in Lagos.
"The Lagos State Government is actively partnering with the private sector in the management of the COVID-19 pandemic, in the areas of testing, oxygen deployment, as well as the clinical management of moderate to severe cases. These partnerships have helped enhance the State's response to the ever-changing circumstances of the pandemic," Sanwo-Olu added.
What you should know 
The Lagos State Government earlier disclosed that its bed occupancy levels at its public and private COVID-19 care centres increased to 51 per cent.
The Federal Government also alerted Nigerians that hospitals across the country are running out of facilities to handle more serious cases of coronavirus infections as the virus is spreading fast with mild symptoms in some victims and severe illnesses and death in others.
Nairametrics recently reported that the Federal Government, through the Ministry of Finance, announced the sum of N10 billion for the production of vaccines in Nigeria, to fight the coronavirus.
Naira strengthens at NAFEX window despite 61% drop in dollar supply
The exchange rate between the naira and the dollar appreciated marginally closing at N393.35/$1.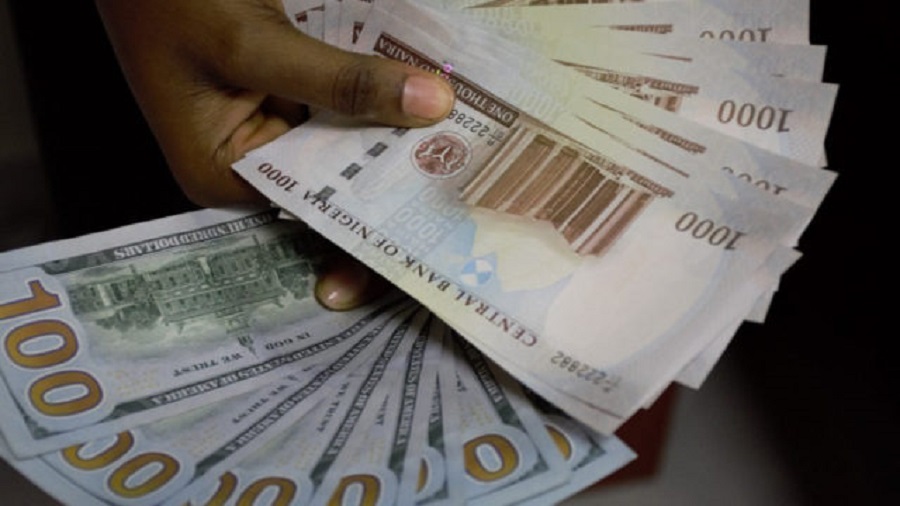 On January 19, 2021, the exchange rate between the naira and the dollar appreciated marginally closing at N393.35/$1 at the NAFEX (I&E Window) where forex is traded officially.
This is as dollar supply dropped by 61% with lower demand.
Also, the exchange rate at the black market where forex traded unofficially maintained stability at N475/$1. The exchange rate at the parallel market closed at N475/$1 on the previous trading day of January 18, 2021.
This is as the Central Bank of Nigeria sustains its intervention across the foreign exchange markets to meet the needs of manufacturers and end-users who need dollars for their medical trips, school fees payments, travel allowances, and others.
The apex bank has also resumed its dollar sales to Bureau De Change operators.
The exchange rate disparity between the parallel market and the official market is about N81.65, representing a 17.2% devaluation differential.
The Naira appreciated against the dollar at the Investors and Exporters (I&E) window on Tuesday, closing at N393.35/$1. This represents a 48 kobo gain when compared to the N393.83/$1 that it closed on the previous trading day.
The opening indicative rate was N393.96 to a dollar on Tuesday, representing an 11 kobo gain when compared to the N394.07 that was recorded on Monday, January 18, 2021.
The N396 to a dollar was the highest rate during intra-day trading before it closed at N393.35 to a dollar. It also sold for as low as N390/$1 during intra-day trading.
Forex turnover at the Investor and Exporters (I&E) window declined by 61% on Tuesday, January 19, 2021.
According to the data tracked by Nairametrics from FMDQ, forex turnover dropped from $69 million on Monday, January 18, 2021, to $26.83 million on Tuesday, January 19, 2021.
The average daily forex sale for last week was about $169.93 million, which represents a huge increase from the $34.5 million that was recorded the previous week.
The exchange rate is still being affected by low oil prices, dollar scarcity, a backlog of forex demand, and a shaky economy that has been hit by the coronavirus pandemic.
There are fears that the exchange rate at the black market might be under pressure in the coming weeks as importers scramble for dollars to meet their demands.
Oil price steady rise
Brent crude oil price is currently at $54.88 per barrel on Monday, as it moves towards the $60 mark, a strong sign that global demand could sustain price increases in 2021.
Nigeria's crude oil price benchmark for 2020 was $40 while it projected an oil production output of 1.8 million barrels per day.
Nigeria has a production capacity of 2.5 million barrels per day but is subject to OPEC's crude oil production cuts, which are expected to help sustain higher oil prices.
The higher oil prices and steady production output have positively impacted Nigeria's external reserves, rising sharply to $36.304 million according to central bank data dated January 14, 2020.
This is the highest level since July 2020 and a sign that higher oil prices and steady output levels may be contributing significantly to Nigeria's foreign exchange position.
Nigeria rising external reserves
The external reserve has risen to $36.3 billion as of January 15, 2021, suggesting that the government may have taken receipt of the $1-1.5 billion World Bank Loan.
The external reserves have increased by $1 billion since December 31, 2020, when it closed the year at $35.3 billion.
The unification of the exchange rate was previously cited as a major requirement for receiving the world bank facility.
Nigeria needs the external reserves to hit $40 billion if it is to adequately meet some of the pent up demand that has piled up since 2020 when oil prices crashed and the pandemic caused major economic lockdowns.
How Access Bank got Japaul to pay up N37 billion loan that had gone bad
Brute force, Courts, quid quo pro are hallmarks of Access Bank's debt recovery schemes.
In 2018 when Access Bank took over Diamond Bank, in what is the largest merger in Nigeria's banking history, they knew it was not a match made in heaven like their PR agencies will make you believe.
In merging with Diamond Bank and taking over their juicy assets, they had also taken over the lemons that had for years bedeviled the bank who had pioneered mobile banking applications well ahead of its time.
When Access Bank merged with Diamond Bank, the latter had total loans and advances of N787.8 billion out of which N219.9 billion in loans were impaired. Oil and gas-related loans made up a significant chunk of the loans and were estimated at about N302.6 billion, most of them distressed.
Included in the oil and gas loans was $66.4 million in loans owed to the bank by Japaul Oil and Maritime, as they were referred to at the time. The loans had gone bad accumulating unpaid interest of about $11.2 million. By the time Access Bank took over the loans, Japaul agreed to a restructuring rolling over both the principal and interest.
This is typical of most Nigerian companies burdened with debts they cannot pay. To avoid being run over by the bank, the debtors will negotiate a restructuring, extending the loans by one to three years and if lucky, reducing the interest rates. In return, the bank books new fees (which are often paid in advance of the restructuring) and then gets to avoid huge provisioning mandated by the central bank.
It is often a 'win-win' situation that essentially kicks the can down the road until, like in the case of Diamond Bank, the chicken comes home to roost. But Access Bank is not new to slugging it out with debtors, particularly those who do not pay up. Upon takeover in 2019, Herbert Wigwe, the CEO of Access Bank announced that his bank was going to go after Diamond Bank debtors. In an interview in 2019, he maintained that "we recovered N2.2 billion bad debt in the year under review. Access Bank will intensify effort to ensure that it recovers the debt owed to Diamond Bank. We will go out for Diamond Bank' debtors and if they are not ready to redeem their debt we will publish their names in the newspapers."
In 2019, Access Bank swooped on Japaul Plc seeking repayment of their Diamond Bank loans which was now about N37 billion. The bank took over Japaul's trading assets and integral to the going concern status of the company. Before now, Japaul made money rendering marine services, dredging, mining, and construction mostly for the oil and gas companies.
But business has been bad for years now leading the company into net accumulated losses of over N50 billion as of 2018. For the 5 years leading to 2018, the company posted back to back losses with revenues going from N5.3 billion in 2015 to about N85.8 million in 2019. External loans had also ballooned from about N18.8 billion to about N38.8 billion. Its share price had also fallen to about 20 kobo per share by the end of 2019. It was nearing bankruptcy and something had to give.
For Access Bank, the aggressive debt drives seem to be paying off. In 2019, it booked about N38.3 billion in bad debt recovered. In the first 9 months of 2020, it reported a bad debt recovery of N24.7 billion. This strategy seems to be paying off.
They began a court battle with Access Bank over the loans and the threat of a liquidation eventually settling for a deal. Sources inform Nairametrics that Access Bank is one of the most aggressive banks in the business when it comes to playing dirty with debtors. Unlike Diamond Bank, Access Bank is ready to battle in the courts and is ready to deploy any legal means necessary to recover their loans even if their actions are viewed as uncanny.
Recently, the bank obtained a Mareva injunction sealing the offices and taking over the assets of Seplat due to a related party loan owed by the latter's Chairman, ABC Orjiakor. Just like Japaul, the loans owed by ABC Orjiakor were also obtained from Diamond Bank. According to sources, when Access Bank swoops in for their loan recoveries, they do deploy all tactics in the books to ensure all or most parts of the loans are recovered from chronic debtors.
Eventually, Access Bank and Japaul agreed to settle the matter outside the court. In exchange for repaying the N38 billion loan, Access Bank settled for a repayment of N30.9 billion. The deal involves Access Bank taking over two of Japaul' s Dredgers (12& 13) for N5 billion and a Barge (Beau Geste) for N25.9 billion. Japaul also gave up its land in exchange for working capital of N1.5 billion from the bank.
In return, Japaul gets to clean up its balance sheet erasing what is left of its debt, booking a profit of about N40 billion, and wiping off its negative equity of N35.5 billion. However, in one fell swoop. From negative equity of N35.5 billion, the company's net assets are now N4.69 billion. A win-win for everyone.
We are not exactly sure what Access Bank plans to do with dredgers and barges it took over from Japaul.  Interestingly, in the deal, Japaul also gets to lease back the two dredgers for a period of 6 years from Access Bank for a sum of N1 billion paid annually from 2021 – 2026. Japaul got a one-year moratorium on repayment expiring in December 2020.
Japaul has since changed its name to Japaul Gold and Ventures citing the dwindling oil and gas sector for its reasons. The company believes gold mining and technology are the future and is seeking to raise N25 billion in equity to pursue this course. Its share price has ostensibly risen by 150% since the start of the new year, the best performing on the stock exchange.