U.S stocks suffer biggest drop since June
The plunge marked the biggest one-day drops for all three indexes since June.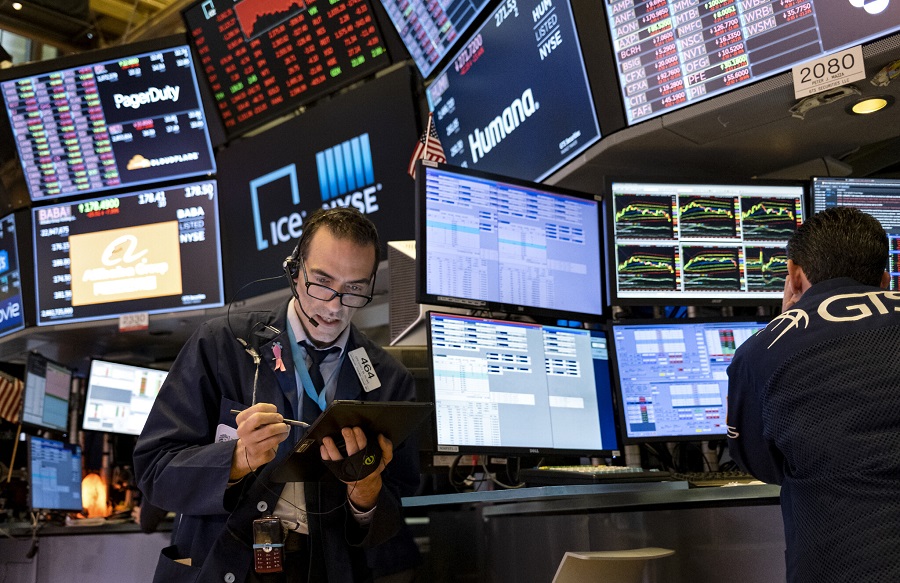 U.S stocks suffered heavy losses at the last trading session, as investors retreated from risky assets (stocks) following an impressive rally in recent weeks.
The Dow Jones Industrial Average (DJIA) ended with a loss of 807.77 points, or 2.8%, at 28,292.73, after dropping more than 1,000 points at its session low.
The S&P 500 closed 125.78 points lower, down 3.5%, at 3,455.06.
READ: Zenith Bank's Profit After Tax in H1,2020 rises by 16.8% to N103.8 billion
The Nasdaq Composite, dropped 598.34 points or 5%, to close at 11,458.10.
The plunge marked the biggest one-day drops for all three indexes since June. The fall came a day after the S&P 500 claimed its 22nd record close of the year, while the tech-heavy Nasdaq Composite arrived at its 43rd such all-time high, and the Dow topped the 29,000 level for the first time since February.
Thursday's fall stopped a four-day win streak for the Nasdaq and a 10-day run of gains for the S&P 500's tech sector.
In an explanatory note to Nairametrics, Stephen Innes, Chief Global Market Strategist at AxiCorp, spoke about the present market correction at the world's largest equity markets.
READ: Amazon, Apple, Facebook and Microsoft hit all-time highs, with combined market value of about $5 trillion
"Indeed, the losses overnight were driven by the same tech stocks that had underpinned the recent heady rises.
"So, this is leading to suggest we're amid a "healthy correction," but I see little health when Apple shares, which are one of the heavyweight champions of the tech sector and market leadership stalwart, can drop 8% in a session.
"While I don't think it's a healthy meltdown, getting rid of some of the short-term speculator froth will offer up better levels for the Wall of Money to indulge as we know the Fed is not going anywhere soon, although probably holding back the big guns for a possible rainy day in the future if the winter months prove to be explosive for the virus."
However, the long-term structural support for tech stocks remains and support for equities have not changed either.
United Capital Director spends N5.39 million on additional 1 million shares
1 million units of United Capital Plc's shares worth N5.39 million has been purchased by a Non-Executive Director.
A Non-Executive Director in United Capital Plc, Mr Emmanuel Nnorom of Vine Foods Limited 2 has purchased additional 1 million units of the firm's shares worth N5.39 million.
This is according to a notification signed by the firm's secretary, Leo Okafor and sent to the Nigerian Stock Exchange, as seen by Nairametrics.
The disclosure revealed that the transaction took place on the 25th of January, 2021, with the Director purchasing an additional 1 million units of the firm's share at N5.39 per share, totalling N5, 390,000.
Nairametrics learnt that there have been increasing numbers of insider transactions recorded by the firm, especially in the last three months. For example, Nairametrics earlier reported that the CEO of the United Capital Plc, Mr Peter Ashade had purchased an additional 6 million units of the firm's share in the last three months.
Underlying fundamentals
The surge in insider transactions might be attributable to the impressive growth in key financial metrics of United Capital Plc. For example, the firm had experienced a 25.90% rise in its gross revenue in its last reported financial statement – Q3, 2020.
Despite recording over 100% decline in other income earning components, the increase in gross earnings was jointly driven by an increase in Investment income, fees and commission income, net trading income and net interest margin.
As at the time of writing this report, Nairametrics learnt that the market capitalization of the firm has so far gained a total of N3.36 billion since the commencement of trading on the 4th of January, 2021. This is largely driven by an 11.34% increase in the share price of the firm.
In case you missed it: Nairametrics had earlier reported that Mr Emmanuel Nnorom purchased a cumulative of 1.755 million units of the firm's share, spending a total of N7.99 million on the deal.
MTN Nigeria, Airtel Africa, WAPCO up, investors gain N259 billion
Nigerian Stocks Month-to-Date and Year-to-Date returns increased to 3.24% as market capitalization stands at N21.494 trillion.
The Nigerian Stock Exchange continued today on a positive note, as the All-Share Index improved by 1.21% to close at 41,584.94 index points.
Consequently, Month-to-Date and Year-to-Date return increased to 3.24% as market capitalization stands at N21.494 trillion, having added N259 billion.
A total volume of 467 million units of shares, valued at N5.56 billion exchanged hands in 5,990 deals.
Transnational Corporations (+0.93%) continued to dominate market activity in terms of volume and value at 45.9 million units and N50.5 million respectively.
Similarly, the market breadth index was positive with 32 gainers against 19 losers.
RTBRISCOE (+10.00%) led the gainer's chart today, while JOHNHOLT (-10.00%) was the top loser.
Sectoral indices closed mostly positive. The NSE Consumer Goods Index led the gainers with 0.54%. The Insurance and Industrial Indexes trailed by 0.40% and 0.25% respectively.
On the flip side, the NSE Oli & Gas & Banking Indexes dipped by -5.31%  and -0.14%t respectively.
Top gainers
AIRTELAFRI up 7.60% to close at N920
FIDSON up 8.60% to close at N5.05
FLOURMILL up 6.25% to close at N34
WAPCO up 3.77% to close at N27.5
MTNN up 0.53% to close at N170.9
Top losers
SEPLAT down 9.26% to close at N490
CUTIX down 7.08% to close at N2.1
AFRIPRUD down 1.82% to close at N7
CADBURY down 1.54% to close at N9.6
ZENITHBANK down 0.94% to close at N26.25
Outlook
Nigerian stocks ended Tuesday's trading session on an impressive note.
The upside route followed investors' interests in WAPCO, Flourmill, and Airtel Africa as their stocks advanced by 3.77 %, 6.25%, and 7.60% respectively.
Nairametrics however, envisages cautious buying, amid improved market conditions in Nigeria's financial market.
Stay-at-Home Stocks: Microsoft, Apple, Facebook surge after upbeat results from Netflix
The Nasdaq index had earlier hit a record high on hopes of impressive earnings later this week.
Nasdaq recorded impressive buying pressures with the so-called "stay-at-home" winners, including Facebook, Apple, and Microsoft, which rose after upbeat results from Netflix Inc recorded last week.
Netflix's share price had earlier recorded impressive gains after it beat market expectation, powering the video streaming stock to close on the account that it added more customers than expected and revealed it no longer needed debt to build its entertainment empire.
The positive upbeat guidance on free cash prompted bullish remarks from Wall Street analysts, though some questioned how much of the subscriber growth was pulled forward.
The Nasdaq index had earlier hit a record high on hopes of impressive earnings later this week from the likes of Apple, Facebook, and Google, but the Dow Jones Industrial Average index, dominated by industrials and airlines, struggled to keep such bullish momentum.
That said, the U.S Equity market generally pulled back from its record highs in recent days, waiting to see if COVID-19 vaccines could reduce COVID-19 infection rates globally.
The Dow Jones Industrial Average fell by 0.12%, to settle at 30,960 pints; however, the S&P 500 gained 0.36%, to close at 3,855.36 points and the Nasdaq Composite added 0.69%, to settle at 13,635.99 points.
In a note, Stephen Innes, Chief Global Market Strategist at Axi, spoke on the bullish rally sighted in U.S based tech brands.
"One argument for the outperformance could be that tech enjoys low rates, so the fixed-income performance helps amid lockdowns. After all, in a foreshadowing effect, Netflix rose 16% last week after subscriber numbers soared by a record 37mn in 2020.
"Unsurprisingly, it seems lockdowns and TV go hand in hand and by extension, so does gaming and the use of cutting-edge software and hardware components.
"And with the bulk of Tech market cap (75%) reporting during the next two weeks, it's clear investors like the pack's heavyweight leaders instead of buy-the-laggards, leading to these eye-catching moves. And I'm not sure that logic doesn't make sense."
What to expect: But at some point, the stock bears might come back to haunt the stock market. There's nothing in the investment world that's quite like hitting a patch of black COVID-19 economic ice when traditional investing wisdom suggests the best offence is a good defence by taking your foot off the gas pedal as the most straightforward function of damage control.