Crypto: Why Tether became a U.S. dollar replacement for many Chinese
Tether accounts for 93% of stablecoin use in the region.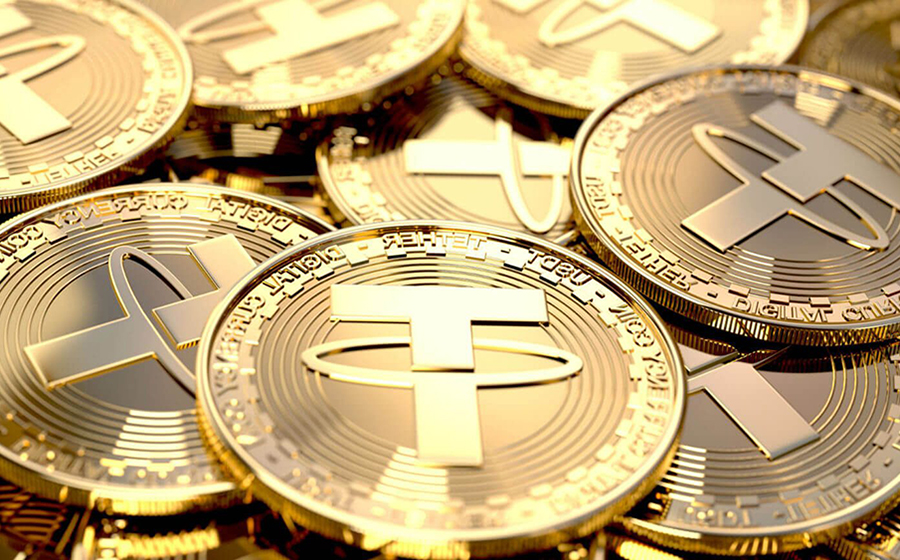 China, the world's second-largest economy seems to trust the world's fastest-growing financial asset ecosystem (Tether) a lot more these days, preferring to use it to meet most money transfer needs.
Tether, which is the fourth most valuable crypto by market cap, accounted for more than $18 billion of the outflows from East Asia in the period, according to new research by blockchain forensics firm Chainalysis. Tether, a stable coin (this is because its value is pegged to the U.S. dollar), accounts for 93% of stablecoin use in the region.
Approximately $50 billion cryptos had left China in 2019, showing a surge in how investors are dodging rules that limit how much capital they're allowed to transfer from China.
READ: Tether, the most promising stable coin, now the third most valuable cryptocurrency
"Stablecoins like Tether are particularly useful for capital flight, as their USD-pegged value means users selling off large amounts in exchange for their fiat currency of choice can rest assured that it's unlikely to lose its value as they seek a buyer," Chainalysis said in the report.
Note that China only allows citizens to move the equivalent of $50,000 or less out its borders every year. Wealthy citizens usually beat such restriction by going through foreign investments in real estate and other assets, sometimes even using offshore registered businesses to carry out their investments.
READ: U.S regulator invites Banking and Crypto industry leaders for partnership
Tether Chief Compliance Officer, Leonardo Real, recently explained while Tether's price is intended to remain constant at $1. He said:
"It can sometimes fluctuate by a few cents at times of high price movement in the wider cryptocurrency market. When this happens, primary market traders are incentivized to close the gap by selling tethers at the higher price"
Tether's origin
The fourth most valuable crypto is a stablecoin and still, by far, the biggest. It was launched in late 2014 by a group called Tether Limited. It introduced a relatively simple concept for creating a crypto asset that maintained a stable price.
For every USDT issued, the Tether Foundation kept $1 USD in reserve (at least in theory). This kept the USDT price stabilized around $1 since each unit of USDT could be redeemed for one of the US Dollars in the reserve.
Download the Nairametrics News App
Quick fact: Tether is designed as a blockchain-based cryptocurrency whose digital coins in circulation are backed by the same value of traditional fiat currencies like the U.S dollar, Japanese Yen, or the Euro. It trades under the ticker symbol USDT.
Why buying Bitcoin in Nigeria is not cheap
It appears to have become much difficult for Africa's most important crypto market to get Bitcoin at a fair value.
It's no longer news that the recent CBN reminder restricting Nigerian financial institutions from Bitcoin and other Crypto assets have started to spur negative effect in the crypto industry when considering the cost of buying the world's most popular cryptocurrency at Africa's largest crypto market.
A recent study by Nairametrics revealed the flagship crypto asset, Bitcoin traded as high as 46% premium on some P2P exchanges and untraditional channels when compared to the use of Nigerian bank debit cards before the Crypto ban took effect, meaning the price of a bitcoin on such platforms was much expensive than its average price on other Crypto exchanges of around $49,000 at the time.
Crypto experts are of the bias that although the Central Bank's recent directive does not criminalize ownership of Bitcoin, the circular will however make it difficult for them to process debit, credit card, and bank transfer transactions.
READ: Bitcoin joins the trillion-dollar club with Apple, Saudi Aramco and Google
This is already increasing the complexity of a significant number of Nigerians that often use their local currencies in buying crypto assets. Many Crypto exchanges interviewed by Nairametrics spoke on the challenges many of its Nigerian users face buying Bitcoin at a fair value on the account that Nigerian leading financial payment providers such as Paystack, Flutterwave have arbitrarily cut ties with Crypto exchanges.
Adding more woes to young Nigerians adamant about buying the flagship crypto asset is the prevailing dollar scarcity in Africa's leading economy which had often led many to buy the dollar at the black market rate of as high as N500, knowing fully well that all Crypto assets value are denominated in U.S dollar.
Adding credence to this, Rume Ophi a.k.a. Cryptopreacher, and Nigerian Crypto Educationist said;
"Nigeria's bitcoin price isn't consistent because it is pegged to the dollar (Usdt), which is a bit different from the parallel market, the one we call the black market or abokifx."
READ: Nigeria's cryptocurrency ban: A legal analysis
He added weight to the exchange rate disparity on some Crypto exchanges and other channels Nigerians have been left with
"At the time of writing, Paxful an online peer 2 peer platform pegged 1 USDT to 475. This means you need 475 naira to get 0.0000004sat (the smallest unit of bitcoin is called sat). Whereas a black market vendor is also known as OTC will sell for 480/$," Ophi said.
The effect of the CBN crypto ban is already breeding bad actors that are currently taking advantage of the high thirst for Bitcoin as Luno a leading African-based Crypto exchange in an email sent to Nairametrics sheds more light on the cost bitcoin buyers in Nigeria must bear;
"Pushing people underground also makes it easier for scammers to exploit Nigerians, and we are already seeing Bitcoin trade at huge premiums in the country as a result of the ban.
"Other companies have made the choice to find workarounds that are less visible for regulators – for example, Peer-2-Peer (P2P) trading. Our view is that P2P trading would go against the spirit of the CBN's directive.
"We believe that the focus should instead be on demonstrating to the CBN that exchanges such as Luno have the necessary controls in place to address the concerns it has in relation to cryptocurrencies."
READ: Most powerful financial leader takes side with CBN, says Bitcoin is untrustworthy
What you should know
Recall, the Central Bank of Nigeria had recently notified Deposit Money Banks, Non-Financial Institutions, other financial institutions against doing business in Crypto and other digital assets.
In a circular dated 5th February 2021 and distributed to regulated financial firms, the apex bank of Africa's largest economy warned and reminded local financial institutions against having any transactions in crypto or facilitating payments for crypto exchanges.
Nigerian Apex bank further warned Nigerian financial stakeholders that any breach of this directive will attract serious regulatory sanctions.
READ: Why Crypto black market is thriving in Nigeria
Luno also spoke on the effect the CBN crypto ban will have on Nigerians in the long term, stating,
"Any attempt to restrict access to cryptocurrency does not protect Nigerians. It holds them back and leaves them vulnerable. It prevents honest Nigerians from taking advantage of all that cryptocurrency has to offer them."
Bottom line: The rate of purchasing the most widely used Crypto asset in Nigeria is currently trading at a premium amid the Central Bank's directive, suggesting it is getting much harder for Africa's most important crypto market in getting Bitcoin at a fair value.
U.S SEC Chair nominee says Bitcoin is transforming global finance
Gary Gensler spoke to the U.S Congress on how Cryptos are bringing changes to the new financial era.
The U.S president nominee for the position of U.S. SEC, Gary Gensler has recently disclosed that Bitcoin and other Crypto assets were bringing transformational change in global finance.
In a recent Senate confirmation hearing, Gensler spoke to the U.S Congress on how Cryptos are bringing changes to the new financial era, and it remains their job in ensuring investors transact safely.
"These innovations have been a catalyst for change. Bitcoin and other cryptocurrencies have brought new thinking to payments and financial inclusion, but they've also raised new issues of investor protection that we still need to attend t," he said.
READ: Why buying Bitcoin in Nigeria is not cheap
The nominee also spoke on how he hoped to handle the crypto industry if he is confirmed to lead the U.S financial regulatory agency;
"I'd work with fellow commissioners to both promote the new innovation, but also at the core, ensure for investor protection.
If something were security, for instance, it comes under the securities laws, comes under the SEC. If there are exchanges that trade those, to ensure that there's the appropriate investor protection on those exchanges, so promote technology but still stay true to our core values of investor protection and capital formation," Gensler said.
US top regulator, Brian Brooks, some months back added weight on the significance of cryptos in the life of Americans and its future as regards banking in front of the U.S Congress.
READ: Dubai-based hedge fund plans to sell $750 million worth of Bitcoin for Cardano and Polkadot
As part of his testimony, Brian Brooks, during a hearing recently held with the Senate Committee on Banking, Housing, and Urban Affairs, the Office of the Comptroller of the Currency (OCC), provided key points on the efforts the U.S regulator is taking to keep the federal banking system competitive amid the COVID-19 pandemic and the role cryptos play.
The report said, "Today, roughly 60 million Americans own some type of cryptocurrency, with a total market cap of nearly $430 billion. These figures clearly illustrate that this payment mechanism is now firmly entrenched in the financial mainstream.
Cryptocurrency has become a popular mechanism for sending and receiving payments for goods and services because transactions post in real-time and provide convenience and security. Cryptocurrency also describes categories of specific currencies of value, and the rise in the use of stablecoins demonstrates consumers' comfort with its use."
Nairametrics | Company Earnings