Jumia reports N17.1 billion loss in Q2 as COVID-19 fail to boost revenue
Jumia reported a loss after tax of Eur 37.6 million (N17 billion) in the second quarter of 2020.
One of Africa's leading e-commerce companies, Jumia reported a loss after tax of Eur 37.6 million (N17 billion) in the second quarter of 2020 despite the rampaging effect of COVID-19.
E-commerce firms were expected to be one of the major beneficiaries of COVID-19 pandemic as consumers gravitated to online orders to meet essential needs.
The losses were a much improvement from the Eur 66.7 million loss reported in the same period in 2019 as Jumia strives to dig itself out of massive loss hole. However, the losses wiped out Jumia's revenue of Eur 34.9 million reported in the quarter under review.
READ ALSO: Despite shutdown, Caverton rakes in N8billion in Helicopter and Aircraft revenues
On Customer Acquisition, Jumia reports it now has 6.8 million active customers as in the second quarter of 2020 up 40% when compared to the same quarter in 2019. Orders also reached 6.8 million up 8%, while GMV was €228.3 million, down 13% on a year-over-year basis.
Jumia explained the results as follows;
"We have made significant progress on our path to profitability in the second quarter of 2020, with Operating loss decreasing 44% year-over-year to €37.6 million. This was achieved thanks to an all-time high Gross Profit after Fulfillment expense of €6.0 million and record levels of marketing efficiency with Sales & Advertising expense decreasing by 51% year-over-year," Jeremy Hodara and Sacha Poignonnec, Co-Chief Executive Officers of Jumia.
He continued, "We are navigating these uncertain times of COVID-19 pandemic with strong financial discipline and operational agility which positions us to emerge from this crisis stronger and even more relevant to our consumers, sellers, and communities."
READ MORE: Nigerian Treasury bills fall to 5.3% per annum
Results Review
A cursory look at the results reveals Jumia reported revenue of Eur 34.9 million compared to Eur 38.8 million same period in 2019. Whilst Jumia reported significant revenue growth in key Platform revenue segments such as Commissions, Fulfillment, Marketing & Advertising it lost big in its First Party revenue. The First Party revenue are closed sales leads generated when customers directly visit an e-commerce website or call or contact them directly to make purchases.
READ MORE: Exclusive: Best bank in Nigeria judging by the numbers
Jumia reported that First Party revenue fell a whopping 49.1% YoY to Eur 11 million compared to Eur 21.6 million the same period in 2019. Despite the drop in revenues, Jumia experienced a growth in gross profit as a change in its business model helped reduce the direct cost of sales. In the quarter under review, gross profit rose 38.2% to Eur 23.3 million.
The company claims cost-cutting was driven by cost efficiency initiatives. For example, it explains that it "changed the volume pricing model from a price per successfully delivered package to a price per successful stop which led to a c. 8% reduction in cost per order for a given route. Our third party logistics partners are now paid per successful stop at customer address, regardless of the number of packages included in the delivery".
Download the Nairametrics News App
It also claimed it adopted a mother-daughter warehouse system which brings warehouses stocked with "essential products" closer to customers helping reduce last-mile delivery cost.
Jumia's Ebitda closed at Eur 32.9 million compared to Eur 44.4 million the same period last year representing a 25.9% drop in Ebitda losses. Jumia's accumulated losses are now a staggering Eur 1.17 billion while its net assets are just Eur 108.4 million. Jumia's loans total about Eur 10 billion.
BREAKING: Lagos launches N5 billion support fund for 2,000 low-cost private schools
The Governor said the facility will benefit low-cost schools with amounts ranging from N500,000 to N5 million.
Lagos State government has launched a N5billion support fund to help reduce the impact of Coronavirus pandemic on low-cost private schools in the state.
This was disclosed by the Governor of the state, Babajide Sanwo-Olu via his Twitter handle on Friday.
According to him, the educational sector is one of those severely impacted by the pandemic, with schools and vocational learning-centres shut since March.
He said, "With access to funding for privately owned schools and vocational training centres in the state, we are confident that this programme, under the partnership between First Bank Nigeria and Lagos State Education Trust Fund (LSETF) will help accelerate a sustainable return to learning and skills acquisition."
Today, I launched a N5bn support fund to help reduce the impact of #COVID19 on low-cost private schools in Lagos. The educational sector is one of those severely impacted by the pandemic, with schools and vocational learning-centres shut since March. #EducationMeetsFunding pic.twitter.com/PrKjLhxBXq

— Babajide Sanwo-Olu (@jidesanwoolu) September 25, 2020
He explained that the facility will benefit 2,000 low-cost schools with amounts ranging from N500,000 to N5 million.
"As a responsible Government, we are obligated to provide interventions that would enable learners in schools study in line with the new normal," the Governor Sanwo-Olu added.
The Chief Executive Officer, First Bank Nigeria, Dr Adesola Adeduntan, said "With this partnership, we are sure that registered educational institutions in Lagos State will have access to funds at subsidised interest rates to meet their needs as they reopen at this auspicious time."
NPF Microfinance Bank: Providing 'friendly' financial services for almost 3 decades
NPF microfinance bank has shown resilience over the years, and this is reflected in its consistent positive performance.
The 'Police is your friend' is a cliché many are familiar with, but most do not know that this friendship extends to financial services. Incorporated as a community bank in 1993, with License No. FC 00200, the Nigerian Police Force (NPF) Microfinance bank has been providing banking services to the Nigerian banking public for almost three decades.  
However, it is one of those stocks that hardly make the headlines, except for landmark events. This friendly microfinance bank is the pick for Nairametrics corporate profile this week.  
READ: CBN releases new capital base, sanctions for Microfinance Banks in new draft guidelines
Incorporation 
NPF Microfinance Bank Plc (Formerly NPF Community Bank Ltd), was incorporated on 19th May, 1993, to provide services such as retail banking, loans and advances, and other allied services to both serving and retired officers and men of Nigeria Police Force, its ancillary institutions, and later on, the general banking public.  
The Bank mission says it is targeted at providing "banking and other permissible financial services to poor and low-income households and micro enterprises," with emphasis on members of the NPF Community. 
It commenced operations on 20th August, 1993 with a single branch in Ikoyi, having obtained a CBN provisional license to operate as a community bank. The bank obtained its full license to operate as a Community Bank on 24th January 2002. Five years later, it converted from its Community Bank status to a Microfinance Bank, following a CBN directive which allowed it to open branches in all the states. It was registered as a Public Limited Company on 13 July, 2006, and received an approval-in-principle to operate as a Microfinance Bank on 10 May 2007. 
NPF microfinance bank obtained the final license on December 4, 2007, but its stocks did not get listed on the main board of the NSE, until December 2010, after 17 years of operations. 
READ: Strong performance from Stanbic IBTC, despite weak retail banking position
Its stock price is considered quite stable, trading within a narrow band, with its price-earnings ratio estimated to be about 9.45 times earnings, slightly higher than the 9.3 times earnings, which is the average PE ratio on the NSE. 
The bank's authorized capital at inception was N500,000.00, made up of 500,000 ordinary shares of N1.00 each. This has grown over the years to its current level of N2 billion, made up of N4 billion ordinary shares of 50k each, of which 2,286,637,766 ordinary shares of 50k each, are issued and fully paid up. 
At a share price of N1.22, the current Market Cap is put at N2.789 billion.  
Branch network has increased to about 35 branches across several states in the country. In August 2019, the bank reaffirmed an earlier decision to embark on another public offer to raise funds for the purpose of incorporating Information Technology to meet customers' needs and branch improvement, and to fund a three-year strategy from 2019 to 2021. 
READ: UBA Plc H1'2020 results, a true reflection of its rightsizing decision? 
Management 
Mr. Akinwunmi M. Lawal has been Managing Director since June 2014, while the Board of Directors has been chaired by Azubuko Joel Udah (Esq.) since 2015. 
Mr. John Kwabe Tizhe and Mr. Francis C. Nelson are Executive Directors; while Mr. Usman Isa Baba, Mr Aminu Saleh Pai, Mr Jibrin G. Gane, Mr. Salihu Argungu Hashimu, Mr. Abdulrahman Satumari, Mr. Dasuki Danbappa Galadanchi, Mrs. Rakiya Edota Shehu, and Mr. Mohammed D. Saeed are Non-Executive Directors. 
Recent financials
Although the NPF microfinance bank may not boast of a large customer base like most of the popular commercial and microfinance banks in the country, the bank has consistently shown favorable financials over the decades. The bank stocks is highly illiquid, but it has consistently and successfully paid dividends for the last 21 years, paying as much as N114.3 million in dividends for 2018.  
The audited results for FY 2018, shows a N300 million growth in gross earnings from N3.6 billion in 2017 to N3.9 billion in 2018, while there was a decline in profit. This decline is partly traceable to the 128.6% increase in marketing expenses from N63 million in 2017 to N144 million in 2018, while Directors' remuneration rose 63%, from N65 million in 2017 to N106 million in 2018. 
READ: Access Bank posts Profit Before Tax of N74.31 billion in H1 2020
Profit before tax fell sharply from N819 million in 2017 to N287 million in 2018, and Profit after tax also dropped from N631 million in 2017 to N195 million in 2018.  For 2019, the Profit Before tax shot up to over N1 billion, while Profit after tax grew to N796.4 million.  
Within the 2018 financial year, customer deposit grew by 14.67% from N9.126 billion to N10.465 billion, while total asset increased from N15.952 billion in 2017 to N17.597 billion in 2018. In comparison, 2019 customer deposits grew further to N11.32 billion, and total assets increased further to N19.58 billion.  
The bank attributed the poor performance in 2018 to the adoption of the IFRS 9, which caused a rise in net impairments, a N700 million growth in operating expenses, as well as a N266.48 million fraud committed by one of its middle management staff in the Sokoto branch. Although N35 million was recovered of the sum, shareholders bore the brunt of the loss, as dividend per share dropped from 17 kobo in 2017 to 5 kobo in 2018.  
READ: Transcorp Hotels to raise N10billion through Rights Issue 
Whatever steps the company took to prevent a repeat of frauds, it was not effective; because 2019 saw an increase in frauds committed by members of its staff. The bank recorded frauds amounting to N2.1 million in four separate incidences, and another N12.26 million ATM electronic fraud. Though some of the money was recovered, over N12 million remained unrecovered at the end of the financial year.   
Conclusion
NPF microfinance bank has shown resilience over the years, and this is reflected in its consistent positive performance. However, it will have to work more on tightening lose ends to prevent cases of fraud and forgeries, which dips into its yearly profits and takes a chunk from shareholders dividends. 
Naira stabilizes across forex markets, as BDCs get another round of dollar allocation
The Naira remained stable against the dollar to close at N467/$1 on Thursday.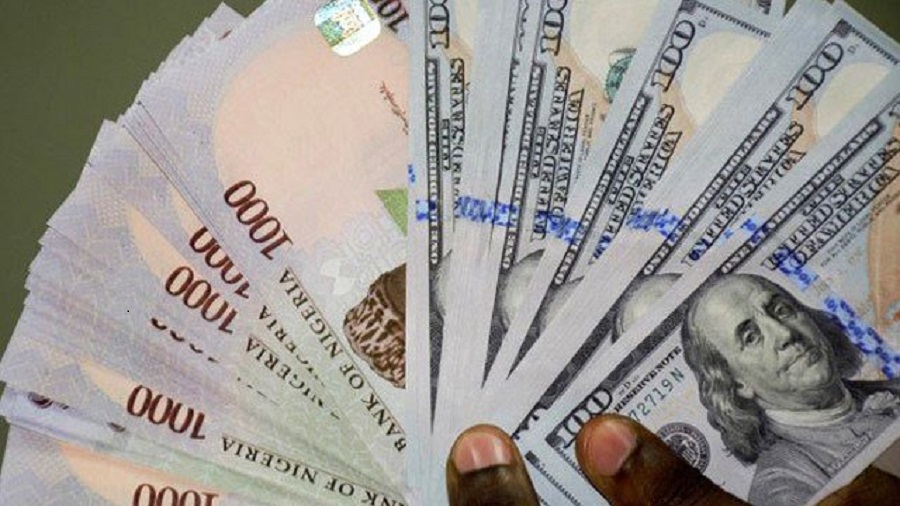 Forex turnover improved by 43% as Nigeria's exchange rate at the NAFEX window stabilized to close at N386/$1 during intraday trading on Thursday, September 24.
Also, the naira remained stable, closing at N467/$1 at the parallel market on Thursday, September 24, 2020, after another round of forex allocation to BDC operators by CBN.
Parallel market: At the black market where forex is traded unofficially, the Naira remained stable against the dollar to close at N467/$1 on Thursday, according to information from Abokifx, a prominent FX tracking website. This was the same rate that it was exchanged for on Wednesday, September 23.
READ: Nigeria among countries to be worst hit by food crisis globally
Currency developments
The local currency has strengthened by about 7.8% within the last one week at the black market, as the CBN introduced some measures targeted at exporters and importers, in order to try to boost the supply of dollars in the foreign exchange market, and reduce the high demand for forex by traders.
The CBN has sold over $200 million to BDCs since the resumed forex sales on Monday, September 7, 2020. This was expected to inject more liquidity to the retail end of the foreign exchange market, and discourage hoarding and speculation.
However, the exchange rate against the dollar has failed to sustain the initial gains made, after the CBN announced plans to provide liquidity.
BDC operators have urged the apex bank to reconsider the margin allowed for the currency traders, as it was inadequate to meet their expenses.
We also noted that forex traders monitored during the previous week, appeared to hoard forex, as they anticipated further depreciation in the market.
There has been a drop in speculative buying of foreign exchange, although demand backlog by manufacturers and foreign investors still puts pressure, and creates a volatile situation in the foreign exchange market.
READ: Has the President erred in stopping CBN from funding food imports?
NAFEX: The Naira remained stable against the dollar at the Investors and Exporters (I&E) window on Thursday, closing at N386/$1.
This was the same rate that it exchanged for on Wednesday, September 23.
The opening indicative rate was N386.13 to a dollar on Thursday. This represents a 31 kobo gain, when compared to the N386.44 to a dollar, that was recorded on Wednesday.
The N390.34 to a dollar is the highest rate during intraday trading, before closing at the rate of N386/$1. It also sold for as low as N383/$1 during intraday trading.
READ: Experts pick holes in pump pricing of petrol, proffer solutions 
Forex turnover: Forex turnover at the Investor and Exporters (I&E) window, increased by 42.6% on Thursday, September 24, 2020.
According to the data tracked by Nairametrics from FMDQ, forex turnover rose from $69.22 million on Wednesday, September 23, 2020, to $98.65 million on Thursday, September 24, 2020.
The CBN had in the past few weeks moved to clear the huge backlog of foreign exchange demand, especially by foreign investors wishing to repatriate back their funds.
The improvement in forex supply after yesterday's drop, reinforces the volatility of the foreign exchange market. The supply of dollars has been on a decline for months due to low oil prices and the absence of foreign capital inflow into the country.
The average daily forex sale for last week was about $34.5 million, which represents a drop from the $58.52 million that was recorded the previous week.
Total forex trading at the NAFEX window in the month of August was about $857 million, compared to $937 million in July.
In the latest report on Monetary, credit, foreign trade, and exchange policy guidelines for fiscal year 2020/2021, the CBN lamented that forex market pressure, which is as a result of speculative activities in the BDC and I & E segments of the foreign exchange market, is expected to exert more pressure on the naira exchange rate.