Nigerian firms expect to start employing again in August – CBN survey
Wholesale/retail trade had the highest prospect for employment in August.
After a trying five months of the Coronavirus pandemic and the consequent challenges for the economy, business enterprises in Nigeria expect to start employing again in the month of August 2020.
This is according to the CBN Business Expectation Survey which was published recently on the CBN website.
Findings from the survey show a generally optimistic outlook for August with a confidence index of 33.7 points, and hopes that the volume of business activities would increase in the next 2 to 6 months to justify the employment outlook.
READ MORE: Social clubs, recreational centres to reopen August 14
The business survey was conducted by the statistics department of the Central Bank of Nigeria in July 2020, and it involved a sample of 1050 businesses with a 96% response rate. Respondent firms include small, medium and large businesses cut across agriculture, services, manufacturing, wholesale/retail trade, and construction sectors, both import and export-oriented, across the country.
Sector by sector breakdown showed that wholesale/retail trade had the highest prospect for employment in August with an index of 16.4 points, while manufacturing trailed closely behind with 14.6 points. Respondent firms in Agric/services put the employment prospect index at 3.1 points.
READ MORE: Okonjo-Iweala gets Organised private sector's endorsement for WTO job
The wholesale/retail trade sector is also highly optimistic on expansion plans, showing an index of 46.3 points, while the construction sector had an index of 45.0 points. Agric/services sector had an index of 43.4 and manufacturing sector had 39.7 points all pointing towards a positive disposition to expand in the current month (August).
With such expansion plans in view, borrowing rate is also expected to increase in August, September, and December 2020 with confidence indices of 10.5, 15.7 and 16.1 points respectively.
READ MORE: CBN lists major constraints affecting businesses, as borrowing rates projected to rise 
This is in spite of the obvious challenges which the firms face, which include insufficient power supply, competition, unfavourable economic climate, financial problems, and high-interest rates.
Unclear economic laws, unfavourable political climate, insufficient demand, difficulties in accessing credit and equipment also pose major constraints to business activities.
READ MORE: Again, NAICOM shifts insurance recapitalisation deadline
More on the outlooks
On the exchange rate, firms are positive that the Naira will appreciate in August, September, and December, with 3.0, 16.5 and 49.4 confidence index points respectively. Meanwhile, inflation level is expected to rise in the next 6 to 12 months (December 2020 and June 2021), at 13.92 and 13.95 percent.
There is an anticipated increase in economic conditions in August at 22.8 points, much higher than the 9.5 points in July. The firms also expect things to improve more in September and December with confidence of 31.7 and 51.4 points.
DEAL: ClubHouse raises new Series B funding
The trending social audio app, Clubhouse has commenced another round of funding at a roughly $1 billion valuation.
Clubhouse has confirmed that it has raised a new Series B funding round at a $1 billion valuation led by Andrew Chen at a16z.
The invitation-only audio-chat social networking app that's still in private beta and lets you create rooms where you can talk for hours on end, has been exciting users since it became very popular in the last few months.
Eight months ago, the app, raised $12 million in a Series A round which valued the company at $100 million. Today, investors are trying to buy shares from the company's existing shareholders at an implied value of $1 billion.
Launched in 2020, the app has grown from a small handful of beta testers into a diverse and growing network of over two million people ranging from—musicians, scientists, creators, athletes, comedians, parents, entrepreneurs, stock traders, non-profit leaders, authors, artists, real estate agents, sports fans and more. They come to Clubhouse to talk, learn, laugh, be entertained, meet, and connect.
According to the startups' blog post "It's always been important to us to have investors who care deeply about diversity, and who will work hard to help us make Clubhouse a welcoming and inclusive community. We now have over 180 investors in Clubhouse—large and small, spanning many different races, genders, and areas of expertise, and including many members of our early community".
Why the funding matters
This new funding will be used to release the android version of the app since it is only available to IOS users while also investing in technology and infrastructure to keep the servers up.
The app will also introduce creator monetization to help creators on the platform who host conversations for others to get paid, in form of subscriptions, tipping, or ticket sales. Adding ways for users to pay other users provides an opportunity for Clubhouse to retain its users. There will also be a Creator Grant Program' being set up by Clubhouse, which will be used to "support emerging Clubhouse creators"
The startup also plans to invest in advanced tools to detect and prevent abuse, and also increase the features and training resources available to moderators.
The platform will also see changes in its discovery feature to help people discover new rooms and clubs tailored to their interests.
What banks can do to improve Real Sector Lending in 2021
To navigate the nation's economy from oil, banks will have to pay more attention to real sector lending in 2021.
The beginning of the financial year for Nigerian Banks has become a comparison of which bank closed with the largest balance sheet for the previous year; a simulation of which one of the tier-1 banks would outdo the others in the $1billion dollars profit pursuit, and which bank would pay the most dividends to its shareholders.
Every so often, financial analysts employ the use of important indices to decipher areas where these financial institutions need to shore up their numbers and employ their resources to align with the fiscal and monetary policies of the government. These Analysts are usually ignored. Consequently, is the poor policy implementation of the CBN and an ever-widening chasm between the fortunes of Nigerian banks and the economy in which they operate.
A major area where most analysts have faulted Nigerian banks in recent times is in lending – lending to the real sector of the economy.
The expectation and the reality
On July 3rd 2019, in a letter to all banks, the CBN through its Director of Banking Supervision announced "REGULATORY MEASURES TO IMPROVE LENDING TO THE REAL SECTOR OF THE NIGERIAN ECONOMY". A laudable directive that was to see banks maintain a Loan to Deposit Ratio (LDR) of 60%, wherein SMEs, retail, mortgage and consumer lending would be assigned a 150% weight in the computation of this LDR, and stiff sanctions of additional CRR of 50% of the lending shortfall will be levied against unyielding banks.
This regulation fuelled the expectation of substantial gains in the real sector given the relative availability of funds. Banks jostled and made a show of dishing out these loans, but as records of CRR debits for LDR failure began to hit the news, it became apparent that most banks were still stuck in their reality of doing business in Nigeria.
The reality being that Nigerian Banks have managed to stay amongst the most profitable banks in Sub-Saharan Africa while largely ignoring the real sector. A review of the earnings of 10 top Nigerian Banks between 2009 and 2019 showed that a sizable portion of their profit growth came from non-client driven activities, even as income from core banking activities of these banks shrank from accounting for 85% of their profits in 2009 to 65% of their increasing profit in 2019.
Perhaps this goes a long way to explain the 2020 H1 profits posted by these banks amid a pandemic and looming recession.
A case of once-beaten?
In fairness, Nigerian banks already got their fingers burnt in the real sector oven once before, and the existence of AMCON is a constant reminder of this fact. The Banks' attempts to adhere to the new regulation most likely contributed to a rise in the industry's NPL in H1 2020 notwithstanding CBN's best intentions with the loan restructuring freedom banks were given to protect themselves from the crippling effect of the pandemic. There doesn't seem to be a way out for Nigerian banks.
Navigating the waters of necessity
With all the modernization around the banking process, banking at its root has remained unchanged over the centuries. It still entails receiving from areas of surplus to fix deficits. The real sector of the Nigerian economy has been in severe deficit as the nation directed its attention, and finances, to the oil sector which has been the sustenance of a potentially diverse economy like ours for far too long.
If Nigerian banks are to navigate the nation's economy from oil before the rest of the world completes the move, then they will have to pay more attention to real sector lending in 2021. This can be done through the following:
Understanding the necessity
Real Sector lending should no longer be viewed by banks through the lens of meeting regulatory requirements only, their importance to the Banks' balance sheet should be understood. In the near future, it is unlikely that banks will be unable to earn as much from derivatives as uncertainty caused by the pandemic continues to cause spectacular swings in some markets coupled with a wider acceptance of crypto over fiat which may shrink some markets.
Also, further ignoring the real sector market by commercial banks inadvertently means that Fintechs and their MFBs continue to ramp up the profits in these markets, and may someday be big enough to compete favorably with the commercial banks. Mergers and acquisitions will hasten this process.
As an action plan, real sector lending (not just the creation of risk assets) should be incorporated into the KPIs of relevant members of staff. Also, the banks should actively pursue sectors of the economy where they have comparative advantage by virtue of their expertise, customer base, technological advantage and/or branch network.
Too much emphasis has been placed on "value chain" making banks feel the need to play in all aspects of a business. They practically provide funds for all aspects of the same business- from manufacturing to distributorship. Whilst an argument could be made on the need for synergy and the relative ease of monitoring value chain businesses, this type of concentration of funds puts banks at higher risk of loss when a part of the value chain defaults. However, focusing on a segment of a business could have its own benefits in limiting exposure.
Revisiting VC, PPP and Loan syndication
Perhaps the next big business will not be a conventional textile mill nor will it be distributorship of FMCGs. Nigerian banks need to have a foothold in the businesses of the future by adopting VC models of investments and fundraising for these business ideas. Public-private partnership and Loan syndication should not also be limited to development of social amenities but to funding businesses in the real sector.
The real sector lending drive of the CBN has shown promise since inception, increasing the level of industry gross credit by N829b in its first few months between May and Sept 2019. The introduction of the GSI by the CBN from August 2020 is also a step in the right direction to protect banks from an increased default rate of personal loans.
Nonetheless, these policies will not upturn the Nigerian economy if Nigerian banks continue to treat real sector lending as an occupational hazard rather than the occupation itself.
Naira falls across forex markets as CBN moves against IMTOs
The exchange rate at the black market where forex traded unofficially depreciated at N477/$1.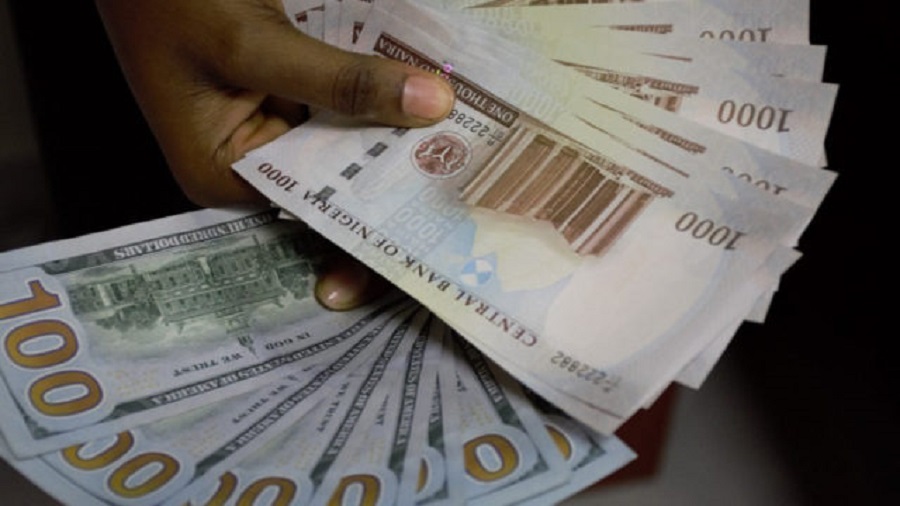 On January 22, 2021, the exchange rate between the naira and the dollar depreciated closing at N394.17/$1 at the NAFEX (I&E Window) where forex is traded officially.
Forex turnover, however, dropped by about 42.2% as pressure on the foreign exchange market continues.
The Central Bank of Nigeria (CBN) in a new circular, read the riot act to the International Money Transfer Operators (IMTOs) as they have threatened to sanction some of them who still facilitate diaspora remittances in naira, contrary to its earlier directive that it must be in foreign currency.
READ: Nigeria faces prolonged exchange rate crisis as oil prices remain stuck at $40
Also, the exchange rate at the black market where forex traded unofficially depreciated at N477/$1. The exchange rate at the parallel market closed at N475/$1 on the previous trading day of January 21, 2021, representing a N2 drop.
The exchange rate disparity between the parallel market and the official market is about N82.83, representing a 17.36% devaluation differential.
READ: CBN to prevent exporters with unrepatriated export proceeds from banking services
The Naira depreciated against the dollar at the Investors and Exporters (I&E) window on Friday, closing at N394.17/$1. This represents a 17 kobo drop when compared to the N394/$1 that it closed on the previous trading day.
The opening indicative rate was N393.15 to a dollar on Friday, this represents a N1.01 gain when compared with the N394.16 to a dollar that was recorded on Thursday, January 21, 2021.
The N395 to a dollar was the highest rate during intra-day trading before it closed at N394.17 to a dollar. It also sold for as low as N390/$1 during intra-day trading.
Forex turnover at the Investor and Exporters (I&E) window dropped by 42.2% on Friday, January 22, 2021.
According to the data tracked by Nairametrics from FMDQ, forex turnover declined from $77.04 million on Thursday, January 21, 2021, to $44.51 million on Friday, January 22, 2021.
The exchange rate is still being affected by low oil prices, dollar scarcity, a backlog of forex demand, and a shaky economy that has been hit by the coronavirus pandemic.
There are fears that the exchange rate at the black market might be under pressure in the coming weeks as importers scramble for dollars to meet their demands.
READ: A summer of higher food prices, limited room for monetary policy
Oil price steady rise
Brent crude oil price is at about $55.34 per barrel as of Monday morning, as it moves towards the $60 mark, a strong sign that global demand could sustain price increases in 2021.
This appears as a boost to Nigeria as the country's crude oil price benchmark for 2020 was $40 while it projected an oil production output of 1.8 million barrels per day.
Nigeria has a production capacity of 2.5 million barrels per day but is subject to OPEC's crude oil production cuts, which are expected to help sustain higher oil prices.
The higher oil prices and steady production output have positively impacted Nigeria's external reserves, rising sharply to $36.304 million according to central bank data dated January 14, 2020.
This is the highest level since July 2020 and a sign that higher oil prices and steady output levels may be contributing significantly to Nigeria's foreign exchange position.
READ: A Joe Biden presidency and its impact on Nigeria's oil
Nigeria rising external reserves
The external reserve has risen to $36.508 billion as of January 21, 2021.
Nairametrics had earlier reported that the government may have taken receipt of the $1-1.5 billion World Bank loan.
The external reserves have increased by $1.135 billion since December 31, 2020, when it closed the year at $35.3 billion.
Nigeria also needs the external reserves to hit $40 billion if it is to adequately meet some of the pent up demand that has piled up since 2020 when oil prices crashed and the pandemic caused major economic lockdowns.