COVID-19: WHO warns there may never be an immediate solution to the virus
WHO urged governments and citizens to focus on known basic steps to contain the pandemic.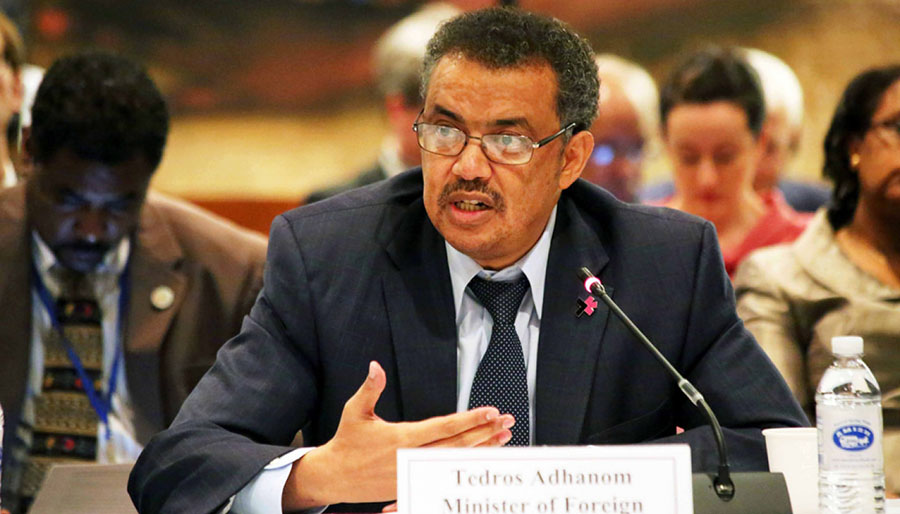 The World Health Organization (WHO) has warned that there might not be an immediate solution or cure to the COVID-19 pandemic despite the positive outcomes at the different levels of trials of vaccines for the virus.
The WHO said that despite strong hopes for a vaccine, there might never be a silver bullet for COVID-19, and the road to normality would be long.
According to the latest data, the coronavirus pandemic has infected over 18.1 million people with more than 690,000 fatalities globally since late January, when the virus was first reported. This is just as some countries that thought they worst was over for them started experiencing a second wave of outbreak.
READ MORE: Lessons for Nigerian fintechs, as Square gets nod for banking license
The Director-General of the WHO, Tedros Adhanom Ghebreyesus, and Mike Ryan, WHO head of emergencies, urged governments and citizens to focus on known basic steps to contain the pandemic such as testing, contact tracing, maintaining physical distance and putting on a mask.
Tedros in a virtual news briefing in Geneva, said, ''The message to people and governments is clear, Do it all. He said face masks should become a symbol of solidarity around the world. A number of vaccines are now in phase three clinical trials and we all hope to have a number of effective vaccines that can help prevent people from infection. However, there's no silver bullet at the moment, and there might never be.'' 
READ MORE: COVID-19: WHO stops hydroxychloroquine, HIV drugs trial after failure 
Chinese Investigation
The WHO officials revealed that an advanced investigation team that was sent to China where the virus started, are not yet back. The UN health agency sent an epidemiologist and an animal health specialist to China on July 10 to lay the groundwork for a probe aimed at identifying how the virus entered the human species.
Tedros said WHO and Chinese experts had agreed on the terms of reference and a programme of work for a WHO-led international team of scientists and researchers from around the world. They are to study the origins of the virus in the city of Wuhan.
READ ALSO: COVID-19: Russia to roll out mass vaccination against Corovirus in October
The WHO boss encouraged mothers to continue breastfeeding even if they had COVID-19, as the benefits outweigh the risks associated with infection.
Tedros also said the international hunt for a vaccine has been historic against the backdrop of the coronavirus disease being the biggest global health emergency since the early 20th century.
Tedros said, ''There are many vaccines under trial, a couple in the final stage of clinical trials – and there is hope. It does not mean that we will have the vaccine, but at least the speed with which we reached the level we reached now is unprecedented."
"There are concerns that we may not have a vaccine that may work or its protection could be for just a few months, not more. But until we finish the clinical trials, we will not know."
COVID-19 Update in Nigeria
On the 23rd of September 2020, 111 new confirmed cases and 2 deaths were recorded in Nigeria
The spread of novel Corona Virus Disease (COVID-19) in Nigeria continues to record increases as the latest statistics provided by the Nigeria Centre for Disease Control reveal Nigeria now has 57,724 confirmed cases.
On the 23rd of September 2020, 111 new confirmed cases and 2 deaths were recorded in Nigeria, having carried out a total daily test of 3,177 samples across the country.
To date, 57,724 cases have been confirmed, 48,985 cases have been discharged and 1,102 deaths have been recorded in 36 states and the Federal Capital Territory. A total of 484,051  tests have been carried out as of September 23rd, 2020 compared to 480,874 tests a day earlier.
COVID-19 Case Updates- 23rd September 2020,
Total Number of Cases – 57,724
Total Number Discharged – 48,985
Total Deaths – 1,102
Total Tests Carried out – 484,051
According to the NCDC, the 111 new cases were reported from 12 states- Lagos (31), Gombe (18), Kaduna (18), FCT (15), Rivers (14), Imo (3), Kwara (3), Oyo (3), Bayelsa (2), Ogun (2), Edo (1), Osun (1).
Meanwhile, the latest numbers bring Lagos state total confirmed cases to 19,086, followed by Abuja (5,598), Plateau (3,304), Oyo (3,236), Edo (2,616), Kaduna (2,377), Rivers (2,277), Delta (1,800), Ogun (1,774), Kano (1,734), Ondo (1,606), Enugu (1,285), Ebonyi (1,038), Kwara (1,028), Abia (881), Gombe (857). Katsina (848), Osun (818),  Borno (741), and Bauchi (692).
Imo State has recorded 565 cases, Benue (473), Nasarawa (449), Bayelsa (397),  Jigawa (322), Ekiti (317), Akwa Ibom (288), Niger (259), Adamawa (234), Anambra (232), Sokoto (161), Taraba (95), Kebbi (93), Cross River (85), Zamfara (78), Yobe (75), while Kogi state has recorded 5 cases only.
READ ALSO: COVID-19: Western diplomats warn of disease explosion, poor handling by government
Lock Down and Curfew
In a move to combat the spread of the pandemic disease, President Muhammadu Buhari directed the cessation of all movements in Lagos and the FCT for an initial period of 14 days, which took effect from 11 pm on Monday, 30th March 2020.
The movement restriction, which was extended by another two-weeks period, has been partially put on hold with some businesses commencing operations from May 4. On April 27th, 2020, Nigeria's President, Muhammadu Buhari declared an overnight curfew from 8 pm to 6 am across the country, as part of new measures to contain the spread of the COVID-19. This comes along with the phased and gradual easing of lockdown measures in FCT, Lagos, and Ogun States, which took effect from Saturday, 2nd May 2020, at 9 am.
On Monday, 29th June 2020 the federal government extended the second phase of the eased lockdown by 4 weeks and approved interstate movement outside curfew hours with effect from July 1, 2020. Also, on Monday 27th July 2020, the federal government extended the second phase of eased lockdown by an additional one week.
On Thursday, 6th August 2020 the federal government through the secretary to the Government of the Federation (SGF) and Chairman of the Presidential Task Force (PTF) on COVID-19 announced the extension of the second phase of eased lockdown by another four (4) weeks.
READ ALSO: Bill Gates says Trump's WHO funding suspension is dangerous
Smartphone to be used for daily tracking of first set to receive COVID-19 vaccine
Essential workers would get daily text messages on their smartphones enquiring about the side effects.
The first set of Americans who get the doses of the first Covid-19 vaccines will be closely monitored by the US Centers for Disease Control and Prevention (CDC) through daily text messages and emails from their smartphones.
This disclosure was made by a federal advisory group on immunization practices during a meeting.
A CDC immunization expert, Tom Shimabukuro, at a meeting of the CDC's Advisory Committee on Immunization Practices, said that essential workers, who were expected to be the first recipients, would get daily text messages on their smartphones enquiring about the side effects in the first week after they get the shot, and then they would be contacted weekly for 6 weeks.
READ: Polio Debt: Gates Foundation agrees to repay Nigeria's $76m debt.
Shimabukuro disclosed that those essential workers could be as much as about 20 million people.
Janell Routh, a CDC medical officer revealed that the advisers also discovered that the CDC and the US Defense Department have set up technical assistance teams to help state and local jurisdictions develop and implement distribution plans, which are due for review and approval by October 16.
While addressing the panel, Routh said, "We are asking states to think broadly. In their plans, I think they should have contingencies for whether there's an ultra-cold product only or whether there's more than one vaccine available."
READ: Official: Japaul confirms it is pulling out of Milost deal
This meeting is coming up at the time when some prominent voices like Bill Gates have expressed their distrust for CDC under its current leadership over their rush for vaccine development which has political undertones.
This is as polls conducted in the past 2 months revealed that majority of Americans expressed worry over the rush in vaccine development and a third wouldn't get inoculated.
Shimabukuro said the quick detection of safety signals was of paramount importance, while also noting that the data gathered could provide reassurance if no safety concerns were detected.
READ: NCC sanctions Airtel, 9mobile for misconduct
While responding to a question over public safety concerns, Shimabukuro said there would be a chance to opt out of the smartphone program. He, however, pointed out that those who had opted out could also decide to opt back in at a later time.
The head of the panel's Covid-19 vaccines working group, Beth Bell, said that the advisory group would counsel Robert Redfield, the CDC Director, on how best to get a Covid-19 vaccine to Americans. A vote on specifics though, won't occur until after the U.S. Food and Drug Administration takes action on a vaccine.
READ: How the proposed minimum wage will affect those earning above N30,000
The committee is made up of 15 voting members, who are mostly medical experts and academics, as well as government and medical industry representatives.
Every jurisdiction is "heavily involved right now in planning" and have been for some time, Routh said. It's unclear whether states will know which vaccine could be first available. Each has different storage requirements with some needing extremely cold storage.
READ: China's Covid-19 vaccine may be ready for general public in November 2020
Kathleen Dooling, a CDC epidemiologist who presented to the immunization panel last month, said 10 to 20 million vaccine doses would be available in November if a vaccine is approved before then.
Covid-19: FG reports 36% drop in confirmed cases, disburses N32 billion to 32 states
Nigeria has witnessed a decline in the number of coronavirus cases in the month of August from that recorded in July.
The Federal Government has announced a 36% decline in confirmed COVID-19 cases in the month of August, as against what was recorded in July across the country.
This disclosure was made by the Director-General of the Nigeria Centre for Disease Control (NCDC), Dr Chikwe Ihekweazu, during a press briefing on Monday by the Presidential Task Force (PTF) on COVID-19 in Abuja.
He, however, said that it is not time to celebrate as the decline could be attributed to low COVID-19 tests in the states.
"The number of reported cases daily has declined nationally in the last few weeks. We have seen a 36 per cent decline in August compared to July on national figures. Unfortunately, we cannot celebrate this until we test sufficient figures in every state," the NCDC boss maintained.
Meanwhile, the Presidential Task Force on Covid-19 has disclosed the disbursement of N1 billion each to 32 states in the country amid the coronavirus pandemic.
This was part of the statement made by the PTF Coordinator, Dr Sani Aliyu, during a press briefing of the task force on Monday in Abuja.
Aliyu said, "We have released money to the state governments recently, to 32 state governments. Each state government was given a billion naira. This is for the purpose of driving their COVID-19 responses and we are asking them to prioritize testing in addition to surveillance activities linked to COVID-19.''
The Chairman of PTF on Covid-19, who also doubles as the Secretary to the Government of the Federation (SGF), Boss Mustapha, called for greater vigilance from both the government and citizen.
While explaining the importance of the call, Mustapha noted that the country's economy has been devastated by the global pandemic.
The SGF stressed that President Muhammad Buhari's administration, as a serious government, is pushing through with reforms that will help the nation's economy recover from the effect of the virus.
Mustapha said, "The call for greater vigilance is underscored by the fact that our economy has been seriously affected by the pandemic and we are pushing through with home-grown economic recovery strategies to cushion the economic impact of the pandemic."