Just In: DSS invites EFCC's Acting Chairman, Ibrahim Magu for questioning
A 2016 report had indicted Magu of several criminal acts including diversion of recovered loot.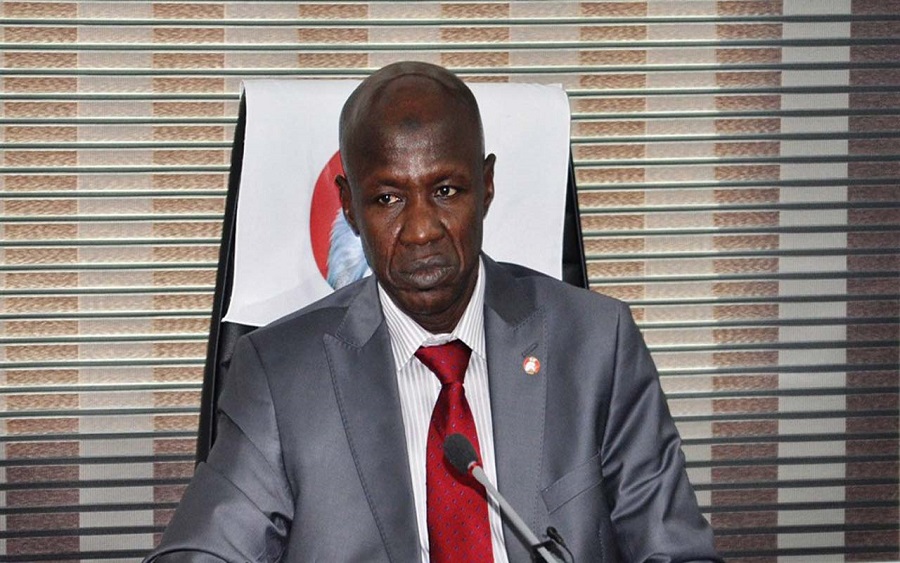 Ibrahim Magu, the Acting Chairman of the Economic and Financial Crimes Commission (EFCC) has been invited by operatives of the Department of State Services (DSS) for questioning. 
Nairametrics gathered Magu was invited Monday afternoon by the DSS. 
Tony Amokedo, a spokesman for Ibrahim Magu claims Mr. Magu wasn't arrested as reported in a section of the media, but was invited for questioning by DSS officials. He said Magu was invited for a Panel set up by the Federal Government investigating corruption allegations against Magu. 
READ ALSO: Reasons we arrested Innoson Motors' boss, Innocent Chukwuma – EFCC
Also, following earlier reports of Magu's alleged arrest, the DSS quickly released a statement through its Public Relations Officer, Peter Afunanya, Ph.D, denying the arrest of the chief of Nigeria's anti-graft agency.
"The Department of State Services (DSS) wishes to inform the public that it did not arrest Ibrahim MAGU, Acting Chairman of the Economic and Financial Crimes Commission (EFCC) as has been reported by sections of the media. The Service, has since, today, 6th July, 2020, been inundated with enquiries over the alleged arrest," DSS statement read.
Last month, the Attorney-General of the Federation, Mr. Abubakar Malami (SAN), wrote to Buhari, recommending the removal of Magu, accusing him of misconduct, insubordination and diversion of recovered loot. 
READ ALSO: EFCC and other anti-graft agencies demand speedy repatriation of stolen funds
A 2016 report by the DSS revealed Ibrahim Magu lives a "high-profile lifestyle". The report revealed Magu lives in a house rented for N40 million at N20 million a year which was paid for by one retired Air Commodore, Umar Mohammed.
Magu is also accused of using private jets belonging to Mohammed and going on trips with bank executives being investigated by the EFCC. 
The report also revealed Magu was guilty of withholding EFCC files, obstruction of justice and sabotage by the Nigerian Police Commission in 2010.
Nigeria needs $3trillion in 30 years to reduce infrastructure deficit – Osinbajo
Vice President Yemi Osinbajo has stated that Nigeria will need $3trillion in the next 30 years to reduce its infrastructural deficit.
The Vice President, Yemi Osinbajo has said Nigeria will need $3trillion in the next 30 years to reduce its infrastructural deficit.
He disclosed this while featuring at a webinar organized by the Bureau of Public Enterprises (BPE).
Osinbajo told the webinar that Nigeria needs to adopt new models of investments for infrastructural developments because relying on public expenditure alone is not sustainable.
READ: How digital transformation will impact Nigeria's projected $8.79 billion economic expansion
The seminar discussed the roles of Public-Private Partnership (PPP) in developing Nigerian infrastructure. The Vice President said Nigeria still face a huge infrastructural deficit, despite government investment which is a roadblock to rapid economic growth.
"The Federal Government recognizes this fact, which is why we are considering other approaches to complement and boost financing for the development and maintenance of infrastructure in Nigeria.
READ: Nigeria's Broadband subscriptions peak at 82.7m – Prof. Danbatta
"It is clear that this deficit can only be made up by private investment. Private sector is 92 per cent of GDP, while the public sector is mere 8 per cent. So, the synergy between the public and private sector through Public-Private Partnerships (PPP) is really the realistic solution.
"The fact that only N2.49 trillion was appropriated for capital expenditure in 2020, reflects the importance of deliberate and pragmatic action to boost infrastructural spending.
READ: #EndSARS: Infrastructure and Works, Education, 3 others are prioritised in Lagos' 2021 budget
"It seems to me to be quite clear that the financial outlay and management capability required for infrastructural development and service delivery outstrip the financial and technical resources available to government.
"In other words, the traditional method of building infrastructure through budgetary allocations is inadequate and set to become harder because of increasingly limited fiscal space," he said.
READ: FEC okays FMBN's request to purchase banking application software for N487.39 million
He revealed that the FG has launched a series of PPP's to enable Nigeria meet its infrastructure deficit needs, citing the roles of agencies like the BPE with PPP's.
"The Federal Government has recently issued a circular on the administration of PPP projects in the country to provide the much-needed clarity.
READ: AfDB to support FERMA with $10 billion for roads, others 
"The circular re-emphasises that the BPE shall be responsible for the concession of public enterprises and infrastructure already listed in the First and Second Schedules of the Public Enterprises Act.
"The circular equally stipulates that the BPE shall act on behalf of the Federal Government, as the counterparty on all infrastructure projects being developed on a PPP basis," he said.
READ: CBN launches Private Sector-led Accelerated Agriculture Development Scheme
He disclosed that the Infrastructure Concession Regulatory Commission (ICRC) would continue to act as the regulatory agency for PPP transactions, with directives including inspections and monitoring PPP projects.
"It is expected that this new policy direction would provide clarity to stakeholders and foster the improvement of PPP programmes in the country.
"Ministries, Departments and Agencies, as well as the multilateral agencies and our development partners are urged to support the PPP policy objectives and institutional arrangements already put up by government," he said.
READ: FG says vehicle owners to pay N250,000 to convert from petrol to autogas
What you should know 
Nairametrics reported last month that Moody Investors Services revealed that Nigeria needs to spend about $3 trillion in over 30 years to bridge the infrastructural gap experienced in the country.
The Minister of Works and Housing, Babatunde Raji Fashola, revealed that the Federal Government needs at least N500 billion annually for the next 3 years to develop and fix its 35,000 kilometres road network, as work continues on 13,000 kilometres of the network.
Nairametrics also reported last month that the FG approved the establishment of an infrastructure company that will be wholly focused on critical infrastructural investments in the country.
National Assembly does not have power to replace constitution – Omo-Agege
The Deputy Senate President has stated that the National Assembly does not have the power to replace the constitution.
The Deputy President of Senate, Ovie Omo-Agege, has stated that the National Assembly does not have the power to replace the constitution.
The Senator disclosed this at a meeting with the Alliance of Nigerian Patriots led by Amb. Umunna Orjiako on Wednesday. He was represented by his media aide, Mr. Yomi Odunuga.
READ: FG to inject over N198 billion on capital projects in power sector in 2021
Omo-Agege said what could be achieved was an amendment of the constitution by the National Assembly. He urged stakeholders to channel the demands of a new constitution towards constitutional amendment.
"I am not so sure that we as a Parliament have the power to replace the Constitution. We can only make amendments and it is explicit in sections 8 and 9 of the constitution on how we can do that and the requisite number of votes required.
READ: Nigeria is the 14th largest producer of tomatoes in the world, second in Africa – NIHORT
"I say that because there are some top attorneys in this country, who for some reasons, keep saying that we don't even need any of this, that we should just bring a new constitution. We can't do that.
"What we are mandated to do by law is to look at those provisions and bring them up-to-date with global best practices, especially to the extent that it tallies with the views of the majority of Nigerians. So we are not in a position to replace this constitution, but we can only amend."
READ: Commercial banks in frenzy as they seek N1.5 trillion boost
The senator also said that the Senate would look into issues like restructuring if there is a major demand for it from Nigerians and also the exclusive legislative list.
"But, like I said, most of the issues you have raised here, like zones replacing states, that's another euphemism for going back to the regions. We will look into that if that is what majority of our people want.
"You talked about devolution of powers. The preponderance of views we have received so far is that those 68 items are very wide and need to shed some weight and move them to the Concurrent Legislative List."
READ: Update: Buhari seeks power to freeze accounts, clamp down on money launderers
What you should know 
Nairametrics reported last week, that Sokoto State Governor, Aminu Tambuwal, said any plan to restructure Nigeria and the Constitution must pass through legal due process from the National Assembly.
Dapo Abiodun presents N339 billion budget to Ogun State Assembly
Ogun State Governor has presented a N339 billion 2021 budget to the State House of Assembly.
The Governor of Ogun State, Prince Dapo Abiodun, presented the N339 billion budget for 2021 tagged "Budget of Recovery and Sustainability," to the Ogun State House of Assembly.
This was disclosed by the Governor on Wednesday after he presented the budget proposal to the House. He added that the budget will remain focused on completing as many projects as possible.
READ: We are working to clear N124 billion backlog of export claims – NEPC
READ: Buhari presents N13 trillion 2021 Budget to National Assembly
I have just presented the Appropriation Bill for the Year 2021, tagged "Budget of Recovery and Sustainability" at the Ogun State House of Assembly, following inputs from stakeholders across the three Senatorial Districts in the State. pic.twitter.com/laWjnFzxkv

— Prince Dr. Dapo Abiodun – MFR (@dabiodunMFR) December 2, 2020
What they are saying 
"Aggregate expenditure for the State Government is N339billion, with a recurrent expenditure of N162billion and capital expenditure of N177billion," the State Governor said in his statement.
He added that the budget would be focused on project completion in the state.
READ: Sanwo-Olu presents N1.1 trillion 2020 budget
"The budget remains focused on the completion of as many ongoing projects as possible. The State House of Assembly would be presented with the most critical projects, which we must all work collectively to ensure they receive adequate funding," he said.
READ: Lagos Rail Mass Transit: House of Assembly approves N153 billion for construction
He also said that the budget will provide suitable grounds for recovery from the obvious economic challenges of the current fiscal year, while ensuring that Ogun State's local economy remains sustainable going forward.