NSE Set to Host Sustainable Capital Markets Forum to Promote Green Finance in West Africa
The NSE in collaboration with the Milken Institute, is set to host the inaugural edition of our Webinar Series on Sustainable Capital Markets for West Africa.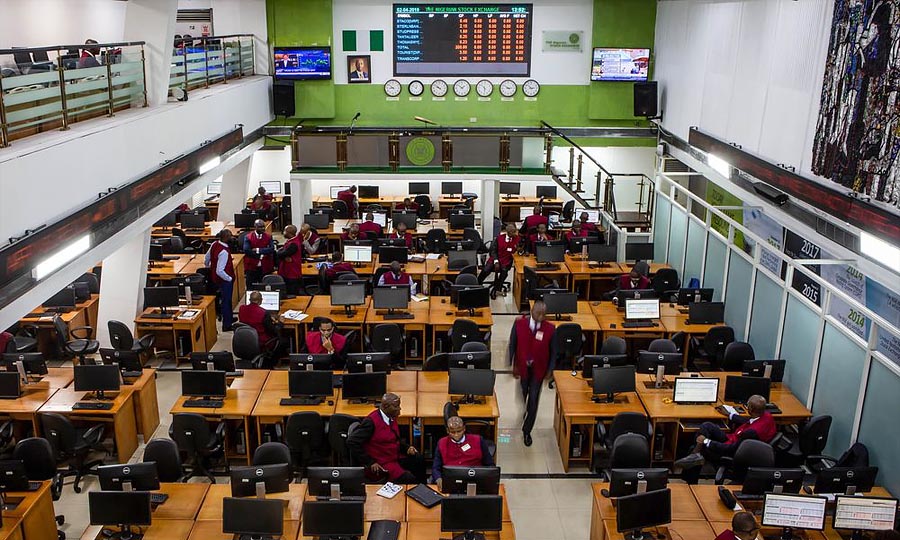 Lagos, 27 May 2020: The Nigerian Stock Exchange ("NSE" or "The Exchange") in collaboration with the Milken Institute, is set to host the inaugural edition of our Webinar Series on Sustainable Capital Markets for West Africa on Friday, 5 June 2020 by 2:30pm. The webinar themed, "Fundamentals of Developing Green Bond Markets", is supported by the Securities and Exchange Commission (SEC).
The forum will provide a platform for policy makers, Government, regulators, West African financial market participants, domestic and international thought leaders on green finance, investors and other market stakeholders to share valuable experiences and best practices on green finance, and promote the development of sustainable finance market segments within securities exchanges in the region. Interested participants should register by clicking here.
READ ALSO: Rwanda set to launch first-of-its-kind Green City worth $4.5 billion
Speaking to the strategic objectives of the webinar, the Chief Executive Officer, NSE, Mr. Oscar N. Onyema, OON said:
"At the NSE, we are resolute in our commitment to promoting sustainable finance because we recognise that urgent action is required to combat climate change and its impact as enshrined in the Paris Agreement on Climate Change and Goal 13 of the Sustainable Development Goals (SDGs). We are committed to fostering the growth of sustainable financial products which integrate the financial risks and opportunities associated with climate change and other environmental challenges.
"Our collaboration with the Milken Institute to host this webinar, therefore, provides us with an opportunity to further contribute to the advancement of the green finance markets, as well to highlight our leadership role in this area. This journey began with the launch of the first fully certified Sovereign Green Bond in Africa by NSE, in partnership with the Federal Ministry of Environment, Federal Ministry of Finance and the Debt Management Office, and has since led to various strategic partnerships and landmark listings," Mr. Onyema added.
READ MORE: Ford turns McDonald's coffee waste to headlamps' cases, other parts 
The Executive Director, Milken Institute, Ms. Staci Warden, said "we are pleased to support the Nigerian Stock Exchange in their commitment to developing green bond markets at home and in West Africa. Nigeria's experience building its local market and its recent green bond issuance can provide valuable insights for West African countries. Building these markets takes intentional and coordinated efforts to create the regulatory environment that can attract qualified issuers and investors. This virtual meeting will help countries as they design and navigate their own road maps for creating sustainable capital markets."
The NSE continues to promote the development of the Green Finance market evidenced in the signing of a Memorandum of Understanding with the Luxembourg Stock Exchange (LuxSE) in 2019 to promote the cross listing and trading of green bonds in Nigeria and Luxembourg. This partnership has already yielded its first fruit with the successful cross-listing of Access Bank's N15 Billion Green Bond on the NSE and LuxSE. Furthermore, The Exchange supports capacity development and investor awareness through the NSE X-Academy, a specialized learning centre that offers bespoke capital market and business courses including courses across the Sustainable Finance theme.
Cowrie Integrated Systems and COINQVEST announce payment processor partnership
Allowing Nigerian online merchants to accept BTC, ETH, XLM, or other cryptocurrencies and settle directly in naira.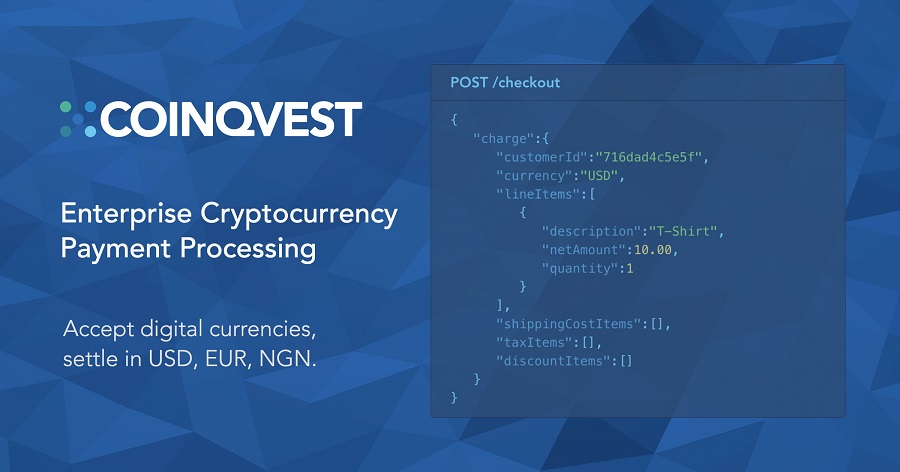 July 9th, 2020, COINQVEST and Cowrie Integrated Systems today announced a partnership to allow Nigerian merchants to add major cryptocurrencies such as Bitcoin and Ethereum to online payment options in online shops and e-commerce businesses. The cooperation between Cowrie and COINQVEST enables these funds to be settled to Nigerian Naira (NGN) bank accounts, in minutes.
Nigerian online merchants can now process payments using any of the major cryptocurrencies their customers use. This financial flexibility and speed can be a game-changer for large and small merchants alike.
The Cowrie and COINQVEST partnership promises a range of positive impacts for enterprises wanting to update their payment processing infrastructure. The COINQVEST platform provides all of the user experience merchants seek and require.
COINQVEST's software development kits make integration easy for developers. Merchants unfamiliar with coding can opt for COINQVEST's turnkey checkout solutions for WordPress, Shopify and Magento. Once set up, merchants have a valuable financial toolbox.
They're able to accept cryptocurrencies (or any supported currency), convert it to their national currency, and withdraw funds to their bank accounts. Merchants have access to customer transaction analytics to tailor their businesses as needed. Also included are compliant and accountant-friendly tax records, useful during tax season.
"Bitcoin is exchanged, and NGN immediately transferred to a bank account, offering a modern and internet-based payment option for customers", says COINQVEST co-founder Marcin Olszowy. He continues, "We eliminate credit card processor fees, payment delays, chargebacks. Immediate transaction settlement also improves financial monitoring and business turnover."
Cowrie co-founder Gbubemi Agbeyegbe explains, "Bitcoin is extremely popular in Nigeria, with the highest adoption rate in Africa. This solution lets online merchants embrace digital payments and gives customers an option to use their Bitcoin in everyday lives."
COINQVEST co-founder Stefan Schneider adds, "COINQVEST offers the most efficient way to accept Bitcoin compliantly. This is why Nigerian businesses, such as leading online fashion store PayPorte and others, already embrace digital currency payment processing via COINQVEST."
About COINQVEST
COINQVEST is a safe and seamless enterprise payment gateway and API between fiat and digital currencies. Processing is secure and automatic, with beautifully designed back-end analytics like invoicing and transaction history to serve enterprise business needs. COINQVEST's developer-centric API can assist merchants or B2B candidates to accept a variety of digital payment options alongside their current methods. Website: www.coinqvest.com
About Cowrie Integrated Systems
Incorporated in the UK and Nigeria, Cowrie Integrated Systems is a fin-tech company that provides value-added services over electronic payment networks. Cowrie Integrated Systems is a well-established Nigerian payment processor and fiat to crypto payment platform and exchange. Website: www.cowrie.exchange
FCMB, SME.NG and WFW Group urge women to take the Lead in driving growth of businesses and development
Women Entrepreneurs discussed their experiences on the effects of COVID-19 on their businesses.
Women in Nigeria have been urged to play a more active and frontal role to stimulate the growth of businesses and overall development. In addition, they have been advised to pursue leadership roles in their communities and the corporate world so as to rise to the top echelon of decision making in order to champion policies and programmes that would ensure sustainable development.
The advice was given by the President and Chief Executive Officer, Global Fund for Women (GFW), Ms. Latanya Mapp Frett, who was the Special Guest Speaker at the 4th edition of the Women Financing Women (WFW) Group meeting hosted by leading financial services provider, First City Monument Bank (FCMB) and SME.NG (Nigeria's SME Impact Investment Platform) in Lagos on Thursday, June 25, 2020.
The WFM quarterly meeting, which was held virtually and recorded 30 registered attendees, provided a platform for women entrepreneurs to come together and share experiences on how the novel COVID-19 (coronavirus) pandemic has affected businesses and proffer solutions to the various challenges posed by the pandemic. The WFW Group, conceptualised by SME.NG in 2019, is an assemblage of women-led funds, investors and financial institutions with diverse portfolios that focus on assisting women to secure finance for their businesses in Nigeria. On the other hand, SME.NG is an impact investment platform that invests in Nigerian Small and Medium Scale Enterprises (SMEs) to realise measurable environmental, social and financial returns.
According to Ms. Frett, the absence of women in key leadership positions has limited the ability and capacity of women-owned businesses, including Small and Medium Scale Enterprises (SMEs), to secure the relevant support to ensure their success.
She stated that, "the inability of women to reach the very top of leadership positions is a limitation to reach our goals. These include long term opportunities to influence the attainment of international sustainability targets in a manner that would impact positively on the well-being of women and their endeavours, especially in the area of business and other socio-economic activities".
Ms. Frett informed that the Global Fund for Women has in the last 35 years intervened and supported women in various ways. She listed this to include funding of over 5,000 women-owned businesses across the world since the outbreak of the COVID-19 pandemic, and the creation of a feminist funding model, under which GFW works with a network of partners to ensure that women can fund the business of other women through grants of between $10,000 and $100,000 for a period of 3yrs.
In addition, she disclosed that the Fund is in partnership with the United Nations and other multilateral organisations to sustain girls' education following the COVID-19 pandemic, while also initiating a Crisis Fund for the pandemic. She added that the funds are used to provide relief items, health services and other essentials across communities. Ms. Frett urged financial institutions to, "focus on the overall social Impact beyond their funding to businesses by determining which ones with limited resources they can continue to fund and have multiplier effect in this critical period".
Also speaking at the meeting, the Executive Director, Business Development FCMB, Mrs. Bukola Smith, stated that FCMB has been supporting businesses for several years and has been very deliberate in this regard for women-owned SMEs. This includes the setting up of a women in business proposition, known as SheVentures to meet the various needs of women entrepreneurs.
"SheVentures is a brand for FCMB's Women in Business proposition, which provides financial and business support to women owned businesses enabling them to unlock potential, scale-up and build sustainable businesses with significant impact on the economy", she explained.
Mrs. Smith, who is a prominent member of WFW, noted that the FCMB SheVentures initiative is centered on 4 pillars; Access to capital which encompasses the SheVentures zero-interest loan granted to over 160 Women SMEs since last year, Gender Intervention Funds and Equity funding through collaboration with SME.NG to give ready women SMEs access to women investors; Access to knowledge which ensures that women entrepreneurs are guided with the proper training and robust mentorship programs to help them navigate and understand the business environment; Access to network and Access to market".
She restated the commitment of FCMB to sustain its support for women entrepreneurs, adding that, "through the profitable and beneficial business models we have developed for women entrepreneurs, we have gone a step further by ensuring that SMEs that have benefitted from our support in turn go ahead to improve the social state of their communities positively. We look forward to learn more on how to support female entrepreneurs given the challenges faced due to the COVID -19 Pandemic".
The Managing Partner for SME.NG, Ms. Thelma Ekiyor, informed that the organisation, in collaboration with the Federal Ministry of Women Affairs and Nigeria Association of Chambers of Commerce, Industry, Mines and Agriculture (NACCIMA), conducted a "National Survey on the Impact of COVID-19 on Women-owned Businesses". 1,300 women entrepreneurs in 30 states participated in the survey to determine their challenges and needs. She added that a key recommendation from the survey, is for a Fund to be domiciled at the Federal Ministry for Women's Affairs to support women entrepreneurs in recovering from the pandemic.
Ms. Ekiyor also mentioned that SME.NG is working with FCMB and GroFin (a SME development financier) to provide finance to women-owned businesses, who graduate from their Accelerator "She Works Here".
Women Entrepreneurs at the meeting gave testimonials about their experiences on the effects of covid-19 on their businesses. Notable among the achievements recorded is an increase in the number of jobs created, an indication that their respective businesses are growing in a sustainable manner.
Explore economic research data from Nairametrics on Nairalytics
The participants also advised that women entrepreneurs should tap into and harness the benefits of e-commerce and all other forms of business digitization.
For more information about FCMB, please visit www.fcmb.com.
How MultiChoice is getting the economy working with BBNaija
Small wonder why millions of youth and brands jostle to associate with the BBNaija show annually.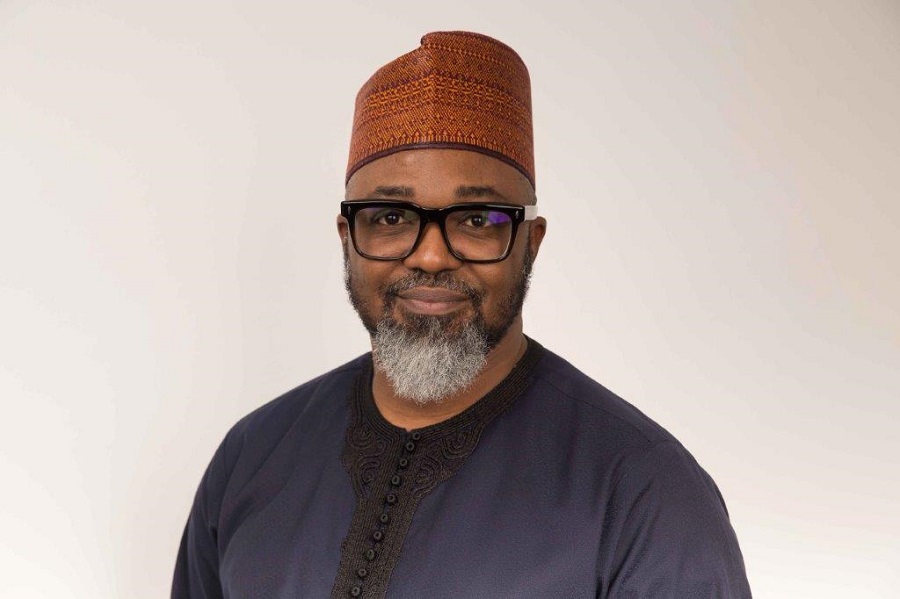 The International Monetary Fund (IMF) in 2017 announced that Nigeria's creative industry accounted for 2.3 percent, approximately N239 billion, of the nation's GDP in 2016. This has been re-echoed by Minister of Information, Lai Mohammed at the 61st Tourism conference in Abuja 2019 and the then Minister of State – Industry Trade and Investment, Aisha Abubakar.
Abubakar, while speaking at a Creative Entrepreneurs Summit in 2019, declared that with the pace the Nigeria creative Industry is growing it has the fastest growth rate in the world. We cannot talk about this exponential growth without pointing to the role the Big Brother Naija show is playing, arguably, the biggest television reality show out of Nigeria and Africa right now.
With rising unemployment and a stuttering economy, the creative industry, which forms a major part of the nation's informal sector, has continued to come to the rescue of Nigerians, putting foods on tables, promoting people from obscurity to stardom and helping many achieve their dreams.
With the dwindling fortune of white-collar jobs, Nigeria's informal sector accounted for about 65 percent of Nigeria's 2017 GDP, according to the IMF which also rated Nollywood as the second-biggest employer in Nigeria, engaging over a million persons. It's evident that over the years millions of Nigerians have been devising ways to help themselves survive through economic hardship without waiting for the government.
READ ALSO: Nigeria's movie industry, Nollywood generates about $1 billion yearly – Afreximbank 
The COVID-19 pandemic has further worsened the situation. Across the world, the fear of mass layoff (already happening) coupled with a possible economic recession predicted by experts is shifting focus to the informal sector and the creative industry is expected to be the receiving port for the influx of many young people in search of greener pasture and economic liberation.
Small wonder why millions of youth and brands jostle to associate with the BBNaija show annually. It is well established from previous editions that has produced stars in movie, music and media, that the show is a major contributor to the growth of the creative industry of the most populous black nation in the world.
But how is MultiChoice Nigeria achieving this?
It may look like a mystery, but the show is beyond the 12 people and the host Ebuka Obi-Uchendu, himself a past contestant, we see on the screen for 99 days. There is more to the show than the contestants – the crew members, brands, small and medium-sized businesses, online vendors and entertainers who visit the house are also huge beneficiaries of the BBNaija show.
At the backstage making the work happen are more than 100 crew members – cameramen, photographers, housekeepers and many others in their hundreds who get paid for making the reality show a true reality.
Ebuka shared a photo in 2019 of about 100 crew members (directly hired) to work behind the scenes to bring the show to viewers. The multiplying effect of this on the economy of a nation cannot be underestimated.
READ ALSO: Multichoice Nigeria launches new app for DStv installers.
The show made a remarkable move last year when it gave out a Nigerian made car to Mercy Eke, winner of the 2019 edition. This move earned MultiChoice commendation from many Nigerians and it has further promoted the Innoson made vehicle to other parts of Africa.
Before BBNaija 2019, not so many people knew about a smartphone brand called Oppo, it gained exposure that has translated to an increase in patronage and revenue by joining other brands like Bet9ja, Pepsi, Gulder to sponsor weekly games on the show.
The small and medium sized business owners who are contracted as vendors to supply necessities like food, wearables, cosmetics, toiletries to the house during the show have also seen an exponential growth in their businesses by associating with the show. Many of these businesses run online shops, by exposing their brands on the show to over 40 million viewers across Africa, their hitherto small businesses have received a higher degree of patronage from Nigeria and other African countries.
In October 2019, House of Lunettes, a brand that makes eyeglasses announced that it sold out its products a few hours after Tacha Akhide became its brand ambassador. Such is the power BBNaija wields.
Entertainers and DJs who visit the housemates have also enjoyed a high degree of publicity that has further positioned their brands to the consciousness of not just Nigerians, but millions of Africans.
We may not be able to put a figure to the huge impact of BBNaija on the nation's economy, it is clear that solving the economy puzzle remains a daunting prospect, which the show alone cannot solve, but it is making a giant step in proffering a solution.
Lai Mohammed said in 2019 that "Our (Nigeria's) greatest strength lies in our creative industry, music and our films. That is one area we have a comparative advantage over many other countries."
Over the years, MultiChoice through BBNaija has continued to churn out talent taking over the creative scene – Gideon Okeke, Bisola Aiyeola, Ifu Ennada among many other past contestants have made names in Nollywood. Efe Ejeba winner of the 2017 edition went to pursue a career in music and Miracle Igbokwe through his cash prize in the 2018 edition was able to achieve his long term dream of becoming a pilot, though he didn't stay in the creative industry like other contestants, BBNaija has helped him fulfil his dream, what more can he ask for?
The likes of Tobi Bakre who has featured in movies and soap operas, Mike Edwards a brand ambassador for Nigeria family of Japanese automotive manufacturers, Mitsubishi; and many others are also making good use of the fame the platform brought to register their names in the creative scene.
Over the years, people have expressed cynical opinions about the show, it is not unexpected, what, in fact cannot be ruled out is that viewers have a real emotional attachment to it, contestants, businesses and individuals attached to it are seeing the impact on their bank statements and their brands.
Explore economic research data from Nairametrics on Nairalytics
With the dearth of talent harvesting shows and many other reality TV shows that the harsh economy has frustrated to wind up, commendation must be given to MultiChoice Nigeria for weathering the storm and providing a way out of the conundrum to make BBNaija a major contributor to the growth of the creative industry.