Nigeria's crude oil demand is climbing back to pre-coronavirus levels
Offers for Nigeria's oil are said to be "firming up" as crude oil prices maintain bullish trend.
Oil prices continued its rise on Tuesday as investors cheered on the news that global economies were easing down on sanctions and a vaccine to fight Covid-19 and passed a crucial test. According to several reports monitored by Nairametrics, a flurry of positive news is driving a spike in crude prices and could remain sustained till the end of the week.
As of Tuesday evening,  WTI benchmark was up +1.7% and trading at $32.36 while Nigeria's benchmark Brent Crude was trading down at $34.44 down just 1%. It is important to note that Brent Crude is up from $29.3 which was the price last Tuesday (one week ago).
In another news, Reuters reports Nigerian sale of its Bonny Light crude also sustained its offers on Tuesday heading back to "Pre-Coronavirus levels" a positive development for the government. "Nigerian offers continued to firm on Tuesday, towards pre-coronavirus levels, though it was unclear at what level deals were taking place" Reuters reported. 
READ ALSO: Up in smoke: CBN rejects N432 billion in failed treasury bills bids
According to the report'
Nigerian Forcados was being offered around dated Brent plus $1.75 a barrel and Bonny Light and Qua Iboe around plus $2
a barrel.
Similarly, offers for Nigerian Egina have jumped to dated Brent plus $2.50 after lingering at dated Brent flat.
Results of Indian firm IOC's latest buy tender did not immediately emerge.
Bonny Light Crude price was trading for $33.95 when we tracked on Tuesday night.
Gold drops in two consecutive days, as hope raises over Covid-19 vaccine
Gold futures fell 1.70% to $1,706.06 by 4 pm local time, with global investors retreating from the pullback from gold after hopes were strengthened
Gold was down for the second day in a row on Tuesday morning in London's trading session, even after a falling dollar made gold slightly cheaper for investors holding other currencies.
Gold futures fell by 1.67% to $1,706.45 by 4 pm local time, with global investors retreating from the pullback from gold after hopes were strengthened on Novavax's Covid-19 vaccine. The biotechnology company is preparing to present results from its phase one clinical trial of its vaccine by July. Based on these, phase 2 trials will begin in many countries, including America.
READ ALSO: Africa day 2020: Buhari urges economic groups, CSOs and private sectors to drive peace for economic development
Investor sentiment was also boosted by Japan, the third-largest economy in the world, as it lifted its state of emergency which included regions like Tokyo. However, the number of Covid-19 cases continues to climb, and U.S.-China relations continue to simmer in the background.
Furthermore, global investors will look to U.S. Federal Reserve Chair, Jerome Powell's, statements during a scheduled virtual meeting on Friday for tips of whether the Federal Reserve will consider negative rates.
(READ MORE: The World's Economy may not survive without a vaccine)
"US-China tensions have also fueled concerns about the implementation of a trade deal. Gold's rally is showing signs of exhaustion amid relative calm in equity markets. However, buying interest may emerge at lower levels amid growth worries and US-China tensions," Kotak Securities said in a recent note.
Naira drops to N462 at parallel market
Rates in the parallel market will remain under pressure and we might see it above the N460 /$ levels it is currently trading at. 
 
The Naira depreciated on Tuesday at the parallel segment of the foreign exchange market against the U.S (United States.) dollar selling at N462 to $1 compared to N460 against the dollar on Monday.
Victor Silas, an Investment analyst, in an interview with Nairametrics, explained that the downward pressure seems to persist at the black market due to the limited forex supply at the I & E window. He said,
"With the prolonged limited FX supply to the market, investors and corporates unable to get dollars at the I & E windows will result in the parallel market. As more shortage of FX supply is prolonged and unable to meet demands.  
READ ALSO: Bureaux De Change operators warn against proposed VAT increment 
 
"Rates in the parallel market will remain under pressure and we might see it above the N460 /$ levels it is currently trading at. 
 At this point, Nigeria's central bank needs to restore confidence and provide more FX for legitimate transactions." 
(READ MORE: Naira depreciates to N460/$1 at the parallel market, despite improved liquidity)
However, Aminu Gwadabe, president, Bureau De Change Operators of Nigeria (ABCON (Association of Bureau De Change of Nigeria)) explained recently that Bureau De change operators will resume fully as soon as restrictions placed on air travels and international airports are lifted.
READ MORE: We are still studying 'Eco' adoption by ECOWAS members- FG
He said the return of the operators will help stabilize the naira and reduce the impact of currency hoarders and speculators.
"I, therefore, want our members and the General public not to engage on panic buying as anytime soon fingers might be burnt from such behaviours," he said.
Dollar drops against major world currencies
The U.S dollar index that tracks the American dollar against a basket of other major currencies was down 0.67% to 99.22 by 12 noon Nigerian time on Tuesday.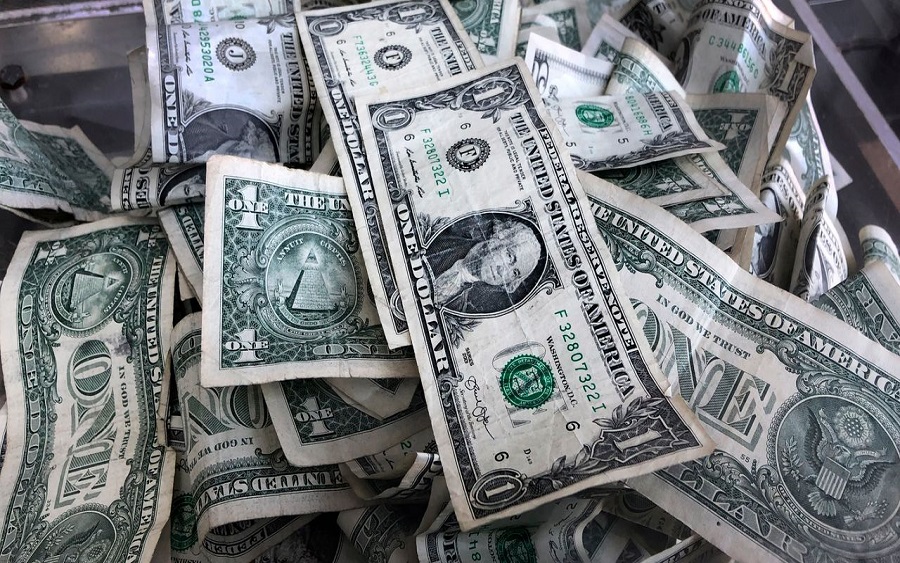 The American dollar dropped on Tuesday afternoon, owing to the strengthened global investors' risk appetites as more countries cautiously ease lockdowns caused by the deadly COVID-19 virus.
The U.S. Dollar Index that tracks the American dollar against a basket of other major currencies (like the Japanese yen, British pound sterling, Swedish Krona, Euro), was down 0.64% to 99.252 by 12-noon Nigerian time on Tuesday, after global investors retreated from the safe-haven asset.
What it means: Nigerians hoping to meet foreign exchange payment obligations, via dollar transactions to countries like Europe, and Japan, would need to pay more dollars to fulfil such transactions.
(READ MORE: Why Forex trading is becoming popular in Nigeria )
But the U.S dollar upside was capped as global investors continued to track the U.S.-China relationship. Tensions between the two most powerful world economies flared up last week after China enacted national security laws for Hong Kong. 
"Markets are caught between two conflicting currents," Michael McCarthy, CMC Markets' chief strategist, told Reuters.
"Rising tensions between China and the U.S. are raising concerns while easing COVID-19 lockdown measures are fueling growing optimism." Michael McCarthy added.