Analysis: Corona Pandemic for Nigerian Tech Startups
Most Nigerian tech startups face a dire future and how they manage through this unprecedented crisis could determine whether to survive or die.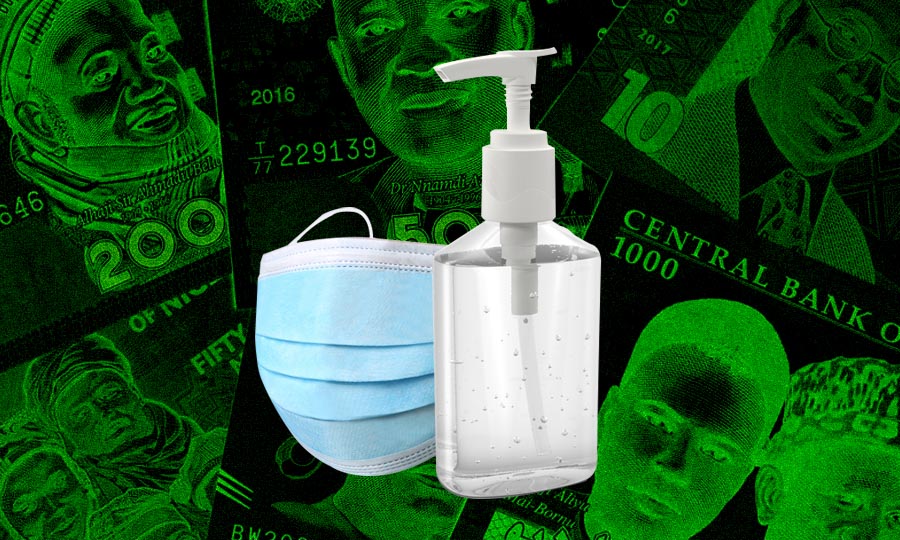 Small businesses hate national strikes, elections and anything that means they won't have to trade or do business. It's easy to understand why.  
Owners of these businesses rely on every single working day to survive. They need to make sales, pay their bills, pay suppliers, pay salaries and even pay the government. Add the pressure of growing customer/user base, exponential revenue growth especially If you are a burgeoning tech startup and you realise why every working day matters. The Coronavirus induced shut down is posing an existential threat to the survival of Startups and SME's in Nigeria.
Last Friday, the central bank devalued the naira from N307/$1 to $360/$1 while it instructed BDC's to sell dollars at the retail end at N380/$1. The decision became imperative after oil prices crashed below $30 as the oil war between Saudi Arabia and Russia raged on. It's going to get bloodier. The last time Nigeria faced a crash in oil prices, the economy went into a recession. Economic naysayers already believe another recession is inevitable especially if the government goes ahead with its planned shut-down.  
The global pandemic caused by the Covid-19 virus has also brought the global economy on its knees. Nigeria is not exempted, with confirmed cases topping 50 including one death. State government have decided to take drastic decisions to contain the spread. Anambra State government announced a state-wide shut down while Lagos State is reportedly shutting down the state by Thursday. Nigeria Federal Executive Council has suspended its weekly meetings just as it reported that the president's chief of staff Abba Kyari had contracted the virus. None of this bodes well for the Nigerian economy, especially for startups.  
READ MORE: Nigerian startups dominate winners' list at the maiden Africa Netpreneur Prize Initiative 
Most Nigerian tech startups face a dire future and how they manage through this unprecedented crisis could determine whether to survive or die. The odds of dying seem to stack high and above survival and the reasons are obvious. For businesses who rely on daily sales to survive a partial or total shut down of the economy will be devastating to their bottom line. Sales will plummet for the period of a likely shut down as Nigerians spend of food and medical supplies cutting off every other thing which they deem non-essential. Employees can't come work and even if they work remotely customers will not be available to purchase. Nigeria's consumption expenditure will probably take a major hit as wages and salaries dry up assuming a countrywide shut down is implemented.  
As more Nigerians stay at home, so will their ability to spend on goods and services sold by Startups and SMEs. While they rack up unsold inventories they still need to deal with pending and recurring expenditures. Salaries must get paid, rent obligations will be due and bills outstanding will have to be cleared. Supply chains are also reportedly cut off with countries around the world shutting down airports and their borders. Reports suggest most major markets like Alaba are fast running out of stock. Startups who rely on these supply chains will suffer immense losses induced by their inability to stock inventory and compete with sales.  
READ MORE: CBN, Bankers committee back N3.5 trillion stimulus package for Nigeria
With the exchange rate effectively devalued, Startups will see their cost shoot up while they figure out how to soften the blow through price increases. Very few will survive the effect of a devaluation. Accessing forex will be daunting making it difficult for them to pay for services crucial to their existence.
Most startups will run out of cash and could go bust if they don't get the needed help. The central bank promised a bailout of N50 billion for startups but fell short of providing details. Without some sort of financial support from the CBN or development banks many will be victims of a twin war they know nothing of. But it's not all gloom and doom. Crisis like these will also epiphanic moments for some entrepreneurs. It will present an opportunity for them to adapt their business models and seize market share. Those who are able to pivot quickly to take advantage of the situation will come out winners. But for the others, they will be lucky if they are still in business.
Nigeria is dealing with a global pandemic but the aftermath of it could just be the start of another pandemic for Startups.  
CBN "Naira 4 Dollar Scheme" Explained
What the CBN's Naira 4 Dollar scheme means for your money.
In what appears to be an attempt to incentivize dollar remittances by all means possible, the Central Bank of Nigeria (CBN) released a circular to Deposit Money Banks (DMBs), International Money Transfer Operators (IMTO), and the General Public, advising that remittances paid into a bank account will attract an additional credit alert for every USD$1 received!
Yes, you read that correctly. The CBN will facilitate a special additional credit alert of N5 for every USD$1 received. In other words,
if someone sends you $10,000, you get an additional special credit alert for N50,000.
If someone sends you $100,000, you get an additional special credit alert for N500,000.
Who is eligible?
To be eligible, the diaspora remittances need to be processed and received from one of the registered IMTOs and funds received into a Bank account operated by the DMBs. (So, if you are receiving funds via Crypto sorry you are not eligible).
Additionally, the circular says this "incentive runs from Monday 8th March 2021 to Saturday 8th May 2021″. So, if you have plans to receive dollars, you can plan accordingly.
The circular is not clear how exactly the commercial banks will know which account to pay the extra special credits into. Although, that may be a question diaspora funds recipients will need to ask their DMB accounts officers to clarify for them.
How will this be funded?
The circular notes that the "CBN shall through commercial banks, pay to recipients the N5 incentive for every USD$1". In other words, it is the CBN funding the cost of this special extra credit.
One would argue that given the costs of alternative incentives to attract dollars such as the special OMO window for FPI, this may be a cheaper alternative for the CBN.
But we will need to see the volume of expected remittance to be certain of that. Nigeria attracts about $5billion per quarter in remittances and only trails oil in terms of foreign earnings.
Why this matter to Nigerians?
Following the collapse of US Dollar inflows into the country, the CBN initially tried to balance its current account deficits and avoid an official devaluation by tackling FOREX demand (Think ban of 41 items, etc).
Finally, this short-term Naira-4-Dollar scheme will not be called an official Naira Devaluation. But a question is what do we call the new short-term price of N412.50 + N5.00? Maybe we can call it Naira Modulation.
Nigerian Breweries leveraging, but stacking cash through rising input costs
The marathon continues for Nigerian Breweries with its 2020 financials.
Humanity might need more booze to survive the increasingly daunting intricacies of life, but Nigerian Breweries 2020 financial statement is proof that even the best can get caught up in the reality of changing business lifecycles.
Nigerian Breweries Plc had floored the market providing both alcoholic and non-alcoholic premium quality beverages across the nation. But with brands like Star lager beer launched as far back as 1949, Gulder lager beer launched in 1970, and even the family-friendly Maltina introduced as far back as 1976, it is only natural that both the old and new generation competition gives them a run for their market share.
Much like other old money companies, Nigerian Breweries has done its bit to remain relevant in the industry from creating new variants of existing favoured brands to paying dividends consistently annually for the past few years. Yet within the same period, the company's financial statements have been a testament to its streamlined market share and reducing profits. The marathon continues with its 2020 financials. The industry giant may as well be setting itself up for a debt quagmire peradventure its projections do not match the true reality of events.
READ: How COVID-19 has changed Nigeria's consumer goods & industrial markets –KPMG
2020 financials: A tale of higher costs & larger debts
2020's unfavourable financial/ business environment led to the increase in the prices of raw materials and disruptions in logistics for many Nigerian-domiciled businesses including Nigerian Breweries. Raw materials and consumables witnessed a 17% increase despite the marginal growth in revenue.
While the group's 2020 results revealed a 4.35% increase in revenue from N323 billion in the prior year to around N337 billion, these gains were curtailed by a higher-than-par increase in cost of sales which had risen by 13.9%, from the N191.8 billion expended in 2019 to N218.4 billion as its 2020 financials reveal and interest rates going way up.
READ: Flour Mills and its diverse challenges
The company's lower operating expenses were not enough to salvage the disruption caused by the raging interest expense following increased charges paid on bank loans and overdraft facilities as well as the significant increase in overall debt. Between 2019 and 2020 alone, long term loans and borrowings increased by 974% from N4.8 billion to as much as N51.8 billion. Even trade and other long term payables increased by 35%.
In its financials, the company noted that it has revolving credit facilities with five Nigerian banks to finance its working capital. The approved limit of the loan with each of the banks range from ₦6 billion to ₦15 billion (total of ₦66 billion) and each of the agreements had been signed in 2016 with a tenor of five years. The Company had also obtained Capital and Working capital finance from the BoI in 2019.
READ: Manufacturing sector in Nigeria and the reality of a "new normal"
It is no news that the company is involved in diversified lease arrangements. Following reclassifications made in 2019 to some of its lease assets, the 2020 asset base also witnessed significant increase in Right of Use Assets which increased by 288%% from N11.1 billion to N42.9 billion. Yet, the fact that in one year, interest expense on Lease Liabilities rose from N19.7 million in 2019 and to a whopping N4.171 billion shows that the company is taking way more debt than its books require.
But what's it using all the cash for?
Beyond rising material costs, borrowing costs have been huge and the annual interest payment by virtue of these loans make the possibility of higher profits for the company a mirage. That said, the overall increase in total liabilities might not have been such a bad idea if the funds were being used to increase revenue and profits. But having a huge chunk of all that money in cash creates a different kind of challenge. Cash and bank values in its statement of financial position significantly increased by 377% from N6.4 billion in 2019 to N30.4 billion in 2020.
Is the cash being held to mitigate possible challenges of the volatile economy or are they being used to pay dividends? Even at a share price of N52 per share, the company's price-to-book value sits at 2.5816, testament of its dire overvaluation. Consequently, there is an ardent need for the company to come up with newer ways to attract the wider market and keep its book in the green with a little less external funding.
Nairametrics | Company Earnings
Access our Live Feed portal for the latest company earnings as they drop.