Curbing COVID-19 through naira
Cash is notoriously covered in germs; studies suggest that paper bills can contain bacteria and viruses, and lead to the spread of disease.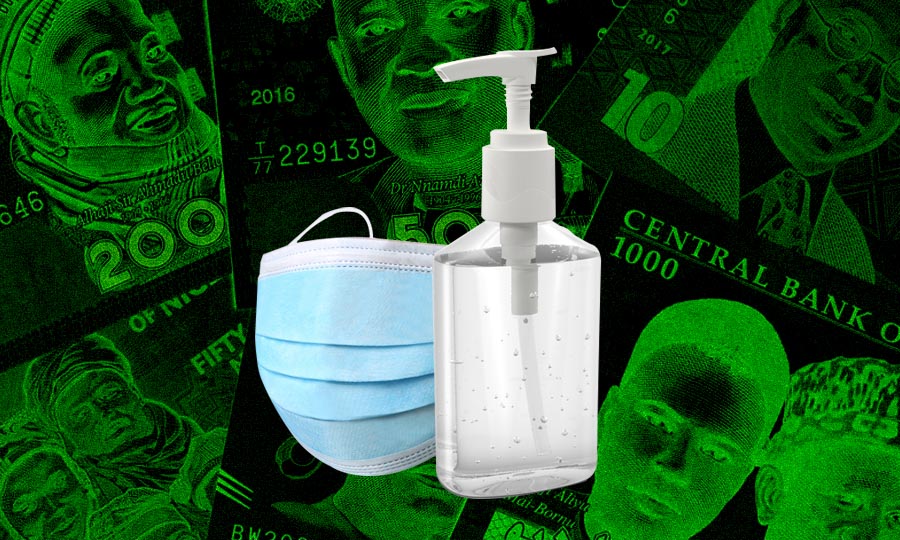 As many Nigerians shop for food, medical supplies amid the coronavirus pandemic (COVID-19), some shopping outlets reportedly advised that you should use electronic transfer methods instead of using cash.
Cash is notoriously covered in germs; studies suggest that paper bills can contain bacteria and viruses, and lead to the spread of disease. It is important for all to handle less cash, as the Central Bank of Nigeria also advised.
What you need to know: The lifespan of various bills ranges from 4 to 15 years, meaning your bills have a lot of time to accumulate germs. Getting coronavirus, or other respiratory viruses like influenza, on your hands only leads to infection when it is transferred from your hand to places like your mouth, nose or eyes.
More intriguing is the question surrounding the future of Naira notes. Could the outbreak of this virus be a period to bid farewell to the era of cash transactions?
In recent times, the banking system has brought a new outlook by migrating online. Customers now need not walk down to their various banks to make the transaction; only a tap on their mobile phones will help save the stress.
[READ MORE: Banks' assets under strain after naira depreciation)
This has become so alarming following the media non-hyperbolic reports that revealed that the virus can be easily spread through the handling of cash if the notes have amassed a fluid of an infected.
Therefore, the banking online interface may mount to its importance with the outbreak of the pandemic. However, while it is true that China and South Korea have taken measures to sanitize their cash, these moves are based on theoretical and not scientific conclusion that the novel coronavirus specifically has a higher risk of transmission on money than other similar viruses.
The best defence against potentially infected money is simple: Don't touch your face or eat food after handling cash without washing your hands, and always wash your hands thoroughly after coming into contact with any money.
This advice, WHO told CNBC, should be followed all the time, not only during a viral outbreak.
COVID-19 Update in Nigeria
On the 26th of November 2020, 169 new confirmed cases were recorded in Nigeria
The spread of novel Corona Virus Disease (COVID-19) in Nigeria continues to record significant increases as the latest statistics provided by the Nigeria Centre for Disease Control reveal Nigeria now has 66,974 confirmed cases.
On the 26th of November 2020, 169 new confirmed cases were recorded in Nigeria, having carried out a total daily test of 7,101 samples across the country.
To date, 66,974 cases have been confirmed, 62,585 cases have been discharged and 1,169 deaths have been recorded in 36 states and the Federal Capital Territory. A total of 756,237 tests have been carried out as of November 26th, 2020 compared to 749,136 tests a day earlier.
COVID-19 Case Updates- 26th November 2020,
Total Number of Cases – 66,974
Total Number Discharged – 62,585
Total Deaths – 1,169
Total Tests Carried out – 756,237
According to the NCDC, the 169 new cases were reported from 12 states- Kaduna (74), FCT (42), Lagos (17), Kano (8), Ogun (6), Oyo (6), Rivers (6), Ekiti (3), Bauchi (3), Katsina (2), Delta (1) and Ondo (1).
Meanwhile, the latest numbers bring Lagos state total confirmed cases to 23,083, followed by Abuja (6,671), Plateau (3,813), Oyo (3,721), Kaduna (3,019), Rivers (2,969), Edo (2,696), Ogun (2,202), Delta (1,824), Kano (1,789), Ondo (1,728), Enugu (1,332),  Kwara (1,096), Ebonyi (1,055), Katsina (1,014), Osun (945), Gombe (938). Abia (926), Bauchi (765), and Borno (745).
Imo State has recorded 662  cases, Benue (496), Nasarawa (488), Bayelsa (445),  Ekiti (357), Akwa Ibom (339), Jigawa (331), Niger (296), Anambra (285), Adamawa (261), Sokoto (165), Taraba (157), Yobe (94), Kebbi (93), Cross River (90), Zamfara (79), while Kogi state has recorded 5 cases only.
READ ALSO: COVID-19: Western diplomats warn of disease explosion, poor handling by government
Lock Down and Curfew
In a move to combat the spread of the pandemic disease, President Muhammadu Buhari directed the cessation of all movements in Lagos and the FCT for an initial period of 14 days, which took effect from 11 pm on Monday, 30th March 2020.
The movement restriction, which was extended by another two-weeks period, has been partially put on hold with some businesses commencing operations from May 4. On April 27th, 2020, Nigeria's President, Muhammadu Buhari declared an overnight curfew from 8 pm to 6 am across the country, as part of new measures to contain the spread of the COVID-19. This comes along with the phased and gradual easing of lockdown measures in FCT, Lagos, and Ogun States, which took effect from Saturday, 2nd May 2020, at 9 am.
On Monday, 29th June 2020 the federal government extended the second phase of the eased lockdown by 4 weeks and approved interstate movement outside curfew hours with effect from July 1, 2020. Also, on Monday 27th July 2020, the federal government extended the second phase of eased lockdown by an additional one week.
On Thursday, 6th August 2020 the federal government through the secretary to the Government of the Federation (SGF) and Chairman of the Presidential Task Force (PTF) on COVID-19 announced the extension of the second phase of eased lockdown by another four (4) weeks.
READ ALSO: Bill Gates says Trump's WHO funding suspension is dangerous
Covid-19: African Union in talks with China and Russia over vaccine
The AU and Africa CDC have revealed that they have reached out to both China and Russia over the possibility of vaccine partnerships.
The Africa Centres for Disease Control and Prevention and the African Union announced they have been in talks with China and Russia over the possibility of vaccine partnerships to ensure that Africa is not left behind when vaccines become available.
This was disclosed by John Nkengasong, Africa CDC Chief, at the Bloomberg Invest Africa online conference.
READ: Covid-19: Pfizer to file for emergency authorization for its vaccine, reaches safety milestone
Mr. Nkengasong said that Africa would not limit itself to only one vaccine partner and that Africa was willing to work with as many partners as possible to provide a vaccine for its 1.2 billion people.
"We are not limiting ourselves to any particular partner. As a continent of 1.2 billion people, we are willing to work with any partner who adheres to our strategic plan for vaccine development and access in Africa.
"The continent is taking the access and development of vaccine very, very seriously. We really need to see clinical trials being done on the continent, so they address issues like background infections from other diseases."
He disclosed that the Africa CDC resumed talks last week with China, to discuss partnerships with Chinese Drug Manufacturers and also clinical trials in Africa. He added that Russia has been approached with a similar plan.
He said that the WHO Covax programme only covers 20% of the population, but Africa will need 60% of its population vaccinated to achieve herd immunity.
"There are multiple avenues being explored now to make sure Africa has the appropriate doses of vaccines and also that we have that in a timely fashion, not in a delayed manner," Nkengasong said.
He revealed that the AFREXIM Bank agreed to finance vaccine procurement with $5 billion and is waiting to see how much it will receive from World Bank's $12 billion vaccine procurement fund for developing nations.
READ: COVID-19: G-20 to extend debt relief to developing nations
What you should know 
Nairametrics reported earlier this month that Pfizer Inc. disclosed that its experimental vaccine, which is jointly developed with BioNTech, was more than 90% effective in preventing COVID-19, based on initial data from a large study in the ongoing phase 3 trials.
(READ MORE: COVID-19: AstraZeneca vaccine could be 90% effective against the virus)
Last week, a pharmaceutical company, Moderna Inc., stated that its COVID-19 vaccine was 94.5% effective in treating coronavirus, after preliminary analysis of a large late-stage clinical trial.
The G-20 nations also announced a pledge to pay for vaccine distribution to developing nations that could not afford it. The leaders also unveiled a debt extension programme to developing nations during the weekend's G-20 summit.
The Federal Government of Nigeria also announced through the Ministry of Health, that it would inaugurate an 18-man Covid-19 Vaccine Task Team, in a bid to ensure vaccine security In Nigeria.
Covid-19: EU considers skipping vaccine patents to boost vaccine access
The EU has disclosed plans to increase its access to Covid-19 vaccines by offering financial incentives to vaccine production companies.
The European Union (EU) says its planning emergency measures to increase its access to Covid-19 vaccines including sidestepping patent rights and offering financial incentives to vaccine production companies to move production to Europe.
This was revealed in an EU document on Wednesday and reported by Reuters. The Document says the EU may create an emergency coordination mechanism to be issued at short notice when the EU needs a vaccine license, which is different from fully patent waivers, discussed in the WTO last week.
READ: COVID-19: EU to buy up to 300million doses of BioNTech-Pfizer's COVID-19 vaccine
The EU says the new move will ensure faster procedures during a pandemic, which will enable generic production in the EU without the consent of patent holders.
"The Commission sees the need to ensure that effective systems for issuing compulsory licenses are in place, to be used as a means of last resort and a safety net, when all other efforts to make IP (intellectual property) available have failed," the EU's document said.
READ: COVID-19 boosts Fidson Healthcare Plc's Q2 2020 performance
The EU's actions may be triggered by its inability to access the antiviral drug, remdesivir, during the pandemic, as the United States ordered most of the stock.
READ: U.S dollar drops, Currency traders fear increasing COVID-19 caseloads
The EU also disclosed that it will begin a consultation process with pharmaceutical companies next year to address issues in its pharmaceutical value chains. They added that measures could be imposed to encourage manufacturers to move pharmaceutical production to Europe from China and India.
"The Commission calls on member states to ensure that the tools they have are as effective as possible; for instance, by putting in place fast-track procedures for issuing compulsory licenses in emergency situations," the EU said.
READ: COVID-19: Vaccine Alliance says vaccine might cost a maximum of $40 per dose
They added that it is urgent "to assess whether manufacturing capacity for certain critical medicines may be required in the EU."
"We need to be able to rely on ourselves, not on others," the Commission's Vice President, Margaritis Schinas said. He disclosed that the EU is working on more compliance with drug supply need and increased stock levels by 2022.
What you should know
This comes as surprise considering the EU rejected a World Trade Organization (WTO) proposal last week to waive the intellectual property rights needed for the manufacturing of Covid-19 vaccines. The waiver would have made the vaccine access cheaper for developing nations.