BBC tasks Nigerian women to do more on society development
One of the major highlights of Day 5 of the Social Media Week, which was recently held in Lagos, Women in Nigeria and Africa at large, has been encouraged to participate and contribute more to societal development on a global scale.
Women in Nigeria and Africa at large, have been encouraged to participate and contribute more to societal development on a global scale. This was one of the major highlight of Day 5 of the Social Media Week, which was recently held in Lagos.
During one of the sessions, the British Broadcasting Corporation (BBC) hosted a forum on female participation and engagement.
The session tagged 'Turning up the Volume on Female voices' exposes the audience to how the voices of women should be considered when the media reports news and creates content so as to reduce the notion that sees women as the second choice when stories are presented.
The Panel had senior broadcast journalists at BBC, Daniel Semeniworima and Christiana Ejiogu. BBC Editor, Ehizojie Okharedia and BBC Igbo Editor, Adline Okere were also part of the forum.
(READ MORE: GTBank's MD/CEO, Segun Agbaje to speak at Social Media Week on Thursday, February 27,…)
In the course of the panel session, Okere made known that the BBC is trying to change the perception that all women have to offer is matters or stories pertaining to family, food, fashion, children, amongst others.
According to her, so many women are doing big things around the country, which is why the BBC deliberately looks for female contributors to tell their unique stories on the platform.
"Within our services what we do is get women contributors, we can't make good headlines or tell good stories without telling someone's story so we deliberately look for a woman's story to tell. We try and reveal those things women do that have been going unnoticed," Okere said.
Capturing female voices in stories: One of the strategies implemented by the media organization to drive female engagement and speak to its female audience is to capture the thoughts and voices of women, by giving them a chance to speak on issues on the national level as well as the global stage.
Semeniworima gave an example, using the Coronavirus case in Lagos. He narrated that to get a female perspective to the development, his team deliberately went out in search of women, who were willing to talk on the matter.
He also said another way of telling the world that women have very strong views and ideas about big stories in the world is by getting a female expert to talk about the virus.
"Beyond that, for every story we do, we want to have female contributors. For a society like Nigeria and this part of the world, we believe that women will do more if you give them the opportunity to seek and the keyword to emphasize here is intentional so for each of our strategic meetings on story coverage, we ensure that female voices are captured. It has made us tell more engaging content that would impact more women," Semeniworima added.
(READ ALSO: InsideMainland partners social media week Lagos to host session on citizen journalism)
For Okharedia, practical attention needs to be given to women, as there are several women doing big things. He went on to urge women to discover what they are passionate about and proceed to pursue it with vigour in order to stand themselves out.
He said there should be no such thing as a man's job because women are as effective and their voices are as loud as that of men.
Just In: DSS invites EFCC's Acting Chairman, Ibrahim Magu for questioning
A 2016 report had indicted Magu of several criminal acts including diversion of recovered loot.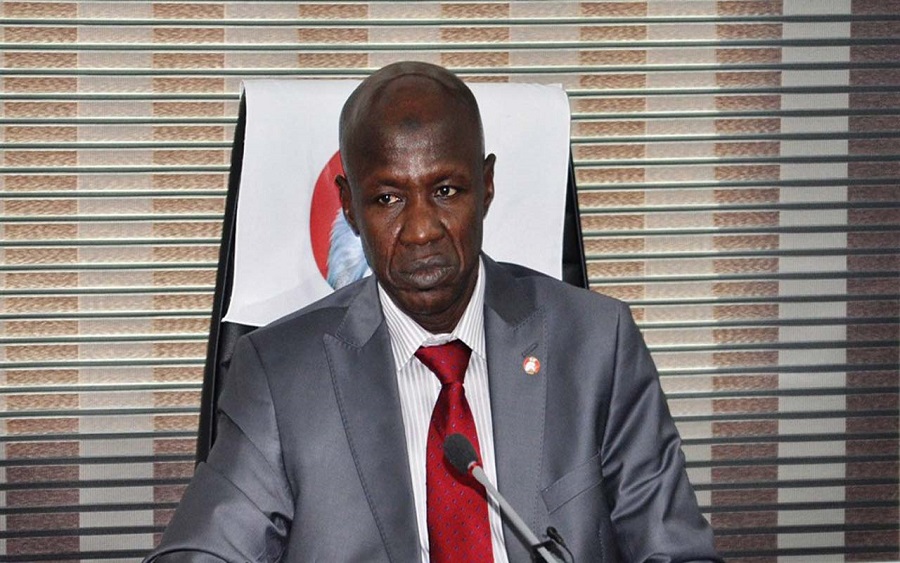 Ibrahim Magu, the Acting Chairman of the Economic and Financial Crimes Commission (EFCC) has been invited by operatives of the Department of State Services (DSS) for questioning. 
Nairametrics gathered Magu was invited Monday afternoon by the DSS. 
Tony Amokedo, a spokesman for Ibrahim Magu claims Mr. Magu wasn't arrested as reported in a section of the media, but was invited for questioning by DSS officials. He said Magu was invited for a Panel set up by the Federal Government investigating corruption allegations against Magu. 
READ ALSO: Reasons we arrested Innoson Motors' boss, Innocent Chukwuma – EFCC
Also, following earlier reports of Magu's alleged arrest, the DSS quickly released a statement through its Public Relations Officer, Peter Afunanya, Ph.D, denying the arrest of the chief of Nigeria's anti-graft agency.
"The Department of State Services (DSS) wishes to inform the public that it did not arrest Ibrahim MAGU, Acting Chairman of the Economic and Financial Crimes Commission (EFCC) as has been reported by sections of the media. The Service, has since, today, 6th July, 2020, been inundated with enquiries over the alleged arrest," DSS statement read.
Last month, the Attorney-General of the Federation, Mr. Abubakar Malami (SAN), wrote to Buhari, recommending the removal of Magu, accusing him of misconduct, insubordination and diversion of recovered loot. 
READ ALSO: EFCC and other anti-graft agencies demand speedy repatriation of stolen funds
A 2016 report by the DSS revealed Ibrahim Magu lives a "high-profile lifestyle". The report revealed Magu lives in a house rented for N40 million at N20 million a year which was paid for by one retired Air Commodore, Umar Mohammed.
Magu is also accused of using private jets belonging to Mohammed and going on trips with bank executives being investigated by the EFCC. 
The report also revealed Magu was guilty of withholding EFCC files, obstruction of justice and sabotage by the Nigerian Police Commission in 2010.
Over 20% of N-Power beneficiaries are now business owners – FG
The Minister emphasized the President's vision of lifting 100 million Nigerians out of poverty.
The Minister of Humanitarian Affairs, Disaster Management and Social Development, Sadiya Umar Farouq, has said that about 109,823 beneficiaries of the N-Power programme now have their own businesses.
This represents about 22% of the 500,000 Nigerians that have benefited from this programme since its inception.
This was disclosed in a statement by the Minister's Special Assistant on Strategic Communications, Mrs Halima Oyelade on Saturday, July 4, 2020. She said that the beneficiaries of Batch A and B of N-Power have established businesses in their communities.
READ MORE: Why Federal Government disengaged 2,525 N-Power beneficiaries
The Minister in the statement said, "Statistics like this gives me joy and once again, I want to say congratulations; I look forward to hearing amazing testimonies and meeting beneficiaries of this programme who will be doing great things in the future".
She emphasized President Muhammadu Buhari's vision of lifting 100 million Nigerians out of poverty in the next 10 years by creating opportunities that would improve the productivity of Nigerian youths for entrepreneurship or employment.
Going further the minister said, "Thus, the need to find ways to engage them is of utmost importance. However, the commencement of the enrolment of Batch C was predicated on the need to give more Nigerian youths the opportunity to benefit. This is because, keeping only 500,000 beneficiaries for four years defeats the purpose of Mr President's vision, hence the need to scale up and was in no way meant to be punitive."
While acknowledging the beneficiaries' contributions, Farouq said, ''You are our model N-Power beneficiaries. Please avail yourselves of all opportunities provided by government like interest-free loans and leverage on those opportunities while using N-Power as a stepping stone".
The minister said the ministry is working at resolving some of the challenges facing the programme which include delays in the payment of stipends, beneficiaries not showing up at their places of primary assignments and people accessing the programme while gainfully employed elsewhere.
The minister also assured beneficiaries that outstanding payments would be made and transition plans were ongoing and would be duly communicated to them on their platform.
Download the Nairametrics News App
Some of the beneficiaries of the programme gave good testimonies about the impact of the programme in their lives and all expressed their gratitude to the Federal Government for the opportunity.
Nairametrics has reported the opening of application portal for batch C of the programme with effect from 11.45 pm on June 26, 2020. There have been over 3 million applicants that have shown interest in batch C of the programme in about a week.
Nigeria's debt rises to $79.5 billion, as debt to revenue ratio worsens
According to data obtained from DMO, $27.66 billion (N9.9 trillion) is the total external debt.
Nigeria, Africa's largest economy's total public debt rose to $79.5 billion (N28.63 trillion) as of the first quarter of 2020, which is March 31, 2020. This represents a 15% increase from the figure that was recorded for the corresponding period in 2019, which was about $69.09 billion (N24.94 trillion).
This was disclosed in a latest publication by the Debt Management Office (DMO) on Friday June 3, 2020.
Nigeria has seen its debt stock rise sharply in recent years as the country tries to fund infrastructural and developmental projects and boost its fragile economy, which has been in and out of recession. The country's economy has been projected to fall into recession again, due to the adverse impact of COVID-19 that has seen oil prices crash globally.
According to data obtained from DMO, $27.66 billion (N9.9 trillion) is the total external debt. This represents 34.89% of the total public debt stock. Whereas, $51.64 billion (N18.64 trillion) is the total domestic debt, which represents 65.11% of the total public debt.
READ MORE: Nigeria borrows N754 billion in 3-month, total debt now N25.7 trillion  
The Federal Government accounts for 50.77% of the total domestic debt, which is $40.26 billion (N14.53 trillion), whereas the State Governments and Federal Capital Territory account for 14.34% of the total domestic borrowing which is $11.37 billion (N4.11 trillion).
Nigeria has been under a lot of fiscal crisis following the crash of oil prices triggered by the coronavirus pandemic. The oil sector accounts for about 90% of the country's foreign exchange earnings and about 60% of its total revenue.
The country, which had lined up a series of debt issue this year, had to halt the external commercial borrowing due to oil price collapse. The Minister for Finance, Zainab Ahmed, had last week disclosed that the country would no longer go ahead with its Eurobond debt issue.
READ ALSO: Lagos debt hits N39.6 billion, to borrow N97 billion more
The Nigerian government, for now, is focusing on the domestic markets and concessionary loans to help fund the 2020 budget deficit which is made worse by drop in revenue. In the recently approved 2020 revised budget, the federal government is expected to borrow N850 billion from the domestic market.
This rising debt has put a lot of pressure on the government's resources as it spent $1.69 billion (N609,13 billion) to service its domestic debt in the first quarter of 2020 alone.
Nairametrics had reported that Nigeria's global rating is at risk due to the sharp rise in the country's sovereign debt and a growing finance gap. According to a report from the global rating agency, Fitch Ratings, this could trigger a rating downgrade as policymakers struggle to stimulate growth and deal with the impact of low oil prices and sharp drop in revenue.
Download the Nairametrics News App
According to Fitch, the country's debt to revenue ration is set to deteriorate further to 538% by the end of 2020, from the 348% that it was a year earlier.