Lafarge Plc reveals why it invited Italian man with Coronavirus to Nigeria
Lafarge Plc has disclosed the reason it invited the Italian, who was isolated for Coronavirus a day after coming into Nigeria, to its Ogun State factory.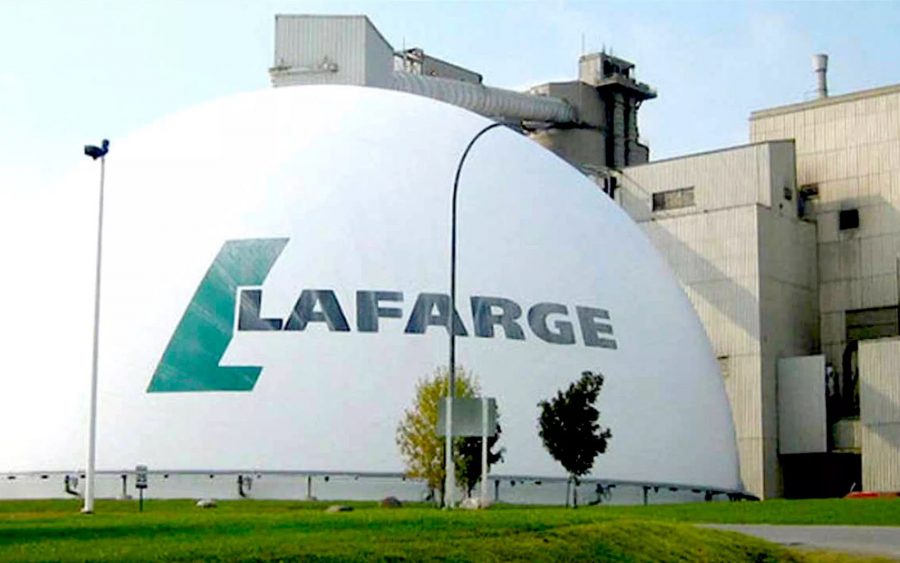 The Industrial Director of Lafarge Plc, Segun Soyoye, has explained why the company invited the unnamed Italian, who was isolated for Coronavirus a day after coming into Nigeria, to its Ogun State factory.
Soyoye said the Italian, who is currently being treated and observed at the Lagos State Biosecurity Facilities, had come into the country to inspect some installations of machines. Recall that Nairametrics had earlier reported that the Italian came to Nigeria for a short business trip.
It was disclosed that at the time the Italian developed abnormal temperatures, which suggested he had been infected with Covid-19 (coronavirus), he had not visited the guest house at Ishofin Estate.
Soyoye revealed that, "The Italian came for a business visit. He was in Lagos on Monday and slept at Airport Hotel, Ikeja. Our driver took him there.
"When we observed abrnomal temperatures and symptoms, we quickly instituted an Emergency Response Team, which is led by the Company's CEO. We have to find a way of analysing and identifying not only the Italian but also the other contacts.
"The contacts are now 39 and we have quarantined them, the house and clinic as well as the vehicles. We don't take chances that is why they are put there.
"They will be there for 14 days. We will continue to observe them, we have their database, showing their biodata and other information."
[READ MORE: Coronavirus: Prices of face masks, hand sanitizers rise by 300%)
He added that, "The doctor is here and what he is doing is to check them on a regular basis. So far, everybody is stable. They are not symptomatic, we are providing everything for them over there.
"The other thing that I have not said is that the clinic that was used for the infected person is closed, disinfected and we moved everybody out.
"All the guys on duty that day, they were also quarantined, so they will be there for 14 days as well."
Soyoye made this known while touring Lafarge facility at Ewekoro with Ogun State Government, Nigeria Centre for Disease Control, and World Health Organisation teams.
Meanwhile, the team Leader, World Health Organisation, Nigeria, Ibrahim Mamadu, advised that digital thermometers should be acquired by companies to check body temperatures accurately, rather than the infrared thermometers.
Nigerian government spends equivalent of 83% of revenue to service debt in 2020
The Federal Government of Nigeria achieved a debt service to revenue ratio of 83% in 2020.
The Federal Government of Nigeria achieved a debt service to revenue ratio of 83% in 2020. This is according to the information contained in the budget implementation report of the government for the year ended December 2020.
According to the data seen by Nairametrics, total revenue earned in 2020 was N3.93 trillion representing a 27% drop from the target revenues of N5.365 trillion. However, debt service for the year was a sum of N3.26 trillion or 82.9% of revenue.
Nigeria's debt service cost of N3.26 trillion has now dwarfed the N1.7 trillion spent on capital expenditure of N1.7 trillion incurred in 2020. This is also the highest debt service paid by the Federal Government since we started tracking this data in 2009.
The total public debt (External and Domestic) balance carried by Nigeria as of September 2020 stood at N32.22 trillion ($84.57 billion). Included in the total debt is a domestic debt of about N15.8 trillion.
What this means: Nigeria's debt to GDP ratio is estimated at about 22%, one of the lowest in the world and much below what is obtainable in most emerging markets.
However, the challenge has always been the debt service to revenue ratio, a metric that reveals whether the government is generating enough revenues to pay down its debts as they mature.
Since the first recession experienced in 2016, Nigeria has struggled with higher debt service to revenue ratio as revenues slid in direct correlation with the fall in oil prices.
Nigeria's government spent about N2.45 trillion in debt service in 2019 out of total revenue of N4.1 trillion or 59.6% debt service to revenue ratio.
At 83%, 2020 ranks as the highest debt service to revenue ratio we have incurred. Before now it was 2017 with 61.6%.
Breakdown of what debts were serviced
The following amount was spent on debt service during the year
To service domestic debt, the government spent N1.755 trillion in 2020 as against a budget of N1.87 trillion.
For foreign debts, a sum of N553 billion was spent against a target budget of N805.47 billion. The drop here is likely a result of lower interest rates on foreign borrowing as well as very limited borrowing from the foreign debt market during the year.
The government only contributed N4.58 billion into its sinking fund instead of the budgeted N272.9 billion.
The sinking fund is required to set aside funds that will be used to pay down on other loans such as bonds when they mature in the future.
Finally, a sum of N912.57 trillion was spent on servicing CBN's loans, granted via its Ways and Means provisions.
Nairametrics reported last week that a total sum of N2.8 trillion was extended by the CBN to the FG as Ways and Means.
What happens next: In 2021, the government projects a debt service of N3.1 trillion against revenue of N6.6 trillion or a debt service to revenue ratio of 46.9%.
The government plans to spend N4.3 trillion on capital expenditure during the year.
Top 10 African tech companies and capital raised in 2020
These are the top 10 tech companies and the capital they raised in 2020.
African startups raised over $1 billion in funding in 2020, with Nigerian startups raising 17% of this amount – 55.37million in Q1 2o2o and 28.35million in Q2 2020, according to Techpoint.
These are the top 10 rankings of the highest fundraisers for 2020.
Flutterwave
The startup provides digital payments infrastructure and services which enable global merchants, payment service providers, and pan-African banks to accept and process payments across various channels.
It raised a $35M Series-B round led by US venture capital firms Greycroft and eVentures in January 2020. The funding was invested in technology and business development to grow market share in the countries it operates in.
ChipperCash
The startup offers cross-border P2P payments services across 7 African countries. It raised $30m in a Series B funding round in November 2020 led by Ribbit Capital, an American based VC firm that invests in early-stage startups.
The funding was used to improve its products to include API payments solutions, crypto-currency trading options, and investment services and also expand its markets.
54gene
The startup is equalizing precision medicine by including underrepresented Africans in global genomics research. It raised $15M in a Series A funding round in April 2020 led by Adjuvant Capital – a life sciences fund backed by the International Finance Corporation, Novartis, and the Bill & Melinda Gates Foundation.
These new funds will be used to address the gap that exists in precision medicine for people on the African continent.
Aella Credit
The startup is a one-stop app for all your financial needs. Aella makes it super easy for anyone to borrow, invest, and make payments. It secured a $10 million debt financing round from a Singaporean company – HQ Financial Group.
The new capital raised from Singapore is expected to facilitate the credit company's effort to provide financial inclusion to many more of the people who are currently unbanked across Nigeria, West Africa, and other emerging markets.
Helium Health
The startup has become the leading provider of full-service technology solutions for healthcare stakeholders in Africa. It raised a $10 million Series A round in April 2020.
Global Ventures and Africa Healthcare Master fund (AAIC) co-led the investment round. Helium plans to use the latest funding round to hire and expand to North and East Africa, including Kenya, Rwanda, Uganda, and Morocco.
Kuda Bank
The startup provides a full banking service on your smartphone. It secured a US$10 million seed round in November 2020 – the biggest seed round ever to be raised in Africa, led by Target Global with participation from Entrée Capital and SBI Investment.
The funding will be used to help accelerate its growth plans and keep up with customer demand. Specifically, funds will be used for key hires, product development, and to expand operations across Africa.
Trade Depot
The startup is a Nigerian B2B eCommerce company that utilizes an end-to-end distribution platform aimed at connecting the world's top consumer goods companies directly to retailers in Africa.
It raised $10-million in a pre-Series B equity round co-led by Partech, International Finance Corporation, Women Entrepreneurs Finance Initiative (We-Fi), and MSA Capital in July 2020.
The new investment will enable Trade Depot to continue connecting international brands with small businesses in Nigeria, expand into other African cities, launch a suite of financial products, and credit facilities aimed at supporting its retailers.
Field Intelligence
The startup is helping governments and businesses make good on the promise of healthcare in the fastest-growing parts of the world by making the pharmaceutical supply chain radically simple, affordable, and easily accessible.
It raised a $3.6 million Series A round in March 2020, led by Blue Haven Initiative, with investors including Newtown Partners via the Imperial Venture Fund and Accion Venture Lab.
The investment will be used to scale Shelf Life expansion throughout Nigeria and Kenya, as well as the development of additional services for Shelf Life clients and their patients.
MedSaf
The startup connects suppliers to hospitals and pharmacies directly to make the pharmaceutical supply chain more efficient. The health start-up raised $3.5M in a seed funding round in December 2020.  It will use this funding to expand to other African countries.
Auto Chek
the company is an automotive technology company that aims to build solutions for the African market. It raised $3.4 million in pre-seed funding round in November 2020, co-led by TLcom Capital and 4DX with inclusion from Golden Palm Investments, Lateral Capital, Kepple Africa Ventures.
Autoochek will use the investment to grow its Nigerian and Ghanaian markets, invest in its tech, and grow its team.
Despite the ravaging impact of Covid-19, Nigerian tech start-ups raised millions of dollars in funding. We hope to see more investors in the first quarter of 2021.
FG receives N144 billion in dividends from NLNG in 2020
NLNG, paid the Federal Government a dividend of N188 billion in the fiscal year ended December 2020.
Nigeria Liquified Natural Gas Company, NLNG, paid the Federal Government a dividend of N144 billion in the fiscal year ended December 2020.
This is according to the information contained in the Ministry of Finance Budget implementation report for the period of January 2020 to December 2020 and presented by the Minister for Finance Dr. Zainab Ahmed.
During the year, the Federal Government budgeted a sum of N80.3 billion as its share of dividends from NLNG, however, the actual sum received as its share was N144 billion, N63.2 billion more or 79% higher than projected.
The year 2020 was a difficult year for the government as the fall in crude oil prices and the economic shutdown that was triggered by the Covid-19 Pandemic dented projections and ravaged revenues.
READ:  NLNG says Train 7 project will surge production capacity to 30 million MPTA 
NLNG Dividend Bliss
The dividend received from NLNG was a major bright spot in the government's revenue performance for the year.
During the year, the government projected revenue of N5.36 trillion but only received N3.9 trillion in revenues representing a shortfall of N1.4 trillion or 27% for the year.
The huge dividend windfall received in 2020 is a stark contrast from 2017 when Nigeria just exited a recession triggered by falling oil prices and a sharp exchange rate devaluation.
In that year, the Federal Government's share of dividends from Nigeria Liquefied Natural Gas (NLNG) dropped by as much as $687 million, from $1.04 billion in 2015 to $365 million in 2016, a 65% drop.
The N144 billion received in 2020 topped the amount received from signature bonuses only N78.2 billion and complimented the N192 billion received by VAT.
It is the most effective form of revenue generation for the government.
READ: NLNG signs 10 year sales deal with Eni
NLNG Controversies
Back in July Nairametrics reported that the House of Representatives planned to investigate the alleged illegal withdrawal of $1.05 billion from the NLNG account by NNPC without its knowledge and appropriation.
They had accused the NNPC of illegally tampering with the funds at the NLNG dividends account to the tune of 1.05 billion dollars thereby violating the nation's appropriation law.
NLNG is a company jointly owned by Nigerian owned NNPC(49%), Shell (25.6%), Total (15%), and ENI (10.4%).
The company is located in Bonny Island and has six trains with a total capacity to process 22 million tonnes of LNG a year and as much as 5 million tonnes of natural gas liquids.
NLNG currently accounts for about 7% of the total LNG supply in the world. Nigeria is ranked as the 4th exporter of Natural Gas in the world.
READ: NLNG signs supply agreement with Galp Trading SA
Upshots: The FG is targeting a revenue of N208 billion from NLNG as dividends in 2021. If this materializes, it will be a significant payout in dividend (in naira terms) competing with the N238.4 billion expected from VAT.
Important to note that the recent devaluation of the naira will increase the naira value of dividends and other government revenue, as it did in 2020.
The government also targets N6.6 trillion in revenue for the period under review.
---
Updated: An earlier version of this article captured the dividend as N188 billion instead of N144 billion. It has now been corrected.