US, Nigeria hold talk on commercial & investment in Washington D.C
Representatives from the U.S, Nigeria government and private sector met for the Commercial and Investment Dialogue on Tuesday 4th of February.
No doubt, this week was loaded, especially in Washington D.C, where representatives from the United States of American and Nigerian governments and private sector met. They met at the United States Chamber of Commerce for the Commercial and Investment Dialogue (CID) on February 4, 2020 and Nairametrics was in attendance.
The event was organised by the U.S Chamber of Commerce, American Business Council Nigeria, and U.S Department of Commerce.
Present at the CID event were Hon. Karen Dunn Kelley, Deputy Secretary of Commerce, U.S Department of Commerce; Hon. Richard Adebayo, Nigerian Minister of Industry, Trade and Investment; Minister of State for Petroleum, Timipre Sylvia; Scott Eisner, President of U.S Africa Business Center; U.S Chamber of Commerce, Joseph C. Semsar; Acting Undersecretary of Commerce for International Trade, International Trade Administration (ITA) and Yewande Sadiku; Executive Secretary and CEO, Nigerian Investment Promotion Council (NIPC).
Why it matters: The ultimate goal of the CID is to deepen trade and investment ties between both countries by formulating a conversation with policymakers and the private sector and by highlighting the importance of improving the business climate, as well as the need to build a greater economic growth for the United States and Nigeria.
[READ MORE: Buhari secures fresh $308 million Abacha loot from US)
The areas of focus addressed by the CID include challenges and real deal opportunities in infrastructure, agriculture, digital economy, investment and regulatory reform sector. The private sector Lead for the US side is Kimberly Clark.
According to a report circulated in the program notes for the event, Nigeria has a thriving SME ecosystem and is increasingly showing a spike in smartphone adoption to over 53 million connections- a necessary fillip for SME growth.
The report further noted that mobile technology connects 49% of the population, in comparison to other Nigerians that have a fixed-line connection. These people account for less than 1% of the country's entire population.
There is a further need to strengthen the digital economy sector within Nigeria. To do so the government needs to encourage data protection and not localization.
According to the United States – Nigeria CID program notes, the free flow of data across borders is the precondition for showing a competitive and digital economy that enhances the security and privacy of the citizens.
One of the proposed short-term solutions reached at the meeting was to ensure capacity building to public sector officials through workshops and other fundamental programs, which would focus on pro-development regulations and policies that address these issues.
A long-term solution for this plan may include a quarterly public-private forum, which addresses the issues affecting business and investment in the ICT sector.
The meeting did not also shy away from the agriculture sector and its importance to the Nigerian society. Though the country has about 75% of land ready for cultivation, only 40 % of the land is cultivated. To make matters worse, there is also a high deficiency of protein in Nigeria, which leads to a high level of malnutrition and mortality.
In order to combat the issues of food security and to improve the value chain, a proposed plan shared by Ed Beaman, Senior Director New Program Development, Non-Traditional Funding & Sub Saharan Africa, U.S Soyabean Export Council (USSEC), stated that a rigorous curriculum to develop human capacity leading to certification across the value chains was in the works. The plan also proposed to improve access to finance in order to enable SMEs' access to U.S equipment, bulk grain purchases, grain and cold storage facilities, and additional seed as well as agronomy technology products.
The Nigerian private sector that participated at the event includes Wale Tinubu, MD/CEO of Oando Plc.; Paul Gbededo CEO/Managing Director of Flour Mills; Sadiq Usman Chief Operating Officer Flour Mills, and Dr Sunday Enebeli Uzor of Zenith Bank. The Nigerian Investment Promotion Council directly coordinated the CID from the Nigerian side.
At the reception, which followed the government-to-government discussion on the next step, Ruth Dowling, Senior Vice President General Counsel EMEA for American Tower Cooperation and sponsors of the event, shared a good accomplishment record of their company's involvement in the Telecommunication space in Nigeria.
The cooperation has a burgeoning workforce made of 246 Nigerian employees excluding indirect employees in the value chain. She also stated that the company had invested about 2 billion dollars since their entry into Nigeria.
The US Ambassador to Nigeria, Mary Beth Leonard noted that US was committed to growing business projects in Nigeria including the recent launch of the West African Hub an initiative of the USAID that would help create 40,000 jobs and administer $60 million in co-investment funds plus attracting private-sector investment of $300 million in five years.
Minister Adebayo expressed optimism for the positive outcome of the event. He also stated that the Ministry of Industry, Trade & Investment would leverage the AGOA meeting in June to hold a technical session.
Adebayo added that he and others within his Ministry would reach out to the private sector for input and feedback, as the government works to improve all sectors within the Nigerian economy.
[READ ALSO: US Speaker, Pelosi, Atiku frown at Trump's travel ban placed on Nigerians)
There was a small celebration for Minister Adebayo at the reception as he turned a year older on the day of the event.
It was interesting to be in the midst of senior government officials and the private sector from the two countries sharing their optimism about business growth potentials
Though the issuance of the recent travel restriction by the Trump administration hangs like a dark cloud, what remains intact is Nigeria's willingness to improve in all sectors by reaching out to its ally, the United States. This event underscores that the two countries are working hard to maintain a relationship in spite of the travel restriction.
Paul Olele Jnr writes from Washington DC. He is a 2019 graduate of George Washington University and currently works as graduate Media and Research Intern at the Initiative for Global Development.
COVID-19: WHO warns there may never be an immediate solution to the virus
WHO urged governments and citizens to focus on known basic steps to contain the pandemic.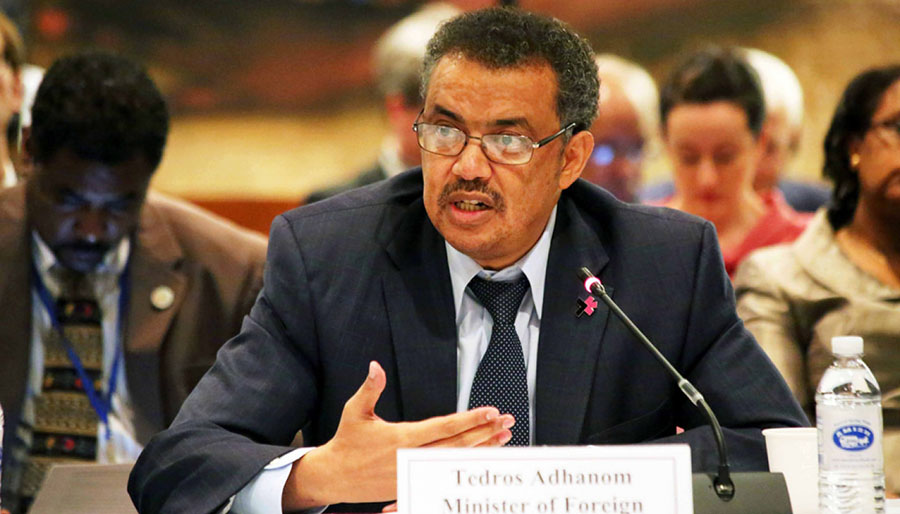 The World Health Organization (WHO) has warned that there might not be an immediate solution or cure to the COVID-19 pandemic despite the positive outcomes at the different levels of trials of vaccines for the virus.
The WHO said that despite strong hopes for a vaccine, there might never be a silver bullet for COVID-19, and the road to normality would be long.
According to the latest data, the coronavirus pandemic has infected over 18.1 million people with more than 690,000 fatalities globally since late January, when the virus was first reported. This is just as some countries that thought they worst was over for them started experiencing a second wave of outbreak.
The Director-General of the WHO, Tedros Adhanom Ghebreyesus, and Mike Ryan, WHO head of emergencies, urged governments and citizens to focus on known basic steps to contain the pandemic such as testing, contact tracing, maintaining physical distance and putting on a mask.
Tedros in a virtual news briefing in Geneva, said, ''The message to people and governments is clear, Do it all. He said face masks should become a symbol of solidarity around the world. A number of vaccines are now in phase three clinical trials and we all hope to have a number of effective vaccines that can help prevent people from infection. However, there's no silver bullet at the moment, and there might never be.'' 
Chinese Investigation
The WHO officials revealed that an advanced investigation team that was sent to China where the virus started, are not yet back. The UN health agency sent an epidemiologist and an animal health specialist to China on July 10 to lay the groundwork for a probe aimed at identifying how the virus entered the human species.
Tedros said WHO and Chinese experts had agreed on the terms of reference and a programme of work for a WHO-led international team of scientists and researchers from around the world. They are to study the origins of the virus in the city of Wuhan.
The WHO boss encouraged mothers to continue breastfeeding even if they had COVID-19, as the benefits outweigh the risks associated with infection.
Tedros also said the international hunt for a vaccine has been historic against the backdrop of the coronavirus disease being the biggest global health emergency since the early 20th century.
Tedros said, ''There are many vaccines under trial, a couple in the final stage of clinical trials – and there is hope. It does not mean that we will have the vaccine, but at least the speed with which we reached the level we reached now is unprecedented."
"There are concerns that we may not have a vaccine that may work or its protection could be for just a few months, not more. But until we finish the clinical trials, we will not know."
Shoprite Nigeria is worth at least N25 billion
N25.6 billion price tag is only reflective of what Shoprite Nigeria's operations is worth on paper.
Africa's largest retail chain, Shoprite, announced on Monday that it is has decided to divest from its Nigerian retail entity, Retail Supermarkets Nigeria, the owners of Shoprite Supermarket Nigeria.
Going by several media reports and social media accounts, the sale is close to being consummated and a buyer is already in line to purchase the company. Getting information on the purchase consideration for this deal can be difficult especially if there are non-disclosure clauses.
For example, then Zinnox purchased Konga from Naspers (another South African firm) and AB Kinnevik two years ago, though the purchase consideration was not disclosed.  However, we do not know what Shoprite Nigeria is worth on paper.
What is it worth on paper? Going by the company's most recent annual report published in June 2019, Shoprite values its equity in its Nigerian subsidiary, Retail Supermarkets Nigeria Ltd at R 1.164 billion (1.1 billion rands). This translates to about N25.6 billion using the official exchange rate. This is also an equivalent of $67.7 million. The exchange rates are modest and will certainly be higher if the transaction was to be at this valuation.
However, the N25.6 billion price tag is only reflective of what Shoprite Nigeria's operations is worth on paper, what accountant's callbook value. It could be more or even less depending on how the negotiation goes.
Shoprite Nigeria business is also its second-largest, based on book value and next only to Angola.
How will it be funded? The potential investors will likely fund this transaction via debt or equity or a combination of both. Deals like this also take time to be completed even if an agreement is announced and will also be approved by the Securities and Exchange Commission of Nigeria and possibly South Africa.
We will keep you updated as we get more information.
Social clubs, recreational centres to reopen August 14
The closure of all spas, bars, lounges, night clubs, cinemas, and game arcades remains in place.
The Lagos State Government has announced that social clubs and recreational centres will be allowed to reopen operations starting from Friday 14 August 2020.
Earlier today, the government released a statement via its official Twitter handle, in which Governor Babajide Sanwo-Olu was quoted to have said that the reopening would be subject to clearance and possession of the Provisional Safety Compliance Certificate. This clearance certification can be gotten right here.
The Governor also added that at the moment, the safety clearance certificates are only being issued to social clubs with registered trustees.
READ MORE: Update: Lagos to reopen worship centres on August 7
*COVID-19* : Measures announced by the Lagos State Government to further relax the lockdown. @jidesanwoolu @drobafemihamzat #LASG #LagosAgainstCovid19 #CovidLASG #ForAGreaterLagos pic.twitter.com/3Mqz1o9dC7

— The Lagos State Govt (@followlasg) August 3, 2020
READ: EPL clubs to be fined £37 million each over suspension of matches
In the meantime, however, the closure of all spas, bars, lounges, night clubs, cinemas, and game arcades remains in place. Any of the listed businesses that reopen prior to the set date and without meeting the set guidelines will be shut down. A monitoring and enforcement team will be at work to ensure that the "guidelines and directives are complied with to the letter".
The Backstory
As part of moves towards a complete easing up of the lockdown, the Lagos State recently announced the reopening of schools. The government also announced that the reopening of religious houses and places of worship would take effect from August 7.
However, this is subject to strict adherence to standard precautions that have been put in place. All schools are expected to provide hand-washing facilities and ensure physical distancing within their premises. The Lagos State government will make available face mask 200 schools to which this reopening exemption applies for the duration of the reopening.
Relevant agencies have been directed to carry out spot checks and random inspections of schools and defaulters will be sanctioned appropriately.