Nigeria ranks 146 on Global Corruption Index in 2019
According to the latest report released by Transparency International, Nigeria is now ranked 146 out of the 180 countries considered. This is two steps lower from 144th ranked in 2018. 
Despite Nigeria's anti-corruption campaign, the country has dropped from 144 in 2018 to 146 in 2019 on the annual corruption perception index published by Transparency International.
The report revealed that Nigeria ranks 146 out of the 180 countries considered, behind Botswana (34), Rwanda (51) and Mauritius (56) among other African nations.
In 2017, Nigeria ranked 148, while it dropped to 144 in 2018. Nigeria's current position means the most populous black nation is two steps lower to 146 in 2019.
Least Corrupt Countries
According to Transparency International, the 2019 Corruption Perceptions Index (CPI) shows corruption is more pervasive in countries where big money can flow freely into electoral campaigns and where governments listen only to the voices of wealthy or well-connected individuals.
The index ranked 180 countries and territories by their perceived levels of public sector corruption, according to experts and business people. It uses a scale of zero to 100, where zero is highly corrupt and 100 is very clean.
According to the report, more than two-thirds of countries score below 50, with an average score of just 43. Similar to previous years, the data shows that despite some progress, a majority of countries are still failing to tackle public sector corruption effectively.
The top countries (least corrupt) are New Zealand and Denmark, with scores of 87 each, followed by Finland (86), Singapore (85), Sweden (85) and Switzerland (85).
Most Corrupt Countries
Meanwhile, the bottom countries (most corrupt) are Somalia, South Sudan and Syria with scores of 9, 12 and 13, respectively. These countries are closely followed by Yemen (15), Venezuela (16), Sudan (16), Equatorial Guinea (16) and Afghanistan (16).
In the last eight years, only 22 countries significantly improved their CPI scores, including Greece, Guyana and Estonia. In the same period, 21 countries significantly decreased their scores, including Canada, Australia, and Nicaragua.
On the other hand, the Sub-Saharan Africa's country ranks the lowest-scoring region on the CPI, with an average of 32. The performance of Sub-Saharan Africa paints a bleak picture of inaction against corruption.
Ending Corruption
In its recommendation, Transparency International stated that to end corruption and restore trust in politics, it is imperative to prevent opportunities for political corruption and to foster the integrity of political systems.
As stated in the report, to end corruption, countries must manage conflicts of interest, control political financing, strengthen electoral integrity, regulate lobbying activities, tackle preferential treatment, empower citizens and reinforce checks and balances.
Basically, it was disclosed that governments should reduce the risk of undue influence in policy-making by tightening controls over the financial and other interests of government officials. Governments should also address "revolving doors", establish cooling-off periods for former officials and ensure rules are properly enforced and sanctioned.
On political financing, it was stated that in order to prevent excessive money and influence in politics, governments should improve and properly enforce campaign finance regulations. Political parties should also disclose their sources of income, assets, and loans, and governments should empower oversight agencies with stronger mandates and appropriate resources.
It stated, "For democracy to be effective against corruption, governments must ensure that elections are free and fair. Preventing and sanctioning vote-buying and misinformation campaigns are essential to rebuilding trust in government and ensuring that citizens can use their vote to punish corrupt politicians.
"Governments should promote open and meaningful access to decision-making and consult a wider range of groups, beyond well-resourced lobbyists and a few private interests. Lobbying activities should be public and easily accessible.
"Governments should create mechanisms to ensure that service delivery and public resource allocation are not driven by personal connections or are biased towards special interest groups at the expense of the overall public good.
"Governments should protect civil liberties and political rights, including freedom of speech, expression, and association. Governments should engage civil society and protect citizens, activists, whistle-blowers, and journalists in monitoring and exposing corruption."
[READ: Corruption still responsible for Nigerians' sufferings – Buhari]
What it means for Nigeria
Corruption remains one of the most endemic issues affecting development in Nigeria. Recently, President Muhammadu Buhari stated that corruption was the major factor responsible for the suffering of millions of Nigerians.
According to the President, corruption at all levels was the biggest problem impeding Nigeria's economic growth and development.
"I urge you now to always see corruption in its true colour as a gross violation of human rights. Corruption is the major reason why millions of our people are in hardship, sick and helpless. Our fight against corruption is, in reality, a struggle for nation-building and the future. Corruption and impunity become widespread when accountability is disregarded.
 "Disrespect for accountability also strives when people get away with all manner of questionable things and accountants are unable to check them. Corruption is the major reason why many children cannot go to school, why we have a few equipment and doctors in our hospitals. Corruption diverts public resources thereby causing much suffering, deprivation and unnecessary death in the country."
Meanwhile, critiques of the government continue to stress that the corruption campaign of the current administration is selective, claiming that some political office holders and government officials are left to walk away despite money laundering and other corruption charges levied against them.
Download full report here: Global Corruption Index in 2019
Presidency dismisses allegation of Osinbajo receiving N4 billion from recovered loots
The accusation was described to be an obvious campaign of lies and calumny.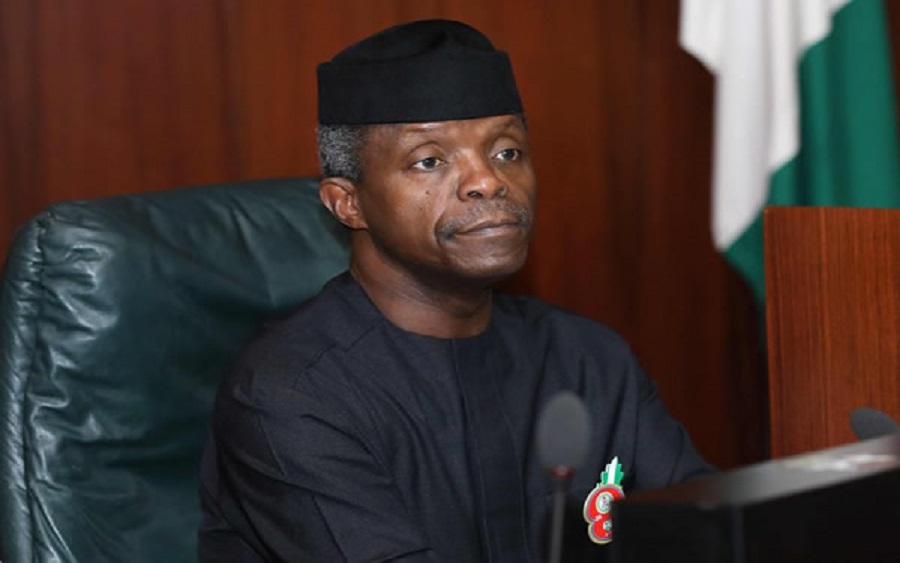 The office of the Vice President has reacted to a series of tweets accusing Professor Yemi Osinbajo of instructing the embattled acting Chairman of the EFCC, Ibrahim Magu, to release the sum of N4 billion out of N39 billion that was recovered from alleged looters. 
These allegations have been described as "false and baseless". 
READ ALSO: UPDATE: President Buhari appoints Prof. Gambari as new Chief of Staff
A statement that was signed by the Senior Special Assistant to the Vice President on Media and Publicity, Laolu Akande, said, "with all emphasis at our disposal, let it be firmly stated that these are totally false and baseless fabrications purposing to reflect goings-on at the probe panel investigating Mr Ibrahim Magu". 
Ibrahim Magu was relieved of his duties this week, after a probe was conducted on his activities as Acting Chairman of the nation's anti-graft agency. He has since been replaced with Mohammed Umar. 
READ MORE: Just In: DSS invites EFCC's Acting Chairman, Ibrahim Magu for questioning)
Meanwhile, the statement by the Presidency also complained about the recent rise in people being paid to "peddle blatant falsehoods" against the Vice President and says Mr Osinbajo "will not be distracted by these obvious campaigns of lies and calumny". 
The statement added that the online publications "being criminally defamatory in nature"  have been referred to law enforcement agencies for investigation. 
Explore economic research data from Nairametrics on Nairalytics
OFFICE OF THE VICE PRESIDENT

PRESS STATEMENT

VP @ProfOsinbajo WILL NOT BE DISTRACTED BY CAMPAIGNS OF LIES & CALUMNY pic.twitter.com/HjdGzEJVpI

— Presidency Nigeria (@NGRPresident) July 8, 2020
Stanbic IBTC observes closed period, as directors set to consider H1 results
The directors will also consider a proposal to pay an interim dividend to shareholders.
Stanbic IBTC Holdings Plc announced earlier today that its board of directors will meet on Wednesday, July 29, as part of preparations towards the release of the company's consolidated and separate audited financial statements for half-year 2020. The directors will also consider a proposal to pay the company's shareholders an interim dividend.
A statement issued by the Stanbic IBTC to the Nigerian Stock Exchange (NSE) noted that the scheduled board meeting is in tandem with guidelines contained in section 1.2 of the NSE's rules book.
In the meantime, the bank Hold-Co has already commenced observing its closed period ahead of the release of the half-year financial statements. Specifically, Stanbic IBTC began observing its closed period on June 1st, 2020, the implication being that all insiders and their relatives have been prohibited from trading the company's shares for more than one month now.
Explore economic research data from Nairametrics on Nairalytics
Note that the Stanbic IBTC's closed period will continue until the half-year financial statements are released. Part of the statement which was signed by Chidi Okezie (Company Secretary), said:
"In accordance with the provisions of Section 1.2 of the Rules of The Nigerian Stock Exchange (The NSE) relating to Board Meetings and General Meetings of Issuers, we would like to notify The NSE and our Shareholders, that a meeting of the Board of Directors of Stanbic IBTC Holdings PLC (the Company) is scheduled to hold on Wednesday 29 July 2020 at 1:00 pm. The meeting will discuss amongst other items, the Company's Consolidated and Separate Audited Financial Statements for the Half-year ended 30 June 2020 as well as a proposed interim dividend.
READ ALSO: COVID-19: NSE extends time for submission of audited financial statements
"In view of the above, the closed period for the release of half-year results, which commenced on Monday, 01 June 2020 will continue to be in effect until the release of the Company's Half-year audited financial statements."
Recall that the last earnings report that was released by Stanbic IBTC Holdings Plc was for Q1 2020. The unaudited report showed that gross earnings stood at N61.4 billion as against N58.7 billion in Q1 2019, even though interest income for the period declined by 12% year on year to N27.5 billion. Meanwhile, profit for the period stood at N20.6 billion, an increase when compared to N19.2 billion in Q1 2019.
Stanbic IBTC Holdings' share price closed at N30.25 at the end of today's trading session on the Nigerian Stock Exchange. Year to date, the stock has declined by nearly -20%.
Minister of Petroleum explains reasons for subsidy removal
The Minister said it was unrealistic for the government to continue with the subsidy regime.
The Federal Government has explained the reason for the deregulation of the downstream sector of the oil industry. The government said that this was to ensure economic growth and development of the country.
This was disclosed by the Minister of State for Petroleum Resources, Timipre Sylva, in a press statement on Thursday, July 9, 2020, in Abuja.
Sylva said that it was unrealistic for the government to still continue with the subsidy regime, especially with the Premium Motor Spirit (PMS) otherwise known as petrol, as it had no economic value.
He asked Nigerians to ignore the misinformation and misguided comments that have been in the public space on the issue.
According to the Minster, ''It has become expedient for the Ministry of Petroleum to explain misconceptions around the issue of Petroleum Products Deregulation. After a thorough examination of the economics of subsidizing PMS for domestic consumption, the government concluded that it was unrealistic to continue with the burden of subsidizing PMS to the tune of trillions of Naira every year.''
"More so, when the subsidy was benefiting in large part the rich rather than the poor and ordinary Nigerians. Deregulation means that the Government will no longer continue to be the main supplier of Petroleum Products, but will encourage private sector to take over the role of supplying Petroleum Products."
READ MORE: DPR allays fears of possible looming fuel scarcity, says it has enough stock
He pointed out that in line with global best practices, the price of petroleum products will be determined by market forces. He, however, added that the government will continue to play its traditional role of regulation and ensure that it was not priced arbitrarily by private sector suppliers.
Sylva said that the regulatory function will be similar to that played by the Central Bank of Nigeria in the banking sector where they try to make sure that deposit money banks do not charge arbitrary interest rates on its customers.
The minister noted that the government has earlier revealed that an increase in crude oil prices would also reflect at the pump price of petroleum products.
Going further Sylva said, ''Indeed, one of the reasons we have been unable to attract the level of investments we desire into the refining sector has been the burden of fuel subsidy. We need to free up that investment space so that what happened in the Banking Sector, Aviation Sector and other Sectors can happen in the Midstream and Downstream Oil Sector.''
" We can no longer avoid the inevitable and expect the impossible to continue. There was no time government promised to reduce Pump Price and keep it permanently low. Let us, therefore, ignore the antics of unscrupulous middlemen who would want status quo ante to remain at the expense of the generality of Nigerians.," he added.
READ MORE: NNPC releases audited financial statements, refineries record losses of N154 billion
He disclosed that the deregulation policy will attract more investments into the oil sector, create more jobs and opportunities and free up trillions of naira to develop infrastructure instead of enriching a few Nigerians.
The minister noted that government who is mindful of the impact of higher PMS prices on Nigerians is working to roll out the auto gas scheme which will provide citizens with alternative sources of fuel at lower cost.