Trump may extend travel ban to Nigeria, Tanzania, Belarus, others
President Donald Trump may consider his travel ban to Nigeria, Burma, Belarus, Eritrea,  Kyrgyzstan, Sudan and Tanzania. A source in the White House disclosed.
President Donald Trump may consider his travel ban to Nigeria, Burma, Belarus, Eritrea,  Kyrgyzstan, Sudan and Tanzania. A source in the White House disclosed.
The controversial Trump is expected to make the announcement on or before Monday, which will be the three-year anniversary of his original order. The order was designed to target several majority-Muslim nations.
What it means: Trump administration would place immigration restrictions on the countries in the list but not necessarily completely ban all citizens of those nations from entering the United States. The restrictions could apply only to certain government officials, for instance, or certain types of visas.
While there are chances that the list could be changed, as is not yet final, Nigerians should be bothered about the development if the nation made the list. The reason is that any new restrictions are likely to strain ties with the affected countries, some of which assist the U.S. on issues like fighting terrorism, and some of which Washington has been trying to court for strategic reasons.
In an interview with The Wall Street Journal on Tuesday, Trump confirmed that he is trying to add additional nations to the travel ban, but declined to list the countries.
White House spokesman Hogan Gidley declined to confirm any details about plans to expand the travel ban, but defended the original order in a statement.
He said, "The travel ban has been profoundly successful in protecting our country and raising the security baseline around the world. While there are no new announcements at this time, common sense and national security both dictate that if a country wants to fully participate in U.S. immigration programs.
"They should also comply with all security and counter-terrorism measures — because we do not want to import terrorism or any other national security threat into the United States."
Details: Trump signed the original travel ban on Jan. 27, 2017, just a week into his tenure. The order initially denied visas to citizens of seven majority-Muslim countries, though it was later modified as it went through a series of court challenges.
The Supreme Court eventually allowed a third iteration of the order to go into effect. It restricts entry of some citizens from Iran, Libya, Somalia, Syria and Yemen, along with Venezuela and North Korea. Chad was removed from the original list.
The countries under consideration for the expanded travel ban include some that have either had solid relationships with the U.S., or which the U.S. has courted.
Nigeria, for instance, is a U.S. counter-terrorism partner and there is a large Nigerian diaspora community in the United States. At the same time, Trump has in the past referred to African nations as "shithole" countries whose citizens he did not want coming to the United States.
He also once said that if Nigerians come to the U.S., they will never "go back to their huts" in Africa, according to The New York Times.
[READ ALSO: Inflation: Lagos, other western states, worst hit by the border closure(Opens in a new browser tab)]
Myanmar is another intriguing case: the United States has spent the last decade trying to improve ties with the country, which has embraced partial civilian rule after years of living under a military dictatorship. The U.S. still wants to coax Myanmar out of China's orbit, despite the Myanmar military's mass slaughter of Rohingya Muslims.
U.S. officials also have been keen to improve relations with Belarus, a country long seen as under the sway of Russia. Secretary of State Mike Pompeo had planned to visit the country just weeks ago, but had to cancel the trip to respond to rising tensions with Iran.
Sudan, meanwhile, has long had poor relations with the United States. But it recently underwent a revolution, and longtime leader Omar al-Bashir was ousted. Sudan's new leadership has been trying to improve its standing in Washington. Being added to the travel ban could undermine the new government's domestic standing.
Acting Homeland Security Secretary, Chad Wolf acknowledged Friday that the U.S. has been creating criteria for foreign governments to address in helping vet foreign nationals seeking to enter the United States.
"For a small number of countries that lack either the will or the capability to adhere to these criteria, travel restrictions may become necessary to mitigate threats," he said in prepared remarks for a Homeland Security Experts Group event.
President Biden directs international air travelers must quarantine upon arrival
President Joe Biden has directed international air travellers to quarantine upon arrival in the United States.
The United States President Joe Biden has issued an executive order on Thursday that makes it mandatory for international air travellers to quarantine upon arrival in the US.
Similarly, the executive order also includes a directive that all interstate travellers in the US will be expected to wear a face mask. This travel order applies to airports and planes, trains, ferries, intercity buses and public transportation, but grants them the ability to issue exemptions.
READ: Here is reason Turkish Airlines was allowed to land in Abuja 
What the US President is saying in the executive order
According to a report from Reuters, President Biden's order says, ''To the extent, feasible air travellers must comply with applicable U.S. Centers for Disease Control and Prevention (CDC) guidelines concerning international travel 'including recommended periods of self-quarantine."
However, the executive order does not explain how it will be enforced as the implementation still remains quite hazy.
READ: A Joe Biden presidency and its impact on Nigeria's oil
The order also directs US agencies to engage with Canada and Mexico on public health protocols for land ports of entry including implementing CDC guidelines. Almost all non-essential travel at US land borders with Canada and Mexico has been suspended till February 21.
The CDC recommends a 7-day quarantine for people arriving in the United States from nearly all countries.
READ: Biden reverses US immigration ban on Nigeria, others
Biden is directing agencies to reconsider international contact tracing requirements for U.S.-bound passengers, which was abandoned by the Trump White House, as well as the possibility of follow-up Covid-19 testing for travellers after they arrive in the United States.
In addition, the US President has also directed that all travellers including US citizens, will be required to show proof of a negative Covid-19 test before entering the country from abroad in an order that underscores the CDC policy announced last week.
READ: Air travellers across Nigerian Airports hit 8.5 million in 6-month
What you should know
It can be recalled that the Trump administration had resisted calls for the enforcement of a mask-wearing requirement.
The Biden administration has also announced that it would reimpose coronavirus-related ban on most non-U.S. citizens arriving from European Union, Brazil, the United Kingdom.
This follows the lifting of the restrictions by former US President, Donald Trump through an executive order on Monday.
Joe Biden sworn-in as the 46th President of the United States
The whole world watched in awe as Joe Biden was sworn in as the new President of the United States.
Joe Biden has been sworn in as the 46th President of the United States.
The 78-year-old Democrat and former Vice president to Barack Obama is being sworn in after emerging the winner of last year's Presidential elections.
Biden's running mate, Kamala Devi Harris was sworn in as vice president by Justice Sonia Sotomayor, becoming the first woman and the first black and Asian-American person elevated to serve in a role a heartbeat from the presidency.
The inauguration took place at the US Capitol, the same building that was stormed on January 6, by Donald Trump's violent supporters.
Trump who for months refused to conceded to Biden's victory at the polls left the White House for the final time hours earlier and flew to Florida after making it clear weeks ago that he will not be attending the inauguration.
Trump's Vice, Mike Pence attended the ceremony, as he skipped Trump's farewell military salute event at Andrews base.
The ceremony includes musical performances by Lady Gaga – who sang the national anthem – as well as Jennifer Lopez and Garth Brooks.
Former Presidents; Barack Obama, George W. Bush and Bill Clinton were all present at the inuaguration
What you should know
At 78, Biden is the oldest president ever to take the oath of office.
In his speech, Biden swore to defend the constitution and the country "against all enemies, foreign and domestic".
History was made as Kamala Harris became America's first female, first Black and first Asian American vice-president.
Donald Trump skipped the ceremony, becoming the first president not to attend his successor's inauguration since 1869.
Joe Biden to return United States to WHO on first day as President
In-coming US President, Joe Biden has resolved to immediately return the country back to the WHO after his inauguration.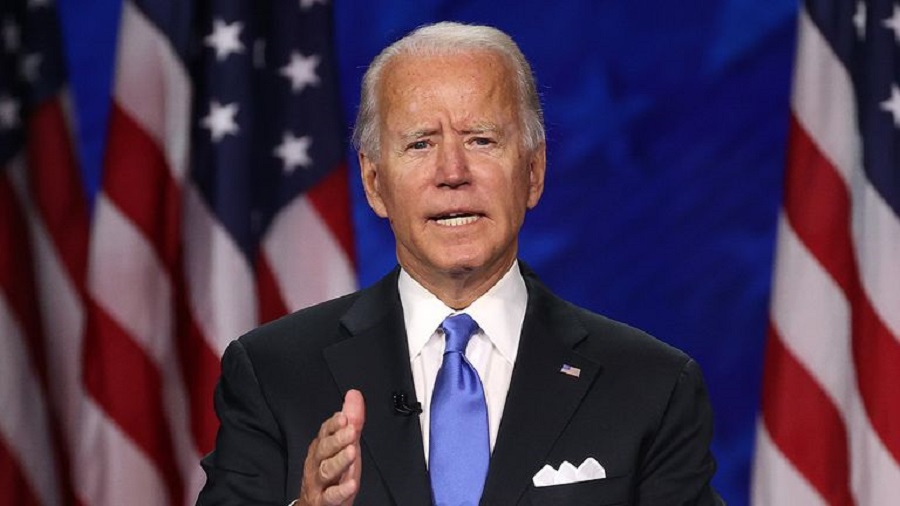 The US President-elect Joe Biden plans to immediately return back the country to the World Health Organization (WHO) on the first day after his inauguration as he intends to make a sweeping review of the policies of outgoing President, Donald Trump.
This is as he intends to send top US medical expert Anthony Fauci to speak to the group in a strong rejection of Donald Trump's snubs and criticisms during the coronavirus pandemic.
This disclosure is contained in a fact sheet released by President-elect Joe Biden's transition team.
READ: Joe Biden gains additional 4.6 million Twitter followers in less than 12 hours
According to a report by Bloomberg, the incoming administration plans to take part in the WHO executive board meeting this week, with Fauci, the top U.S. infectious disease expert, heading the delegation and speaking.
The statement says that as soon as the United States resumes its engagement with the WHO, the new administration will work with the body to strengthen and reform the UN health agency.
READ: Banking giant, Deutsch Bank to cut ties with President Trump
What this means
With these announced plans, the Joe Biden administration is showing that it intends to set a new science-based tone in seeking to reverse Donald Trump's dismissal of strategies to mitigate the virus as well as seek international cooperation in addressing the pandemic.
It also further reinforces the incoming President's earlier criticism of Trump's handling of the pandemic especially in the early days rather than laying blames.
READ: U.S dollar stays firm, Joe Biden to unveil COVID-19 support programs
What you should know
It can be recalled that President Donald Trump in May 2020, announced that the US would exit the WHO because of what he said was its undue deference to China and failure to provide accurate information about the coronavirus.
He often referred to the UN health agency as being controlled by China and criticized their handling of the coronavirus pandemic.
The US had been the WHO's largest contributor, providing $400 million to $500 million in mandatory and voluntary contributions annually, with Trump's last year decision drawing sharp criticism in Congress, as well as from allies in Europe.