States receive N2.53 trillion allocation in 2019 
State governors in Nigeria shared the sum of N2.53 trillion gross allocation in 2019 (January – November).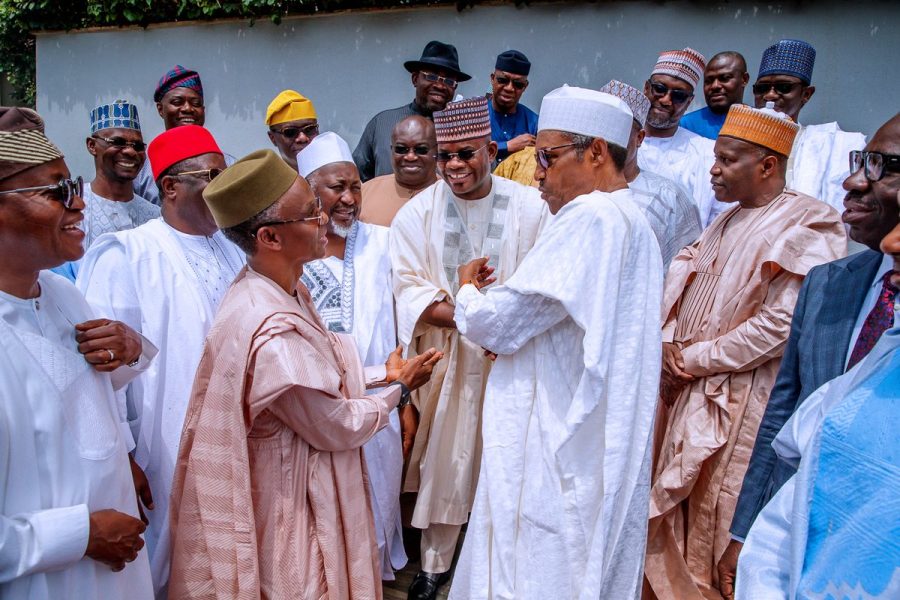 State governors in Nigeria shared the sum of N2.53 trillion gross allocation in 2019 (January – November). This was disclosed in the data obtained by Nairametrics from the National Bureau of Statistics (NBS) for the period ending November 2019.
In what appeared to be a challenging year for Nigeria, from a fiscal standpoint, analysis of the data showed that revenue crisis faced in 2019 took its toll on the federal allocation, as the allocated fund to states for the period under review dropped by N49.56 billion.
Specifically, federal allocation disbursed to states dropped to N2.53 trillion in 2019, from N2.58 trillion allocated within the period in 2018.
Breakdown of federal allocation to states  
In 2019, the top 10 states that received the largest portion of the federal allocation were Delta, Akwa Ibom, Rivers, Lagos, Bayelsa, Kano, Kaduna, Edo, Katsina and Imo. Meanwhile, major oil-producing states suffered decline in the allocation.
[READ ALSO: Debt profile: Bankruptcy looms, Obasanjo warns FG  (Opens in a new browser tab)]
Delta State remains the biggest recipient of federal allocation with a total sum of N214.4 billion. But the allocation to the state dropped by N1.05 billion when compared to that (N215.4 billion) received in 2018.
Akwa Ibom maintains the second spot with a total sum of N169.79 billion gross allocation within the period. Also, allocation to Akwa Ibom dropped by N27.8 billion when compared to 2018.
Rivers ranks third on the list with a gross allocation of N154.5 billion, a N15.3 billion decline from the N169.8 billion received in 2018.
Lagos State witnessed a rise in federal allocation received, from N143.9 billion in 2018 to N152.4 billion.
Meanwhile, another oil-producing state, Bayelsa, recorded a drop in gross allocation to N143.8 billion in 2019 against 157.4 billion in the corresponding period of 2018.
Other states among the top 10 recipients are Kano (N82.3 billion), Kaduna (N66.9 billion), Edo (N66.5 billion), Katsina (62.5 billion) and Imo (62.1 billion).
[READ MORE: FG, States, LGs' to share N635.82 for November)
Bail-Out, external Debt, other deductions may bleed states' fund in 2020
It is instructive to note that gross allocation to all states in Nigeria is subjected to a number of deductions. Analysis of the monthly allocation reports showed that deductions from monthly allocation to states include external debt payment, bail-out fund, National water rehabilitation projects, National Agricultural Technology Programme, payment for fertilizer, state water supply project, State Agricultural Project and National Fadama Project.
Recent report from Nairametrics showed that the states received N614 billion in form of budget support facility (bail-out fund) from the Federal Government to pay salary arrears in 2016. Hence, on a month-on-month basis, the deductions are removed from the states' allocation, which leaves some states with very bleak outlooks in 2020.
Already, the Federal Government and the states have been engaged in a tussle as the FG mounts pressure on governors in a move to quickly recover the bail-out funds.
In 2019, the total deductions made by the Central Bank of Nigeria from the federal allocation amounted to N250.2 billion.
The breakdown shows that bailout funds and other deductions stood at N214.2 billion, while external debt deductions were put at N36.05 billion.
Osun state led the pack with the sum of N16.76 billion deducted from the allocation to the state.
Delta followed with N13.65 billion deductions.
Bayelsa's deductions stood at N13.07 billion.
Ogun State recorded N12.99 billion deduction from its federal allocation
Akwa-Ibom and Imo States recorded N12.12 billion and N10.15 billion deductions from federal allocation respectively.
Outlook for 2020 as minimum wage, revenue concerns linger
The Nigerian economy, which nose-dived into recession in 2016, continues to struggle as it failed to produce the growth recorded prior. Following this, several states face revenue challenges with backlogs of salary arrears to pay.
Analysts expect revenue to improve in the year 2020 but insisted that states must intensify efforts to raise their revenue levels to avoid being totally cash trapped.
On the other hand, most states have yet to implement the new N30,000 minimum wage. The organized labour unions are expected to up their tussle with several state governors who are yet to implement the new minimum wage.
Several states may further face financial constraint in 2020, as their Internally Generated Revenue and monthly allocation cannot meet their huge financial obligations.
Hence, while debt profile is already worrisome, these states may resolve to accumulate more debts in an attempt to meet basic obligations.
Analysis: Nestle Plc, dragged by uncontrollable forces in a forgettable 2020 
Nestle Nigeria must bear in mind that the year to beat is its 2019 performance, and not the forgettable 2020.
Shortly after Nestle Nigeria released its FY 2019 results last year, analysts wrote lofty and pedantic reviews on what was a truly decent year recording of about 19% improvement in operating profit. A precursor to stellar achievements in the coming year was everyone's apparent projection. As it turns out, both controllable and uncontrollable forces have played their part in piling misery on the fortunes of the food giant. 
2020 was hard-hitting. Covid-19 greeted Africa fully in the second quarter, straight away making life difficult for individuals and businesses. Its sour fruits are responsible for Nestle Nigeria's outward financial decline. Its effects have been ever-present since, cutting across all the quarters. In Q2 of 2020, Pre-Tax Profit immediately dipped from N17.4billion to N16.4billion. By the end of Q3, pre-tax profit had succumbed 12.83%, eliminating almost the good work from the year before and by FY 2020, Nestle closed with a 14% decline in profit position. 
Through all of this decline, Nestle Nigeria has been resilient enough to maintain revenue on a flat line. FY 2020 showed top-line increase by 1%, however, this bore no positive consequence nor impact to profit position. The only other area where Nestle Nigeria showed class was in the management of its distribution/marketing expenses which decreased by 4.8%. 
Other variables suffered negative differences. Cost of sales increased from N155billion in 2019 to N168billion in 2020, while both administrative and finance costs endured 9% and 95% increases respectively. 
Nestlé's negative growth in recent times has been due to improper cost management causing increases in its cost of sales. Given that most of the company's input is locally sourced, the pressure on cost must have resulted from local supply chain disruption induced by the ban on interstate movement during the early periods of the pandemic. 
Furthermore, there have been a few situations where gains from a reduction in the cost of distribution expenses is immediately eroded by increases in administrative costs in the same cycle. 
The food giant has all it takes to do better and make even more revenue beyond the N287billion amassed in 2020. As a market leader that has cemented its position in Nigeria amongst respectable and formidable opposition, Nestle Nigeria needs to broaden its horizons and maximize the revenue it generates from exports like it did in 2019. 
Management must strive to obtain optimum turnover from both its food and beverage segments. The era of ceding market shares every other quarter must be made history, and quickly too. 
Whilst the world and businesses come to terms with Covid-19 and as vaccines circulate, Nestle Nigeria should bear in mind that the real year's performance to beat in 2021 is its stellar performance in 2019, not the forgettable 2020. 
Dangote Sugar, sweet in more ways than one
Significant growth in gross revenue was driven largely by sale to Nigerian Bottling Company Limited and Seven-Up Bottling Company Limited.
By refining capacity, Dangote Sugar Refinery Plc (DSR Plc) is acknowledged as the largest Sugar Refinery in sub-Saharan Africa and one of the largest in the world. With up to 60 percent market share, it is also clearly, the most dominant player in the Nigerian sugar market.
DSR Plc recently released its audited Financial Statements for the year ended December 31, 2020 and overall and year-on-year group performance results were very good.
Despite the impact of the Covid-19 induced lockdown which curtailed distribution across the country and resulted in decreased revenues from income generated from freights, gross revenues increased by over 33 percent year-on-year to ₦ 214.3 billion. The significant growth in gross revenue was driven largely by a rise in revenue from the sale of its 50kg sugar, with the two main customers being the Nigerian Bottling Company Limited and Seven-Up Bottling Company Limited who operate principally from Lagos.
READ: Dangote Sugar completes acquisition with Savannah Sugar Company Limited 
Year-on-year, gross profit increased by over 40 per cent to ₦ 53.75 billion, Profit before tax increased by almost 53 per cent to ₦ 45.62 billion, and Profit after tax increased by 33 per cent to ₦ 29.78 billion.
Notwithstanding the good result, the group operating results showed some issues and headwinds. First, during the year, DSR Plc wound up Dangote Niger Sugar Limited (one of four companies that had been set up to acquire large expanse of land and locally grow sugarcane as part of its concerted backward integration project). The winding-up was sequel to continued community dispute over land acquired in Niger State for this purpose. This winding-up event cost DSR Plc approximately ₦ 100 million.
Second, there continues to be a heavy reliance on Lagos for its gross revenues as revenues generated from Lagos State increased significantly from circa 33 per cent at the end of 2019 to over 50 per cent by the end of 2020. The share of the Lagos segment in gross revenue thus continued to grow and currently represents a significant market concentration risk for DSR Plc.
READ: Nigeria's biggest oligopolies: Who are the real beneficiaries?
Third, provision for impairment on financial assets or in simple terms, receivables that are unlikely to be collectable, also trended upwards from ₦ 1.3 billion in 2019 to ₦ 1.45 billion by end of 2020 with net financing expenses also rising significantly from ₦ 516.2 billion in 2019 to ₦ 1.92 billion by the end of 2020. This rise in expenses was largely driven by a significant rise in exchange losses incurred in the ordinary course of business, rising from about ₦ 7 million in 2019 to over ₦ 1.57 billion at the end of 2020.
Finally, administrative expenses represented mainly by employee salaries grew year-on-year by over ₦ 1.2 billion.
With the recent reopening of land borders, we expect that revenues and margins will become squeezed as sales and production volumes become constrained by the influx of largely smuggled, lower quality, and much cheaper sugar and its substitutes. DSR Plc's sugar refinery is also strategically located very close to the Apapa port and its logistics operations, distribution of raw materials and delivery of finished goods will continue to be impacted by the infamous Apapa Traffic Gridlock and road diversions/closures around the axis. Although the effort of Lagos state and the recent introduction of the electronic call up of truck by the NPA has eased the issue, still, it needs to be watched closely.
READ: Dangote Sugar yearly revenue surge by 33%, announces a dividend of N1.50
Earnings per share at the end of 2020 was ₦ 2.45 (2019: ₦ 1.87; 2018: ₦ 1.85)
Subject to approval at its forthcoming Annual General Meeting, DSR Plc board of directors have proposed a dividend of N1.50k per ordinary share (2019: ₦ 1.10k, 2018: ₦ 1.10k).
This performance is sweet in more ways than one.
Nairametrics | Company Earnings
Access our Live Feed portal for the latest company earnings as they drop.