Vitol signs 10-year deal to buy Nigeria's LNG
Vitol will increase the volume of its Liquefied Natural Gas after signing a 10-year agreement with Nigeria Liquefied Natural Gas (NLNG). #VITOL #NLNG
Vitol has signed a 10-year deal with Nigeria Liquefied Natural Gas (NLNG) to boost the volume of its Liquefied Natural Gas by 500,000 tonnes per annum from 2021.
While the financial details of the deal weren't disclosed, the deal would help NLNG remarket volumes from existing production lines at its Bonny Island plant with a number of contracts is due to expire.
Vitol's deal with NLNG is somewhat a response to competitors' activities in the market. Commodity companies like Trafigura and Gunvor, are reportedly increasing their traded spot cargo volumes with multi-year LNG deals as well.
Speaking on the ten-year deal, Vitol stated, "The agreement underscores NLNG's drive…to deliver LNG on a global scale in a low carbon world where gas/LNG will continue to be the preferred complementary energy source alongside renewables."
According to Reuters in a report, NLNG will provide shipping for the cargoes as Vitol would purchase volumes from Trains 1, 2 and 3 of a six-train NLNG production facility on Bonny Island under the sales and purchase agreement, which was signed on December 11 and will start in October 2021.
[READ MORE: FG signs deal with Japanese Group to tackle problems in agriculture]
NLNG, not the only Vitol dealer: Before the deal with NLNG, it was learned that since 2018, United State producer Cheniere and the trading arm of Russia's Gazprom, Gazprom Marketing & Trading have been selling long-term volumes to Vitol like the NLNG deal.
Meanwhile, the Vitol deal is coming at a time other NLNG contracts are winding up. According to the International Group of LNG Importers (GIIGNL), NLNG has contracts with Turkey's Botas, Portugal's Galp Energia, Spain's Naturgy and France's Total worth 2.67 million tonnes per year, and the contract will expire in 2020 and 2021.
Meanwhile, Nairametrics had reported that the delay on the part of the Nigerian government forced Vitol, to pull out of an acquisition talk involving two Nigerian oil fields.
Vitol was among a consortium interested in buying the Nigerian oil fields from Brazil's Petrobras but the former has now backed out of the deal.
Vitol is not the only company from the consortium to quit, according to a report. Delonex Energy also pulled out of the deal. The Nigerian oil fields are owned by Petrobras, which is willing to sell, with the deal almost at the conclusion stage.
FRC to implement new IFRS 17
The FRC is set to implement International Financial Reporting Standard 17 (IFRS) on or before January 2023.
The Financial Reporting Council of Nigeria is expected to implement International Financial Reporting
Standard 17 (IFRS) on or before January 2023. This follows the amendment of the standard on June 25, 2020.
This was disclosed by the Head, Directorate of Accounting Standards Public Sector, FRC, Dr. Iheanyi Anyahara, during a Stakeholders interactive forum with FRC and International Accounting Standards Board (IASB) webinar recently.
Nigeria adopted the IFRS as part of measures to improve transparency, reporting practices and full disclosures.
Having adopted the IFRS by the Council, Anyahara explained that all amendments to existing standards alongside the new standards issued by the International Accounting Standards Board (IASB) must be implemented by all reporting entities in Nigeria.
According to him, the Council is aware that implementing IFRS 17 commands a radical departure from current accounting standards and produces complex operational challenges.
He said, "That is why we are organizing this programme and many more in collaboration with IASB to guide the users of the standards both in application and implementation.
"The Council will be organizing more events in financial reporting, auditing and corporate governance in order to sensitize the general public and lessen the knowledge gap in IFRS standards in Nigeria in collaboration with relevant agencies and organisations."
Back story:
Last July, Nairametrics reported when FRC released guidelines for reporting in compliance with the Nigerian Code of Corporate Governance. (NCCG 2018).
In a statement posted on its website, the Council explained that it had been engaging with all regulators of sectors for the purpose of developing sectoral guidelines of corporate governance on specific requirements relevant to each sector, which are not covered under NCCG 2018.
Geely Auto to invest 54 million dollars in the development of healthy cars
Geely's leading track record will be taken to a new level with the development of an all-round "healthier car."
As Exclusive Partner of Geely Automotive in Nigeria, Mikano brings us great news of Geely Automotive innovative steps towards development of "healthy, intelligent vehicles" by earmarking 54 million Dollars of funding to it; as a furthering of the fight against Coronavirus.
The move not only adds a new dimension to Geely's understanding of "passenger safety," it also represents a new development direction for automobiles.
READ: Automotive Bill: Why FG may return it to National Assembly
The development of a "healthier car" differs from specialized medical vehicles in that Geely's products are made for ordinary consumers. Cars with comprehensive virus protection not only require the capability to isolate harmful substances in the air, it also needs to quickly and effectively purify cabin air for occupants.
Geely Auto's global R&D and design networks based in Europe, USA and China will jointly move to develop and research new environmentally sustainable materials with anti-bacterial and anti-viral properties which can be used within air-conditioner systems and on frequently touched surfaces such as buttons and handles.
Geely Auto will make full use of its global R&D system and resources as well as cooperate with professional medical and scientific research institutions to set up special project teams to work on the new research.
READ: Cars45 CEO explains how to increase demand for Made in Nigeria cars
An Conghui, President of Geely Holding Group and President and CEO of Geely Auto Group said "Epidemic prevention is a job that requires the long-term effort of wider society. As the most common mode of transportation, consumers spend a considerable amount time in their cars, akin to a "second home" Only by making healthier products can we meet consumer demand for better quality of life. Based on the automotive industry's development direction built around electrified, connectivity, intelligence, and shared mobility, auto companies should commit to developing products that help protect the health of drivers and passengers. This will become one of Geely Auto key long-term development objectives."
Earlier on January 28, Geely Holding Group joined hands with the Li Shufu Foundation to set up a special 30 million dollars fund in support of the new coronavirus prevention and control, with a focus on the mass purchasing of much needed medical supplies for China in the short term.
Geely's leading track record will be taken to a new level with the development of an all-round "healthier car." Geely's move sets a new precedent in the development of safety technologies that goes beyond developing leading crash test results and moves into new dimensions of passenger safety.
Visit www.geely.ng to find out more about Geely Nigeria
Exchange rate falls again at NAFEX window as #EndSARS protests escalates
The Naira depreciated against the dollar at the Investors and Exporters (I&E) window closing at N386/$1.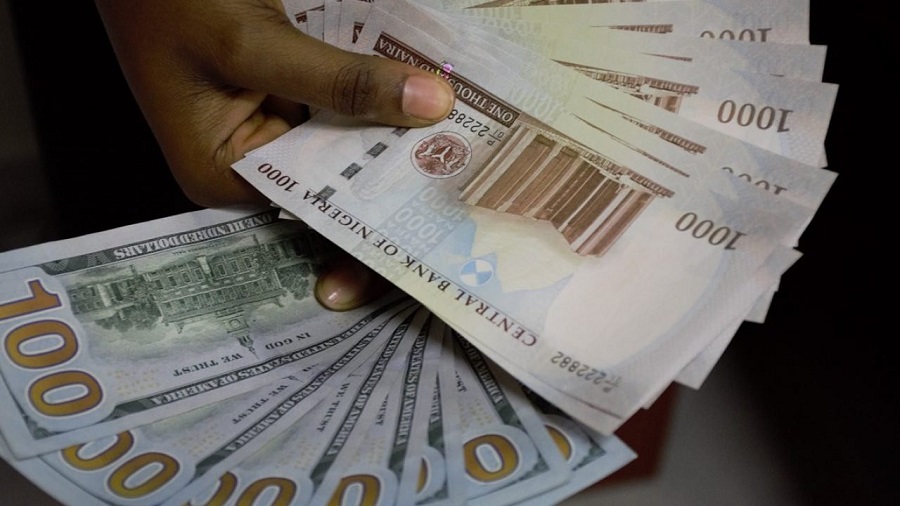 Nigeria's exchange rate at the NAFEX window depreciated against the dollar to close at N386/$1 during intraday trading on Monday, October 19.
Also, the naira remained stable against the dollar, closing at N462/$1 at the parallel market on Monday, October 19, 2020, as the protest against the special anti-robbery unit (SARS) and police brutality by the Nigerian youth escalates with its impact on business activities across the country
READ: Naira falls again at black market as #EndSARS protest limits movement.
Parallel market: According to information from Abokifx, a prominent FX tracking website, at the black market where forex is traded unofficially, the Naira remained stable against the dollar to close at N462/$1 on Monday. This was the same rate that it exchanged for on Friday, October 16.
READ: Naira depreciates at NAFEX window as banks limit forex transactions for unofficial market
Current developments
The local currency had strengthened by about 7.8% within the one week in September at the black market, as the CBN introduced some measures targeted at exporters and importers, in order to try to boost the supply of dollars in the foreign exchange market, and reduce the high demand for forex by traders. The measure
The CBN has sold over $500 million to BDCs since they resumed forex sales on Monday, September 7, 2020. This was expected to inject more liquidity to the retail end of the foreign exchange market and discourage hoarding and speculation.
However, the exchange rate against the dollar has remained volatile after the initial gains made, following the CBN's resumption of sales of dollars to the BDCs.
The President of the Association of Bureau De Change Operators, Aminu Gwadebe, said he expects the impact of the extra liquidity in the market to be gradual.
Despite the drop in speculative buying of foreign exchange, the huge demand backlog by manufacturers and foreign investors still puts pressure and creates a volatile situation in the foreign exchange market.
READ ALSO: Naira falls big across all forex market despite another $50 million allocation to BDCs
NAFEX: The Naira depreciated against the dollar at the Investors and Exporters (I&E) window on Monday, closing at N386/$1.
This represents a 17 kobo drop when compared with the N385.83/$1 that it exchanged for on Friday, October 16.
The opening indicative rate was N386 to a dollar on Monday. This represents a 38 kobo gain when compared to the N386.38 that was recorded on Friday.
The N392.30 to a dollar is the highest rate during intraday trading before closing at N386. It also sold for as low as N380/$1 during intraday trading.
READ: Why Airtel Nigeria credited subscribers with free airtime
Forex turnover: Forex turnover at the Investor and Exporters (I&E) window declined by 3.6% on Monday, October 16, 2020.
According to the data tracked by Nairametrics from FMDQ, forex turnover dropped from $125.40 million on Friday, October 16, 2020, to $120.93 million on Monday, October 19, 2020.
The CBN is still struggling to clear the backlog of foreign exchange demand, especially by foreign investors wishing to repatriate back their funds.
The drop in forex supply after the huge increase 2 trading days ago reinforces the volatility of the foreign exchange market. The supply of dollars has been on a decline for months due to low oil prices and the absence of foreign capital inflow into the country.
As part of the measure to check forex abuse and check illegal transactions, the CBN last month directed the freezing of accounts of about 38 companies.
The average daily forex sale for last week was about $169.93 million, which represents a huge increase from the $34.5 million that was recorded the previous week.
Total forex trading at the NAFEX window in the month of August was about $857 million, compared to $937 million in July.
The exchange rate is still being affected by low oil prices, dollar scarcity, a backlog of forex demand and a shaky economy that has been hit by the coronavirus pandemic.
According to Reuters, currency traders said that the naira is expected to be stable this week as banks limit foreign exchange transactions by both firms and individual buyers on the unofficial black market to curb speculation.Explore Data on the Nairametrics Research WebsiteDownload the Nairametrics News App