Mutual Fund: Nigerian investor discloses his 10 years investment that nosedived 
Before you invest in a Mutual Fund, you need to read the experience of a Nigerian Researcher, Solomon Udoh, so you won't get your fingers burnt.
Before you invest in a Mutual Fund, you need to read the experience of a Nigerian Researcher, Solomon Udoh, so you won't get your fingers burnt. Udoh invested N10,000 monthly for 10 years only to get less than he would have had if he had just saved the money for that same period.
Udoh's disclosure provoked reactions from Nigerians who pointed out the problem with Mutual Funds and how to properly invest.
Udoh disclosed his disappointment in a post via his Twitter account, @laz_inc, with images to back his claim. In the post, Udoh stated that Nigeria as an entity defies all logic one could possibly think of after his balance from the N10,000 monthly investment of 10 years in ARM Discovery Fund showed N936,621.
The Nigerian investment market literally

I diligently set aside 10k every month for the past 10yrs investing in ARM mutual fund.

I managed to checked my investment performance yesterday and guess what …. Lol@knightofdelta @gidimeister @Rotankwot @Dolarpo https://t.co/EvxfbmUfCb pic.twitter.com/I30itqutWU

— Solomon UDOH (@laz_inc) November 8, 2019
What you need to know about Mutual Funds
Mutual Funds are pools of money collected from many investors for the purpose of investing in stocks (Equity), bonds, derivatives. Mutual funds are owned by a group of investors and managed by professionals (ARM).
The types of Mutual Funds are explained below 
Money Market Funds: Money market funds invest in short-term fixed-income securities. Example of short-term fixed-income securities would be government bonds, Treasury bills, commercial paper, and certificates of deposit. These types of fund are generally safer investment but with a lower potential return than other mutual funds.
Fixed Income Funds: Fixed income funds buy investments that pay a fixed rate of return. This type of mutual fund focuses on getting returns coming into the fund primarily through interest.
Equity Funds: Equity funds invest in stocks. Furthermore, there are different types of equity funds, this includes, funds that specialize in growth stocks, value stocks, large-cap stocks, mid-cap stocks, small-cap stocks, or a combination of these stocks.
[READ MORE: A guide to how Mutual Funds work in Nigeria]
Balanced Funds: Balanced funds invest in a mix of equities and fixed income securities – typically in a 40% equity 60% fixed income ratio. The aim of these funds is to generate higher returns but also mitigate risk through fixed income securities.
Index Funds: Index funds aim to track the performance of a specific index. For example, the S&P or TSX. Index funds follow the index and go up when the index goes up and goes down when the index goes down. Index funds are popular as they typically require a lower management fee compared to other funds (due to the manager not needing to do as much research).
Speciality Funds: Specialty funds focus on a very small part of a market such as energy, telecommunications, healthcare, industrials, etc.
The ARM Discovery Fund: Contrary to the expectations of Udoh, a statement by ARM Investment Manager, explained that the investment product is only suitable for investors that want high capital growth over a long term and the strategy adopted by the firm is to invest in equity and real estate.  
Unlike the fixed income securities, which Udoh wanted, as investors' capital is guaranteed, investing in the equity market does not guarantee whether the capital would be intact or not. Here, movement of share prices is determined mainly by economy policies, operations of the companies and its liquidity status among others.
Considerations before investing in Mutual Funds: Before investing in any mutual fund, the investor has to consider the features of the fund and the objective for investing in the fund as an investor. The investor should ascertain if his investment objective matches the features of the fund.
Conclusion
Conclusion: Before making investment decisions, investors are expected to seek advice from market operators to avoid getting their fingers burnt like Udoh.  
In latter's case, all he wanted was an investment that would earn him returns or at least guarantee his investment capital and not the one that depletes his fund.  
While it is worthy of note that investing in Mutual Funds like ARM Investment does not necessarily mean a wrong move (depending on the area one looks at it), consulting an operator/expert helps sharpen one's understanding of the markets and guide against losing fortunes.  
On the flip side, this event has shown how poorly educated Nigerians are about Investment products and there might be a need to increase effort in improving financial literacy.
Reactions trail Udoh's disclosure
Udoh's post generated reactions from those with similar issues, those with better knowledge about mutual fund and those who needed clarity as to the miracle that happened to Udoh's money.
Those with similar stories
According to one @_Nosa_, who reacted to Udoh's statement, last year, he invested N20,000 into Stanbic's Equity Fund, but the value has dropped to N14,382. Nosa said he's trying to end the investment, "To liquidate, I have to go to a branch so we might have to hit N10,000 before I pull the plug."
Put 20k in Stanbic's equity fund early last year. Look at the value now lmao. pic.twitter.com/aIRbFPdhjM

— old man nosa (@_Nosa_) November 8, 2019
If I tell my own story here…..

The FBNH shares here were purchased at N33, Oando at N29. 50 and Skye bank (which is now a completely lost investment) was bought at N6 with a few at N3.50. 😭😭 pic.twitter.com/i978529Kdi

— Mmiri enwe Ilo (@sunnychuks) November 8, 2019
Sorry about that. Same thing happened to me. ARM is the worst.

— Vive Le Roi (@0lukayode) November 8, 2019
I really admire your discipline.

I closed my money market accounts with Stanbic IBC & AXA Mansard. Done.

— The African Analyst (@AfrikaAnalyst) November 8, 2019
Very painful experience
Had a similar experience with StanbicIbtc
They never explain to you that your capital might depreciate
Meanwhile, I had invested with Zenith about same time, with Zenith my money increased. So go figure

— ChiomaGrace (@aiceegee) November 8, 2019
Those with better Mutual Fund knowledge
From personal experience, don't buy Mutual funds that invest in 40% -70% in equity (stocks). Go for mutual funds that invest in fixed income (TB, BOND e.t.c) I.e Money Market.

— Emmanuel Odunsi (@ToksOdunsi) November 8, 2019
It is important to check.the assets classes before buying into any mutual funds. Do not be carried away by the entry price or entry yield. They are meaningless for your future yields. This is so sad though. You shld have N1.2m if kept under your pillow

— Omolakale (@Monsurahhamzat) November 8, 2019
Sorry about this. Don't do the discovery funds. ARM themselves termed it as high risk. The normal mutual fund package with ARM has been producing about 13 – 21% annual interest from 2016 till now, I might not know of other years but I am sure if 2016-2019.

— Agbeja Ifedapo (@Ifeagbeja) November 9, 2019
This has turned everything we learned about compound interest upside down. They couldn't even protect your capital?
Anyway, always review your long term investments on a bi-annual basis.

— #FlattenTheCurve #StayHome (@cece4real) November 8, 2019
If only you had taken some of your gains between 2013 to 2014. I took out mine and ploughed into their MMF. Still ahead all in by 40%. Was ahead close to 60% at some point. Though factoring inflation I am still in same boat as everyone.

— Shomolu Ray Donovan (@ajulunzewi) November 8, 2019
If you had bought bitcoin when it came out 10years ago you should be a millionaire (in dollars) by now

— god 🇳🇬🇱🇷 (@IAM__NONSO) November 9, 2019
Na bro. The problem is not ARM, it was that particular investment option. My first investment with ARM was their Aggressive Growth Fund. That investment lost 40% of its value and never recovered. I changed to their Money Market Fund and my investment grew roughly 16% since.

— Modupe (@moviegistR) November 9, 2019
Those seeking clarity
So, in succinct terms, can you tell us what you've been Tring to discover for the last 10years?

— Nwanwa E.I. (@KordyEsq) November 8, 2019
Dividends reinvested to benefit from compounding since it's a long-term investment but here we are.

— Solomon UDOH (@laz_inc) November 9, 2019
Did you earn dividends? How much if so?
Investing same amount in the top 2 Nigerian Banks in the stock market over same period could have earned you over 100% in dividends and bonuses.

— Femi Wole (@femiwole) November 9, 2019
I saw this & looked at your profile for any pointers into your competence to make investment decisions; followed immediately I saw "data is greater than your opinion".
I hope you have withdrawn the fund now.

Equity investment is the only prospect in Nigeria's cap market.

— King Bello (@JackAltrade007) November 8, 2019
Did you have any option of the market your fund should be invested in? Any profiling to know if you are risk averse or a risk taker? or they are eating your money in the name of management fees?

— michael Emedo (@mikendu12) November 8, 2019
And the funny reactions
Let me just go and remove what's in my ARM and carry it to Quilox. At least I'll know I spent it.

— EDWARD Israel-Ayide (@wildeyeq) November 8, 2019
when I was about to reactivate mine again.10yrs! bros u b boss! Mine was 5 yay & after 3 yrs I went back for my money since i wasn't getting anything in returns & they still cut their share off o! Claiming I breached! No probs just gimme my balance. if you see me here cut my leg

— Bolu_Yinka (@BoluyinkaFNST) November 8, 2019
So logically we can see that monkey is working & baboon is chopping…. 🙄🙄🙄 & you people abuse loopers club that my friend put 500k doubled it till it reached 10m & my friend put another 2.5m but it "hang" 😂 …. she sha made 6.5m. All is kalokalo.

— AlwaysAPriviledge (@demolaskid) November 8, 2019
Looking at this, procastination in saving like you with ARM was not such a bad idea in 2010. Over-calculation will have given me chest pains looking at your account balance. You actually only got 78.1% of your initial investment. MAD!!!!

— V.E.I.N (@Rey_Africano) November 9, 2019
Lol… Looking at the broader market index for equities, the ASI was at it's peak in Feb 2008 at 65,652.38bps. The ASI is 26,314.49bps today. That's like 60% decline 😅😅😅

Console yourself, your managers MAY have performed better than the market (factoring transaction fee)

— Oye (@SOBolade) November 8, 2019
IMF advises banks to suspend dividend payment
However, halting dividend payments may not go down well for many retail and institutional investors, who rely on bank dividends for regular income.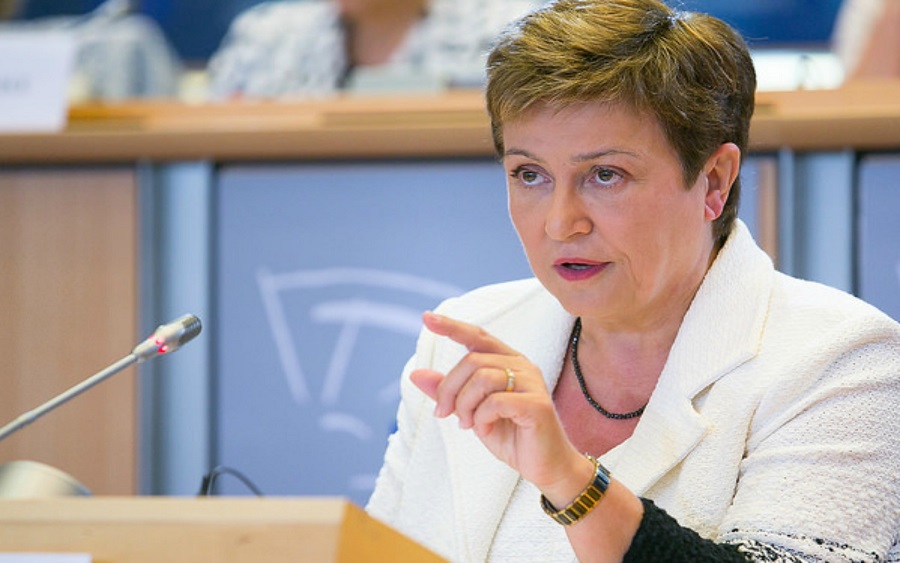 In an article published on its website, International Monetary Fund (IMF) Managing Director, Kristalina Georgieva, advised banks to halt dividend payment for now. According to her, with the expectation of a deep recession in 2020 and partial recovery in 2021, banks' resilience will be tested. Therefore, having in place strong capital and liquidity positions to support fresh credit will be essential.
According to the article, one of the steps needed to reinforce bank buffers is retaining earnings from ongoing operations which are not insignificant.
IMF staff calculate that the 30 global systemically important banks distributed about US$250bn in dividends and share buybacks last year.
READ MORE: State Governments: Another cycle of non-payment of salaries to begin soon
In a circular dated January 31, 2018, the Central Bank of Nigeria (CBN) stipulated new conditions for eligibility of Nigerian banks to pay dividend and the quantum of dividend to be paid out by banks who are eligible. Prior to the release of the circular, dividend payout policy for Nigerian banks had been spelt out in Section 16(1) of BOFIA 2004 (as amended) and Prudential Guidelines for DMBs of 2010. The circular provided guidelines and restrictions around divdidend payout for banks based on NPL ratio, CRR levels, and Capital Adequacy Ratio (CAR).
However, there were no regulatory restriction on dividend payout for banks that meet the minimum capital adequacy ratio, have a CRR of "low" or "moderate" and an NPL ratio of not more than 5%. However, it is expected that the Board of such institutions will recommend payouts based on effective risk assessment and economic realities. Indeed, current economic realities demand caution.
Current economic realities mean that banks face asset quality threats, further devaluation threat which may impact capital in some cases, and lower profits which in turn affects the quantum of capital retained. Ideally, these should reflect in NPL ratio and CAR ratio and should immediately restrict banks' ability to pay dividend. However, there is usually a time lag before these ratios begin to reflect the new economic realities. Therefore, IMF's advise may come in handy for many banks.
(READ MORE: Software security limitations cited as major reason for Covid-19 bank rush)
That said, halting dividend payments may not go down well for many retail and institutional investors, who rely on bank dividends for regular income. Banks like Zenith and Guaranty Trust have a good history of consistent dividend payment with attractive yields which is a major attraction for many shareholders.
---
CSL STOCKBROKERS LIMITED CSL Stockbrokers,
Member of the Nigerian Stock Exchange,
First City Plaza, 44 Marina,
PO Box 9117,
Lagos State,
NIGERIA.
CBN reduces MPR to 12.50%, holds other metrics
Central Bank of Nigeria (CBN) has reduced the Monetary Policy Rate (MPR) from 13.50% to 12.50% and retains CRR at 27.5%, Liquidity ratio at 30%.
The Monetary Policy Committee (MPC) of the Central Bank of Nigeria (CBN) has reduced the Monetary Policy Rate (MPR) from 13.50% to 12.50%.
Governor, CBN, Godwin Emefiele, disclosed this while reading the communique at the end of the MPC meeting on Thursday in Abuja.  Meanwhile, other parameters such as the Cash Reserve Ratio  (CRR) remained at 27.5%, Liquidity ratio at 30%.
READ ALSO: Bankers decry rise in public debt, weak economy
Highlights of the Committee's decision
MPC cuts MPR by 100 basis points to 12.50%
CRR stood at 27.5%
The Liquidity Ratio was also kept at 30%
Get the Nairametrics News App
CBN MPC cuts policy rate by 100 basis points to 12.5 %, maintains other parameters constant.

— Central Bank of Nigeria (@cenbank) May 28, 2020
READ ALSO: Nigeria's total debt to hit N33 trillion – Senate
According to Emefiele, the decision of the MPC to reduce the Monetary Policy Rate  was informed by the impact of the Covid-19 pandemic on the economy, increased inflationary pressure, restrictions in international trade and more.
He highlighted the decline in the nation's GDP as well as the decline in the manufacturing and non-manufacturing purchasing index which were attributable to slower growth in production, rate of unemployment, amongst others.
READ MORE: AfDB's Akinwumi Adesina hits back, denies allegations against him
On reopening of the economy, Emefiele emphasised the need for Government to work towards a gradual reopening in line with recommendations of the Presidential Task Force (PTF) and advice from medical experts, insisting that efforts must be directed at saving not only lives but also livelihoods. He said,
"This is to enable the resumption of economic activities necessary to stimulate growth, accelerate the pace of recovery and restore livelihoods, particularly the vulnerable in our society.
"With respect to output, the Committee urged the Federal Government to continue exploring options of partnership with the private sector to fund investment in infrastructure. This would aid employment generation, support production and boost output growth."
Buhari seeks approval from green chamber to borrow fresh $5.5billion
FG also seek approval for the revised 2020-2022 mid-term expenditure framework (MTEF) which became necessary as a result of the crash in crude oil prices and the cut in the production output.
President Muhammadu Buhari is seeking the approval of the House of Representatives to borrow fund to finance capital projects at the federal and state (to support state governors) levels in the 2020 budget.
This request was disclosed via the official twitter handle of the House of Representatives.
The president's letter, which indicated that the fund would be sourced locally and internationally, was read on the floor of the House of Representatives by the Speaker, Femi Gbajabiamila, during plenary on Thursday, May 28, 2020.
READ ALSO: 4 key sectors CBN plans to pump money into
In the letter to the lower chamber, Buhari, is also seeking the approval for the revised 2020-2022 mid-term expenditure framework (MTEF) which became necessary as a result of the crash in crude oil prices and the cut in the production output.
Although the tweet did not contain the total amount of loan that is being requested, reports suggests that the President is seeking approval to borrow the sum of $5.513 billion from external sources to finance 2020 budget deficit and support state governments to meet challenges caused by the coronavirus pandemic.
Get the Nairametrics News App
CBN MPC cuts policy rate by 100 basis points to 12.5 %, maintains other parameters constant.

— Central Bank of Nigeria (@cenbank) May 28, 2020
President @Mbuhari is also seeking the House approval to borrow locally & internationally to finance capital projects as well as finance projects to support state governors in the 2020 budget
The letter was referred to the House Committee on loans & debt management. #HousePlenary

— House of Reps NGR (@HouseNGR) May 28, 2020
READ MORE: Africa's Post-Covid: Elumelu Moderates as Presidents of Senegal, Liberia, US Senator Coons, others Convene at UBA Africa Day Conversations 2020
Details shortly…