Reactions trail government's decision to ban tricycles in Abuja 
The Federal Capital Territory Administration has banned operators of tricycles from plying major roads across the Nigerian capital city.
The Federal Capital Territory Administration has banned operators of tricycles (known locally as keke drivers) from plying major roads across the Nigerian capital city. The ban took effect on Monday, despite protests by many of the affected tricycle drivers.
The effect is already being felt 
Sources close to the situation recounted how the tricycle ban in Abuja made transportation difficult on Tuesday. Many people were seen stranded at bus stops and unable to get to work on time due to the absence of tricycles. Those who did find means of transportation were reportedly forced to pay more.
https://twitter.com/Abuja_Facts/status/1194164694682161157
Why this matters 
Note that tricycles make up a significant part of Nigeria's public transportation system. Across different cities and towns, the typically yellow-painted vehicles are seen everywhere transporting human beings at relatively low cost. Many Nigerian families also depend on the tricycle driving business for the sustenance.
Tricycle owners fight back 
In the meantime, the tricycle operators have vowed to fight back. On Monday, the National President of the Tricycle Owners Association, Austin Apeh, told journalists that plans were underway to seek redress at the National Industrial Court of Nigeria. They will also be seeking to understand whether the FCT authority's decision to ban tricycles is backed by legislation.
"The FCTA said they would be banning us from the major routes and restrict us to the estates and villages. The decision is going to throw many people into the job markers because keke business feeds over 40,000 persons in Abuja. We want to be proactive and come out on time because another evil is coming after the same assault 17 years ago."
[READ MORE: Senate seeks textile importation ban]
Many Nigerians on Twitter agree with Apeh. Uncle Demola is particularly not happy that the authorities decided to ban tricycle drivers without bothering to provide alternatives. But then again, this is a regular occurrence in Nigeria, especially so in Abuja where the authorities are used to "relocating" people without first providing alternatives for them.
FCT-Abuja with a huge chunk of it's population being civil servants, does not have a proper mass transportation system.

Now goes ahead to ban cheap, and easily accessible means of transportation (Keke) without providing alternatives.

Genius stuff!

— Uncle Demola (@OmoGbajaBiamila) November 12, 2019
Another Twitter user identified simply as Oyiowoh recounted how he had no choice but to trek a rather long distance under the sun.
So there's no Keke in Abuja roads anymore.
Today, I walked from GTB(Apo Legislative) to Area 3 junction cause of lack of Keke, ubers& taxify were booked. Na now I start to reason my life. Like why I no get car or get boyfriend (wey get car). Being broke and single is painful😭😭

— Oyiowoh (@Anita_Izato) November 12, 2019
Another person pointed out that the decision to ban tricycle in the Federal Capital Territory might likely aggravate crime in the city as people resort alternative means of survival.
Stoping KEKE ride in Abuja will simply help achieve increase in:

1 the rate of crime

2 the rate of sex-for-taxify

3 the unemployment rate

4 difficulties for commuters.#Abujaraid #abujatwitterhangout #AbujaTwitterCommunity #abujamassacre #Abuja

— YOUR PHONE GUY (@fofpro) November 12, 2019
Nigeria only hit 56% of its target revenue in first five of months of 2020 
Nigeria's earnings in the period were N1.48 trillion which is 56% off its main target.
Nigeria's Minister of Finance, Zainab Ahmed revealed that Nigeria was only able to meet 56% of its target revenue from January to May as the global oil price crash affected government revenue due to the COVID-19 pandemic. 
Nigeria's earnings in the period were N1.48 trillion which is 56% off its main target, crude oil revenues accounted for half of Nigeria's revenues, while non-oil revenues made up the rest in the first 5 months of the year. 
On Friday, President Muhammadu Buhari signed the new 2020 revised budget of N10.8 trillion with the crude oil benchmark reduced from $57 per barrels in the earlier budget to $25 in the new budget.
The Minister said the budget had to be revised because of the effects of the COVID-19 pandemic on Nigeria's economy. She added that Nigeria's crude oil production would be an average of 1.86 million barrels per day next year and rise to 2.09 million the following year. 
Explore Economic Research Data From Nairametrics on Nairalytics
 "Although Nigeria's total production capacity is 2.5 million barrels per day, current crude production is about 1.4 million barrels per day — in compliance with the Organization of the Petroleum Exporting Countries' production quota – and an additional 300,000 barrels per day of condensates, totaling about 1.7 million barrels per day," she said. 
2021 Budget: FG projects spending plan of N11.86 trillion and deficit of N5.16 trillion
This tops 2020 budgeted expenditure of N10.8 trillion.
The Federal Government is projecting to spend N11.86 trillion for 2021. This was disclosed by the Minister of Finance, Budget and National Planning, Mrs. Zainab Ahmed at a virtual presentation of the 2021-2023 Medium Term Expenditure Framework and Fiscal Strategy Paper (MTEF/FSP) held on Friday.
According to the finance minister, the government is planning to spend N11.86 trillion against revenue of N6.98 trillion meaning the government will have to grapple with a fiscal deficit of  N5.16 trillion.
Zainab Ahmed;
"The 2021-2023 MTEF&FSP is the pre-budget statement that provides the framework for the development of the 2021 budget. It is being framed against the backdrop of challenging global macroeconomic environment as well as domestic factors.
"We aim to keep the deficit within the three percent ceiling over the medium term and are therefore working on identifying new revenue sources and or cost of reduction."
The minister noted that the 2021-2023 draft had been prepared against the backdrop of heightened global economic uncertainty.
READ MORE: Lawmakers now closer to an agreement with stakeholders on free electricity supply
Earlier today President Buhari signed the revised 2020 national budget of N10.8 trillion, which was passed by the National Assembly in June. The National Assembly passed a revised budget of N10.8 trillion on the 11th of June after the Federal Executive Council (FEC) approved a revised budget of N10.523trillion in May. 2020 Budget is based on a revised oil benchmark of $25 per barrel as against $57 while crude production was reduced from 2.18 million to 1.94 million barrels per day  Budget deficit for 2020 is estimated at N5.365 trillion.
As of March 2020, the FG was running a 52% shortfall in the first quarter of the year with actual revenue collected of N950 trillion compared to budgeted revenue  N1.96 trillion.
Explore Economic Research Data From Nairametrics on Nairalytics
What this means: Nigeria is facing an unprecedented revenue crisis exacerbated by the Covid-19 pandemic and the crash in oil prices. At N5.16 trillion, Nigeria's projected budget deficit will be 43% of spending and about 3.6% of GDP if the budget is passed. A budget deficit means the government will have to borrow heavily next year to fund its expenditure programs.
The government received a $3.4 billion funding from the IMF in April and expects another $3.5 billion from the World Bank in August 2020. The government also revealed it has no plans to access the commercial market for foreign debts as it takes advantage of lower interest rates in the domestic market.
Buhari appoints new Ag. Chairman of EFCC, gives reason for Magu's suspension
The statement revealed why Ibrahim Magu, was suspended by the President.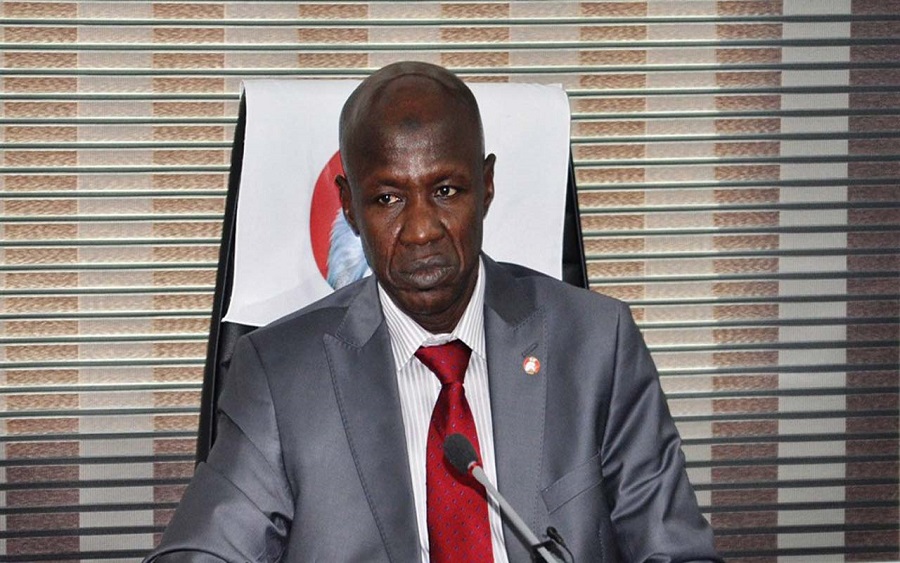 President Muhammadu Buhari has approved the appointment of Mohammed Umar as the new acting Chairman of the Economic and Financial Crime Commission (EFCC).
Umar who is EFCC's Director of Operations was asked to take charge and oversee the operations and activities of the anti-corruption agency pending the conclusion of the ongoing investigation on the allegations against Ibrahim Magu and further directives in that regards.
Explore Economic Research Data From Nairametrics on Nairalytics
This was disclosed by the Special Assistant Media and Public Relations to the Attorney General of the Federation and Minister for Justice, Dr Umar Gwandu, in a press statement on Friday, July 10, 2020, in Abuja.
The statement revealed that the former acting Chairman for EFCC, Ibrahim Magu, was suspended by the President in order to allow for an unhindered probe by the Presidential Investigation Panel which is headed by Rtd Justice Ayo Salami under the Tribunal of Inquiry Act and other relevant laws.
READ ALSO: Senate to probe FG over reduction of MTN's $8.1 billion fine
The presidential panel was set up to investigate various cases of official misconduct and financial irregularities against Ibrahim Magu, who has been in detention since Monday, July 6, following his invitation for questioning by the panel.
The allegations were made by the Attorney General and Minister for Justice, Abubakar Malami, who demanded for his removal as the acting Chairman of the EFFC in a memo to President Muhammadu Buhari.