Nigerians knock Fashola over comments on "bad roads"  
Babatunde Fashola appeared to have angered many Nigerians with his latest comments on the state of the country's roads.
Nigerian Minister of Works and Housing, Babatunde Fashola appeared to have angered many Nigerians with his latest comments on the state of the country's roads.
On Wednesday, 6th August, the Minister, after the Federal Executive Council meeting, said that Nigerian roads were not as bad as people portrayed.
What exactly did the Minister say?
The Minister, who is a former Governor of Lagos State, reportedly stated that the roads were not that bad while reiterating that the paucity of funds and bureaucratic bottlenecks were major setbacks that stalled the process of road construction in the country.
The Minister's statement reads: "The roads are not as bad as they are often portrayed. I know that this is going to be your headline, but the roads are not that bad.
"When I come here to announce that a particular amount was approved for a contract that doesn't mean the amount has been paid contrary to what you suggest.
"You are mindful also that minister of finance, different arms of government are escalating the fiscal challenges we face as a nation in trying to fund the budget.
"You are also mindful that the last few budgets in Nigeria for almost 20 years have been deficit budgets and these are terminologies that are realities and I think we should acquaint ourselves with if we are not just to report the news but also educate the public.
"You must also be aware that between awarding a contract and also mobilizing to the site there is a distance. First of all, we have to have an agreement that is the relationship between the ministry of works or any other ministry and the ministry of justice, then there is a role that banks play, they have to give a guarantee.
"Building materials – rocks, laterite, quarry, iron rods have to be ordered, construction companies don't keep them.
"The process of producing blasting rocks requires approval from the office of ministers of justice and even the office of the NSA to get approval to get dynamite. All of these are the things that go on. So the point that I am making to you is that there is a distance between approval, implementation, actual construction and the result."
[READ MORE: Fashola divulges FG's plans to build affordable homes]
Meanwhile, Nigerians are not having it
Following the Minister's comment on the state of Nigerian roads, Nigerians flooded to Twitter to express their displeasure. Here are some selected reactions.
Commenting on Nairametrics' Twitter handle, popular Analyst and News Editor at Bloomberg, Paul Wallace, asked if the Minister had driven from Lagos to Seme.
Has he ever driven from Lagos to Seme?

— Paul Wallace (@PaulWallace123) November 7, 2019
Also, a twitter user, Demola Og, described the painful experiences and ordeal Lagos road users witness in the process of manoeuvring on the bad roads, while also avoiding motorcycle and tricycle riders.
Fashola said Lagos roads are not that bad….

That's why we can't drive straight
We'll have to go zigzag so we can avoid potholes
And while avoiding these portholes, we also have to avoid the impatient Keke and bike riders so they won't hit our side mirror!!!

— Mola✨✨ (@damola_og) November 7, 2019
Further reacting to the Minister's statement, Steve Osaz, knocked Fashola, accusing the Minister of not plying the roads to have a glimpse of how bad they are.
How is he supposed to know? Does he ply any of those roads? His primary route which is Lag-Abj, he does via air, so what is he talking about.
Fashola has now developed a reputation for talking nonsense and outright rubbish all the time.

— 𝕾𝖙𝖊𝖕𝖍𝖊𝖓 𝕺𝖘𝖆𝖟𝖚𝖜𝖆 (@steveosaz) November 7, 2019
According to Segun Oladejo, the Minister needs to ply one of Nigerian roads before making such a statement.
I bet Fashola to take Lagos to Ilorin road in a public transport. That time we will know if Nigeria road is bad or not

— Segun | Legal 🔌 (@SegunOladejo_) November 7, 2019
Another Twitter user wondered why the Minister would make such a statement when the deplorable state of Nigerian roads make road users spend more time than expected.
https://twitter.com/Pastor_CVB/status/1192355861672448000
A Twitter user, Mohammed. cited the deplorable major roads in the Northern part of Nigerian.
May be in south west, come to the north and see Kano-Maiduguri, Mokwa-Tegina, Tegina – birnin gwari, Bida- minna-lambata and minna- Abuja . You will cry blood 😭

— Mohammedking (@Mohamme21934668) November 6, 2019
In a similar fashion, this user knocked Fashola, stating that the Minister and leaders are not living in the present-day realities. According to him, they fly jets and ride on big cars to notice the bad states of the roads.
How will Nigeria make progress with this kind of mind set? These men are living in isolation of the present day realities we face everyday. They can afford to travel to London for medical check up, ride on jeeps, fly presidential jets… Well is a matter of three years?

— nwosu tobechukwu (@tobe4greatness) November 6, 2019
Abiahama, who claimed to have travelled to over 28 states, was appalled by such a statement from the former Governor, stating that it's a pure misrepresentation of the realities on ground.
@tundefashola you are extremely wicked for saying this. Nigerians respected you alot as Governor, Lagos State but now power hv beclouded your mindset. How often do you travel by road Mr. Minister to have concluded that the roads are so not bad? I have traveled to over 28 States..

— Kobiko (@Abiahama) November 7, 2019
CBN extends Covid-19 forbearance for intervention loans by another 12 months
CBN will continue to charge an interest rate of 5% for its intervention loans for another 1 year.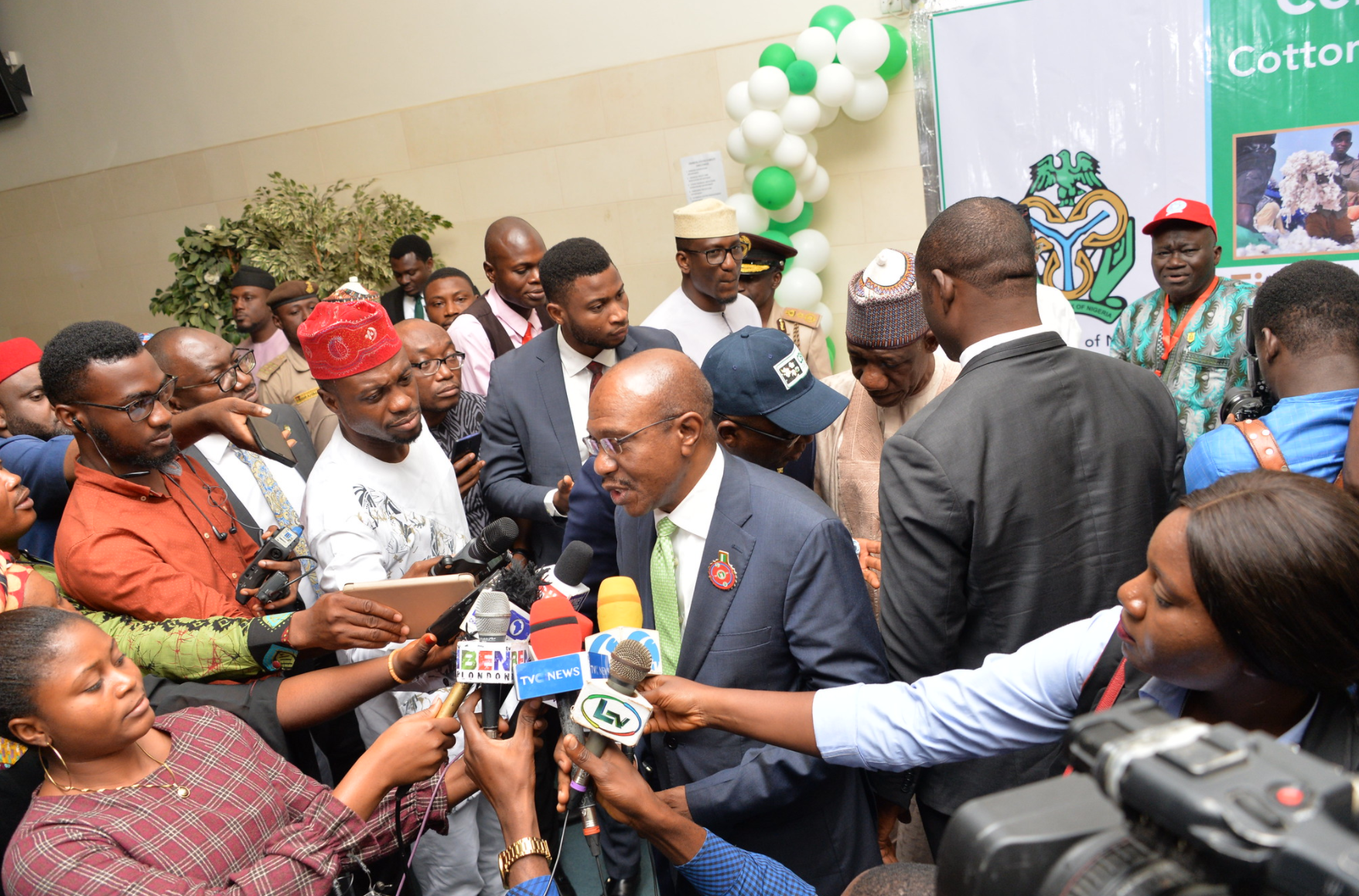 The Central Bank of Nigeria has announced an extension of its regulatory forbearance for the restructuring of its intervention facilities by another 12 months.
In a circular signed by Dr. Kevin Amugo, the Director of Financial Policy and Regulatory. the apex bank said it will continue to charge its borrowers an interest rate of 5% per annum as against the 9% originally offered. The CBN had on March 20th reduced the interest rates on its intervention loans from 9% to 5% as part of its response to the economic crunch brought on by Covid-19 induced lockdowns.
The CBN also offered to rollover moratorium granted on all principal payments on a case by case basis. All credit facilities had been granted a one-year moratorium starting from march 1, 2020 when the pandemic first gripped Nigeria.
READ: Analysing the Central Bank of Nigeria's Dollar Remittance Policy
See excerpt from Circular
"The Central Bank of Nigeria reduced the interest rates on the CBN intervention facilities from 9% to 5% per annum for one-year effective March 1, 2020, as part of measures to mitigate the negative impact of COVID-19 Pandemic on the Nigerian economy."
Credit facilities, availed through participating banks and OFIs, were also granted a one-year moratorium on all principal payments with effect from March 1, 2020.
Following the expiration of the above timelines, the CBN hereby approves as follows:
1) The extension by another twelve (12) months to February 28, 2022 of the discounted interest rate for the CBN intervention facilities;
2) The roll-over of the moratorium on the above facilities shall be considered on a case by case basis.
READ: Nigeria attracts more FDI than FPI for the first time in 4 years
What this means
Companies who secured intervention funds from the CBN or through any of its on-lending banks will continue to service the loans at an interest rate of 5% per annum instead of 9%.
They can also get another year of not needing to pay back the principal sum collection. However, they will need to apply.
Whilst this move helps the small businesses continue to manage their cash flow, it means the CBN will record a reduction in its income extended under such facility.
Regulatory forbearance is a widely adopted concept during an economic crunch and it is meant to help stimulate businesses. These pronouncements if implemented will only affect those who borrow from the CBN or BOI but those who do not will miss out.
Download the circular here.
READ: CBN discloses conditions for assessing N100 billion credit facility, addresses 'process problems'
Senate endorses ex-Service Chiefs as Non-career Ambassadors
The Senate has confirmed President Buhari's nomination of the immediate past service chiefs as non-career ambassadors.
The Nigerian Senate has endorsed the nomination of the past serving Military Service Chiefs as Non-career Ambassadors.
This was confirmed during Tuesday's plenary session and announced in a social media statement by the Nigerian Senate.
Their confirmation follows the consideration of the report of the Senate Committee on Foreign Affairs, Chaired by Senator Adamu Bulkachuwa.
According to reports, the Senate Minority Leader Enyinaya Abaribe, however, questioned the nomination and confirmation of the ex-service chiefs when the Senate had on 3 different occasions called for their sack.
Senator Abaribe also raised issues on the petitions against the former service chiefs and questioned why they were dismissed without explanations.
But Senate President Ahmad Lawan dismissed Senator Abaribe's concerns, ruling that the nomination of the former service chiefs cannot be nullified simply because the upper chamber had called for their sack, noting that this is totally a different assignment.
In his concluding statement, the Senate President, Senator Lawan added that these nominees that have just been confirmed have served this country to the best of their abilities. He appealed to the executive to make sure they use their experience as military men to the best.
"These nominees that we have just confirmed are nominees that have served this country to the best of their ability. Our appeal to the Executive is to make sure they use their experiences as military men to the best," Lawan said.
Lawan, on behalf of the senate, wished them a very successful career in their capacity as Non-Career Ambassadors.
What you should know 
Recall Nairametrics reported earlier this month that President Muhammadu Buhari nominated ex-Service Chiefs for Senate approval as non-career Ambassadors-Designate.
Their appointment came barely a week after their retirement as service chiefs and their replacement with new ones.
This led to a spate of criticisms from some Nigerians who felt that the nation's security situation got worse under their watch.
They were reported to have tendered their resignation from their positions amid heightened calls that they should be sacked due to the increasing rate of insecurity across the country.
Nairametrics | Company Earnings
Access our Live Feed portal for the latest company earnings as they drop.