NBC, Rite Foods, others to pay new tax as FG identifies new revenue streams 
The NBC and other manufacturers of carbonated drinks may have to start paying excise duties as the FG identifies new revenue streams.
The Nigerian Bottling Company (NBC), Rite Foods Plc and other manufacturers of carbonated drinks may have to start paying excise duties as the Federal Government identifies new streams of revenue to help boost its revenue base.
This was announced by the Minister of Finance, Budget and National Planning, Zainab Ahmed on the sidelines of the World Bank/International Monetary Fund meetings holding in Washington DC, United States.
Ahmed made it known that since the Value Added Tax increase had been proposed, other streams of revenue the government was considering include the introduction of excise duties on carbonated drinks.
[READ MORE: IMF: Increase tax rate to manage fiscal crisis?]
Carbonated drinks include soft drinks like Coca Cola, Fanta, Bigi and excise duties are taxes levied on locally produced goods. Nairametrics understands that currently, excise is placed on non-alcoholic beverages, fruit juices, beer, stout and alcoholic beverages as shown on the website of the Nigeria Customs Service.
Speaking further, Ahmed stressed the importance of taxes and the plans of the government in ensuring citizens pay tax.
"There is also a proposal to build tax rates for SMEs. We also increase the minimum tax level to make it easy for people to plan their taxes. Nigeria, we don't have adequate social contract. The government was not asking for or enforcing tax collection and, therefore, taxpayers also were not taking up their civic responsibilities. This is because we are largely dependent on oil revenue and people are not used to paying taxes.
"Very recently at the Nigeria economic summit, they shared a citizens survey and 75% of people that was surveyed said 'we don't think there is anything wrong in not paying taxes and it is not a problem' and there was a few that said 'I don't see what the taxes are used for. So, why should I pay tax'?
"We have a very low tax morale. We are planning a strong strategic communications process to educate people on why they need to pay taxes. Because we rely heavily on oil and it is not going to be there forever. So, we have to boost domestic revenue generation and use tax revenue to develop their economies and Nigeria should not be an exception.
[READ ALSO: FG moves to clamp down on tax evaders in mining sector]
"In expanding the revenue base, we have proposed the increase of VAT but there are also other revenue streams that we are looking at and some of them include the introduction of excise duties on carbonated drinks but there is a process to doing these things.
"The fact that our revenue is underperforming is not an excuse to bring down our revenue that is required to fund the national budget."
YULETIDE: Petrol scarcity not in sight according to PMS data – PPPRA
Petroleum Products Stock Data compiled by the PPPRA suggests there may not be any fuel scarcity this yuletide season.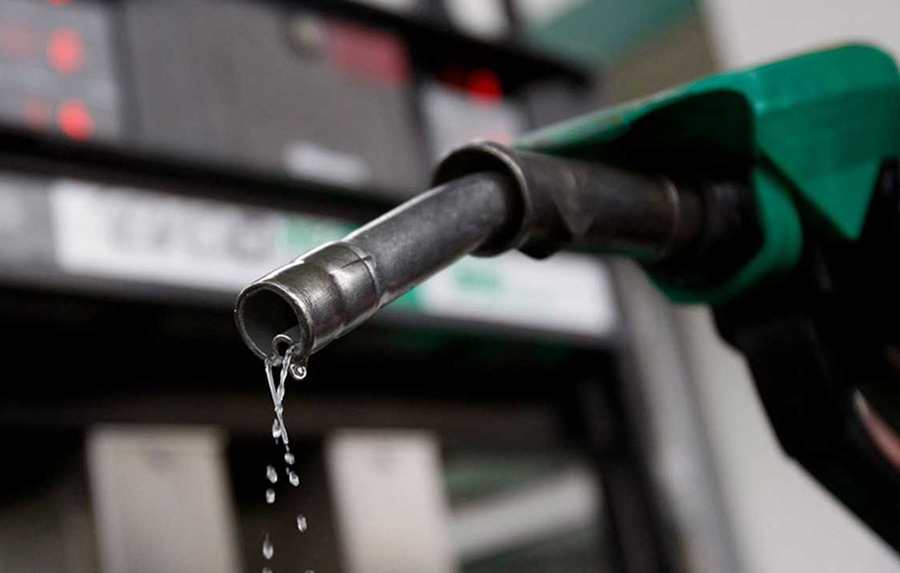 It appears petrol scarcity is not in sight, at least during the coming yuletide season and in the foreseeable future.
This is according to the Petroleum Products Stock Data, compiled by the Petroleum Products Pricing Regulatory Agency (PPPRA).
According to the data available on the PPPRA website, the current stock level of Premium Motor Spirit (PMS), also known as petrol or gasoline, stands at 2.705billion litres.
Of the total litres, Land-based Stock accounted for 1.243billion litres, representing 46%.
Marine Stock accounted for 1.462billion litres, representing 54% litres.
Further checks indicated that NNPC and two other marketer's association – MOMAN and DAPPMA, are in charge of the product. They operate in five designated areas – Lagos area, Port-Harcourt area, Calabar area, Warri area, and Kaduna area.
Of the 1.24 billion Land-based Stock, NNPC owns 604.7 million litres, representing 49%.
DAPPMA owns 545.1 million litres, representing 44%.
Major Marketers own 93.7 million litres, representing 8%.
Of the Marine stock of 1.46 billion litres,
1.25billion litres belongs to NNPC and it's offshore, while 215.59 million litres is total Jetty at Berth.
DAPPMA owns 131.38million litres of the total Jetty at Berth, representing 61%.
Major Marketers own 42.77million litres, representing 20%.
NNPC owns 41.44million litres, representing 19%.
Lagos area has the highest closing stock (596.20million litres), followed by Port-Harcourt area (212.43million litres), Warri area (198.29million litres), Calabar area (58.91million litres), and then Kaduna area (57.97million litres).
(READ MORE: NNPC to end oil-for-fuel swap system)
As at the release of the data on November 22 by PPPRA, 10 out of 11 vessels discharged the 215.59 million litres at different Jetties, with the other vessel given nomination to discharge.
What this means
With the national average daily consumption of PMS put at 56 million litres, it means the current stock level of 2.71 billion litres will sustain the country for at least 48 days, all things being equal.
The only worry is affordability, considering the recent hike in petrol depot price by the Petroleum Products Marketing Company (PPMC), a subsidiary of the Nigerian National Petroleum Corporation (NNPC).
What you should know
Nairametrics recently reported that the recent adjustment of the ex-depot price of petrol may result in increased pump price of the product. PPMC increased the ex-depot price of the product to N155.17 per litre from N147.67 per litre.
The ex-depot price is the price at which PMS is sold by the PPMC to marketers, which indicates that marketers would be dispensing the product to motorists at a price higher than N155.17 per litre. Hence, the average current pump price of PMS is N170 per litre.
CARMA, data marketplace announces early-stage venture funding and launches operations in Nigeria 
CARMA looks to provide a fully decentralized protocol of data sharing for enterprises to fuel credit assessments with extra data points.
CARMA, a tech-startup filling the credit-data gap in sub-Saharan Africa, announced today an early-stage venture funding round led by Microtraction, a Venture Capital firm that invests in Africa's most remarkable teams at the earliest stage of their venture. The financing will be used to expand CARMA's operations across the continent and launch its headquarters in Lagos, Nigeria.
The establishment of the Lagos office, led by Ted Martynov, co-founder, and CEO, comes as the company looks to foster seamless customer support and account management by providing a fully decentralized protocol of data sharing for enterprises to fuel credit assessments with extra data points. This will help lending and non-lending organizations monetize their data to create a passive revenue stream. The company also connects enterprises by providing a data supply chain for organizations with access to CARMA services, contributing to data-driven business decisions.
According to the World Bank private credit bureau coverage 2019, only 14% [1] of adults in Nigeria have a credit history from credit bureaus and only financial institutions are currently submitting data on individuals and commercial entities regularly. As a one-stop-shop for pan-industry data, lenders in Nigeria can now access data on a real-time basis via CARMA's decentralized technology while data contributors will also have access to monetize their data in a secure data marketplace.
The economic impact caused by the global health pandemic has had a severe impact on the digital lending space across the continent as the number of non-performing loans continue to be on the rise due to job losses and pay-cuts. The major challeng e lending organizations have been facing is getting access to aggregated credit data for proper credit assessment. As digital financial services are broadening and speeding up financial inclusion in many African countries, specifically where digital mobile lending has already become advanced, data sharing between organizations remains crucial for lenders to provide high-quality loans and prevent over-indebtedness.
Ted Martynov, CARMA's Co-founder and CEO, said: "Our early-stage venture funding allows us to invest in growing our presence across sub-Saharan Africa and our ability to address the gap in the credit data ecosystem while strengthening our network of clients. We are also focusing on supporting companies with quality data in the credit decision process to avoid non-performing loans. We anticipate on strengthening our services across the region, which will bring us closer to helping companies enhance data sharing to build proper credit assessment procedures."
"We are excited to be CARMA's partner as part of their Africa rollout. Microtraction supports several great tech teams across the continent and we are acutely aware of the gap in access to credit data, which we believe is a fundamental one to fill. Providing a solution that addresses this lack of data improves the quality of business processes and also helps the mass populous with access to financing, which of course, is very critical during these times as the world continues to fight a health and economic crisis. We look forward to working with CARMA as we continue to support teams working to address infrastructural challenges across Africa." said Chidinma Iwueke, Partner at Microtraction.
About CARMA
CARMA is the world's first data marketplace founded in 2020 by an international team of lending and tech entrepreneurs. The company provides services for mutual access to internal data for enterprises enabling data-driven business decisions and improves credit assessment quality for professional lenders. Their services can be utilized across all industries providing a unique revenue stream to companies for monetizing data for their customers while entities and data seekers receive access to inclusive pan-industry data one-stop-shop. For more information: https://carmachain.com/
Funke Feyisitan-Ladimeji appointed Executive Director, Coronation Merchant Bank
Coronation Merchant Bank Limited has announced the appointment of Funke Feyisitan Ladimeji as an Executive Director of the Bank.
The Board of Directors of Nigeria's leading financial institution; Coronation Merchant Bank Limited has announced the appointment of Funke Feyisitan Ladimeji as an Executive Director of the Bank with effect from November 18, 2020, consequent to the approval of the Central Bank of Nigeria.
Funke joins the Bank from FBNQuest Merchant Bank where she spent eight years as the Chief Operating Officer (COO).  Before now, she was the Executive Director/COO at JP Morgan. Funke has over 30 years' experience managing a variety of Banking businesses across Markets and Corporate Finance Businesses, across multiple jurisdictions in EMEA (Europe, Middle East and Africa), North America and Asia, and across multiple functional areas, including Financial Control, Complex Product Accounting, Technology, Business Operations and Human Capital in major financial institutions within and outside Nigeria. She is a Fellow of the Institute of Chartered Accountants of England & Wales and holds a Master's degree in Globalization and a Bachelor's degree in Economics from Queen Mary and Brunel Universities respectively.
READ: Coronation Merchant Bank records 14% growth in earnings for 2019 FY
As the Executive Director, Funke's remit will include Compliance, Information Technology, Centralized Operations, Customer Service, Global Trade and Administration functions.  She will also be the Bank's Executive Compliance Officer.
Announcing the new appointment, the Chairman of Coronation Merchant Bank, Mr Babatunde Folawiyo stated that: "Funke brings to us a rich portfolio of experience garnered over the years in various leadership capacities. She could not have joined us at a more promising time in our journey to becoming an institution renowned for driving transformative solutions across Africa. I am confident her appointment will further strengthen and position the Bank for improved performance".
READ: FSDH Merchant Bank obtains license to operate as Customs Duty Collecting Bank
He further stated, "As a Bank, we maintain high corporate governance standards and ensure that Board appointments are in line with global best practices and industry standards. Her appointment follows a long tradition of working with the best and brightest across all levels of our organisation.
Coronation Merchant Bank was established in 2015 to provide wholesale banking to a long-underserved market. The Bank offers Corporate & Investment Banking, Private Banking/Wealth Management and, Global Markets/Treasury Services to its niche clientele. It presently has two branches located in Abuja and Port Harcourt with its Head Office in Lagos, Nigeria.
READ: Restructuring: Plans must pass through legal process from the National Assembly – Tambuwal
The Bank has been the recipient of numerous international and national awards for product innovation and sound corporate governance practices. Some of the international awards it received in 2020 and 2019 include Best Investment Bank in Nigeria by Global Finance, Best Investment Bank in Nigeria by World Finance, Best Investment Bank in Nigeria by Global Banking & Finance Review, Best Investment Bank by Global Business Outlook and Best Investment Bank in Nigeria by International Finance.
Explore Data on the Nairametrics Research Website