This is what Dangote wants to emulate from Bill Gates
Popular Nigerian billionaire, Aliko Dangote has disclosed the one thing he wants to emulate from his American counterpart, Bill Gates.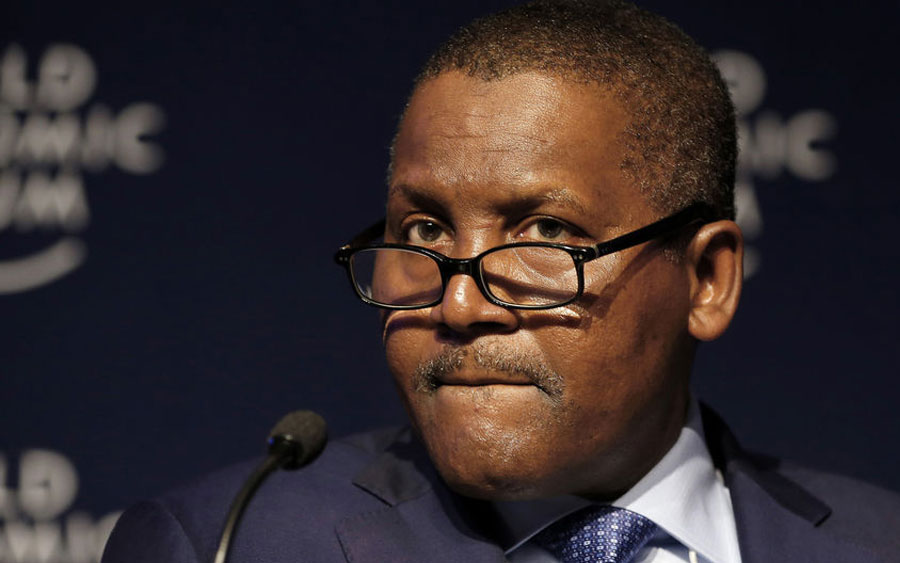 It is a reality that one cannot have everything. Irrespective of the success one has achieved or the milestone one has covered, there tends to be that thing one admires to do. This life reality doesn't exclude the billionaires, as Aliko Dangote disclosed the one thing he wants to emulate from his American counterpart, Bill Gates.
Speaking at the 2019 Goalkeepers' event hosted by the Bill and Melinda Gates Foundation in New York on Wednesday, September 24, 2019, the African richest man said he hoped to give out a chunk of his wealth portfolio like Gates.
[READ MORE: Aliko Dangote is the only African among the world's 100 richest people]
Dangote, who said he had been running the Dangote Group for over 25 years, admitted that he remained impressed by Gates' philanthropy. He further stressed that he found it amusing that a man like Gate who is from America could show much love to Nigeria and invest in the lives of people he is not related to.
Dangote's words: "When I started my foundation in 1994, I never realised we had this massive challenge in the health sector. Really, it was mind-boggling when we had this agreement to collaborate with the Bill and Melinda Gates Foundation and that really opened my eyes to realise that there are a lot of challenges in health.
"At that time, I didn't have the opportunity of meeting Bill, but meeting Bill changed me into a different person. This is somebody that has nothing to do with us in Africa or Nigeria, but he is putting his money and his soul into everything.
"He is very committed to helping humanity and that really surprises me a lot and I realised that he is a simple person and I never knew Bill would be this simple. He is a very soft-spoken guy and kindhearted.
"It is very difficult to find people like Bill in this world. Bill, we are very grateful, and I can assure you that with my association with Bill, my only prayer is that in the next few years, I will try and give my chunk of wealth to charity."
COVID-19 Update in Nigeria
On the 24th of October 2020, 48 new confirmed cases were recorded in Nigeria
The spread of novel Corona Virus Disease (COVID-19) in Nigeria continues to record significant increases as the latest statistics provided by the Nigeria Centre for Disease Control reveal Nigeria now has 61,930 confirmed cases.
On the 24th of October 2020, 48 new confirmed cases were recorded in Nigeria, having carried out a total daily test of 1,372 samples across the country.
To date, 61,930 cases have been confirmed, 57,285 cases have been discharged and 1,129 deaths have been recorded in 36 states and the Federal Capital Territory. A total of 603,611 tests have been carried out as of October 24th, 2020 compared to 602,239 tests a day earlier.
COVID-19 Case Updates- 24th October 2020,
Total Number of Cases – 61,930
Total Number Discharged – 57,285
Total Deaths – 1,1129
Total Tests Carried out – 603,611
According to the NCDC, The 48 new cases were reported from 6 states- Lagos (18), FCT (13), Kaduna (6), Rivers (5), Ogun (5), Ondo (1).
Meanwhile, the latest numbers bring Lagos state total confirmed cases to 20,807, followed by Abuja (5,961), Plateau (3,594), Oyo (3,423), Rivers (2,770), Edo (2,648), Kaduna (2,611), Ogun (1,995), Delta (1,812), Kano (1,741), Ondo (1,662), Enugu (1,314),  Kwara (1,067), Ebonyi (1,049), Katsina (948), Osun (922), Abia (898), Gombe (883).  Borno (745), and Bauchi (710).
Imo State has recorded 614 cases, Benue (486), Nasarawa (478), Bayelsa (403),  Ekiti (329), Jigawa (325), Akwa Ibom (295), Anambra (277), Niger (274), Adamawa (257), Sokoto (164), Taraba (122), Kebbi (93), Cross River (87), Yobe (82), Zamfara (79), while Kogi state has recorded 5 cases only.
READ ALSO: COVID-19: Western diplomats warn of disease explosion, poor handling by government
Lock Down and Curfew
In a move to combat the spread of the pandemic disease, President Muhammadu Buhari directed the cessation of all movements in Lagos and the FCT for an initial period of 14 days, which took effect from 11 pm on Monday, 30th March 2020.
The movement restriction, which was extended by another two-weeks period, has been partially put on hold with some businesses commencing operations from May 4. On April 27th, 2020, Nigeria's President, Muhammadu Buhari declared an overnight curfew from 8 pm to 6 am across the country, as part of new measures to contain the spread of the COVID-19. This comes along with the phased and gradual easing of lockdown measures in FCT, Lagos, and Ogun States, which took effect from Saturday, 2nd May 2020, at 9 am.
On Monday, 29th June 2020 the federal government extended the second phase of the eased lockdown by 4 weeks and approved interstate movement outside curfew hours with effect from July 1, 2020. Also, on Monday 27th July 2020, the federal government extended the second phase of eased lockdown by an additional one week.
On Thursday, 6th August 2020 the federal government through the secretary to the Government of the Federation (SGF) and Chairman of the Presidential Task Force (PTF) on COVID-19 announced the extension of the second phase of eased lockdown by another four (4) weeks.
READ ALSO: Bill Gates says Trump's WHO funding suspension is dangerous
#EndSARS: Governor Uzodimma approves N2bn for youth empowerment after talks with protesters 
Governor Uzodinma has approved the immediate release of N2 billion for youth empowerment.
Governor Hope Uzodimma of Imo State has approved the immediate release of N2 billion for youth empowerment, following a fruitful meeting with a group of youths associated with the #EndSARS movement in the State. 
This disclosure was made by Governor Hope Uzodinma in his statement today, during his third state Broadcast to the people of Imo State, this week. 
1/BROADCAST BY GOVERNOR HOPE UZODINMA OF IMO STATE ON SATURDAY OCTOBER 24TH, 2020 pic.twitter.com/OmWNbzzDyq

— Hope Uzodimma (@Hope_Uzodimma1) October 24, 2020
The Governor in his statement said that his heart is gladdened that a vast majority of the youth heeded the clarion calls to call off the #EndSARS protests, having laid down their points unmistakably. 
However, he revealed that in line with his determination to address the needs of the youth and empower them, he has approved an immediate release of a take-off fund of N2 billion for the empowerment of youth in the state. 
He reiterated that the task is not complete until every single youth is pulled off our streets and kept a safe distance away from the reach of some unscrupulous elements whose demonic desire is to unleash endless carnage in some parts of the state. 
What you should know 
Recall that the governor on the met with a group of youths embedded in the EndSARS protests. The group was made up of youth leaders from all parts of the country comprising leaders from the National Youth Council of Nigeria, Areewa, Ohanaeze, Afenifere, Hausa, Fulani, Middle belt and Niger Delta Youths 
However, during his interface with the youth, he assured them of a dedicated empowerment package, as part of his administration's determination to address the needs of the youths and quell their dissatisfaction. 
The N2 billion take-off fund will be deployed for the training of the first batch of the beneficiaries, which will commence next week. The N2billion take-off fund is to be taken from the N6 billion earmarked for the accelerated youth empowerment programme.

 

The empowerment programme is under the Imo State Special Youth Empowerment and Intervention Programme (IMYEIP). The State's Ministry of Skills Acquisition and Entrepreneurship is directly charged with its immediate implementation.

 

The programme is to begin training of the 1st, 2nd & 3rd Batches of an estimated number of 500, 000 Imo youths in different skills acquisition programmes within the next two years, and provide them with start-up capital to begin their own enterprises.

 

 The training time table will be rolled out on Tuesday, October 27th, 2020.

 

The 5000 Imo Youths who have already been trained in different skills under the IMYEIP platform, are to be given their start-up capital very soon.

 
Tinubu visits Sanwo-Olu, speaks on recent violence in the state, travelling out of the country
Tinubu has spoken up about some of the happenings that have led to the recent unrest in Lagos State.
The former Lagos State Governor and the National Leader of the ruling All Progressives Congress (APC), Bola Ahmed Tinubu, has reacted to the outbreak of violence during the #EndSARS protest which has led to the destruction and looting of public and private infrastructure in the state.
He lamented the invasion and wanton looting and burning of public and private assets in the state of late, including police stations.
This was made known by Tinubu during a courtesy visit to the Governor of Lagos State, Babajide Sanwo-Olu, on Saturday, October 24, 2020, at State House Marina, to commiserate with him on the recent violence in the state, sympathize with the victims through him and seek his permission to visit some of the victims.
While addressing journalists after the meeting with the governor, Tinubu said he asked him if he had ordered the attack on #EndSARS protesters by soldiers at the Lekki Tollgate on Tuesday.
He also said that he did not travel out of the country as reported by some sections of the media, who claimed that he had travelled to France and the UK.
Tinubu said, "I didn't go nowhere; I'm a Lagosian and I still hold the title of Asiwaju of Lagos and I am still a Jagaban. Fake news is all over the place. They say Seyi my son was kidnapped and was chased but look at him. I didn't pay a penny to bring him here.
On the investigation and compensation for victims of violence, Tinubu said, "First, we have to segregate the calendar, those who suffered casualty before the protests from the hands of SARS. You have to separate that from those who suffered casualty due to what happened at the toll gate.
"For those who suffered casualty from SARS, the Commission of Inquiry that is already set up will unearth that and will make their recommendations. I trust the calibre and the character of the people there, they are independent. That is one.
"Those who suffered casualty during the gunshots need to answer some questions too, how are they there? How long were they there? What kind of characters are they? Even though we want to help, we still must extract information that will help the government to prepare in future and understand how and when to react because the governor, in particular, is a youth.''
Going further, he said, "As a youth himself, he (Sanwo-Olu) quickly went to Abuja with the 5/5. The government immediately put into action, dissolved the SARS and had to work through other recommended actions, the needs they demanded. Within a few days, he reported back to the public. That is responsive enough.
"But where are we getting the looting, the carnage, the burning, the invasion of police stations, stealing of arms, maiming of the innocent? It is a handshake beyond the elbow."
Tinubu has been under intense media attack over the shooting of unarmed protesters at the Lekki Tollgate on Tuesday. He was accused of being the mastermind of the incident because of his alleged interest in the tollgate which has been blocked for about 2 weeks, an allegation he has denied.
The hoodlums had burnt down some businesses allegedly linked to him in the course of the violence that erupted in Lagos. They include Oriental Hotel, Television Continental (TVC) and Nations newspaper.