Dangote Refinery, Lekki Deep Sea Port turn Ibeju- Lekki to preferred destination for investors
Nairametrics highlights why real estate companies, investors, and prospective home owners have made Ibeju-Lekki their preferred destination.
Buying land and other similar properties can be very demanding as it requires a tough decision-making process. Securing a landed property is not as easy as strolling into a supermarket to get a box of chocolates off the shelf.
For the latter, all one needs to do is to pick the chocolate box one desires and make the payment, but for the former, there are various important factors a smart person should consider before making a purchase.  
The most important factor is the location of the property in consideration. After determining the location, every other decision revolves  around it. 
[READ MORE: Embattled Lekki Gardens in another fresh trouble]
Ibeju Lekki: Real estate companies, investors, business owners and prospective homeowners have made Ibeju-Lekki their preferred destination.
One only needs to pay a casual visit to the area to see how buildings and construction sites aggressively spring up everywhere. C

o

mpared to other 

areas

in Lagos

, t

he pace at which development is taking place in

 Ibeju-Lekki

 is 

staggering.

It was created out of the old Epe local government area in 1990.

Our analysts, who visited the area, observed that in the nearest future,

 it

will be a hub for

different industries

 as

 

v

arious companies are currently developing their facilities

there.

 
The selling points: The biggest factor behind the rapid development in the Ibeju- Lekki axis is the Lekki Free Trade Zone, home to the Dangote Petrochemical Refinery (one of the biggest refineries in Africa), and several industries. The refinery is expected to take off in a few years and spur massive growth in the area.  
Seaside view

 

Apart from the fact that Ibeju-Lekki is poised to become a commerce hub, it also attracts tourists, since some parts are located close to the Lagoon and beaches which include

Alpha Beach and the popular 

Elegushi

 beach. 

Land by the sea or lagoon always goes for a premium. 

Estates in the Area: Since Ikoyi and Victoria Island are way out of price,

Ibeju-Lekki is 

the next best place to buy land

 for the upwardly mobile. 

Already, 

it 

has several popular luxury estates, such as Oxford Estate, 

RichLife

 Estate, Rehoboth Lakeshore Estate

, etc.

 

A destination for schools:

Ibeju

–

Lekki accommodates some of the best 

schools

in the country. Some of them are

Debiruss

School, Caleb British International School, Abcel Academy

, Laura Stephens School, 

Albesta

Academy, The Livingsprings Schools, Greensprings Schools

, Ibeju High School, and Pan African University.

Healthcare facilities

:

 

The quality 

of

health facilities in the area are remarkable. Some of them are General Hospital Ibeju Lekki, First Graceland Hospitals, Vedic Lifecare Hospital, Luscent Hospital,

Healing Stripes Hospital, 

Mosunmola

 

Ajayi

 Hospital,

 etc.

 

Many luxury hotels have also made the area their home. 

 
Professional View: Nairametrics learnt that real estate firms and developers are using the prospects of the area as a marketing strategy to lure the public to invest in landed property. For them, the idea is to invest in the area now that it is less-developed and relatively affordable, as against when it will be fully-developed and more costly to secure a property there. 
Realtors

'

 

views

:

Precious, a representative

 of Adron Homes and Properties, one 

of the leading real estate firms in Nigeria,

 who 

s

poke to

 our research team 

said 

that 

Ibeju-Lekki is not only a centre of attraction for Nigerians alone, but for Africans at large.

Precious, a staff of Adron Properties revealed that the company campaigns

 for

 its properties in the area with Dangote Refinery, Lekki Deep Seaport, Lekki Free Trade Zone, Lekki Smart City Project, amongst others.

She said, 

"It is going to be more of an industrial/commercial area. They are spending billions of dollars every day in that axis."

When asked if returns

 

on purchased properties were 

considerable

, Precious made reference to a property sold

 by her company

 for N2.5 million about 5 years ago. 

"

A

s I speak to you now, we have a similar one that is going for nothing less than N20 million."

 

Also, the Managing Director/Chief Executive of Vine Realtors, 

Binalaifa

 Bolarinwa

,

 said

 investors were making a smart move

, 

as returns were certain.

According to Bolarinwa

, prices of land in the area range

from

 N600,000 

to

N15,000,000. According to her, she

 

sold a 

piece of 

land at Amen Estate, 

Eleko

 for N10,000,000 last year, and now she's selling a similar property for not less than N20 million.

She disclosed that lands close to Dangote Refinery are selling for N6-7 million, while they sold for N1.2-1.5 million last year.

 

Giving a nod to Bolarinwa's statement, representative of Rendeavour, Tim Beighton said properties situated in Ibeju Lekki keeps appreciating every day.
According to him, Rendeavour which is one of the largest city developers in Africa cut its 7 new cities project across the area because of the investment prospects in Ibeju Lekki.
Beighton maintained that Rendeavour's Alaro City project is serving the needs of property buyers in the Ibeju Lekki area.
Our research team also engaged a real estate firm on Twitter, @cwrelagos, and the company said that prices of land have doubled the amounts they used to be five years ago. This implies that investors get impressive returns on their properties, which increase with the passing of time.  Some residents who own the houses they live in confirmed that the value of their properties has doubled for them.   
Risky Business:  While there are numerous opportunities for individuals to purchase real estate properties in Ibeju-Lekki, there are also risks to be wary of; many buyers regret that they didn't carry out due diligence when making their purchase. 
The infrastructural development that will be introduced to the area in the nearest future would occupy some spaces

 which are government reserved areas, unknown to 

many individuals

.

One of 

such

 places 

is Ode-Omi. Despite the highly publicised development that will take place in the area, many are unaware that former Governor of Lagos State, 

Akinwumi

 

Ambode's

 Smart City Initiative is designated for the area. 

One of the landlords in the area admitted that he was aware that the place is designated for the Smart City but 

expressed hope that

he would be lucky enough not to be affected.

The landlord

, 

who 

pleaded anonymity, 

also lamented how people had been falling prey 

to

 fraud

sters 

while purchasing lands in the area.

S

ome lands

 at 

Sangotedo

, located in 

the 

Ajah

-Ibeju Lekki axis

 

have

 also

 been allocated for

 

government 

schemes

.

Bolarinwa,

 the real estate developer, who toured the area 

with 

our research team lamented that some, in 

the

haste to become landowners in the area, had unwittingly purchased committed lands.

 
[READ ALSO: Aliko Dangote's thoughts on the herdsmen crisis]
Our research team also learnt that some lands in Kaiyetoro of the Ibeju-Lekki area marketed by real estate agents, fall within the proposed Iberekodo Government Scheme.  Those interested in buying land here must be very careful in order to not purchase land that has been marked for government use. 
Illegal reselling: It is common knowledge in the Ibeju-Lekki area that there are fraudulent activities perpetrated by some land sellers.
Land in Ibeju- Lekki is largely held by various families, then sold in bits to individuals and companies. 

During our visit to the area, we couldn't find a victim to interview but we learnt from reliable sources that some buyers paid twice for their lands twice as a result of dispute.
According to a bricklayer who was spotted at a construction site, there had been incidents where people purchased lands wrongly.

"I have witnessed a situation 

where

 a particular man purchased land here from someone who presented himself as the head of the family that owned the land, and on the day he started developing his property, some persons came and presented themselves as the rightful owner

s

 of the land by inheritance."

 

 
Finally, Ibeju-Lekki is evidently an area of promise for property developers and aspiring landowners. It is profitable to get in on it while the area is still growing, but prospective buyers should ensure that they proceed with caution to avoid losing money.
FG to distribute 10 million LPG gas cylinders in 1 year
The FG is set to inject up to 10 million gas cylinders into the market to help improve safety and deepen cooking gas utilization.
The Federal Government has announced plans to inject 5 to 10 million Liquefied Petroleum Gas (LPG) cylinders into the market in the next one year.
This is to help improve safety and deepen LPG (otherwise known as cooking gas) utilization across the country.
This disclosure was made by the Programme Manager, National LPG Expansion Implementation Plan, Mr Dayo Adeshina, at a sensitisation workshop on LPG Adoption and Implementation for Industry Stakeholders, on Wednesday in Lagos.
According to a report from the News Agency of Nigeria (NAN), Adeshina said the National LPG Expansion Implementation Plan, domiciled in the Office of the Vice President, was committed to achieving Nigeria's target of 5 million Metric Tonnes of LPG consumption annually by 2027.
What the Programme Manager for LPG Expansion Implementation Plan is saying
Adeshina said, "The Federal Government is working towards injecting five to 10 million cooking gas cylinders into the market within the next one year. We are starting the cylinder injection under the first phase in 11 pilot states and FCT, with two states from each of the geopolitical zones.
The states are Lagos, Ogun, Bauchi, Gombe, Katsina, Sokoto, Delta, Bayelsa, Ebonyi, Enugu, Niger and the Federal Capital Territory. The cylinders will be injected through the marketers. The marketers will be responsible for the cylinders and the exchange will take place in homes and not in filling stations.
What this means is that going forward, cylinders will not be owned by individuals but by the marketers who will ensure that they are safe for usage.''
Adeshina pointed out that apart from household consumption, the government was trying to increase LPG usage in agriculture, transportation and manufacturing adding that this will enable the country to reduce CO2 emission by about 20% and create millions of jobs for Nigerians.
He said that the government had also granted waivers on importation of LPG equipment and removed Value Added Tax (VAT) on LPG in addition to investment in infrastructure.
The President of the Nigerian Liquefied Petroleum Gas Association, Mr Nuhu Yakubu, said efforts should be made to ensure the availability, accessibility and affordability of cooking gas in the country adding that this would encourage more Nigerians to embrace gas usage in their homes with the attendant benefits to the country.
Mr Olalere Odusote, Lagos State Commissioner for Energy and Mineral Resources, said the population of Lagos makes it imperative for residents to adopt cleaner energy sources for cooking, transportation and power generation adding that the government was targeting the conversion of 45% of about 4 million vehicles in the state to autogas over a four-year period in partnership with marketers.
What you should know
It can be recalled that the Federal Government had in November 2020, announced plans for the conversion of cars to autogas in a bid to have cheaper and cleaner energy especially with the high cost of petrol.
The government at different levels are pursuing cleaner energy sources for cooking, transportation and power generation.
JAMB bans use of email by candidates for UTME, DE registration
JAMB has announced that candidates for the UTME and Direct Entry will no longer be required to provide their email addresses at the point of registration.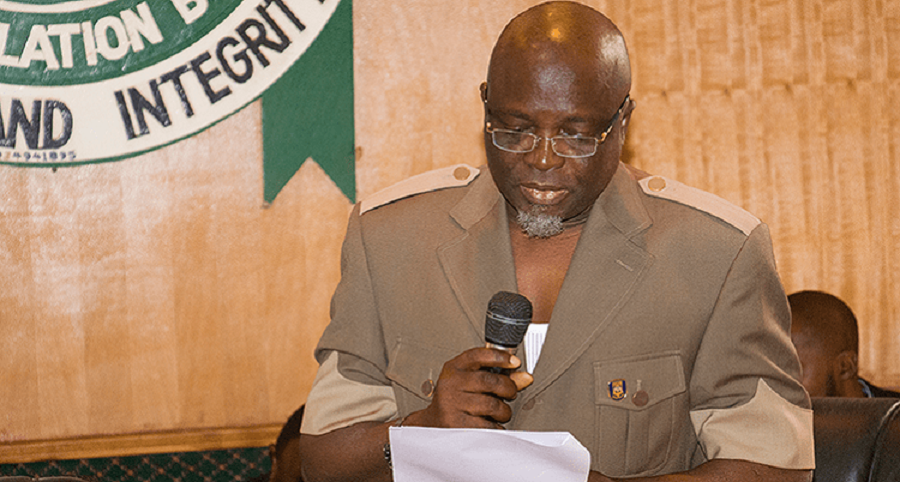 The Joint Admission and Matriculation Board (JAMB) has announced that candidates for the Unified Tertiary Matriculation Examination (UTME) and Direct Entry will no longer be required to provide their email addresses at the point of registration.
The new adjustment is to protect candidates from various forms of manipulation and distortion of their personal details by some fraudulent cyber café operators.
The Registrar of JAMB, Prof. Is-haq Oloyede, who made the disclosure while addressing newsmen at the board's headquarters on Wednesday in Bwari, Abuja, said the change, would take effect from Thursday, April 15, 2021.
What the JAMB Registrar is saying
Oloyede said, "They gain access to profiles of these candidates under the pretense of creating an email address for them. Then they change and block the candidates from receiving messages from the board. They also extort them after they change their passwords.
In view of this, the board has come up with adjustments to our operations. The first decision is that beginning from Thursday, April 15, candidates would no longer be required to provide any email address during registration from this year onwards.
It is by going to these cyber cafes to open emails that these candidates are open to abuse and stealing of their personal data,'' he said.
He said that the board now had a mobile app that would allow candidates to deal directly with the board with their smartphones or via SMS to '55019' code option.
The code option, he explained, would allow candidates to check admission status as well as all other verifications via SMS.
He said, "Printing of examination slips, results notification or raising tickets can be done anywhere by using candidates' registration number only. However, at the close of registration every year, we would need the email addresses of the candidates so we can have access to as many of them as possible.
At the conclusion of registration, candidates are expected to send their email addresses through the mobile app or text message to the 55019 code twice, for validation. This is to update their profile with JAMB as the email will no longer be used as access to their profile, but rather as a communication tool with candidates.''
While advising candidates to guard their phones with utmost care as it was the weapon for all transactions, Oloyede said that henceforth, all JAMB owned Computer-Based Tests (CBT) centres across the country, would only allow candidates with ATM cards into its centres.
He said that in order to cut down on the activities of fraudsters who hijack candidates to extort money from them, the centres would no longer allow candidates go outside the centres to pay for their e-pins and other cash transactions.
The JAMB Registrar said, "Only candidates with ATM cards will be allowed into all JAMB owned CBT centres, it can be that of their parents as long as they have the pin for the transaction.
"Those without ATM cards can go to other privately owned CBT centres where they can pay cash to register but we will not take cash or transact outside our centres.''
What you should know
Meanwhile, in a related development, JAMB had said that the board lost over N10 million in 2020 to activities of fraudsters who penetrated their payment portal for ad-hoc staff.
The JAMB Registrar said that the money, which was meant to pay JAMB ad-hoc staff from the 2020 Unified Tertiary Matriculation Examination (UTME), was hijacked by the suspected fraudsters.
JAMB had a few days ago confirmed the commencement of registration for the 2021 UTME/DE examinations after the initial hiccup.
It stated that applicants must provide NIN at the point of registration with the registration by Direct Entry candidates to run concurrently with that of UTME candidates.
Nairametrics | Company Earnings
Access our Live Feed portal for the latest company earnings as they drop.