Conoil proposes N2 per share dividend for shareholders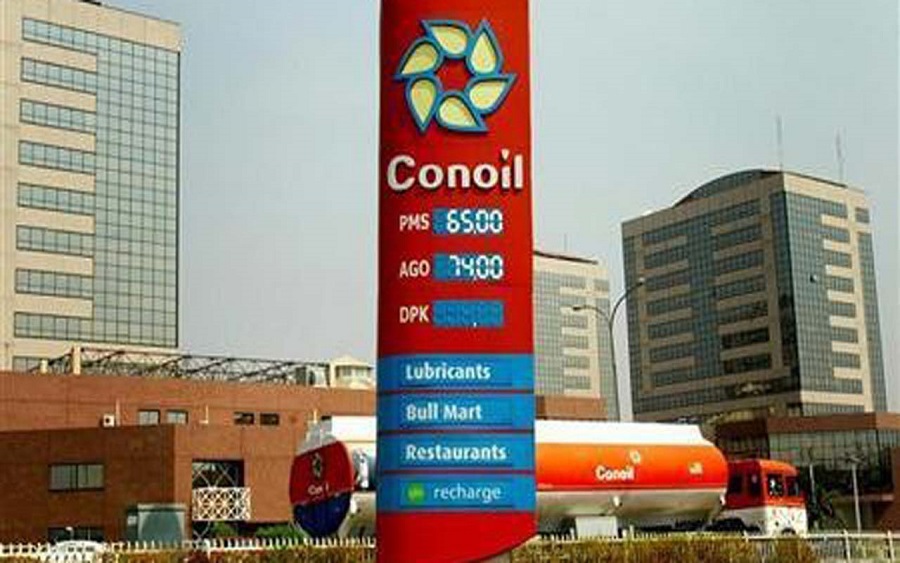 All things being equal, the shareholders of Conoil Plc will get a dividend payment of N2 per share for the 2018 full year soon, based on the company's Board of Directors' recommendation.
The recommendation is, however, subject to shareholders' vote which Conoil's board will seek to get at the firm's Annual General Meeting to be held later this year.
This, among other information is highlighted in Conoil's financial statements for the year ended 31st December, 2018, which was posted on the website of the Nigerian Stock Exchange earlier today.
[READ ALSO: CCNN is set to pay its shareholders N0.40 dividend]
Key Performance Indices Improved: The financial statements show that all the major performance indicators improved.
Revenue increased by 5.8% to N122.213 billion from the N115.513 billion recorded in 2017.
Similarly, Profit Before Tax leapt from N2,305 billion to N2,567 billion, an increase of 11.4%.
[ALSO READ: Shareholders approve May & Baker's N354 million dividend; elect new director]
Profit For the Year rose by 13.8% from the N1.579 billion recorded in 2017 to N1.796 billion in 2018.
Retained Earnings climbed up from N13.721 billion in 2017 to N14.129 billion in 2018, signaling a rise of 3%.
Why this Matters: Conoil has maintained a consistent dividend payment policy for good seventeen years (2001 to 2017), implying that it is capable of delivering returns on investment as and when due.
Even though there has been variance in the value of dividend declared over the years, reaching its seventeen-year high in 2013 at N4 per share, Conoil has managed to pay a dividend and keep afloat despite the fairly long period of economic recession. This has earned it a dividend yield of 9.24%.
For instance, Conoil recorded a steep plunge in Profit After Tax from N2.355 billion in 2013, when it paid N4 dividend per share, to N834.421 million in 2014, when it paid N1 per share dividend.
The Earnings Per Share (EPS) of Conoil currently stands at N2.58 while its Price to Earnings Ratio (PE Ratio) is 8.39.
Conoil closed trading at N21.65 earlier today on the NSE.
Customs Apapa Command generates revenue of N65.4 billion in April
This indicates a 64% increase in collection and an unprecedented record that has never been achieved in the history of Apapa Area Command.
The Nigerian Customs Service (NCS) Apapa Area Command has announced a revenue of N65,463,398,355.85 for the month of April—an increase of N25,585,561,139.92 compared to the same period last year.
This was disclosed by Comptroller Ibrahim Yusuf, Area Controller of Apapa command, in a press briefing on Thursday.
What Ibrahim Yusuf is saying
"This indicates a 64% increase in collection and an unprecedented record that has never been achieved in the history of Apapa Area Command.
In line with the provision of extant laws, trade guidelines and enforcement of government fiscal policy measures, the command was able to further strengthen its anti-smuggling operations against economic saboteurs through credible intelligence-driven operations.
This led to the seizure of 4×40 feet containers laden with unregistered pharmaceuticals (674 cartons of tramadol tablets in 225mg and 120mg, and 805 cartons of codeine syrup in 100ml) at APMT and SIFAX 3 bonded terminal respectively.
Other items seized in the period under review include: two containers of unprocessed wood and one container of scrap copper wire," he said.
He added that the progress the Apapa Command made in the month of April was possible due to the resilience of the officers, citing that the Command had taken steps to ensure efficient revenue collection by creating an enabling environment for legitimate businesses to thrive.
What you should know
Recall Nairametrics reported that the Nigeria Customs Service (NCS) Apapa Command stated earlier that it generated a revenue of N159.58 billion in the first quarter of 2021.
Why prices of Iron Ore, others may rise soon
The underdeveloped mining of iron ore in Nigeria has led the nation to import the mineral which can be produced locally.
Iron ore is an important commodity currently in high demand, due to population and infrastructure growth in developing countries, especially Nigeria.
The underdeveloped mining of iron ore in Nigeria has led the nation to import the mineral which can be produced locally. This development is expected to lead to an increase in the price of the commodity, as the nation relies solely on imported iron ore.
Why is the increase imminent
A surge in steel consumption is certain, as the world emerges from its pandemic-induced slump. This is set to drive iron ore to an unprecedented high as the biggest miners struggle to keep up with the frenzied pace of demand.
An Estate Surveyor and Developer, Tunji Lawal, told Nairametrics that expectations are that benchmark prices can get to $200 a ton – topping the record $194 hit more than a decade ago.
According to him, this is happening as Chinese steel producers ramp up production in defiance of government attempts to rein in output to control the industry's carbon emissions.
He said, "That's tightening an iron ore market that hadn't fully recovered from a supply shock more than two years ago.
Iron ore prices could go higher in the short-term and exceeding $200 a ton is definitely possible and that will also push the price up in Nigeria. The price here, which is about N325,000/ton (8mm), is bound to go northward and may increase by N100,000 within a month."
He added that the increasing demand had been boosting steel prices from Asia to North America.
The hike is not limited to steel, as other building materials are also expected to rise further.
Meanwhile, Dangote Cement, which increased from N2,600 to N3,800 barely a month ago, stands at N4,000/bag and still counting. The price may rise over N4,000 depending on market forces.
Lafarge Cement and BUA Cement also increased from N2,400 and N2,250 to N3,600 and N3,250 respectively, within the same period. Their prices may also rise further.
Tunde Oluwole, a fellow of the Nigerian Institute of Builders, explained that the development was caused by high-interest rates, inflation, increasing exchange rate and scarcity of forex in the country.
He said, "The increasing prices in Nigeria is a result of the combined effects of high-interest rates, devaluation of the naira, inflation, and non-effective distribution network of the materials."
What you should know
The mining of minerals in Nigeria accounts for only 0.3% of its gross domestic product, due to the nation's overdependence on its vast oil resources.
China accumulated a majority of the global iron ore imports in 2019, with a 69.1% share of total global imports. Japan followed behind distantly with a 7.5% share of iron ore imports.