CORPORATE ACTIONS: Baba Ijebu Moves and Billions in a pocket
While Femi Otedola's exit from @forteoilng was major news last week, @oando_plc vs @secnigeria court case resumes next week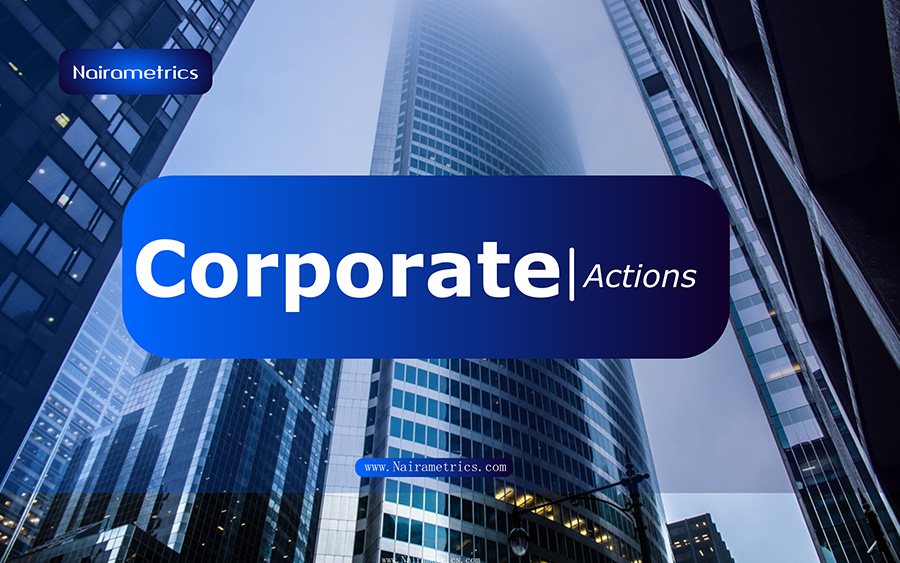 Corporate actions are decisions taken by companies' boards of directors or management teams, that could have impacts on the firms themselves or shareholders. 
Examples of corporate actions include the release of quarterly and full year results, payment of dividends, closing of shareholders' registers, announcing qualification dates and Annual General Meeting (AGM) dates. 
Here is a review of corporate actions that took place last week, and those expected in the week ahead. 
Corporate actions from last week
Mark downs 
Aluminum Extrusion Plc was marked down by 8.5 kobo this week.   
Beta Glass Plc was also marked down by N1.30.   
A mark down means that the proposed dividend is subtracted from the stock's share price.  
Annual General Meetings (AGMs) held 
Dangote Cement, Dangote Sugar Refinery, Regency Alliance Insurance, Greif Nigeria, Veritas Kapital Assurance, and Japaul Oil and Maritime all held their AGMs last week.  
Stanbic IBTC Holdings, Linkage Assurance Plc, Julius Berger Nigeria Plc, CAP Plc, BOC Gases, Meyer Plc, CWG Plc, and Cadbury Nigeria Plc also held their AGMs.   
FBN Heritage Fund held an Extraordinary General Meet (EGM) as well.   
Appointments 
Japaul Oil and Maritime Services Plc has appointed two new Executive Directors, Mrs Funmilola Omodamori and Engr Kingsley Uyokpeyi. Omodamori was appointed Executive Director in charge of Finance and Operations, while Uyokpeyi will head operations.   
Julius Berger Plc has appointed Musa Goni as a Non Executive Director.   
Dangote Sugar Refinery Plc has appointed Ravindra Singh Singhvi, as the company's Acting Managing Director. Prior to this, he was Chief Operating Officer.   
Neimeth International Pharmaceuticals Plc has approved the appointment of Mrs Temitayo Nelson, as Executive Director Finance. She replaces Chris Ume. 
Florence Onyenekwe, the firm's Company Secretary, will also take on the role of Chief Compliance Officer.  
Oando vs SEC continued 
Oando Plc, issued a press release countering a statement by the Securities and Exchange Commission that it had been granted a fair hearing.   
The company is accusing the SEC of circumventing its own rules and procedures, as it failed to invite Oando to appear before the administrative proceedings committee and hear its position.   
Rather, the SEC approached the media to publish its purported findings and punitive directives against the company. 
The Administrative Proceedings Committee of the Commission is a body established pursuant to the Investments and Securities Act for the purpose of resolving disputes in the capital market and giving opportunities for fair hearings to capital market operators and other institutions in the market who are perceived to have violated, actually violated, or threatened to violate the provisions of the act.   
The company also stated that it had no access to the audit report by Deloitte. Deloitte, in its response, stated that Oando's claims were inaccurate,  and it would respond at a later date if necessary.   
Behind the Listing 
The management of Ellah Lakes Plc held a Facts Behind the Listing Session at the Nigerian Stock Exchange. The company recently listed 1.8 billion shares which were issued to shareholders of Telluria Limited, which it acquired.  
The company disclosed that it would face palm oil production in the Edo/Delta region fully, as militant activities had prevented the firm from operating its fish farm in Rivers State.  
An exit 
The International Finance Corporation will be selling its 14.1% stake In Ecobank Trans International (ETI) to Arise BV, a Dutch private equity firm.  
Overdue results 
Lafarge Africa Plc released its full year 2018 and Q 1 2019 results this week. The cement giant made a N9.1 billion loss after tax for the 2018 financial year, and a N3.1 billion profit after tax for the first quarter ended March 2019.  
In addition, it had redeemed its N26.4 billion bond which was due on the 15th of June, 2019.  The company will be seeking shareholders approval. 
Baba Ijebu moves
Unconfirmed reports suggest that Sir Kessington Adebutu may have taken a stake in Wema Bank Plc . Adebutu made his fortune from the pools business, popularly known as Baba Ijebu.   
The stock moved unusually large volumes last week, with 12.7% or 4.9 billion of the company's shares traded.  
Billions in a pocket      
Last week, Femi Otedola formally concluded the sale of his 74% stake in Forte Oil Plc, in a deal valued at N64 billon to Ignite Investments and Commodities Limited led by Prudent Energy Services Limited. The two firms are controlled by Abdulwasiu Sowami.   
The company also announced the resignation of the Chief Executive Officer (CEO) Mr Akin Akinfemiwa and the Chief Financial Officer Julius Omodayo-Owotuga following the take over by Ignite.    
After the Bell 
Mutual Benefits Assurance Plc released its results for the 2018 financial year, on Saturday after trading hours.  
Gross earnings rose by 12.8% to N15.8 billion. The increase in bottom-line was however marginal. Profit before tax rose by 3.7% to N1.38 billion. Profit after tax was up by 9% to N1.1 billion.   
No dividend was declared.   
Corporate Actions taking place next week
Annual General Meetings 
Law Union and Rock Insurance Plc, NEM Insurance Plc and Notore Industries Plc will be holding their Annual General Meetings on the 25th of June, 2019. 
UAC of Nigeria, Jaiz Bank and Union Diagnostics will hold their Annual General Meetings on the 26th of June.   
Total Nigeria Plc, Tantalizers Plc, and Medview Airline Plc will hold theirs on the 27th of June.   
A visit to the NSE
Ikeja Hotels Plc will be holding a Facts Behind the Figure session at the Nigerian Stock Exchange on Wednesday the 26th of June. 
Oando vs SEC rolls on 
Further hearing in the case between Oando Plc vs the Securities and Exchange Commission (SEC) will continue this week. 
 
Naira crashes across forex markets as CBN Governor hits at black market
At the black market, the Naira depreciated against the dollar to close at N487/$1 on Wednesday.
Forex turnover dropped by 68.2%, as Nigeria's exchange rate at the NAFEX window depreciated significantly against the dollar to close at N393.25/$1 during intra-day trading on Wednesday, November 25.
Also, the naira crashed further against the dollar, closing at N487/$1 at the parallel market on Wednesday, November 25, 2020, as the CBN Governor who alleged that the black market is a tainted market used for bribe and corruption, said the Nigerian official exchange rate should not be determined by the rate at the parallel market.
The CBN, a few days ago relaxed its earlier policy on banning third parties from having access to foreign exchange routed through Form M.
Parallel market: According to information from Abokifx – a prominent FX tracking website, at the black market where forex is traded unofficially, the Naira depreciated against the dollar to close at N487/$1 on Wednesday.
(READ MORE: Naira falls to weakest level in 6 weeks at black market despite CBN intervention)
This represents an N4 drop when compared to the N483/$1 that it exchanged for on Tuesday, November 24.
The local currency had strengthened by about 7.8% within one week in September at the black market, as the CBN introduced some measures targeted at exporters and importers.
This is to boost the supply of dollars in the foreign exchange market and reduce the high demand for forex by traders.
The CBN has sold about $1 billion to BDCs since they resumed forex sales on Monday, September 7, 2020.
This was expected to inject more liquidity into the retail end of the foreign exchange market and discourage hoarding and speculation.
However, the exchange rate against the dollar has remained volatile after the initial gains made, following the CBN's resumption of sales of dollars to the BDCs.
The President of the Association of Bureau De Change Operators, Aminu Gwadebe, said he expects the impact of the extra liquidity in the market to be gradual.
Despite the drop in speculative buying of foreign exchange, the huge demand backlog by manufacturers and foreign investors still puts pressure and creates a volatile situation in the foreign exchange market.
(READ MORE: Naira stabilizes at black market as CBN continues its intervention in forex market)
NAFEX: The Naira depreciated against the dollar at the Investors and Exporters (I&E) window on Wednesday, closing at N393.25/$1.
This represents an N7.75 gain when compared to the N385.50/$1 that it exchanged for on Tuesday, November 24.
The opening indicative rate was N386.29 to a dollar on Wednesday. This represents a 33 kobo drop when compared to the N385.96 that was recorded on Tuesday.
The N395 to a dollar was the highest rate during intra-day trading before, it still closed at N393.25 to a dollar. It also sold for as low as N383/$1 during intra-day trading.
Forex turnover: Forex turnover at the Investor and Exporters (I&E) window declined by 68.2% on Thursday, November 19, 2020.
According to the data tracked by Nairametrics from FMDQ, forex turnover dropped from $163.87 million on Tuesday, November 24, 2020, to $52.09 million on Wednesday, November 25, 2020.
The CBN is still struggling to clear the backlog of foreign exchange demand, especially by foreign investors wishing to repatriate their funds.
The drop in dollar supply after some trading days of improvement reinforces the volatility of the foreign exchange market. The supply of dollars has been on a decline for months due to low oil prices and the absence of foreign capital inflow into the country.
The average daily forex sale for last week was about $169.93 million, which represents a huge increase from the $34.5 million that was recorded the previous week.
Total forex trading at the NAFEX window in the month of September was about $1.98 billion, compared to $843.97 million in August.
The exchange rate is still being affected by low oil prices, dollar scarcity, a backlog of forex demand, and a shaky economy that has been hit by the coronavirus pandemic.
A financial expert and Managing Director of Financial Derivatives had stated that he expects the exchange rate at the parallel market to likely depreciate to N470-N475/$1 in November and December due to low oil prices that will further limit foreign exchange supply.
Some members of MPC of the CBN have expressed serious concerns over the increasing demand pressure in the country's foreign exchange market. This is an obligation of manufacturers to their foreign suppliers that continues to increase in the face of dollar shortages.
Covid-19: African Union in talks with China and Russia over vaccine
The AU and Africa CDC have revealed that they have reached out to both China and Russia over the possibility of vaccine partnerships.
The Africa Centres for Disease Control and Prevention and the African Union announced they have been in talks with China and Russia over the possibility of vaccine partnerships to ensure that Africa is not left behind when vaccines become available.
This was disclosed by John Nkengasong, Africa CDC Chief, at the Bloomberg Invest Africa online conference.
READ: Covid-19: Pfizer to file for emergency authorization for its vaccine, reaches safety milestone
Mr. Nkengasong said that Africa would not limit itself to only one vaccine partner and that Africa was willing to work with as many partners as possible to provide a vaccine for its 1.2 billion people.
"We are not limiting ourselves to any particular partner. As a continent of 1.2 billion people, we are willing to work with any partner who adheres to our strategic plan for vaccine development and access in Africa.
"The continent is taking the access and development of vaccine very, very seriously. We really need to see clinical trials being done on the continent, so they address issues like background infections from other diseases."
He disclosed that the Africa CDC resumed talks last week with China, to discuss partnerships with Chinese Drug Manufacturers and also clinical trials in Africa. He added that Russia has been approached with a similar plan.
He said that the WHO Covax programme only covers 20% of the population, but Africa will need 60% of its population vaccinated to achieve herd immunity.
"There are multiple avenues being explored now to make sure Africa has the appropriate doses of vaccines and also that we have that in a timely fashion, not in a delayed manner," Nkengasong said.
He revealed that the AFREXIM Bank agreed to finance vaccine procurement with $5 billion and is waiting to see how much it will receive from World Bank's $12 billion vaccine procurement fund for developing nations.
READ: COVID-19: G-20 to extend debt relief to developing nations
What you should know 
Nairametrics reported earlier this month that Pfizer Inc. disclosed that its experimental vaccine, which is jointly developed with BioNTech, was more than 90% effective in preventing COVID-19, based on initial data from a large study in the ongoing phase 3 trials.
(READ MORE: COVID-19: AstraZeneca vaccine could be 90% effective against the virus)
Last week, a pharmaceutical company, Moderna Inc., stated that its COVID-19 vaccine was 94.5% effective in treating coronavirus, after preliminary analysis of a large late-stage clinical trial.
The G-20 nations also announced a pledge to pay for vaccine distribution to developing nations that could not afford it. The leaders also unveiled a debt extension programme to developing nations during the weekend's G-20 summit.
The Federal Government of Nigeria also announced through the Ministry of Health, that it would inaugurate an 18-man Covid-19 Vaccine Task Team, in a bid to ensure vaccine security In Nigeria.
World Bank Group announces the death of ex-president, James D. Wolfensohn at 86
The death of former World Bank president, James D. Wolfensohn has been announced.
The World Bank Group has announced the passing away of one of its former presidents, James D. Wolfensohn, at the age of 86.
This was confirmed on Wednesday by the current President of the World Bank Group, David Malpass, following his statement on the unfortunate incident.
What they are saying
Commenting on the tragic event, Mr. Malpass, in his press statement, said:
"On behalf of the entire World Bank Group, I would like to express our sadness and great sense of loss on the passing of former Bank Group President, Jim Wolfensohn.
"Under Jim's Presidency, which ran from June 1, 1995 to May 31, 2005, the World Bank Group sharpened its focus on poverty reduction and redoubled its efforts to combat corruption, gave voice to the poor, and magnified the impact of development investments.
"Bank staff had great admiration and respect for Jim and his wife Elaine who passed away in August of this year. In his 10 years as President, Jim traveled to more than 120 countries, often accompanied by Elaine, to better understand the challenges facing the Bank's member countries. In addition to visiting development projects, Jim met clients and representatives from business, labor, media, non-governmental organizations, religious and women's groups, students, and teachers. Internally, Jim transformed the World Bank Group, increasing decentralization, advancing the Bank technologically, and making the organization more open and transparent.
"In 1996, the World Bank and IMF launched the Heavily Indebted Poor Countries Initiative, the first comprehensive debt reduction program. As of August 2004, 27 of the world's poorest countries were receiving substantial debt relief under the program that amounted, over time, to more than $53 billion. Jim introduced the Comprehensive Development Framework in 1999, which emphasized country ownership of poverty reduction strategies and strong partnerships among government, civil society, and the private sector. In 2012, to recognize the profound impact Jim had on the lives of the poor, the center of our headquarters building was dedicated as James .D. Wolfensohn Atrium.
"Before joining the Bank, Jim established his career as an international investment banker with a parallel involvement in development issues and the global economy.
"We extend our deepest sympathy to Jim and Elaine's children, Sara, Naomi, and Adam," the statement concluded.