Who pays for defects after you have paid your rent?
In Property law transactions, when you buy something, there is an implied covenant that the thing sold/leased is free from any defects.
In property law transactions, particularly leasehold (Typical landlord and tenant relationship), it is quite common to come across situations whereby contention regarding who is to fix what in a property may arise. This typically occurs when a Landlord has given up possession of his premises, upon payment of rent by the tenant and then maybe after the tenant moves in or upon further inspection, he realizes that there are certain defects in the property which he or she didn't know about before paying.
The question then arises, who pays for these defects. The Landlord? Or the tenant?
In Property law transactions, when you buy something, there is an implied covenant that the thing sold/leased is free from any defects. A seller can contract out of that implied covenant by stating that the thing sold is bought 'as it is'.
Under the respective Tenancy laws of Nigeria, in most Tenancy agreements there are express provisions stipulating certain rights and duties and this is what is termed as "covenants". There is an implied covenant at common law in respect of use of property that the premises will be fit for human habitation when they are let (but not subsequently). The rule is "caveat lessee". As Devlin J proposed: "It is the business of the tenant, if he does not protect himself by an express covenant, to satisfy himself that the premises are fit for the purpose for which he wants to have them, whether that fitness depends upon the state of their structure, the state of the law, or any other relevant circumstances".
[Read Also: LASTMA has no power to impose fine on motorists – Appeal Court]
These clauses normally free the Seller from his implied covenant against all latent and patent defects. However, there are two exceptions here, where:
The seller knew of the defects and did not disclose them to the purchaser;
The purchaser can also cancel the contract on the basis of a fraudulent or innocent material misrepresentation.
Before looking at how far this protection goes it is important to explain the distinction between these two different types of defects.
Patent defect: Patent defects are defects which the normal person should be able to see upon an inspection of the thing sold. The test is an objective one, namely what could have been seen on the original inspection of the property.
Latent defect: Latent defects are defects which only an expert could discover or defects which cannot be discovered by an ordinary person during a reasonably thorough inspection. These include rusted internal pipes, leaking roofs (except where strain marks make the leak obvious) and defects that have been concealed such as dampness behind a cabinet. The test is what could not normally be seen on inspection.
Where there is some defect in the house which is not apparent on a careful inspection, the seller is liable for those defects if he or she knew about them. In other words, the seller has a duty to reveal to the buyer any latent defects. In such instance of non-disclosure, the seller may be called upon to refund part of the purchase price or even to accept cancellation of the entire sale, depending on the nature or extent of the defect.
[Read Also: Why the Nigerian dream might be "in the abroad"]
So how do you protect yourself as a potential tenant? Below are just a few examples.
Hire a competent home inspector to investigate your potential home. A good home inspector will ensure that you are aware of any patent defects before you purchase or lease the premises.
Take the time to do your own thorough investigations of the property. Don't be satisfied with what the vendor's agent or caretaker may tell you about the state of a property. Do whatever you have to in order to be satisfied that your potential house is in a state you find acceptable.
Incorporate any representations or warranties that enticed you to purchase or rent the property into your tenancy agreement or contract of sale. Most contracts of purchase and sale contain a "no other representations or warranties clause". For example, if the vendor has told you that the banana plantation in the backyard are prize winning and you will be able to enjoy those bananas and profit from their fruit, unless that representation is incorporated into the contract, you may have no legal right to recover if that statement turns out to be untrue.
Visit the property at different times of the day/week. Some issues with a property are only discoverable under certain conditions, so make sure to visit during different weather or times of the week.
Ask the landlord directly about major concerns with the property that are personal to you and let the landlord know how important the issue is to you. Also get the answer in writing and think about incorporating it into the contract.
Now if the Landlord has defaulted in disclosing these latent defects, the remedy open to one in law is to give notice of repair, demand for Specific performance to repair or as you move out, seek for refund of the rent money. Such covenants as to handle defects must however be expressly written in the tenancy agreement.  This is why it is very important for you to have a tenancy agreement reviewed by your lawyer before you pay money to buy an apartment or to lease one.
[Read Also: Key things to consider when investing in real estate investment trusts]
Ratings agency, Moody's reveals it is reviewing First Bank's ratings
Moody's explained why it might downgrade First Bank's ratings.
Moody's Ratings agency said on Thursday that it has put First Bank of Nigeria on review for a downgrade after the central bank sacked the board of directors and replaced them with new directors.
Moody's made this statement in a report titled 'Removal of Non-Executive Board Members Highlights Governance Shortcomings.'
In a quote, Moody's said:
"Moody's Investors Service, ("Moody's") has today placed all long-term ratings and assessments of First Bank of Nigeria Limited (First Bank) on review for downgrade. The review will focus primarily on an assessment of evolving governance considerations at First Bank, specifically corporate governance developments. The rating action follows the dissolution of First Bank's board by the Central Bank of Nigeria (CBN), the bank's primary regulator, on 29 April 2021. As a result of this action by the CBN, all the non-executive directors were removed while the executive management remained in place."
The Governor of the Central Bank of Nigeria, Godwin Emefiele, had last week announced the sack of the entire board of directors of FBN Holdings Plc and its subsidiary, First Bank of Nigeria Ltd following the initial removal of its MD/CEO Dr Sola Adeduntan. Following his sacking of the board, he set up a new board for the bank holding company and its subsidiary and also reinstated Adeduntan as MD/CEO.
Moody's mentioned that the regulatory actions demanded of First Bank by the CBN introduces a clould of uncertainty over the outlook of the bank. For example, the CBN had asked the bank to divest from its holdings in two listed companies while also recovering its loans from one of them.
"The review for possible downgrade reflects the rating agency's view that the removal of all non-executive directors of the bank's board by the regulator demonstrates corporate governance shortcomings and weaknesses in board oversight. The bank also needs to implement regulatory directives concerning the resolutions of loans to, and shareholding in non-banking related parties, which reportedly had not been executed in the recent past.
Moody's notes that the outcomes of these developments are uncertain at this point, and the final and long-term governance, reputational and financial implications of the events for First Bank are also unclear."
The central bank directive sacking the board of the bank also retained its executive management perhaps suggesting that the CBN had confidence in the ability of the MD and his team to manage the bank. Moody's also noted this in its briefing.
"While the bank's executive management team remained the same, the rating agency believes these developments could distract management's focus on implementing the bank's strategic plan and road to recovery. First Bank management's immediate key target was to reduce nonperforming loans (NPLs) to levels comparable with domestic peers. The rating agency recognises that, in the context of asset risks, the bank took steps to reduce its stock of problem loans, with its reported NPL ratio falling to 7.7% at year-end 2020 from 25.9% in 2018."
Will Moody's downgrade First Bank?
The rating agency explained that the decision to downgrade will depend on how strong the bank's corporate governance structure is and whether the CBN will impose additional sanctions. If any of these crystallizes, it could downgrade its ratings.
"The bank's long-term deposit ratings can be downgraded if flaws in the bank's governance systems exist, and if the CBN imposes additional sanctions on the bank, including, but not limited to, conditions to address any vulnerabilities that may be discovered. Financial output that is less than anticipated could also result in a rating downgrade."
Moody's, however, poured water on any optimism around a rating upgrade.
Given the review for downgrade and the pessimistic outlook on the government of Nigeria, there is a slim chance that First Bank's ratings will be upgraded. Stronger solvency progress than currently reflected in the ratings, combined with a stabilization of the sovereign outlook, could result in the outlook being stabilized.
Why is rating important?
Corporate Organizations desire positive ratings because of the effect it has on their ability to raise capital as well as the cost of capital. A high credit rating typically attracts positive investor sentiments helping organizations tap the debt and equity markets, especially from institutional investors.
Coin of the week: Ever heard of EOS?
EOS is currently trading $11.33 with 936 million coins in circulation and a total supply of 1.02 billion.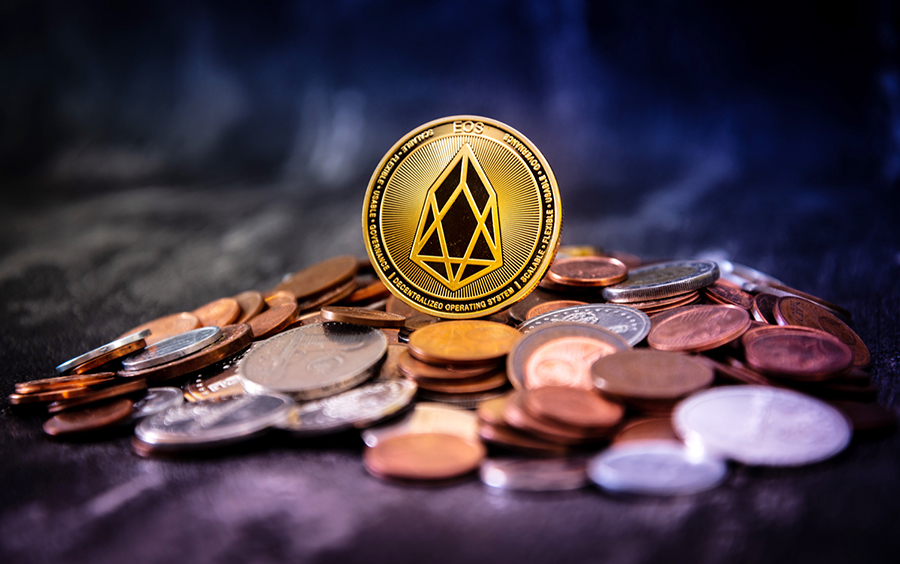 EOS was created and designed to allow developers to build decentralized apps (DApps). DApps are any computer applications whose operation is maintained by a distributed network of computer nodes, as opposed to a single server.
The EOS platform was developed by the company Block.one, to make it as straightforward as possible for programmers to embrace blockchain technology and ensure that the network is easier to use than rivals. It also aims to deliver greater levels of scalability than other blockchains which can only do a dozen transactions per second.
EOS was created by Daniel Larimer and Brendan Blumer. Brenden Blumer is an entrepreneur, who was one of the co-founders of Okay.com, a digitally focused real estate agency in Hong Kong while Daniel Larimer is a software programmer who has also started a series of crypto ventures such as the crypto trading platform BitShares and the Steem blockchain. They are both members of Block.one's executive team, with Brendan Blumer as CEO and Daniel Larimer as CTO.
Why Invest in EOS?
Block.one stated that EOS can accommodate the demands of thousands of DApps, even if they were being used by a high number of people. Parallel execution, as well as a modular approach, are said to drive this efficiency.
EOS represents a truly democratic system that takes into account the will of the people, in this case, its token holders, as they can vote for block producers as well as other matters such as protocol upgrades.
Network Security
EOS, like many other coins, uses a delegated proof-of-stake consensus mechanism. This concept was conceived by Daniel Larimer and aims to solve some of the flaws that are seen in conventional PoW (Proof-of-Work) and PoS (Proof-of-Stake) systems.
As stated earlier, those who own EOS tokens can vote for representatives who will be responsible for validating its transactions. One of the advantages is that it helps eliminate consolidation, where smaller miners are pushed out by those who have greater levels of computing power and resources.
Price Analysis
EOS is currently trading $11.33 with 936 million coins in circulation and a total supply of 1.02 billion. EOS has gained approximately 466% return comparing its 52 weeks low to its current price today. It is currently down 49.71% from its all-time high of $22.89 that was last traded on the 29th of April, 2018.
Recently, after the Biden administration's proposed tax hike, the coin dropped from its previous 2021 peek of $8.80 to a 0.236 Fibonacci retracement zone of $4.74, creating a new higher-low that indicates a bull market. No surprise that the market broke its previous 2021 high to create a new high of $13.18 on the 6th of May, 2021, following news of the coin proposing to increase its staking rewards. It is believed that this running will lead the coin to break its previous all-time high of 2018.
Although it is not advisable to buy coins at peak prices, recent news as earlier mentioned, suggests that an increase in demand for the coin is imminent. Block.one mentioned that the protocol needs to increase the rate of inflation from its current pace of 1% to a rate between 1.2% and 3.8% intended to increase financial incentives for voters and block producers. While token holders still need to settle on what exact size the inflation rate will increase to, the possibility of higher yields for community participation has brought demand to the coin.
A second major development for the protocol is the EOS PowerUp model, which intends to allow users to pay a fee to power up their account for 24-hours to transact on the network as opposed to paying a transaction fee for every transaction. Block.one mentions that the PowerUP model offers EOS token holders another way to earn a yield by depositing unused EOS tokens to receive a percentage of all the 'power-up' fees that are generated by the network. This has become an increasingly attractive option as investors are searching for ways to avoid the high gas fees (transaction fees) and network congestion on the Ethereum (ETH) network.
With the overall cryptocurrency market bullish and projects like Litecoin (LTC) and Ethereum Classic (ETC) reaching new highs, EOS is a blockchain project that could benefit investors as the cryptocurrency bull market continues.
Nairametrics | Company Earnings
Access our Live Feed portal for the latest company earnings as they drop.