Dangote's NASCON Allied Industries Plc moves operation from Apapa
NASCON Allied Industries Plc has moved some of its operations away from the  Apapa area of Lagos to Oregun and Port Harcourt.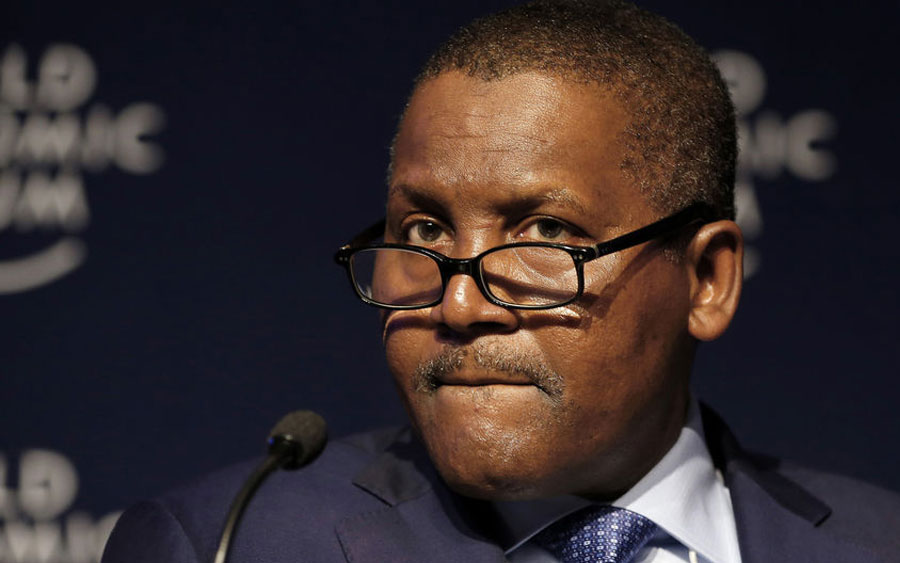 NASCON Allied Industries Plc, one of the many subsidiaries of Dangote Industries Limited, has disclosed that it has moved some of its operations away from the  Apapa area of Lagos to Oregun and Port Harcourt.
Why this? While disclosing the development, the company's Managing Director, Paul Farrer,  said the decision to move its operations was in response to the lingering gridlock in Apapa.
Farrer said the Apapa gridlock was one of the key risks to the company's business last year. He added that the Apapa gridlock affected the movement of raw materials to Oregun, timely delivery of finished goods to customers, and increased turn-around time of the company's trucks.
Addressing shareholders during the company's Annual General Meeting in Lagos on Thursday, June 13, 2019, Farrer said the following;
"We relocated 60 percent of our Apapa Plant production capacity to our Oregun and Port Harcourt Plants to reduce the effects of the gridlock. We also engaged third-party transporters to ensure timely delivery of our finished goods."
The Apapa Gridlock Challenge: Apapa is a Local Government Area in Lagos, located to the west of Lagos Island. It contains a number of ports and terminals operated by the Nigerian Ports Authority (NPA), including the major port of Lagos State and Lagos Port Complex (LPC).
Apapa contains ports and terminals for various commodities such as containers and bulk cargo, houses, offices and a small old disused railway station (Apapa North).
It also houses major companies such as BUA Group, as well as the  commercial offices of many shipping, clearing, and transportation companies.
How FG is challenging the lingering menace: Over the past years, Apapa has been known for its gridlock caused by trucks and other vehicles.
In a move to clear up the Apapa gridlock and restore law and order to the area and its environs, the Federal Government had extended by two weeks, the time given to the Presidential Taskforce on the Apapa traffic gridlock to resolve the matter.
The task force which commenced its assignment on May 24, had up to June 7th to complete the assignment. It is now expected to present a formal report at the end of its extended mandate on June 24.
About NASCON: Established in 1973, NASCON Allied Industries Plc (previously known as NASCON Plc), is a registered company in Nigeria which is engaged in salt refining.
The company has since evolved with additional business lines that now include Vegetable Oil, Tomato Paste, and seasoning.
25 million Nigerians to pay N4,000 monthly for solar power system
25 million Nigerians will be expected to pay about N4,000 monthly over a 3-year period to benefit from the FG's Solar Power Naija project.
The Presidency has disclosed that an estimated 25 million Nigerians that will benefit from the Federal Government's Solar Home Systems which is expected to commence this week will be expected to pay about N4,000 monthly over a 3-year period.
According to a report by the News Agency of Nigeria (NAN), this disclosure was made by the Senior Special Assistant to the Vice President on Media and Publicity, Laolu Akande, through a statement on Sunday titled "25m Nigerians to own 5m solar systems at N4, 000 monthly."
While giving further insight into earlier reports that the Federal Government will from next week commence the process of installation of 5 million solar-home systems in underserved and off-grid communities across the country, Akande said the solar programme nicknamed Solar Power Naija, whose installations would start in December, is being implemented by the Rural Electrification Agency.
The Presidential media aide who pointed out that the programme was designed to boost ongoing efforts to fix Nigeria's energy supply challenge, also said that priority would be given to Nigerians residing in rural areas and urban settlements either under-served or cut off the national grid.
(READ MORE: World Bank approves $2.2 billion loan for Nigeria)
He said an important aspect of this scheme is the option of outright ownership by beneficiaries at a cost ranging from N1, 500 per week to N4, 000 per month depending on the capacities for the 3 years.
He noted that that the arrangement allows as many as 25 million Nigerians to own personal solar systems in their homes.
He added that, as indicated in the Economic Sustainability Plan, the 5 million connections initiative is a private sector-led electricity access acceleration scheme to be facilitated by a low-cost loan facility from the Central Bank of Nigeria and implemented by REA.
Akande said, "The programme will include the assembly or manufacturing of components of off-grid solutions to facilitate the growth of the local manufacturing industry. In view of the scale of materials required, solar equipment manufacturers/assemblers will be incentivised to set up facilities in Nigeria, thereby offering additional job opportunities to Nigerians.''
"In addition, installation, servicing, and payment collections are expected to provide thousands of other jobs. In all, at least 250, 000 jobs will be created."
Optics: If religiously implemented, this will help provide affordable energy to the under-served Nigerians in rural areas with the objective of improving social, economic, and environmental welfare of 25 million Nigerians while generating jobs, increasing revenues, and import substitution.
However, the fear is whether this will go the same way as other government's programmes or initiatives in the past.
Indian High Commission facilitates another air bubble flight in Nigeria
The Indian High Commission in Nigeria has facilitated Delhi-Lagos-Delhi air bubble flight.
The Indian High Commission in Nigeria has facilitated Delhi-Lagos-Delhi air bubble flight on Sunday, November 29, 2020.
India created an air bubble arrangement with Nigeria in September 2020.
This was disclosed by the High Commission via its Twitter handle on Sunday.
It explained that the "Transport Bubbles" or "Air Travel Arrangements" are temporary arrangements between the two countries aimed at restarting commercial passenger services when regular international flights are suspended as a result of the COVID-19 pandemic. They are reciprocal in nature, meaning airlines from both countries enjoy similar benefits.
It tweeted, "Glad to have facilitated travel in Delhi-Lagos-Delhi air bubble flight @airindiain 1903/04 on 28/29 Nov. Thank all the concerned 🇮🇳 & 🇳🇬 authorities for their continuous support."
Glad to have facilitated ✈️ travel in Delhi-Lagos-Delhi air bubble flight @airindiain 1903/04 on 28/29 Nov. Thank all the concerned 🇮🇳 & 🇳🇬 authorities for their continuous support.@PMOIndia @MEAIndia pic.twitter.com/AaQwvr0tAf

— India in Nigeria (and Benin, Chad & ECOWAS) (@india_nigeria) November 29, 2020
What you need to know
India's Ministry of Civil Aviation (MoCA), via its official website, had announced on September 17, 2020 that it established an air travel bubble with Nigeria.
What it means
Indian and Nigerian carriers are now permitted to operate flights between India and Nigeria and carry the following categories of persons on such flights:
A. From India to Nigeria:
i. Stranded Nigerian nationals/residents, foreign nationals destined for Africa and transiting through Nigeria or spouses of these persons, whether accompanying or otherwise;
ii. Any Indian national holding any type of valid Nigerian visa and destined for any country in Africa. It would be for the airlines concerned to ensure that there is no travel restriction for Indian nationals to enter the destination country before issue of ticket/ boarding pass to the Indian passenger; and
iii. Seamen of foreign nationalities; Seamen holding Indian passports would be allowed subject to clearance from the Ministry of Shipping.
Click here for the details of the air buble arrangement
Canada extends travelers' restrictions to January 2021
The Canadian Government has extended a temporary travel restrictions for all travelers seeking entry into the country.
The Canadian Government has extended the mandatory isolation order and temporary travel restrictions for all travelers seeking entry into the country, except the United States, to January 2021.
This was disclosed by the Minister of Public Safety & Emergency Preparedness, Bill Blair, on Sunday.
In a statement seen by Nairametrics, he explained that the travel restrictions for US citizens and foreign nationals arriving from the US would remain in place until December 21, 2020 and might be extended at that time.
The decision was taken to protect Canadians from COVID-19 and reduce the spread of the disease in Canada. Blair said: 
"Protecting the health and safety of Canadians is my most important responsibility. We have introduced a number of policies to keep Canadians safe but must remain flexible and adapt to the evolving COVID-19 situation, while keeping your health as our top priority.
"The ability to align US and international travel extension dates, as well as the Mandatory Isolation Order, beginning on January 21, 2021 will enable the Government to communicate any travel extensions or changes as quickly as possible and provide certainty for Canadians, US and international travelers.
"In addition, the Government is amending its order and creating a framework for considering applications from high-performance amateur sport organizations seeking to hold International Single Sport Events."
To be considered, applicants are expected to include written commitments of ongoing support from provincial/territorial and local public health authorities and provincial/territorial governments, as well as a robust plan to protect public health and the health of participants.
The authorization would be issued by the Department of Canadian Heritage (Sport Canada) in consultation with the Public Health Agency of Canada (PHAC).
"Anyone experiencing symptoms of COVID-19, or who has recently come into close contact with someone infected with COVID-19, should continue to quarantine or isolate for 14 days. At all Canadian ports of entry, the final determination on a traveler's admissibility is made by border services officers who base their decision on the information presented and available to them at the time of entry," he added.
Quick Facts
The Department of Canadian Heritage will determine which foreign nationals can receive accreditation to enter 

Canada

 to participate in an International Single Sport Event.
An International Single Sport Event includes World Championships, Olympic or Paralympic Qualifications, as well as World Cups.
A high-performance amateur athlete is defined as an athlete competing at the international level and affiliated with his or her country's national sport federation.
What you need to know
In March, 2020, the Government introduced several measures, including prohibitions and restrictions on discretionary and optional travel from the United States (US) and all other countries, to minimize the introduction and spread of COVID-19 and protect the health and safety of Canadians.
The measures included the requirement for all travelers entering Canada to quarantine or isolate for 14 days.