Profiles of Nigeria's 12 first-time Governors and their states' recent IGRs
we are focusing on all the first time state governors and their states' Internally Generated revenue (IGR) figures. Will these men be able to manage the affairs of these states? Well, we will find out in the course of the next four years.
The May 29, 2019 swearing-in ceremonies have come and gone. Now is the time for the newly-sworn in officials to roll up their sleeves and get busy. In the meantime, we are focusing on all the first time state governors and their states' Internally Generated revenue (IGR) figures. Will these men be able to manage the affairs of these states? Well, we will find out in the course of the next four years.
Lagos State Governor
Babajide Olusola Sanwo-Olu (born June 25, 1965) is a graduate of the University of Lagos. He also studied at the London Business School, Lagos Business School, and the John F. Kennedy School of Government. Prior to his gubernatorial ambition, he was the Managing Director/CEO of Lagos State Property Development Commission (LSPDC).
Babajide Olusola Sanwo-Olu served as a treasurer at the former Lead Merchant Bank from 1994 to 1997 after which he moved to the United Bank for Africa as the head of foreign money market.  
On public service, Babajide Olusola Sanwo-Olu began his political career in the year 2003 when he was appointed as a Special Adviser on Corporate Matters to the then Deputy Governor of Lagos State, Femi Pedro. He was the Acting Commissioner for Economic Planning and Budget until 2007 when he became the Commissioner for Commerce and Industry, upon his appointment by then Governor, Bola Tinubu.
After the General Elections of 2007, Babajide Olusola Sanwo-Olu was appointed Commissioner for Establishments, Training and Pensions by Governor Babatunde Fashola. Babajide Olusola Sanwo-Olu was made Managing Director/CEO of the Lagos State Development and Property Corporation (LSDPC) by (former) Governor Akinwunmi Ambode in 2016.
Ogun State Governor
Dapo Abiodun (born 29 May 1960) is a Nigerian businessman and politician. He is the board Chairman of the Corporate Affairs Commission (CAC), managing director of Heyden Petroleum, and the founder of First Power Limited.  
The Governor studied civil engineering at the Obafemi Awolowo University Ife, Osun State. He later studied accounting at Kennesaw State University, Atlanta Georgia, United States of America (USA). He also holds an Honours et Doctorate Degree in Finance from Ekiti State University, Ado Ekiti, Ekiti State and another in Business Administration from Adeleke University, Ede, Osun State.
Kwara State Governor
Abdul Rahman Abdul Razaq (born February 5, 1960) is a businessman and philanthropist turned politician.  Abdul Rahman's desire to serve his people began in 2011 when he ran for the office of Kwara State Governor under the defunct Congress for Progressive Change (CPC).
Born in Zaria into the family of the first lawyer from the country's northern region, Abdul Ganiyu F. (AGF), Abdul Razaq (SAN) hails from Ilorin West Local Government, which is in the Kwara Central Senatorial District of the state. Abdul Rahman attended Capital School Kaduna between 1966 and 1968, Bishop Smith Memorial School Ilorin between 1970 and 1971, and Government College Kaduna where he sat for his West African School Certificate Examination (WASCE).
As a young man, Abdul Rahman opted to become an entrepreneur. As a result, he made no effort at higher educational degrees, except for the several short executive management courses he undertook. Abdul Rahman's innate entrepreneurial spirit drove him to make history at the age of 31 when he founded Nigeria's first indigenous oil and gas trading companies, NOPA Oil Services and First Fuels. Note that this was the first indigenous company to lift crude oil and petroleum products to the United States, Europe, and Asia.
He is renowned for his immense knowledge of the petroleum industry and his managerial skills/competence which cut across agriculture, construction, information technology, shipping, and real estate. He is a consultant to various multinational oil companies and governments including Ghana and Cote D'Ívoire.
Gombe State Governor
Muhammad Inuwa Yahaya (born October 9, 1961) is a Nigerian businessman and politician. He is (today) the Governor of Gombe State under the platform of the All Progressive Congress (APC).
After elementary schooling and secondary education, he enrolled at Ahmadu Bello University, Zaria for his tertiary education where he obtained a Bachelor of Science Degree in Accounting in 1983.
His first appointment was with the Bauchi State Investment and Property Development (BSIPDC) as an Accountant. After acknowledged service and commitment to work, he later became the Principal Accountant of the same company. He joined Nasara Motors Limited, his family business, as an Administration and Finance Manager and later became the Managing Director of Nasara Group of Companies.
In 2003, he was appointed as Commissioner for Finance and Economic Development by Governor Muhammed Danjuma Goje.
Oyo State Governor
Oluseyi Abiodun Makinde (born 25 December 1967) is a Nigerian businessman, politician, and philanthropist. He is an Engineer and a subject matter expert on fluid and gas metering. He is the group managing director of Makon Group Limited, an indigenous oil and gas company in Nigeria.
He established his first oil and gas private business called Makon Engineering and Technical Services, (METS) at the age of 29 in the year 1997, after earning years of work experience with international oil and gas companies.
In 1998, Oluwaseyi trained at Industrial Control Services in Houston, Texas on Safety Shutdown System. He also studied Development of Analytical Competence for Managing Operations at Lagos Business School (now Pan-Atlantic University) in 1999. In 2000, he received training in automation. In 2002, he studied Fundamentals of Crude Sampling at Jiskoot Auto Control Training Centre, Kent, England.  Also, in 2005, he studied Understanding and Solving Complex Business Problems at Massachusetts Institute of Technology (MIT), USA.
Zamfara State Governor
Bello Matawalle  (born on December 12, 1969) attended Maradun Township Primary School and finished in 1979. For tertiary education, he finished from Yaba College of Technology, Lagos and proceeded to Thames Valley University, London.
Before joining politics, he worked at the Ministry of Health as a teacher in Moriki and Kwatarkoshi. He joined politics in 1998 under the defunct United Nigeria Congress Party (UNCP). Bello Matawalle once served as commissioner for Local Government and Chieftaincy Affairs, commissioner for Environment and Rural Development.
Between May 1999 and 2003,  Bello Matawalle served as commissioner for Youth and Sport.  
Adamawa State Governor
Ahmadu Umaru Fintiri is a former member of the Adamawa State House of Assembly, who was appointed as Speaker of the House. He became the acting Governor of Adamawa State following the impeachment of Admiral Murtala Nyako in July 2014. However, he later handed over to Bala James Ngilari after serving for three months.
Fintiri won the governorship election of Adamawa State which took place on the 9th of March 2019. Although the election was declared inconclusive because the number of canceled votes was more than the margin between the winner and his close opponent, he was declared winner in the early hours of Friday, March 29, 2019 after securing 376,552 votes to defeat incumbent Governor Jibrilla Bindow of the All Progressives Congress (APC) who polled 336,386 votes.
Bauchi State Governor
Bala Abdulkadir Mohammed (born 5 October 1958) was first elected as Senator for Bauchi South, in Bauchi State, Nigeria in April 2007. On April 8, 2010, he was appointed Minister of FCT (Federal Capital Territory) when Acting President Goodluck Jonathan announced his new cabinet.  
On education and career, Bala Abdulkadir studied English at the University of Maiduguri between 1979 and 1982 where he gained a BA. He joined The Democrat as a reporter in 1983, then worked in the public service as an administrative officer from 1984 to 2000. He has also worked in the Ministries of Internal Affairs, Solid Minerals, Power and Steel and Transportation and Aviation.
He retired as director of admin in the Nigerian Meteorological Agency. He then served as a senior special assistant to Isa Yuguda of Bauchi State from 2000 to 2005. Between 2005 and 2007, however, he served as Director of Administration at the Nigerian Railway Corporation.
Nasarawa State Governor
Abdullahi Sule (born December 26, 1959) is a Nigerian entrepreneur, businessman, and politician. His early schooling was at Roman Catholic Mission (RMC) Primary School, Gudi Station in 1968. He then entered Zang Secondary School in 1974 and later Government Technical College, Bukuru in 1977.
Following the completion of his secondary education, in 1980, he enrolled at the Plateau State Polytechnic, in Barkin Ladi. He then left Nigeria on a scholarship to study at Indiana University, Terre Haute, Indiana, where he obtained a Bachelor of Science in Mechanical Technology and a master's degree in Industrial Technology.
Returning to Nigeria in 1985, Sule served as a youth corps member with Plateau Utilities Board and thereafter joined the Jos Steel Rolling Mill in 1985 as a Production Engineer. In 1989, he left Nigeria for the United States, working for several companies (Lancer Corporation, OEM component, and Osyka Corporation among others) before returning again to Nigeria in 2000.
On his return to Nigeria, he co-founded Sadiq Petroleum Nigeria Limited in Lagos and was made the Managing Director/CEO. Thanks to his leadership expertise, the company won a bid to acquire African Petroleum (AP) Plc and he became the CEO of AP in 2001. Prior to his gubernatorial ambition in 2018, he was the Group Managing Director of Dangote Sugar Refinery Plc.
Yobe State Governor
Mai Mala Buni (born November 11, 1967 in Buni Gari, Yobe, Nigeria) is a Nigerian politician, who served (before his election as governor) as Secretary General of the Nigeria's ruling party, APC.
Borno State Governor
Babagana Umara Zulum (born August 26, 1969) is a Nigerian academic and politician. On education, after elementary schooling in Mafa Primary School from 1975 to 1980 and secondary education in Government Secondary School, Monguno from 1980 to 1985; Zulum proceeded to the Ramat Polytechnic, Maiduguri, where he obtained a National Diploma in Irrigation Engineering in 1998.
Between 1990 to 1994, Zulum enrolled at the University of Maiduguri for a degree in Agriculture Engineering after which he served as a youth corps member with Katsina State Polytechnic.
In a bid to further his education, the new governor of Borno state then proceeded to University of Ibadan from 1997 to 1998 where he obtained a master's degree in Agriculture Engineering. In 2005, Zulum enrolled for a PhD in Soil and Water Engineering with the University of Maiduguri which he completed in 2009.
Imo State Governor
Emeka Ihedioha (born on 24 March 1965) is a Nigerian politician and Businessman. He is a Peoples Democratic Party (PDP) member and represented the Aboh Mbaise/Ngor Okpala Federal Constituency of Imo State. He is also the former deputy speaker of the House of Representatives of Nigeria. He is a Commander of the Order of the Niger and holds the title CON.
In 2015, Emeka Ihedioha also served a spell as the Speaker of the House of Representatives following the defection of Aminu Tambuwal to the APC. On education, Ihedioha attended Town School Mbutu in Aboh Mbaise Local Government Area of Imo State for his primary education and completed same at SDA Primary School Abule Oja, Yaba Lagos in 1976.
He had his secondary education at St. Ephraim's Secondary School, Owerrinta in the present day Abia State. He then proceeded to the University of Lagos, Akoka-Yaba, where he obtained a Bachelor of Science (B.SC) degree in Food Science and Technology, in 1988.
CBN extends Covid-19 forbearance for intervention loans by another 12 months
CBN will continue to charge an interest rate of 5% for its intervention loans for another 1 year.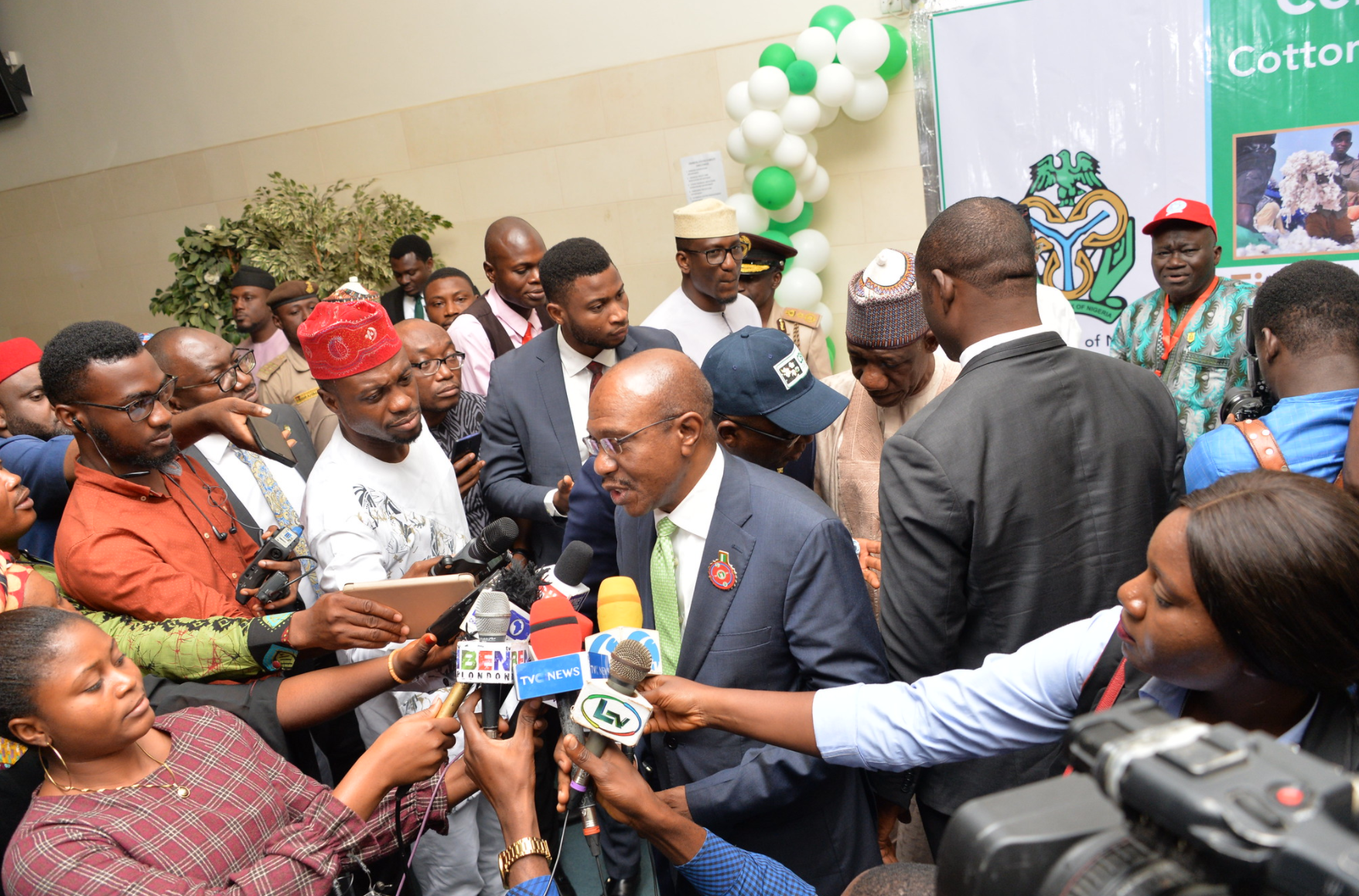 The Central Bank of Nigeria has announced an extension of its regulatory forbearance for the restructuring of its intervention facilities by another 12 months.
In a circular signed by Dr. Kevin Amugo, the Director of Financial Policy and Regulatory. the apex bank said it will continue to charge its borrowers an interest rate of 5% per annum as against the 9% originally offered. The CBN had on March 20th reduced the interest rates on its intervention loans from 9% to 5% as part of its response to the economic crunch brought on by Covid-19 induced lockdowns.
The CBN also offered to rollover moratorium granted on all principal payments on a case by case basis. All credit facilities had been granted a one-year moratorium starting from march 1, 2020 when the pandemic first gripped Nigeria.
See excerpt from Circular
"The Central Bank of Nigeria reduced the interest rates on the CBN intervention facilities from 9% to 5% per annum for one-year effective March 1, 2020, as part of measures to mitigate the negative impact of COVID-19 Pandemic on the Nigerian economy."
Credit facilities, availed through participating banks and OFIs, were also granted a one-year moratorium on all principal payments with effect from March 1, 2020.
Following the expiration of the above timelines, the CBN hereby approves as follows:
1) The extension by another twelve (12) months to February 28, 2022 of the discounted interest rate for the CBN intervention facilities;
2) The roll-over of the moratorium on the above facilities shall be considered on a case by case basis.
What this means
Companies who secured intervention funds from the CBN or through any of its on-lending banks will continue to service the loans at an interest rate of 5% per annum instead of 9%.
They can also get another year of not needing to pay back the principal sum collection. However, they will need to apply.
Whilst this move helps the small businesses continue to manage their cash flow, it means the CBN will record a reduction in its income extended under such facility.
Regulatory forbearance is a widely adopted concept during an economic crunch and it is meant to help stimulate businesses. These pronouncements if implemented will only affect those who borrow from the CBN or BOI but those who do not will miss out.
Download the circular here.
Senate endorses ex-Service Chiefs as Non-career Ambassadors
The Senate has confirmed President Buhari's nomination of the immediate past service chiefs as non-career ambassadors.
The Nigerian Senate has endorsed the nomination of the past serving Military Service Chiefs as Non-career Ambassadors.
This was confirmed during Tuesday's plenary session and announced in a social media statement by the Nigerian Senate.
Their confirmation follows the consideration of the report of the Senate Committee on Foreign Affairs, Chaired by Senator Adamu Bulkachuwa.
According to reports, the Senate Minority Leader Enyinaya Abaribe, however, questioned the nomination and confirmation of the ex-service chiefs when the Senate had on 3 different occasions called for their sack.
Senator Abaribe also raised issues on the petitions against the former service chiefs and questioned why they were dismissed without explanations.
But Senate President Ahmad Lawan dismissed Senator Abaribe's concerns, ruling that the nomination of the former service chiefs cannot be nullified simply because the upper chamber had called for their sack, noting that this is totally a different assignment.
In his concluding statement, the Senate President, Senator Lawan added that these nominees that have just been confirmed have served this country to the best of their abilities. He appealed to the executive to make sure they use their experience as military men to the best.
"These nominees that we have just confirmed are nominees that have served this country to the best of their ability. Our appeal to the Executive is to make sure they use their experiences as military men to the best," Lawan said.
Lawan, on behalf of the senate, wished them a very successful career in their capacity as Non-Career Ambassadors.
What you should know 
Recall Nairametrics reported earlier this month that President Muhammadu Buhari nominated ex-Service Chiefs for Senate approval as non-career Ambassadors-Designate.
Their appointment came barely a week after their retirement as service chiefs and their replacement with new ones.
This led to a spate of criticisms from some Nigerians who felt that the nation's security situation got worse under their watch.
They were reported to have tendered their resignation from their positions amid heightened calls that they should be sacked due to the increasing rate of insecurity across the country.
Nairametrics | Company Earnings