CORPORATE ACTIONS: An Exit and a Yhello landing
@MTNNG listing on the @nsecontact premium board was the highlight of activities on the Nigerian bourse last week.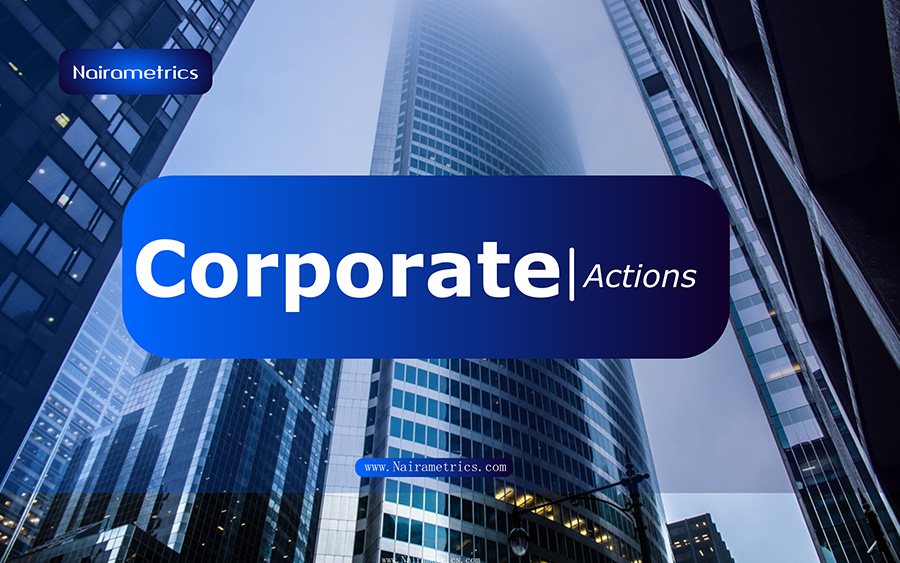 Corporate actions are decisions taken by companies' boards of directors or management teams, that could have impacts on the firms themselves or shareholders.
Examples of corporate actions include the release of quarterly and full year results, payments of dividends, closing of shareholders' registers, announcing qualification dates and Annual General Meeting (AGM) dates.
Corporate actions that took place last week
A Yhello landing: In perhaps the biggest event so far this year on the exchange, MTN Nigeria was listed on the Premium Board of the Nigerian Stock Exchange, last week. 20.3 billion shares valued at N90 per share, were listed.
The company has gained 20% since listing, amidst massive demand.
MTN Nigeria also announced that it had obtained a N200 billion loan from a consortium of local banks. The loan is denominated in naira, and with a two year moratorium.
International Breweries announced the appointment of Olutoyin Odulate as an Independent Non Executive Director. Odulate is the Founder and CEO of Olori Beauty Enterprise Limited.
Medview Airlines, in a notice sent in last week, announced that it was one of three carriers chosen by the Federal Government for Hajj operations.
CEO of the firm, Munir Bankole also disclosed that some of the airline's aircraft would be back from scheduled maintenance soon.
Greif Nigeria Plc (formerly known as Van Leer) announced a delay in the release of its Q2 2019 results. Apparently, a few of the company's key staff had jumped ship, since the company announced a suspension of operations.
The firm however expects to file its results on or before the 14th of June 2019.
No laws broken: Chams Group sent in a notice clarifying issues around the payment of a  three kobo dividend. The dividend in question was paid from Chams Plc's retained earnings of N385 million. Chams Group however has negative retained earnings of N1.5 billion.
The company also defended its action, relying on Section 380 A of the Corporate and Allied Matters Act (CAMA). In essence, a company can pay dividends from revenue reserves, realised profit on a fixed asset sold or profits arising from the use of the company's property.
An Exit: On Monday last week, Newrest ASL shares were delisted from the Nigerian Stock Exchange.
Going Going: First Aluminum Plc shares were placed on suspension last week in preparation of its voluntary delisting.
Markdowns: Nestle Nigeria Plc, Regency Alliance Insurance, Eterna Plc and Okomu Oil Nigeria Plc were marked down last week.
Corporate Actions taking place next week
AIICO Insurance will be holding its Annual General Meeting (AGM) on Monday, the 20th of May, 2019.
Caverton Offshore Support Group and Consolidated Hallmark Insurance Plc will hold their AGMs on the 21st of May, 2019.
NCR Nigeria Plc will hold its AGM on the 22nd of May, while Pharmadeko, GSK Consumer Nigeria and Berger Paints Plc will hold their AGMs on the 23rd of May, 2019.
CBN reduces MPR to 12.50%, holds other metrics
Central Bank of Nigeria (CBN) has reduced the Monetary Policy Rate (MPR) from 13.50% to 12.50% and retains CRR at 27.5%, Liquidity ratio at 30%.
The Monetary Policy Committee (MPC) of the Central Bank of Nigeria (CBN) has reduced the Monetary Policy Rate (MPR) from 13.50% to 12.50%.
Governor, CBN, Godwin Emefiele, disclosed this while reading the communique at the end of the MPC meeting on Thursday in Abuja.  Meanwhile, other parameters such as the Cash Reserve Ratio  (CRR) remained at 27.5%, Liquidity ratio at 30%.
READ ALSO: Bankers decry rise in public debt, weak economy
Highlights of the Committee's decision
MPC cuts MPR by 100 basis points to 12.50%
CRR stood at 27.5%
The Liquidity Ratio was also kept at 30%
Get the Nairametrics News App
CBN MPC cuts policy rate by 100 basis points to 12.5 %, maintains other parameters constant.

— Central Bank of Nigeria (@cenbank) May 28, 2020
READ ALSO: Nigeria's total debt to hit N33 trillion – Senate
According to Emefiele, the decision of the MPC to reduce the Monetary Policy Rate  was informed by the impact of the Covid-19 pandemic on the economy, increased inflationary pressure, restrictions in international trade and more.
He highlighted the decline in the nation's GDP as well as the decline in the manufacturing and non-manufacturing purchasing index which were attributable to slower growth in production, rate of unemployment, amongst others.
READ MORE: AfDB's Akinwumi Adesina hits back, denies allegations against him
On reopening of the economy, Emefiele emphasised the need for Government to work towards a gradual reopening in line with recommendations of the Presidential Task Force (PTF) and advice from medical experts, insisting that efforts must be directed at saving not only lives but also livelihoods. He said,
"This is to enable the resumption of economic activities necessary to stimulate growth, accelerate the pace of recovery and restore livelihoods, particularly the vulnerable in our society.
"With respect to output, the Committee urged the Federal Government to continue exploring options of partnership with the private sector to fund investment in infrastructure. This would aid employment generation, support production and boost output growth."
CBN's MPC unlikely to cut rates, as Nigeria's foreign reserves hit $36.16 billion
Note that Nigeria's inflation could potentially rise to 14% by the end of the year due to a higher VAT and a weakened naira.
The CBN's Monetary Policy Committee (MPC) is expected to leave the interest rate of 13.5% unchanged during its meeting later today.
The projection is coming on the heels of macroeconomic fundamentals released by the National Bureau of Statistics (NBS), which showed that inflation rose to 12.34%; its seventh consecutive monthly rise and highest level since April 2018.
Get the Nairametrics News App
Note that Nigeria's inflation could potentially rise to 14% by the end of the year due to a higher VAT and a weakened naira. Therefore, in order to minimise the risk of exacerbating inflationary pressures, the CBN is unlikely to further cut rates. This possible outcome from the MPC meeting will help stimulate economic growth, just like it did in 2019.
Meanwhile, despite the foreign exchange liquidity crisis being experienced in the currency spot market, data obtained from CBN revealed that the country's foreign exchange reserves have further increased to $36.16 billion (Gross Estimate) as of 28th of May, 2020.
(READ MORE: Naira depreciates to N460/$1 at the parallel market, despite improved liquidity)
The surge in Nigeria's external reserves is due to the fact that the price of crude had gained more than 40% since the deadly COVID-19 pandemic started, coupled with reports that foreign investors are returning to Nigeria. The disbursement of $3.4 billion emergency facility by the International Monetary Fund (IMF) to CBN has also been a contributing factor.
Recall that the CBN Governor, Godwin Emefiele, had promised more liquidity in the currency market, assuring that all genuine dollar demands would be met.
READ ALSO: Banking: Surprise hike in CRR-Implications for banks 
However, an Interest rate expert, Ola Oladele, during a phone chat with Nairametrics, advised that the CBN should keep its word by boosting Nigeria's Forex supply as the persistent downtrend in the currency black market continues. She said:
"The depreciation of the naira in the parallel market as a result of low supply of FX from official sources and less optimistic outlook on the economy due to falling oil prices.
"The BDCs haven't received supply from official sources since our borders were closed and the crash in oil prices has made natural sellers of FX more cautious.
"We hope that the recent statements by the regulator will restore confidence and subsequently, supply to the market."
CFOs of FUGAZ and their 3-year performance record
CFO is to ensure that the company is highly profitable so that no matter how high it's share price might be, if listed on the floor of the Nigerian Stock Exchange, it would still be termed undervalued.
Among many executive positions in an organisation, the Chief Financial Officer (CFO) is sometimes considered to be one of the most strategic, and rightly so. When the firm in question is an operator in the financial services sector, then the office becomes even more critical to be thrown to just anyone.
Besides being responsible for fiscal operating results, the CFO is the senior executive directly responsible for managing the financial strategy, decision and actions of a company. He tracks cash flow, analyses the company's financial strengths and weaknesses, and fill in for the lapses, reducing operations costs and increasing income.
In other words, we can say that the job of the CFO is to ensure that the company is highly profitable so that no matter how high it's share price might be, if listed on the floor of the Nigerian Stock Exchange, it would still be termed undervalued.
This article looks at the CFOs in Nigeria's tier one banks, their profiles, their last 3 years records and projections for 2020.
READ ALSO: Billionaire investors in the Nigerian Insurance space (2)
Ugo Nwaghodoh, Group CFO, United Bank for Africa Plc (UBA)
Ugo is a seasoned financial analyst and accountant with experience spanning assurance, advisory, financial control, financial modelling & programming, strategy and business transformation, investor relations, corporate restructuring, risk management, mergers & acquisition, business integration and project management.
He has been the Group CFO at United Bank for Africa Plc since 2011, managing the performance, financial control, portfolio investment and investor relations among others.  Before then he was the Divisional Head, Financial Control and Investor Relations between 2008 and 2011.
He also had a brief stint as Group Chief Compliance Officer, and as Head of Special Project (Corporate Mergers). He was Head, Performance Management, Strategy and Business Transformation for about 3 years, where he drove the cost optimization initiatives of the bank, and engaged in policy formulation.
Before UBA, he had worked as Manager, Assurance and Business Advisory Services with PriceWaterhouseCoopers Nigeria for 8 years, and 2 years in Kenya on secondment.
He has a degree in Accounting and Finance, and MSc in Finance & Management from the Cranfield School of Management, Cranfield University.
He is a fellow, Institute of Chartered Accountants of Nigeria (FCA).
His last 3 years performance
UBA, under Nwaghodoh's watch, had a fairly unfavourable 2018 as cost to income ratio increased from 57.8% in 2017 to 64% in 2018, and profit after tax almost remained the same increasing only slightly from N78.59 billion in 2017 to N78.60 billion in 2018.
The bank, however, staged a comeback in 2019 with cost to income ratio reduced to 62.7% while profit after tax increased by over N10 billion to N89.08 billion.
Share price however declined from N10.3 in 2017 to N7.7 in 2018 and N7.15 in 2019, probably not Nwaghodoh's fault though, since this happened across most financial services institutions. In addition, the bank also paid N30 million as fine to the CBN in 2018, a situation which led shareholders to cry out to Apex bank for what was termed 'unfair penalties'.
Nwaghodoh, however, has a beautifully designed investor relations page to his credit, with answers to Investors FAQs, analysts reports and credit ratings for the bank, shareholders information and news among others.
Oluseyi Kumapayi, CFO Access Bank Plc
Kumapayi joined Access Bank in 2002. Before then, he was with the First City Monument Bank (FCMB) where he served as Financial officer.
Kumapayi got his MBA from the Kellogg school of management, Northwestern University, and  has been severally endorsed in Corporate finance, risk management and business strategy, financial analysis, mergers and acquisitions, financial modelling and investment banking.
He also attended the INSEAD course on Risk Management, London Business School (LBS) High Performance People Skills program, Euromoney, Assets and Liability Management, Strategy Master Class and Mergers and Acquisition. He is a Certified Chartered Accountant.
Now let's look at the bank's three years performance under Kumapayi. 
For the cost to income ratio, Access bank has remained profitable over the last three years, but now the question would be how profitable?
Cost to income ratio reduced from 72.40% in 2017 to 65.30% in 2018 showing that the bank's strategies succeeded in reducing the ratio of cost to income and making more profits. However, 2019 recorded a negative progression to 68.7%.
This is in spite of the fact that profit after tax grew significantly to N97.5 billion in 2019, from N94.98 billion in 2018 and N53.6billion in 2017.
Overall, we can say the indices point to greater progress made in 2018, compared to 2019.
Note also that the merger between Access Bank and Diamond bank started in 2018, running through 2019 before it was eventually sealed with the launching of the new Access logo, and the slogan 'access more'. The role of a CFO in a merger of this magnitude is ourightly priceless, given that not all merger talks result in a successful merger of assets, shareholders, and even management team.
There is also the acquistion of controlling equity interest in Transnational Bank Kenya Plc, which Access Bank undertook in October 2019.
Share price at last day of the year progressed from N10.45 to N6.8 to N10, showing that share price dropped most in 2018, which interestingly happened to be the most profitable year so far. In the same 2018, Access bank paid N20 million in fines to the Central Bank of Nigeria.
Kumapayi has kept the investor relations page of the bank's website duly updated with annual financial reports, investor news, credit ratings, upcoming events, shareholders information and news.
Oyewale Ariyibi, CFO, First bank of Nigeria Plc
Before becoming Chief Financial Officer at FBN Holdings Plc, Oyewale Ariyibi had worked with Transnational Corporation of Nigeria Plc (Transcorp) as Chief Finance Officer, and at Standard Chartered Bank, Nigeria as Country Financial Controller.
He has a cumulative 23 years experience in banking and financial services, business assurance, tax management, business process review and consulting across several institutions.
He has been certified in areas such as capital raising, tax planning and cost management, operational risk management, strategic and corporate planning, compliance and business assurance amongst others, and is a Fellow of the Institute of Chartered Accountants of Nigeria (FCA), Associate of the Chartered Institute of Taxation (ACIT) and Certified Pension Institute of Nigeria (ACIP).
So what has he done with First Bank in the last three years?
Profit after tax has been on an increase, from N47.78 billion in 2017 to N59.74 billion in 2018 and N62.09 billion in 2019. This is laudable given that 2016/17 was not the best times for the Nigerian economy.
Share price has however dropped from N8.8 in 2017 to N7.95 in 2018 and N6.15 in 2019.
This may be no fault of his given that he has managed to keep the cost to income ratio stable at 80.17% in 2017, 80.15% in 2018, but it increased slightly in 2019 to 81.31%.
Note that the FBN Holdings also paid a fine of N32.65 million to the CBN in 2018.
This trend can be considered worrisome not only because FBN holdings has the highest cost to income ratio among the tier one banks, but because it is the only of the five banks where cost to income ratio did not reduce over the last 3 years.
This probably explains why shareholders earned 0.25 dividends per share in 2017, 0.26 in 2018 and 0.38 in 2019, the least dividends declared by any of the top banks.
The investors' relations page of the bank's site is a bit unclear and it is not easy to access needed information, but once a site visitor gets past the initial confusion, one can see shareholders information, corporate governance reports, financial highlights, unclaimed dividends, press releases and news.
Ariyibi might need to ask some pointers from his colleagues in other tier one banks.
Recently, Ariyibi led engagements with regulators towards FBN's intention to divest its 65% holdings in FBN insurance Limited.
Mukhtar Adam, CFO Zenith Bank Plc.
Mukhtar Adam was appointed Chief Financial Officer (CFO) of Zenith Bank in 2018, and is currently the Group Head, Financial Control and Strategic Planning Group of the bank.
Before this, he was the bank's Deputy CFO, and sometime before 2014, he headed the Financial Reporting, Tax Management and Strategic Planning Groups, overseeing the entire Zenith Group's financial reporting.
Adams worked in Financial Services Group of the Nigerian and Ghanaian practices of PricewaterhouseCoopers (now PwC), as a Senior Consultant, before joining Zenith Bank in 2007.
Adam holds a PhD in Finance from the Leeds Beckett University (UK); M.Sc. (Finance – Financial Sector Management) from University of London's School of Oriental and African Studies, (UK); MBA (Finance) from the University of Leicester (UK) and B.Ed. Social Sciences (Economics and Management) from the University of Cape Coast (Ghana).
Many feathers for one man's cap, we must agree!
He also holds a Diploma in International Financial Reporting Standards (IFRS) from the Institute of Chartered Accountants in England and Wales (ICAEW).
He is a member of the Institute of Chartered Accountants of Nigeria (ICAN), Chartered Institute of Taxation of Nigeria (CITN), and Institute of Chartered Accountants of Ghana (ICAG).
So, what has Mukhtar Adam achieved for Zenith bank since he took over from Stanley Amuchie in 2018?
It's been three progressive years for this tier one bank as cost to income ratio has continued to decline from 52.70 in 2017, to 49.30 in 2018 and further down to 48.8% in 2019. Commendably, this progression is not just a result of cutting down operation costs, but increasing income.
Profit after tax for 2017 stood at N173.79 billion and increased to N193.42 billion in 2018 and spiked further to N208.84 billion in 2019.
Whatever magic wand Adams holds over the bank, it must be working well because among the five tier one banks, Zenith bank has consistently had the highest profit after tax for the past three years.
Share price of the bank also moved from N25.6 in 2017 to N23.05 in 2018 and further down to N18.6 as at last day of 2019.
However, this cannot be counted against him as share price is subject to a whole range of extraneous factors. In the 2018, the bank paid N10 million fine to the CBN.
With his input, the bank also maintains a detailed investors relations page with press releases, credit ratings, corporate governance reports and financial updates. In addition to the BOT which pops up to help guide a visitor through the page and answer inquiries, Adams also appears to be one CFO who spells out his key financial strategies on all aspects of the banks operations, on the investors relations page.
Adebanji Adeniyi, CFO, GT Bank
Adeniyi became CFO of GT bank in 2013.
Adeniyi has been certified competent in risk management, portfolio management, risks and investments, Operational dynamics and Associated Risks among others, and has over two decades of professional experience.
He gained his early experience from notable companies including PricewaterhouseCoopers, and Arthur Andersen (now KPMG).
His banking experience comes from his stint with Lead Bank Plc, and his years at GT Bank. He is a Fellow of Institute of Chartered Accountants (FCA), and also holds a MBA.
So, what has he been up to in the last 3 years.
For Guaranty Trust Bank Plc, cost to income ratio reduced from 38.2% in 2017, to 37.2% in 2018, and to 36.1% in 2019
In addition to its gradual improvement, GT bank has maintained the best cost to income ratio among the top banks.
The bank has also maintained a high profit after tax after Zenith bank. GT Bank recorded N170.47 billion profits after tax in 2017 and this increased to N184.64 billion in 2018 and N196.86 billion in 2019.
Like other banks, however, share price has dropped over the years – from N40.75 in 2017 to N34.45 in 2018 and N29.7 in 2019. In addition to this, GT Bank also received a heavy penalty of N24 million in 2018 from the CBN.
In terms of profitability, both for the bank and for investors, Adeniyi is getting it right.
The bank also has a well laid out investors relations page detailing corporate and financial information, outlooks and insights, upcoming events and investors news, shareholders information and annual reports.
Kudos!