CORPORATE ACTIONS: Rocky Results and Markdowns
@lawunionrock was the only firm that released its results on the @nsecontact last week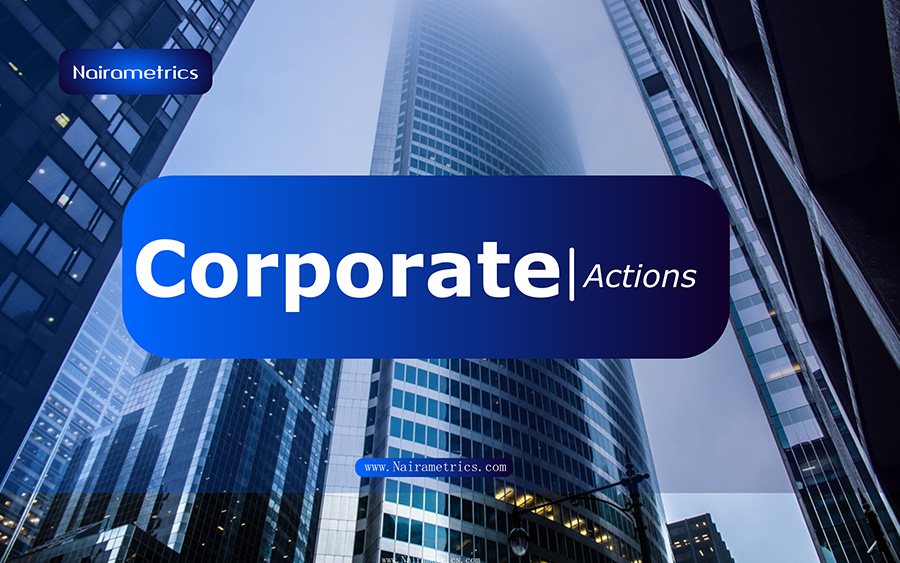 Corporate actions are decisions taken by companies' boards of directors or management teams, that could have impacts on the firms themselves or shareholders.
Examples of corporate actions include the release of quarterly and full year results, payment of dividends, closing of shareholders' registers, announcing qualification dates and Annual General Meeting (AGM) dates.
Here is a review of corporate actions that took place last week.
Rocky results: Law Union and Rock Insurance Plc was the only firm to release financial statements last week. The company released its results for the 2018 financial year and first quarter ended March 2019. The two showed a weakness in bottom line.
Profit after tax fell by 71% to N263 million in the 2018 financial year, due to a 117% spike in net benefits and claims. The company however declared a 2 kobo dividend. Qualification date for the dividend is the 31st of May.
The insurance firm also struggled in the first quarter of 2019 with profit after tax declining by 41.9% to N65.3 million in 2019.
Appointments and resignations: AXA Mansard Plc announced the resignation of Mrs Karima Silvent a Non Executive Director, and the appointment of Sohail Ali as an Executive Director
Sohail will oversee the insurer's actuary division.
Sterling Bank has appointed Femi Jaiyeola as Chief Compliance Officer. Prior to his appointment, Jaiyeola was the GM and Chief Compliance Officer at Diamond Bank.
African Alliance Plc appointed two Non Executive Directors Slyva Ogwemoh (SAN) and Ahmad Nahuche.
Annual General Meetings held: Unilever Nigeria Plc, AXA Mansard Plc, Champion Breweries Plc and Wema Bank Plc all held their AGMs this week.
AXA Mansard and Champion Breweries did not declare dividends.
Management of the insurance firm had stated that the move was in a bid to meet new NAICOM requirements, and assured shareholders that dividends would be paid next year.
Mark downs: Portland Paints Plc, Prestige Assurance Plc, CHI Plc, AIICO Insurance Plc, and Caverton Offshore Support Group (COSG) Plc were all marked down this week.
A mark down simply means that a dividend was subtracted from the stock's share price.
Corporate Actions for next week
11 Plc (formerly known as Mobil Oil Nigeria), Infinity Trust Mortgage Bank, Seplat Petroleum, Nigerian Breweries  and Newrest ASL will be holding their Annual General Meeting
Naira crashes across forex markets as CBN Governor hits at black market
At the black market, the Naira depreciated against the dollar to close at N487/$1 on Wednesday.
Forex turnover dropped by 68.2%, as Nigeria's exchange rate at the NAFEX window depreciated significantly against the dollar to close at N393.25/$1 during intra-day trading on Wednesday, November 25.
Also, the naira crashed further against the dollar, closing at N487/$1 at the parallel market on Wednesday, November 25, 2020, as the CBN Governor who alleged that the black market is a tainted market used for bribe and corruption, said the Nigerian official exchange rate should not be determined by the rate at the parallel market.
The CBN, a few days ago relaxed its earlier policy on banning third parties from having access to foreign exchange routed through Form M.
Parallel market: According to information from Abokifx – a prominent FX tracking website, at the black market where forex is traded unofficially, the Naira depreciated against the dollar to close at N487/$1 on Wednesday.
(READ MORE: Naira falls to weakest level in 6 weeks at black market despite CBN intervention)
This represents an N4 drop when compared to the N483/$1 that it exchanged for on Tuesday, November 24.
The local currency had strengthened by about 7.8% within one week in September at the black market, as the CBN introduced some measures targeted at exporters and importers.
This is to boost the supply of dollars in the foreign exchange market and reduce the high demand for forex by traders.
The CBN has sold about $1 billion to BDCs since they resumed forex sales on Monday, September 7, 2020.
This was expected to inject more liquidity into the retail end of the foreign exchange market and discourage hoarding and speculation.
However, the exchange rate against the dollar has remained volatile after the initial gains made, following the CBN's resumption of sales of dollars to the BDCs.
The President of the Association of Bureau De Change Operators, Aminu Gwadebe, said he expects the impact of the extra liquidity in the market to be gradual.
Despite the drop in speculative buying of foreign exchange, the huge demand backlog by manufacturers and foreign investors still puts pressure and creates a volatile situation in the foreign exchange market.
(READ MORE: Naira stabilizes at black market as CBN continues its intervention in forex market)
NAFEX: The Naira depreciated against the dollar at the Investors and Exporters (I&E) window on Wednesday, closing at N393.25/$1.
This represents an N7.75 gain when compared to the N385.50/$1 that it exchanged for on Tuesday, November 24.
The opening indicative rate was N386.29 to a dollar on Wednesday. This represents a 33 kobo drop when compared to the N385.96 that was recorded on Tuesday.
The N395 to a dollar was the highest rate during intra-day trading before, it still closed at N393.25 to a dollar. It also sold for as low as N383/$1 during intra-day trading.
Forex turnover: Forex turnover at the Investor and Exporters (I&E) window declined by 68.2% on Thursday, November 19, 2020.
According to the data tracked by Nairametrics from FMDQ, forex turnover dropped from $163.87 million on Tuesday, November 24, 2020, to $52.09 million on Wednesday, November 25, 2020.
The CBN is still struggling to clear the backlog of foreign exchange demand, especially by foreign investors wishing to repatriate their funds.
The drop in dollar supply after some trading days of improvement reinforces the volatility of the foreign exchange market. The supply of dollars has been on a decline for months due to low oil prices and the absence of foreign capital inflow into the country.
The average daily forex sale for last week was about $169.93 million, which represents a huge increase from the $34.5 million that was recorded the previous week.
Total forex trading at the NAFEX window in the month of September was about $1.98 billion, compared to $843.97 million in August.
The exchange rate is still being affected by low oil prices, dollar scarcity, a backlog of forex demand, and a shaky economy that has been hit by the coronavirus pandemic.
A financial expert and Managing Director of Financial Derivatives had stated that he expects the exchange rate at the parallel market to likely depreciate to N470-N475/$1 in November and December due to low oil prices that will further limit foreign exchange supply.
Some members of MPC of the CBN have expressed serious concerns over the increasing demand pressure in the country's foreign exchange market. This is an obligation of manufacturers to their foreign suppliers that continues to increase in the face of dollar shortages.
Oil prices up, energy demand up
Brent oil futures gained 0.51% to trade at $48.86/barrel and the West Texas Intermediate futures ticked up by 0.46% to trade at $45.92/barrel.
Crude oil prices continued their bullish trend at London's trading session on Thursday morning. Oil traders are going long, as recent data from the world's largest economy reveals a surprise draw in U.S. crude oil stockpiles, coupled with high buying interest from Asia, strengthened the resolve of oil traders to go long.
At about 6.15 GMT, Brent oil futures gained 0.51% to $48.86/barrel.
West Texas Intermediate futures ticked up by 0.46% to trade at $45.92/barrel.
Data from the EIA revealed a plunge of 754,000 barrels for the week to November 20.
However, Gasoline stocks gained 2.2 million barrels in the week to 230.2 million barrels, the Energy Information Administration said.
What they are saying
In an explanatory note to Nairametrics, Stephen Innes, Chief Global Market Strategist at Axi, gave deep insights on key fundamentals pushing oil prices up amid a COVID-19 era.
"Oil traded higher on Wednesday in a very tight range until the rally midday in New York. WTI attempted a clean push through $46, and Brent printed through $49 before retracing some.
The inventory numbers released earlier in the NY session helped push the market higher, with the EIA figures more bullish than the previous days' API estimates and bullish to consensus."
He also elaborated on the buying interest seen lately from the Asian economic juggernauts, China and India, which is giving oil bulls enough gas in roaring hard, "Asia's unquenching demand remains for all to see. Chinese and Indian buying interest continues with tenders issued for both spot and term cargoes, directly responsible for increased demand and reflected in the Brent curve, which has moved to a mild backwardation this week."
Bottom line
The colossal moves prevailing in the crude oil market over the past two days echo optimism amid positive vaccine development. The flattening of the curve suggests that a positive surprise on current demand is also being reflected.
Pigs on a rampage, Bitcoin drops $2,000
Bitcoin prices plunged by more than 15%, approaching the $17,000 level.
It appears that the bulls driving Bitcoin upward lately have momentarily gone out of steam. Bitcoin prices plunged by more than 15%, approaching the $17,000 level, after reaching as high as $19,580, owing to heavy losses as large investors cash in on some of their Bitcoin holdings.
The crypto lost $2,000 in a matter of few hours, falling around $17,000 before it sprang up back to the $17,900 price level.
Taking into consideration that most bitcoin wallets are in profit, unsurprisingly, some investors are already cashing out some of their gains amid the end of a turbulent 2020.
That said, its recent price action shows its tilting towards an overbought position.
At the time of writing, Bitcoin price was $17,890.84 with a 24-hour trading volume of $33,259,413,581.
The Head of the blockchain intelligence platform further anticipated the likelihood for Bitcoin to go through a period of correction, as more investors deposit their BTC on Coinbase.
"Too many BTC whales on Coinbase. I'm still long-term bullish, but we might face some corrections or sideways until whales become inactive on spot exchanges."
Should you buy it?
Although it's more likely that some Bitcoin whales increase their purchases when prices drop to these levels, Nairametrics, envisages cautious buying, as the volatility in this fast-changing market, could lead to a significant loss of capital.
However, if things get really terrible, Nairametrics believes this could be another chance to buy bitcoin below $15,000.
What you should know
Recall Nairametrics exclusively broke the news on how a crypto strategist, Ki-Young Ju, recently warned on the high influx of big-time Bitcoin holders moving a significant portion of their BTC holdings to a well-known crypto exchange, Coinbase, obviously to cash out, amid the bullish trend currently in play.