CBN finally alters rate, Cuts MPR to 13.50%
The CBN's monetary policy committee, today announced a 0.5% cut in the baseline monetary policy rate to 13.5%.
The Monetary Policy Committee (MPC) of the Central Bank of Nigeria (CBN), has officially cut the Monetary Policy Rate (MPR) to 13.50% from 14%, while retaining CRR at 22.5%.
The CBN Governor, Godwin Emefiele, disclosed this during a press conference at the end of the two-day MPC meeting held on Tuesday in Abuja. The cut is the first time the MPC altered the MPR since July 2016.
The new rate contradicts analysts' predictions that MPC would keep the MPR unchanged. Also, recall that the MPC, in its January communique, stated that the possibility of loosening the rates was remote due to domestic and global inflationary pressures.
Highlights of MPC meeting 
MPC cut down the MPR by 50 (0.5%) basis points to 13.50% from 14%.
All other key parameters are held unchanged
Asymmetric corridor of +200/-500 basis points around MPR was retained
Retain the CRR at 22.5%; and
Retain the Liquidity Ratio at 30%.
MPR cuts aimed at strengthening the nation's feeble economic growth
In an attempt to justify the cut in MPC, Mr. Emefiele reiterated that the cut in the rates was to support the nation's feeble economic growth at this time.
The CBN governor further highlighted the need to cut MPR to help reduce the unemployment rate and bolster the diversification agenda of the country's economy.
Global economic events led to drop MPR
The CBN governor noted that uncertainties surrounding the global economies suggest increasing macroeconomic global vulnerability in the medium term.
According to the CBN governor, global economies were characterized by legacy headwinds from the second half of 2018. Mr. Emefiele noted the following episodes that characterized the global economy,
"The continued trade war between U.S & China, policy uncertainties in advanced economies, Central Banks persisting uncertainties surrounding BreXit negotiations, Vulnerabilities in major financial markets and rising public debts in some emerging economies and developing economies."
Consequently, the MPC reiterated that global output was downgraded by the International monetary fund (IMF) from 3.5% in 2019, from 3.7% in 2018. Also, price development across developed economies continue to moderate in the review period alongside signals of weakening output growth.
In the light of these developments, Mr. Emefiele noted that,
"the U.S Federal Reserve, the Banks of England and European Central Bank (ECB) retreated from the earlier stand of monetary policy normalization in favour of monetary policy accommodation. This led to volatility in the financial market of the advanced economies, and the balancing of portfolio moved capital from the equity to the bond markets."
Higher capital inflows expected 
Mr. Emefiele in a communique read after the meeting,  further stated the capital inflow will increase owing to volatilities in financial markets of major developed economies like U.S.
The MPC noted the moderate appreciation of the $U.S against currencies of most advanced and emerging market economies, it further noted the trend of declining long term yields in the United States, and a likely yield that capital flows may be redirected to emerging and developing economies, in the medium term.
The MPC, however, stressed that in spite of the recent capital inflow upsurge into the economy, the all share index and market capitalization continue to decline, reflecting global sentiments in portfolio rebalancing from the equities to the fixed income securities.
MPC Considerations
The MPC considered the tepid output growth in 2018 and a positive forecast for 2019 in its decisions.
Also, the MPC attributed the recent upsurge in capital inflow as a demonstration of sustained confidence by the foreign investor communities in the Nigerian economy. Mr Emefiele however stated;
The MPC is not unmindful of developments in the global economy, noting the recent low down in growth in some advanced economies. Therefore, MPC underscored the need to monitor the movement of capital flows and the continued downturn the equities market, noting that recent surge in portfolio inflow were concentrated in the money market.
Markets may be neutral 
Analysts at Nairametrics opined the economy will react in the manner:
For the equities market, the cut in MPR will have no significant positive or negative effect. Investors are waiting for clearer macroeconomic direction in the Buhari administration's second term. This is so because foreign portfolio investors are more interested in the fixed income market.
For the money market and fixed income segment, the CBN may use the lower MPR, and overwhelming interest from investors, to further lower rates on treasury bills and bonds
Microsoft Teams' rival, Slack shares drop on withdrawal of full-year billings guidance
Slack reported steady revenue growth 50% in Q1 2020, compared with 49% recorded in Q1 2019 on an annualized basis this brought in more customers
 Slack shares dropped as much as 17% yesterday after the company's reported first-quarter earnings.
Investors and stock traders were not happy with Slack's annual revenue forecast of $855 million to $870 million, up just slightly from Slack's projection in March stock analysts, on the average, estimated $856.5 million, according to data obtained from Bloomberg.
"Slack's withdrawal of full-year billings guidance looks conservative to us and likely suggests a pull-forward of revenue amid faster new-customer additions due to remote work," Mandeep Singh, a Bloomberg Intelligence analyst, wrote in a note yesterday.
Slack grew revenue 50% in Q1 2020, compared with 49% recorded in Q1 2019 on an annualized basis.
However, Slack reported steady revenue growth during  Q1 2020 brought in more customers, as organizations sought to keep communications going with their newly remote workforces during coronavirus pandemic. It had earnings per share of 2 cents loss per share, adjusted and adjusted revenue of $201.7 million
(READ MORE: How to Profit from Directors' Share Dealing Notifications)
Slack, in a statement, yesterday reported that it added a record 12,000 paid customers Q1 2020 as against two prior quarters when it added about 5,000 new customers. Slack's top competitor, Microsoft's Teams, has also experienced growth in recent months.
"What you saw with Zoom, what you saw with Teams is a great indication that this is not apples-to-apples and that the products are not truly competitive with one another," Butterfield the Chief Executive Officer of Slack told Investment analysts on a conference call yesterday.
READ ALSO: Jumia is optimistic of COVID-19 boost, despite poor Q1 2020 earnings report
Paid users spent over 120 minutes per day in Slack at the end of the quarter, up from below 90 minutes one quarter earlier. 
"I can't care about the stock price on the level of individual days," Butterfield said when asked about the reaction to earnings. "I just wouldn't be able to do my job. I care about where the share price is five years from now and 10 years from now. This is just a very volatile time." 
Precious metals slump, investors focus on Central Bank's intervention
Gold fell on Friday morning to $1,717.10. as global investors await the release of Friday's U.S non-farm payrolls data for May
Spot gold went slightly lower, trading at $1,711.57 per ounce by 4 am local time on Friday morning and gold futures was down to $1,717.10.
"Gold collapsed like a house of cards as investors overlooked civil unrest in the United States and heavily focused on hopes around central bank intervention and economic recovery," said Lukman Otunuga, senior research analyst at FXTM.
READ MORE: Why the NNPC wants $5 billion advance payments for Nigeria's crude
Gold fall on Friday morning also came as global investors await the release of Friday's U.S (United States.) non-farm payrolls data for May, scheduled to be released at 1.30 pm Nigerian local time.
"There are quite a few market participants still bargain-hunting gold given the fundamental backdrop of the coronavirus crisis and ongoing recession," Julius Baer analyst Carsten Menke said.
(READ MORE: Gold prices surge by 17.4% in 2 months due to global economic crisis)
However, investors are still waiting to see whether the easing of restrictions will lead to a second wave of infections, supporting demand for gold, Menke added.
What you need to know about Precious metals: Precious metals include gold, silver, and platinum. Gold and silver are the most popular metals, and have been used by jewelers, and as wealth status symbols since ancient times. Global investors use precious metals to hedge against inflation.
READ ALSO: Global oil market to re-balance in 2 months' time
Meanwhile, palladium gained 0.34% to $1,947 an ounce, while platinum lost 0.31% to $833.91. Silver was down 0.63% to $17.9 4am local time, having hit a more than three-month high of $18.36 on Monday. 
"Some people are buying silver just because it's much cheaper than gold (or) platinum," a trader from Tokyo-based retailer Tokuriki Honten said.
Tether expected to surpass Ethereum, based on strength of the U.S dollar
The organic growth of Tether's market capitalization is one of the major reasons for the gain Bitcoin (BTC) is presently having in the mid-term.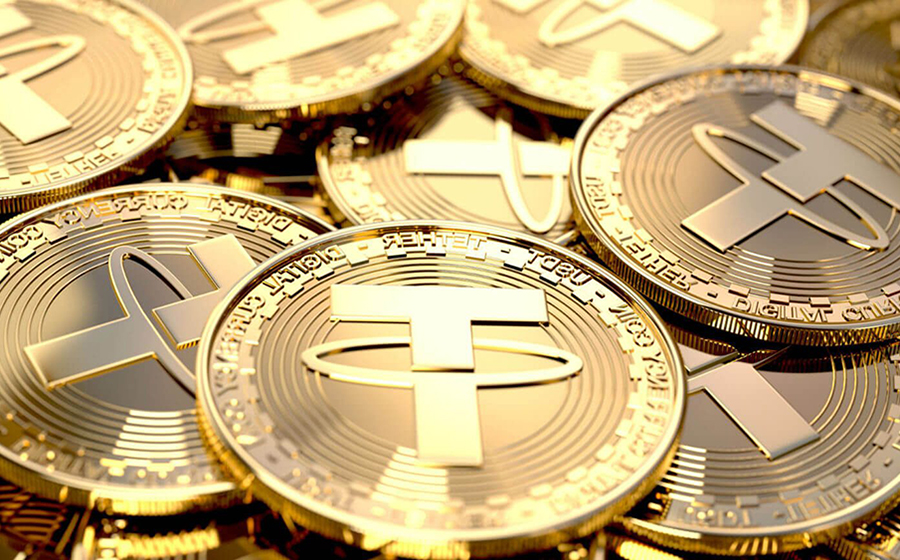 Tether, the third most valuable cryptocurrency with a market capitalization of about $9.1 billion, is expected to pass Ethereum ($27 billion)) as the number two cryptocurrency, on the strength of the dollar.
Bloomberg News reported recently that there is a high probability that it expects Tether (USDT) to outsize Ethereum (ETH) in market capitalization.
The report outlines the organic growth of Tether's market capitalization as one of the major reasons for the gain Bitcoin (BTC) is presently having in the mid-term.
"Interest in digital links to the dollar represents the need to handle and store value in the world's reserve currency without an intermediary." 
(READ MORE:Bitcoin loses $1500 in 3 mins, pigs get slaughtered in BTC market)
What you need to know: Tether is designed as a blockchain-based cryptocurrency whose digital coins in circulation are backed by the same value of traditional fiat currencies, like the U.S dollar, Japanese Yen, or the Euro. It trades under the ticker symbol USDT.
Recall that Nairametrics earlier reported how Tether had overtaken XRP (XRP) as the number three most valuable cryptocurrency by market capitalization. Bloomberg reports added that the momentum with the help of the U.S dollar is expected to make Tether gain and move to the second spot:
"Absent an unlikely reversal in predominant crypto trends, it should be a matter of time until Tether passes Ethereum to take the No. 2 spot in total assets behind Bitcoin. Receiving help from widespread adoption with a workable case as a proxy for the world's reserve currency, there seems little to stop the increasing adoption of the dollar-linked stable coin." 
READ MORE: Did Satoshi Nakamoto cause the panic sell-off in Bitcoin market
Also, Bloomberg's report expects Tether to rise based on Ethereum's limited upside. 
"We see little upside in the ETH price absent a rising tide from Bitcoin. The pre-eminent crypto is breaking away from the pack in terms of adoption and is supported by almost-ideal macroeconomic conditions for stores-of-value amid quantitative easing.  
"Tether is in a similar position. Strengthening Dollar Supports Stable Coins. The advancing dollar will fuel demand for the Tether stable coin, in our view. In terms of gold and Bitcoin, the dollar is depreciating, but it is going in the other direction vs. most other currencies.  
READ ALSO: Nigeria and China finalize currency swap deal; The low down explained
"The greenback appears best positioned as global currency values retreat, with all facing unlimited supply.  
"Tether and stable coins are gaining traction as vehicles for dollar exposure without intermediaries and for transferring value among the numerous highly speculative and volatile crypto assets."