Bears maintain hold despite positive Dangote Cement results
The Nigerian Stock Exchange ended the third trading session for the week on a negative note. The All Share index closed today's trading session down 0.71%. Year to date, the market, the market remains in the green up 2.59%.
Top Gainers and Losers 
Neimeth International Pharmaceuticals was the best performing stock today. The stock gained 9.84% to close at N0.67. PZ Cussons Nigeria appreciated 9.35% to close at N13.45. NPF Microfinance Bank rounds up the top three gainers for the day, up 8.72% to close at N1.62.
On the flip side, Union Diagnostics and Clinical Services was the worst performing stock today. The stock shed 9.68% to close at N0.28. Oando was next, declining by 9.66% to close at N6.55. Wema Bank rounds up the top three losers for the day, declining by 8.24% to close at N0.78.  
Top Trades by volume 
Diamond Bank was the most actively traded stock today. 187million shares valued at N466 million were traded in 135 deals. Fidelity Bank was next with 45 million shares valued at N108 million traded in 174 deals. Access Bank rounds up the top three most actively traded with 33 million shares valued at N204 million traded in 345 deals.  
Corporate Actions
Dangote Cement FY 2018 results
Dangote Cement released its audited full-year 2018 results. Revenue increased from N805 billion in 2017 to N901 billion in 2018. Profit before tax rose from N289 billion in 2017 to N300 billion in 2018. Profit after tax jumped from N204 billion in 2017 to N390 billion in 2018
The company also announced the resignation of its Chief Financial Officer Brian Egan, effective Thursday, February 28, 2019. The move is a voluntary one by Egan, to enable him to return to Ireland and spend more time with his family.
Newrest ASL placed on full suspension
Newrest ASL Nigeria Plc shares were today placed on full suspension. This suspension is required to prevent further trading in the shares of Newrest ASL and in order for the Company to comply with the post-approval requirements which will precede its final delisting from the NSE.
Facebook, Instagram and WhatsApp user base top 3.3 billion, Q4 revenue of $28 billion
More people are spending their time online on the bias COVID-19 pandemic has negatively disrupted social mobility.
The world's biggest social media company, Facebook, recently posted its fourth-quarter earnings which were better than what many stock market experts had expected, against a backdrop of growing regulatory and political challenges.
Facebook, Instagram, and WhatsApp now have a combined user base of 3.3 billion to get their messages out.
Facebook itself has about 2.8 billion monthly users, beating the Wall Street market prediction of 2.76 billion, as humans spend more of their activities online on the basis that the COVID-19 pandemic has negatively disrupted social mobility.
Here are highlights of key metrics expected versus the comparable year-ago quarter, according to a Bloomberg consensus forecast of Wall Street analysts:
Revenue: $28 billion vs $26.407 billion estimated; $21.082 billion in Q4 2019.
Earnings per share (Adjusted): $3.88 vs $3.54 expected; $2.56 in Q4 2019.
Ad Revenue: $27.19 billion vs. $26.07 billion expected; $20.74 billion in Q4 2019.
Daily Active Users (DAU): 1.84 billion vs 1.828 billion estimates; 1.66 billion in Q4 2019.
"We believe our business has benefited from two broad economic trends playing out during the pandemic. The first is the ongoing shift towards online commerce.
"The second is the shift in consumer demand towards products and away from services." Facebook CFO, Dave Wehner, said.
Capital expenditures including principal payments on finance leases, were $4.82 billion and $15.72 billion for the fourth quarter and full year of 2020, respectively.
Cash and cash equivalents and marketable securities were $61.95 billion as of December 31, 2020.
However, in spite of an impressive earning resulted posted by the world's most valuable social media company, Facebook shares tanked by more than 3% on the consideration that the company printed a blurry outlook amid growing regulatory concerns and stiff competition.
"We also expect to face more significant ad targeting headwinds in 2021. This includes the impact of platform changes, notably iOS 14, as well as the evolving regulatory landscape. While the timing of the iOS 14 changes remains uncertain, we would expect to see an impact beginning late in the first quarter," Dave Wehner said.
iPhone users top 1 billion, Apple posts revenue of $111.4 billion
The company passed 1.65 billion total installed devices worldwide in the quarter, with the installed base of iPhone topping 1 billion.
The world's most valuable listed company, Apple, printed better-than-expected results for its fiscal first quarter on the basis that users acquired more Macs, iPads, iPhones, and other Apple products at a record pace. Apple's sales also beat stock market experts' expectations.
However, Apple shares were down on account that the company failed to provide guidance for the December quarter, which made some investors jittery, thereby shorting the stock.
On a conference call with stock market experts and journalists, Apple's CEO, Tim Cook, disclosed the company passed 1.65 billion total installed devices worldwide in the quarter, with the installed base of iPhone topping 1 billion.
Overall, Apple printed a revenue of $111.4 billion, up 21% from the year-earlier quarter, and profits of $1.68 a share. That was well above the Wall Street consensus of $102.8 billion and $1.40 a share.
"This quarter for Apple wouldn't have been possible without the tireless and innovative work of every Apple team member worldwide," said Tim Cook. "We're gratified by the enthusiastic customer response to the unmatched line of cutting-edge products that we delivered across a historic holiday season."
The three months ended Dec. 31 were also strong for Apple laptops and tablets. For iPads, sales were $8.4 billion, up 41%, and ahead of the stock market expert prediction of $7.4 billion.
Apple sales gained about 12% in the Americas, 57% in Greater China, and 17% in Europe, with gains of 33% in Japan and 11.5% in the rest of Asia.
The tech company's wearables sales posted incredible numbers as well, with gains of 30% to $13 billion, ahead of the stock market experts' prediction at $11.5 billion. And services revenue jumped 24% to $15.7 billion, ahead of the Street consensus at $15.2 billion.
"We are also focused on how we can help the communities we're a part of build back strongly and equitably, through efforts like our Racial Equity and Justice Initiative as well as our multi-year commitment to invest $350 billion throughout the United States."
"Our December quarter business performance was fueled by double-digit growth in each product category, which drove all-time revenue records in each of our geographic segments and an all-time high for our installed base of active devices," said Luca Maestri, Apple's CFO.
"These results helped us generate a record operating cash flow of $38.8 billion. We also returned over $30 billion to shareholders during the quarter as we maintain our target of reaching a net cash neutral position over time."
Apple's Board of Directors has declared a cash dividend of $0.205 per share of the company's common stock. The dividend is payable on February 11, 2021, to shareholders of record as of the close of business on February 8, 2021.
The most valuable tech company had posted gains of over 80% in 2020 as the Dow Jones Industrial Average, of which it is a component, has risen about 6%.
Naira gains at black market as external reserves improves on higher oil prices
The exchange rate at the black market where forex traded unofficially appreciated at N478/$1.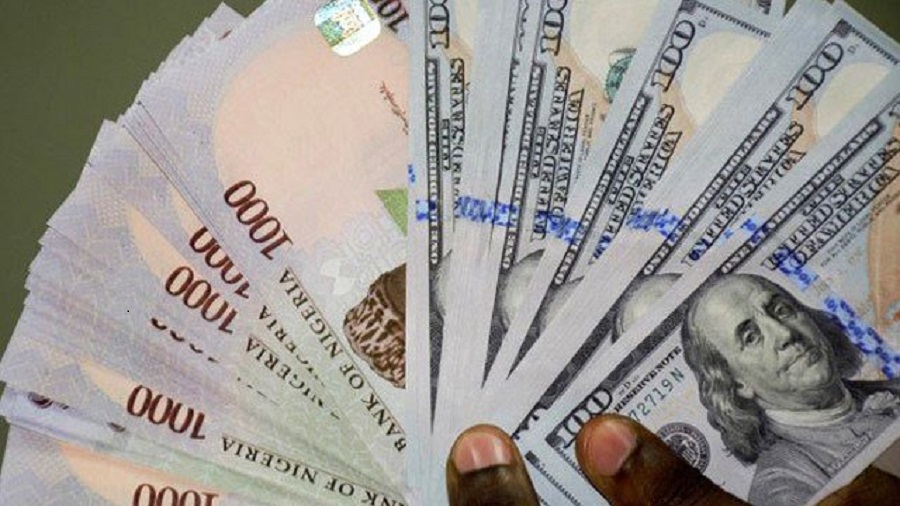 On January 27, 2021, the exchange rate at the black market where forex traded unofficially appreciated at N478/$1. The exchange rate at the parallel market closed at N480/$1 on the previous trading day of January 26, 2021, representing a N2 gain.
Why Naira is appreciating
This can be attributed to moderate demand for dollars in the face of tight liquidity in the foreign exchange market.
The CBN has also suggested that the dramatic improvement in the country's external reserve is due to an increase in global crude oil prices. This has increased the capacity of the apex bank to intervene in the foreign exchange market.
To streamline supply and ensure there is enough to meet rising demand, the CBN moved to ensure strict monetary control of the forex market threatening to expel exporters who refuse to remit foreign exchange proceeds in the NAFEX market. It also warned against paying diaspora remittances in naira. 
The CBN may have also confirmed the forex pressures businesses are facing in its monetary policy communique of January 26, 2020, when it cited it as a reason for the weak purchasing managers index.
"This weak performance was attributed to the resurgence of the pandemic, foreign exchange pressures, increased costs of production, a general increase in prices and decline in economic activities."
Trading at the official NAFEX window
The Naira depreciated marginally against the dollar at the Investors and Exporters (I&E) window on Wednesday, closing at N394.25/$1. This represents a 25 kobo drop when compared to the N394/$1 that it closed on the previous trading day.
The opening indicative rate was N394.06 to a dollar on Wednesday, representing a 46 kobo drop when compared with the N393.60 to a dollar that was recorded on Tuesday, January 26, 2021.
The N396 to a dollar was the highest rate during intra-day trading before it closed at N394.25 to a dollar. It also sold for as low as N385/$1 during intra-day trading.
Forex turnover at the Investor and Exporters (I&E) window dropped by 52.45% on Wednesday, January 27, 2021.
According to the data tracked by Nairametrics from FMDQ, forex turnover declined from $108.34 million on Tuesday, January 26, 2021, to $51.51 million on Wednesday, January 27, 2021.
Oil price steady rise
Brent crude oil price hit about $55.81 on Thursday morning as US crude stockpiles decrease by about 5.2 million barrels last week. A higher crude oil draw (a decrease in crude oil inventory) is attributed to higher refining activities in the world's largest economy.
Oil prices have been dragging since last week after the IEA released a report that slashed its outlook for oil in 2021.
According to the IEA, "Global oil demand is expected to recover by 5.5 mb/d to 96.6 mb/d in 2021, following an unprecedented collapse of 8.8 mb/d in 2020. For now, a resurgence in Covid-19 cases is slowing the rebound, but a widespread vaccination effort and an acceleration in economic activity is expected to spur stronger growth in the second half of the year.
"After falling by a record 6.6 mb/d in 2020, world oil supply is set to rise by over 1 mb/d this year, with OPEC+ adding more than those outside the bloc. There may be scope for higher growth given our expectations for further improvement in demand in 2H21. After holding flat at 92.8 mb/d in December, global supply is rising this month with OPEC+ due to ramp up during January.
Nigeria needs oil prices to stay above $50 to balance its budget and improve on its 2021 revenue projection of N6.6 trillion for the year.
Nigeria's 2021 budget includes a target crude oil benchmark price of $40/barrel and crude oil production of 1.86 million barrels per day.
Nigeria has a production capacity of 2.5 million barrels per day but is subject to OPEC's crude oil production cuts, which are expected to help sustain higher oil prices.
The higher oil prices and steady production output have positively impacted Nigeria's external reserves, rising sharply to $36.304 million according to central bank data dated January 14, 2020.
This is a sign that higher oil prices and steady output levels may be contributing significantly to Nigeria's foreign exchange position.
Higher oil prices drive up Nigeria's external reserves
The external reserve has dropped for the first time in about 5 weeks to $36.431 billion as of January 26, 2021. However, this is a huge improvement on the $35.373 billion that it was as of December 31, 2020.c
Nairametrics had earlier reported that the government may have taken receipt of the $1-1.5 billion World Bank loan. However, excerpts of the CBN Monetary Policy communique of January 26th suggest the inflows may have been driven by higher oil revenues.
According to the CBN, "On the external reserves position, the Committee noted the increase in the level of external reserves, which stood at US$36.23 billion as at 21st January 2021 compared with US$34.94 billion at the end of November 2020. This reflected improvements in crude oil prices, partial global economic recovery amid optimism over the discovery and distributions of COVID-19 vaccines by most developed economies."
The external reserves have increased by $1.135 billion since December 31, 2020, when it closed the year at $35.3 billion.
Nigeria also needs the external reserves to hit $40 billion if it is to adequately meet some of the pent up demand that has piled up since 2020 when oil prices crashed and the pandemic caused major economic lockdowns.