Analysts predict 2.25% GDP growth in 2019
Analysts at Coronation Research have a GDP growth forecast of 2.25% y/y for the twelve months ending December 2019. The analysts made this known in their report issued following the release of  Q4 2018 GDP numbers by the National Bureau of Statistics.  
Here are excerpts from the report.
Q4 2018 GDP was reported today at +2.38% y/y versus the Bloomberg consensus estimate of +2.10% y/y. Non-oil growth was a respectable +2.70% y/y and has accelerated over the past four quarters. See page 2.
FY 2018 GDP was +1.93% y/y, compared with +1.76% y/y for 9M 2018 and +0.82% y/y for 2017. The World Bank's revised estimate for 2018 was +1.90% y/y.
While below trend, growth is on a gentle upward slope. We forecast +2.25% y/y growth for 2019.
Positive implications for equities. Lack of loan growth was the bugbear for listed banks in 2018: more growth, particularly in the Telecoms and Manufacturing sectors, may point to renewed loan demand in 2019, though the large Trade sector (up by just 1.02% y/y) remains essentially weak. Segmental data for construction, +2.05% y/y, bodes well for the cement industry.
Mildly positive for market interest rates. As we argue in Coronation Research, Year Ahead 2019, A tale of two halves, 15 January, market interest rates support foreign portfolio investment, but may be cut in Q4 or even Q3 2019 if inflation moderates. We are already seeing some read-though in 10-year bond yields.
Mildly positive for inflation. The Agriculture segment (26% of GDP) showed improved growth (+2.46% y/y) and to the extent that this reflects improved production, we expect inflationary pressure to moderate towards mid-year, if momentum is sustained.
Non-oil & gas GDP 
Robust performance in Non-oil GDP  
Non-oil GDP accelerated throughout 2018, growing steadily from +0.76% y/y in Q1 18 to +2.70% y/y in Q4 18. We see a pattern emerging as the economy emerged from recession. Whereas GDP was reliant on its oil component to stimulate growth for much of the past, and therefore highly susceptible to volatility in the prices and production, non-oil GDP has become more resilient to such shocks. The Q3 2017 0.76% y/y decline in non-oil GDP now reads as an isolated event post-recession.  
This resilience is even more impressive given that Agriculture is not growing as quickly as it did in 2016 and 2017, while Trade and Manufacturing have performed inconsistently. We expect Agriculture to post a very gradual recovery to its trend growth rate of 3%. 
More recently Telecoms has been the main driver of growth in non-oil GDP. The sector grew 11.33% y/y for FY 2018. it is easily the best performing sector of the top six contributors to GDP well above Agriculture which grew by 2.12% y/y for FY 2018.  
On the other hand, Oil & Gas GDP has underperformed in 2018, following one quarter of positive growth (Q1 2018, 14.77% y/y) with three consecutive quarters of year-on-year decline. The volatility of Oil and Gas itself is not surprising – in the last eight years it has recorded growth rates between +24.21% y/y and -23.04% y/y.  
GDP Breakdown 
Breakdown among the major segments 
The top six sectors accounted for 74.10% of the Nigerian economy in Q4 2018, down 406bps from their collective contribution in Q3 2018. In order of size they were Agriculture, Trade, Telecoms, Manufacturing, Oil and Gas, and Real Estate.  
In Q4 2018 Agriculture (25.83% of GDP) grew by 2.46% y/y. Trade (16.29% of GDP) grew by 1.02% y/y. Telecoms (9.73% of GDP) grew by 16.67% y/y. Manufacturing (8.75% of GDP) grew by 2.35% y/y. Oil & Gas (6.97% of GDP) contracted by 1.62% y/y. And Real Estate (6.52% of GDP) fell by 3.85% y/y.  
Therefore, of the six largest sectors, four grew and two contracted.  Agriculture sustained its upward track towards trend growth of 3%, indicating, a slowdown in core inflation is likely in the medium term. Manufacturing performance and PMI data are now showing signs of convergence after a period of disconnect. Telecoms consolidated it status as a core stimulant for non-oil GDP growth having reported double-digit growth over the last three quarters. Oil & Gas recorded a third consecutive quarter of year-on-year decline period post-Q1 17, mirroring the global trend in oil prices. Trading was up for two consecutive quarters. Real Estate remained in a sticky decline, with no clear pattern emerging in its development. 
The growth in Agriculture remains at just below its 3% long term trend. At 26% of GDP, its provides a defense against the steep volatility that characterizes the Oil & Gas component.    
Trade remains weak but positive 
While a small percentage of consumers assess short-term unsecured credit for current consumption, most consumers fund consumption from out of pocket appropriations. The effect is some headroom for import-elastic consumption but also more importantly, demand for cheaper substitutes where possible. Trade growth suffers in this regard. 
Positive growth in Manufacturing is being sustained by stability in the foreign exchange market, a feat achieved by the CBN's willingness to supply US dollars to the foreign exchange markets, while offering inflation-adjusted yields in excess of 500bps to foreign investors. The combined growth in both Trade and Manufacturing, two sectors highly responsive to consumers wallet sizes and expectations, point to a pass-through of election-induced spending in the short term and broader recovery in the economy.  
Swing Sectors 
Telecoms – conditions at their best in years 
The Telecoms sector (9.73% of GDP), grew by 16.67% y/y in Q4 2018.  Building on its Q3 18 performance, the sector extended gains to post an 11.33% year-on-year growth among peers with contribution to GDP above 6.00%.  
Telecoms segment of GDP, y/y growth 
Strong growth in Telecoms reflects new investments, growing franchises and growth in internet and mobile banking. A deeper penetration of data-reliant devices in the Nigerian market, and an increasing migration of media services to internet-driven platforms otherwise traditionally offered off-net explain the strong performance. We expect Telecoms to leverage participation as Payment Service Banks and sustain growth going forward
Oil & Gas GDP continues to exhibit volatility. Nigerian oil production was flat year-on-year and up 1.33% q/q in Q4 2018. However, actual cargo loadings from exports terminals declined by 7.29% q/q and 5.53% y/y in Q4. This, together with an average quarterly price below US$70.00bbl, partly explains the slide in Oil & Gas GDP for the quarter. A degree of volatility in production is likely to be addressed by the new Egina Oil field but Nigeria remains exposed to price volatility. 
Pattern of growth and outlook for 2019 
Q4 2018 GDP growth outperformed the Bloomberg consensus estimate of 2.10% y/y. While some of this growth may have been induced by election-related demand, we believe that more fundamental factors, in particular, Naira foreign exchange stability, are at work. 
Monetary policy is less likely to change in response to the latest development in GDP, at least in H1 2019. Real growth of 1.93% for FY 2018 was achieved on the back of adjustments in fundamental variables, in our opinion. For instance, demand for loans was weak but we do not read this as an effect of market interest rates 300pbs above the Monetary Policy Rate (MPR). Prime lending rates data show a standard deviation of only 1.05pps since 2006, suggesting that interest rates are seldom low. We expect a positive shift in manufacturers' and investor' confidence, to have spurred growth, irrespective of interest rates. 
Fiscal policy, in so far as it relates to government spending, is limited in contributing to real sector growth by its sheer smallness relative to the economy as a whole. Increasing debt servicing costs further squeeze government revenues and implementation of capital expenditure.  
However, the trend in Agriculture is positive. Even more so is the performance of the Telecoms sector which headlined overall growth in Q4.  A stable exchange rate remains the platform for Trade and Manufacturing to rebound though slack demand are likely to keep growth capped. 
Downside risks to GDP growth remain from the risk of declining crude production levels and oil price volatility, as well as the performance of Real Estate. Nevertheless, we expect our base case GDP forecast of 2.25% y/y for 
Naira depreciates at 5 years forwards market, now N570 to $1
Nigeria's 5 years onshore Non-Deliverable forward contract posted its biggest drop by plunging 27% from N413.36 to close at N569.69.
Nigeria's 5 years onshore Non-Deliverable forward contract posted its biggest drop by plunging 27% from N413.36 to close at N569.69 a price differential of N156.  The 1-year Non-Deliverable forward contract was down 5% from N394.29 to close at N421.22 a price differential of N26.93.
One month NDF is now N395/$1 suggesting an imminent devaluation in the I&E window which could also impact the current official exchange rate of N360/$1 as well as the BDC rate which was devalued to N370/$1 some weeks back.
A forward market is an OTC market platform that fixes the price of a financial asset for future delivery. Forward markets are used for trading a range of instruments, especially in the foreign exchange market.  Forward currency contracts are used by traders, investors to lock in a currency's exchange on a date agreed on.  
Non-Deliverable forwards allow hedging of currencies where fiscal regulators ban foreign access to local currency or the parties want to remunerate for risk without the physical exchange of cash. 
READ ALSO: Possible impacts of last week's CRR debit on banks' balances by the CBN
See changes;
Nigeria's central bank has been struggling to stabilize Nigeria's currency exchange rate because of historical low crude prices and the shutdown of economic activities in major cities of Nigeria  
Plunging crude oil prices has negatively disrupted the economy of Africa's biggest oil producer, just as the onslaught of Covid-19 closed businesses and disrupted human activities of people to contain. Nigeria's central bank devalued the naira against the dollar in March but is still under pressure to devalue the naira even further amid a scarcity of U.S dollars and poor export earnings. 
READ MORE: External reserves to fall below $30 billion, more forex restrictions expected
What this means: This depreciation is a clear indication of the supply gap that currently exists in the foreign exchange market. Demand is high but not enough supply to stabilize the exchange rate. As things stand, the CBN will struggle to support the exchange rate as it did in 2017 when it newly introduced the I&E window. Back then, oil prices picked up and the government also received proceeds from its Eurobond offers.
The CBN's expensive rate induced monetary policy also helped keep foreign dollars within Nigeria. The situation has changed from then as oil prices remain depressed and the economy is still reeling from the Covid-19 lockdowns.
There is also likely going to be more depreciation of the naira if things remain the same. Sources with connection to the megabanks inform Nairametrics that as things stand, most local businesses that rely on foreign inputs with significant dollar demand will either have to pivot sourcing locally or go bankrupt.
READ MORE: IMF list unpopular policies CBN must reverse
Meanwhile, the naira had hit N460 last week at the black market (its weakest level in three years), as dollar scarcity crippled the market. The naira was selling at N442 to a dollar at the black market today according to the Everdon bureau de change. The black market rate remains 16% lower than the official exchange rate which is pegged at N360.  
Nigeria's top 10 agricultural exports attract N206.16 billion in 9-month 
Nigeria's agricultural export sector experienced strong growth in 2019, according to the latest report released by the NBS.
Nigeria's agricultural export sector experienced strong growth from January to September 2019. The latest report released by the National Bureau of Statistics (NBS) shows that the nation's top 10 agricultural exports attracted N206.16 billion by the end of September 2019.  
According to the report, Nigeria's top 10 agricultural exports rose by 14.1%, from N180.67 billion in the first three quarters of 2018 (January to September) to N206.16 billion in the corresponding period of 2019.  
Ses
amum seeds top
Nigeria's biggest 
Agric
 export
Based on the Bureau's report, Nigeria's major agricultural exports in the first three quarters of 2019 include sesamum seeds (whether or not broken, sesame oil and its fraction), cocoa, cashew nuts, frozen shrimps and prawns, ginger, agro-food items, flowers, and flower buds, and plants used for perfumery and coconuts.  
Sesamum seeds 

have 

remain

ed

 Nigeria's

 biggest earner

 

of all 

agricultural 

exports

 in the pas

t years. The trend continued into the third quarter of 2019 as N77.04

 billion worth of 

s

esamum seeds

, 

s

esamum oil and its fraction

 were exported from Nigeria. 

 

Further analysis shows that 

Japan, Turkey

, China, Germany, and

V

ietnam 

are Nigeria's biggest markets for 

se

samum seeds.

 

The second most exported agricultural goods from Nigeria was 

c

ocoa. Nigeria exports

f

ermented 

c

ocoa 

b

eans, raw cocoa, an

d natural cocoa butter. 

 

In the first three quarters of

 2019, Nigeria exported N66.73 billion worth of 

c

ocoa to countries like

 the

 

Netherlands, Malaysia, Germany, Belgium, and Spain.

 

Also, 

Nigeria's third-biggest agricultural export was

 c

ashew nuts, both shelled and unshelled. According to the report, Nigeria exported N45.6

 billion worth of 

c

ashew nuts between January and September 2019. 

They

 

we

re exported to Vietnam, the United States, Russia, Germany, and Italy

.

 
[READ MORE: Nigeria's top 10 agricultural exports hit N152 billion in half-year 2019)
Other goods on the list of Nigeria's top 10 agricultural exports chain are frozen shrimps and prawns (N7.46 billion), ginger (N3.34 billion), agro-food items (N1.84 billion), flowers and flower buds (N1.59 billion), plants used for ornamental purposes (N1.59 billion), coconuts in the inner shell (N800.99 million) and cotton (N609.33 million). 
Agric
 sector in deficit as i
mport
continues to drag sector down
Despite the huge potential in Nigeria's agriculture sector, the country still imports a large chunk of agricultural goods. According to the NBS report, Nigeria imported N949.8 billion worth of agricultural goods in the period under review.  
Analysis of import and export of agricultural goods shows that the imports are largely more than exports, dragging Nigeria's agricultural sector's trade balance in the deficit region. 
As of September, Nigeria's agricultural imports

stood at

 N949.8 billion, while export was put at N401.68 billion. This means 

that 

the sector

 recorded a negative trade balance of N548.17 billion. 

 

Major items imported into Nigeria include wheat (

s

eeds and not in seeds), 

f

rozen foods, 

f

ish (Mackerel), 

and 

crude palm oil

 

among others. 

 
Despite the improved contribution of the agricultural sector to GDP to 29.25% in the third quarter of 2019, the sector has failed to replicate the growth (3.17%) recorded in the first quarter of the year.  
[READ ALSO: Latest: Top 10 agricultural exports from Nigeria)
Clearly, Nigeria's agricultural sector still needs huge investments and

 

effective

 policies to achieve its potential. While the government has implemented a plethora of policies, the agricultural sector fa

iled to show much-needed growth. 

 

In order to boost domestic production and stimulate growth in the sector, the government recently restricted foreign exchange for the importation of staple foods and frozen items. 

 

Meanwhile, c

ritics of the government continue to point 

at

 billions of naira spent on 

policies

 like

 the

Anchor Borrowers Programme (ABP). ABP is a policy targeted at creating a linkage between anchor companies involved in the processing

of Agric

 products 

and smallholder farmers of the required key agricultural commodities

, which

 

has

 not 

yielded

 the much needed positive results.

 
Nigeria's Inflation rose to 11.24% in September 2019
Nigeria's consumer price index, which measures inflation increased to 11.24% in September 2019. This was revealed in the latest inflation report released by [@nigerianstat]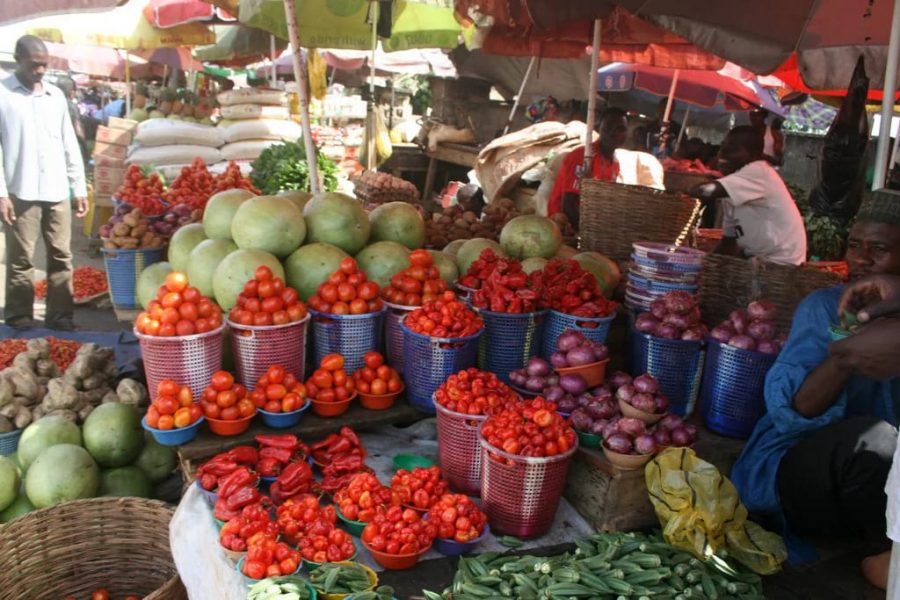 Nigeria's consumer price index, which measures inflation increased to 11.24% in September 2019. This was disclosed in the latest inflation report released by the National Bureau of Statistics (NBS).
According to the NBS report, inflation rose by 0.22% points, higher than the 11.02% recorded in August and 11.08% for July 2019.
Similarly, food inflation rose to 13.51% compared to 13.17% in the previous month. Also, Core inflation rose to 8.94% from 8.68% recorded in August 2019.
The Food Index
In September 2019, food inflation rose to 13.51% from 13.17% recorded in the previous month. The average change of the food sub-index over the 12 months average was 13.47%, which was 0.01% higher than the average annual rate of change (13.46%) recorded in August 2019.
According to the Bureau, the rise in the food index was caused by increases in prices of bread and cereals, oils and fats, meat, potatoes, yam and other tubers, fish and vegetables.
On a month-on-month basis, the food sub-index increased by 1.30% in September 2019, up by 0.08% points from 1.26% recorded in August 2019.
Core Inflation
Nigeria's core inflation, which proxies all items less farm produce, stood at 8.94% in September 2019 as against 8.94%. On a month-on-month basis, the core inflation sub-index increased by 0.89% from 0.67% recorded in August.
Details provided by the NBS showed that the highest increases were recorded in prices of cleaning, repair and hire of clothing, repair of household appliance, hospital services, major household appliances, glassware, tableware and household utensils, spirits, clothing materials, other articles of clothing accessories, garment and repair and hire of footwear.
[READ: Scarcity of imported rice hits major markets, as dealers pack local rice in foreign bags]
Rural and Urban Inflation
The report showed that the urban inflation rate increased by 11.78% (year-on-year) in September 2019 from 11.48% recorded in August, while the rural inflation rate increased by 10.77% in September 2019 from 10.61% in August 2019.
On a month-on-month basis, the urban index rose by 1.13% in September 2019, up by 0.09 from 1.04% recorded in August 2019, while the rural index also rose by 0.96% in September 2019, up by 0.03 from the rate recorded in August 2019 0.93%.
Insights
The latest inflation report implies a fast rise in the prices of overall goods and services in the economy. According to the latest inflation report, it showed that Nigeria's inflation rose to three months high.
Basically, the country's inflation rate had dropped from 11.40% in May to 11.02% recorded in August 2019. The drop in inflation rate in August represented the slowest inflation rate recorded in over three years.
Meanwhile, the NBS noted in its August inflation report that the border closure had not started to reflect on the economy as the border was only closed on 20th August 2019 with only 11 days of 31days
Hence, the rise in inflation suggests that the significant impact of border closure has started to reflect on commodity prices.
Recall that since the border closure, Nairametrics reported that prices of food items like rice, frozen chicken, tomatoes and other food items had snowballed.
The rise in inflation may not necessarily come as a surprise as analysts expected the rise due to the recent policy measures which include complete closure of the Nigerian land borders.
[READ ALSO: FG orders complete border closure, bans movement of goods]
In the meantime, the latest increase in the inflation rate means the purchasing power of consumers to buy goods and services deteriorated. That is, the ability of consumers to buy the same quantity of goods with the same income level has worsened.
While this affects the consumers, firms producing consumer goods and other services may also witness a slowdown in inventory, as demand is expected to drop, which may affect revenues generated overtime.