E-transactions fraud to hit N6.1 trillion by 2021
CBN raises alarm over increment in electronic banking fraud
The Central Bank of Nigeria (CBN) has disclosed that electronic banking fraud in Nigeria will hit N6.1 trillion by 2021. This was made known by CBN's Director of Consumer Protection Department, Sunday Salam-Alada.
While speaking at the ongoing workshop for Business Editors and Finance Correspondents organised by Nigeria Deposit Insurance Corporation (NDIC) in Benin, Salam-Alada said the volume and value of e-transactions are projected to continue to increase nationally and globally.
Salam-Alada, represented by Mr Ibrahim Hassan, Director of Research, Policy, International Relations Department at NDIC, said it was due to broader ecosystem scope, the evolution of channels, adaptability to disruptive innovations and modes payment.
According to him, other reasons included increased inclusion and evolving technologies.
Nairametrics had reported that in view of addressing losses that emanate from cybercrime and technology risk in the financial sector, the CBN was considering revamping the modalities of banking regulations.
The apex bank through its Deputy Governor, CBN, Aishah Ahmad, stressed the need to redesign regulations that will address cybercrimes and technological risks that may arise from emerging modern financial firms in the country.
Cybercrimes: Nigerian banks and customers are at risk
Meanwhile, a notorious hacker, Michael Thompson Williams, who was arrested in May this year in Lagos by the Nigeria Police, revealed how susceptible Nigerian banks are to cyber attacks. He described Nigerian banks as very easy to hack.
The 28-year-old, who is a qualified Medical Doctor, has mastered the art of using Cyber Ghost 12 to create fake credit cards with which he used to manipulate genuine transactions.
For years, he successfully carried out illegal activities. Prior to his arrest, he had bought a Porsche car valued at ₦28 million and sent a fake credit alert to the dealership using HTTPtunnel.com. Unfortunately for him, he was tracked down and arrested.
Hackers like Williams abound in Nigeria. Daily, these criminals steal money from banks and bank customers alike. Therefore, there is indeed a need for the Central Bank of Nigeria to work together with CIBN towards finding a solution to the problem.
Best payment gateway platforms to avoid scams in your business
A payment gateway is a technology used to accept and hasten debit or credit card purchases from customers.
Many businesses in Nigeria have adopted the online payment method because it is safe, fast, secure, and convenient. In recent times, fintech startups in Nigeria have developed safer payment channels to help businesses conveniently receive online payments.
What is a payment gateway?
A payment gateway is a technology used by merchants to accept debit or credit card purchases from customers. Integrating a payment gateway into your business is highly beneficial as it offers a more secure transaction process for your customers. It can also expand your customer base exponentially because many people will have access to your business at all times. The payment gateway offers faster transaction processing and customers can avoid the inconvenience of long queues.
In Nigeria, there is a wide range of payment gateways to choose from as a business owner. Before choosing a payment provider, you have to find out what each provider is offering and at what cost. Also, look out for PCI-compliant and SSL certificates in order to avoid security problems.
Here is a list of the top payment gateway providers and what they offer.
---
Paystack
Paystack is a growth engine for a new generation of innovative, forward-looking organizations operating in Africa. The company makes it easy for businesses to accept secure payments from multiple local and global payment channels, while also providing tools to help you retain existing customers, and acquire new ones.
Onboarding and approval take approximately 30 minutes, Paystack accepts payment in USD, GHC, NGN; and offers a wide range of payment methods like Card, Bank Account, Bank Transfer, USSD, Visa QR, and Mobile Money.
Pricing
Integrating Paystack is 100% free.
Paystack charges 1.5% + ₦100 for local transactions and 3.9% + ₦100 for international transactions.
₦100 fee is waived for transactions less than ₦2500.
---
Flutterwave
Flutterwave provides the easiest and most reliable payment solution for businesses anywhere in the world. The company makes it easier for Africans to build global businesses that can make and accept any payment, from anywhere across Africa and beyond.
Onboarding and approval happen immediately. Flutterwave offers a wide range of payment methods like Mastercard, VISA, Bank Account, USSD, Bank Transfer, POS, and Visa QR (for local payments); and Mastercard, VISA, and AMEX (for international payments).
Pricing
Integrating Flutterwave is free.
Flutterwave charges 1.4% for local transactions and 3.8% for international transactions.
Processing fees are capped at a maximum of NGN 2,000.
---
Remita
Remita is a payment solution that helps individuals and businesses make and receive payments, pay bills, and manage their finances across multiple banks. Remita accepts payment in Naira and USD.
Remita offers a wide range of payment methods including Internet Banking, Debit/Credit Cards, Bank Branch, POS Terminals, Mobile Wallet, Cash Agents, mPOS, Direct Debit, Standing Order, and Electronic Purse.
Pricing
Setting up Remita for your business is free.
Remita charges 2% for local transactions and 4% for foreign transactions.
---
Interswitch Webpay
Interswitch is Nigeria's leading technology-driven digital payments company, helping to shape the payments ecosystem across the growing e-commerce sector in Africa. Interswitch offers a wide range of payment methods including all Nigerian cards, Verve, MasterCard, and Visa. Onboarding and approval take 1 – 2 weeks approximately.
Pricing
Interswitch charges a one-time integration fee of N150,000.
For transactions below N133,333, a fee of 1.5% applies, and N2,000 flat fee for transactions above N133,333.
---
PayU
PayU is a global payment platform that provides a secure way for individuals and merchants to accept and process online payments without the need for their own websites. PayU offers a variety of payment methods including Mastercard credit and debit cards, Verve, Visa and EFT bank transfer.
Pricing
PayU has a free setup cost.
It has a 2% service charge on all transactions.
---
Voguepay
Voguepay is an online payment gateway that allows businesses to process payments in any currency from customers all around the world. Vogue accepts payments via local and international payment methods including Verve, Visa, Mastercard, Bank Transfer, and Voguepay wallets.
Pricing
Vogue pay charges N1500 (with Corporate Affairs Commission Certificate) and N2500 (with Government issued Identity cards) for setup.
Local transactions attract a 1.5% charge, while international transactions attract a 3.8% charge.
Onboarding and approval to Voguepay take between 1-5 days.
---
Monnify
Monnify is a payment gateway that allows businesses to seamlessly process payments from customers from multiple payment channels. It provides an easier and faster way for businesses to receive payments from customers on their web and mobile applications.
Monnify accepts payments via USSD, Internet banking, mobile banking app, and all Nigerian debit cards.
Pricing
Monnify setup fees and maintenance costs are free.
The fee for account transfers is capped at N500 per transaction or a flat rate of N300 (excluding VAT).
The card fee is capped at N2000 per transaction.
---
Adopting a payment gateway for your online business can reduce the risk of fraud and also help you retain your customers. This means that your business is open 24/7 and your customers can shop at any time from the comfort of their homes.
Lack of vaccine access will reduce Africa's economic growth compared to rest of world – IMF
IMF forecasts that Nigeria is expected to grow by 2.5% in 2021 and 2.3% in 2022.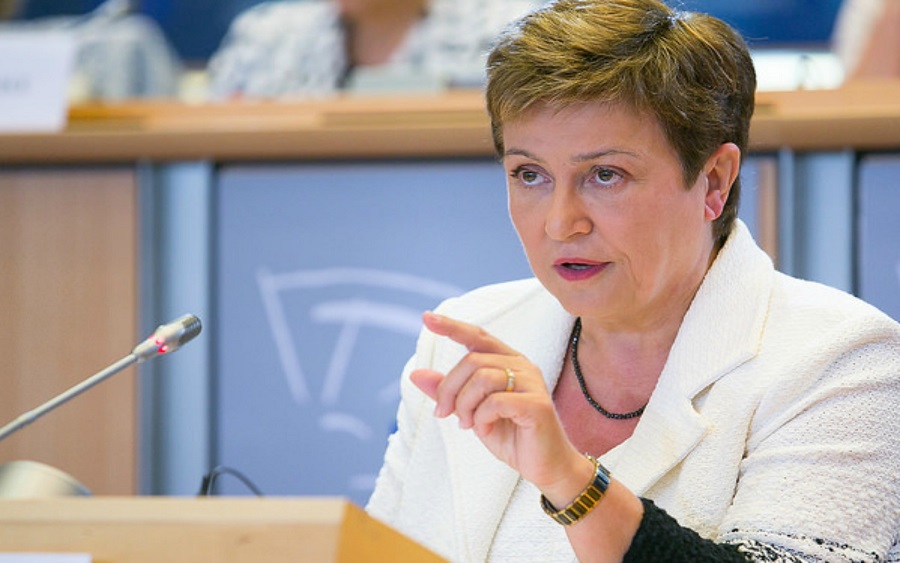 The International Monetary Fund (IMF) has stated that a continued lack of access to vaccines will see Africa's projected growth at 3.4% compared to the rest of the world at 6%.
The IMF disclosed this in its Regional Economic Outlook for Sub-Saharan Africa, April 2021, which was published on Thursday.
What the IMF said
Despite turning out better than expected, growth in 2020 is estimated to have been the worst on record at –1.9 %, leading to a sharp spike in poverty.
In 2021, the region's economy is expected to resume expansion at 3.4%, weaker than the 6% for the rest of the world, amid a continued lack of access to vaccines and limited policy space to support the crisis response and recovery.
Macroeconomic policies will in many countries entail some difficult choices. Saving lives remains the first priority, which will require access to affordable vaccines, ensuring that the logistical and administrative prerequisites of vaccination rollouts are in place, targeted containment efforts, and added spending to strengthen local health systems.
The IMF urged that African leaders needed to create more fiscal space and implement transformative reforms to unlock economic growth. These include mobilizing domestic revenue, strengthening social protection, promoting digitalization, and improving transparency and governance.
The body added that the need for reforms is to reduce debt and find a sustainable footing which would be a catalyst for longer-term growth and provide opportunities for the region's new job seekers.
On growth projections
IMF forecasts that Nigeria is expected to grow by 2.5% in 2021 and 2.3% in 2022.
South Africa is expected to grow by 3.1% in 2021 and 2.0% in 2022.
Kenya is expected to have higher growth at 7.6% in 2021 and 5.7% in 2022.
Meanwhile, Ghana is forecasted to grow by 4.6% in 2021 and 6.1% in 2022.
In case you missed it
Nairametrics reported earlier this month that the International Monetary Fund had lifted its global growth outlook to 6% in 2021 (0.5% point upgrade) and 4.4% in 2022 (0.2 percentage point upgrade), after an estimated historic contraction of -3.3% in 2020, due to the effects of the COVID-19 pandemic.
Nairametrics | Company Earnings
Access our Live Feed portal for the latest company earnings as they drop.