E-Settlement Partners Seriate for acquisition and deployment of 20,000 mPOS
Nigeria's fastest growing agency banking provider, E-Settlement has partnered Seriate Limited.
Nigeria's fastest growing agency banking provider, E-Settlement has partnered Seriate Limited, a Tech focused investment company to acquire and deploy up to 20,000 pieces of Mobile Point of Sale (mPOS) within the next 12 months in Nigeria.
This was disclosed during an agreement signing ceremony between the two companies on Monday, November 12th in Victoria Island, Lagos.
Olaoluwa Awojoodu, the CEO and Co-founder of E-Settlement, described the partnership as an extremely good opportunity for E-Settlement to quickly grow into the largest agent banking platform in Nigeria. He said the company which himself and three of his colleagues started has been growing at over 200% in transactions, year on year.
He said "when we launched PayCentre in 2016, we processed over N3.2bn in transactions. The following year, that number sky rocketed to N20.5bn as we continued to deploy devices. This year, by the end of October, we have already crossed N60 billion in transaction. I believe, we will close the year with over N70 billion in transaction with under 2,000devices."
Olaoluwa also noted that agency banking is one of the best ways to bank the unbanked in the country. He said with under 6,000 bank branches in the whole country and less than 20,000 ATM machines, 70% of which are in Lagos, it is difficult to serve a population of almost 200 million people mostly living in the rural areas.
On his part, the Chairman of Seriate, Kabiru Rabiu, who is also a Group Executive Director of Bua Group, a leading Nigerian conglomerate, described the partnership as an exciting opportunity to stimulate financial inclusion in the Nigerian economy. Rabiu said that "the founders and management of E-Settlement have demonstrated that they have the capacity to grow the business into the largest agent banking company in Nigeria and indeed one of the largest in the world. I see a company that has a potential to be processing more than a trillion Naira in transaction in the next few years; majority of which will be from the rural areas and that for me, is very impacting" he concludes.
Seriate is also one of the investors in E-Settlement.
PayCentre started agency banking operations/activities in 2016 as the main business unit of E-Settlement Limited. The founders of the platform, Olaolu Awojoodu, Lolade Akinsete, Ayobami Oduwole and Razaq Jinad have been active in the Nigerian Fintech space since 2009, participating on several fintech solutions. PayCentre is today operational in 24 States across the Nation and provide services that include cash in, cash out, fund transfer, bill payments, account opening with new services being on-boarded every month including the ability to transact without internet connectivity as one of its new features. The platform currently has about 1,300 active agents spread across the Nation.
E-Settlement has in the past attracted investment from both local and international funds and investors. Among its investors are Green House Capital, U-Africa of South Africa, Venture Kinetics and Seriate Limited.
Financial inclusion has recently been a buzz word in the Nigerian financial sector given the increasing number of the unbanked and underbanked persons in the country. Enhancing Financial Innovation and Access (EFInA)'s 2016 survey of the Nigerian Access to Financial Services revealed alarming statistics. The report revealed that out of the total adult population (18 years and above) of 96.4 million Nigerians, 59.6 million or 61.9% are based in the rural areas. Only 38.3% of the total are banked, while about 20% are either informally or otherwise financially served. However, over 40 million of Nigerian adult population or 42% of them are completely financially excluded as at 2016, according to the well-respected industry survey.
Looking more closely, the report indicated that out of the 22 million adult population in the North West, more than 70% of such adults are financially excluded (the largest adult unbanked region in the country); compared to 18% of the financially excluded 21 million adults of the South West.
The economic viability of setting up a physical bank branch in many locations within the country has continued to weaken due to initial and concurrent cost structures especially in the remote and rural areas. For this reason, the Nigerian Apex bank has been encouraging different banking solutions aimed at leveraging technology with lower cost profile to serve the unbanked population.
Going into the future, it is clear that the Nigerian financial sector is rapidly gravitating towards more technology-based providers to reach those unbanked or underserved and the investment community is going with them.
In the second half of this year alone, at least 3 Nigerian fintech have attracted investment capital from both local and international reputable investors. Companies like Visa and MasterCard have invested millions of dollars into names like Paystack, Paga and Flutterwave.
It is expected that Seriate's partnership with E-Settlement will make an impact on Nigeria's financial inclusion and may create a faster momentum in the rapidly evolving financial sector.
Flour Mills moves to diversify funding sources with N29.8 billion bond listing
Flour Mills Nigeria Plc lists N29.8 billion bonds to diversify funding sources from the Nigerian capital market.
Flour Mills Nigeria Plc's fresh N29.8 bond listing will help the nation's leading food business company to explore diversified funding sources from the Nigerian capital market, with the hope of enhancing growth and the development of the company.
This statement was made by the Group Managing Director of FMN, Mr. Omoboyede Olusanya, at the listing of the Tranche A and Tranche B bonds valued at N29.8 billion on the Nigerian Stock Exchange (NSE).
The food and the agro-allied company which has remained Nigeria's largest and oldest integrated agro-allied business with a broad profile and robust Pan-Africa distribution issued these bonds under its N70 billion Bond Issuance Programme.
Olusanya said that the company would continue to explore funding opportunities inherent in the capital market to ensure business growth and continuity.
While speaking about the Credit Rating of the Programme, he disclosed that FMN's credit rating, as well as the operational financing of the Group, have improved considerably.
According to him, the bonds floated by Flour Mill will help to strengthen the company's capital base and provide the needed working capital required by the Company. He added that Flour Mills Group will continue to deleverage and replace short term financing with longer-tenured and lower price funding to optimize capital structure and reduce financing cost.
He noted that Flour Mills will continue to explore opportunities to raise fundings via the capital market as this enables the company to diversify its funding sources and continue to play a role in the capital market as a significant player in it.
What they are saying
The Group Managing Director of FMN, Mr. Omoboyede Olusanya, at the virtual event, said;
"We are delighted with the response from the market, we are happy to be listed.
"We are introducing an N29.9 billion listing under an N70 billion bond issuance cover; we will continue to raise funding to diversify our funding sources.
"The company remains passionate about feeding the nation to improve the quality of living for Nigerians through increased production and investments in backward integration."
What you should know
With the successful issuance of the new N29.8bn Tranche A and Bonds, FMN has utilized its bond issuance program registered in 2018.
It is important to note that the Senior Unsecured bond listing includes an N4.89bn under Series 4 Tranche A of the bond issuance programme, at a 5.5% rate for 5 years, due by 2025, and a 25bn under Series 4 Tranche B of the same program at a 6.25% rate for a tenure of 7 years, due by 2027.
The bond proceeds will be used to refinance existing debt obligations. It will also help the company take collaborative actions to diversify the company's financing options beyond expensive short term debt.
Lafarge moves to divest 35% shareholding in CBI Ghana
Lafarge Africa Plc has resolved to sell off its 35% shareholding in Continental Blue Investment Ghana Limited.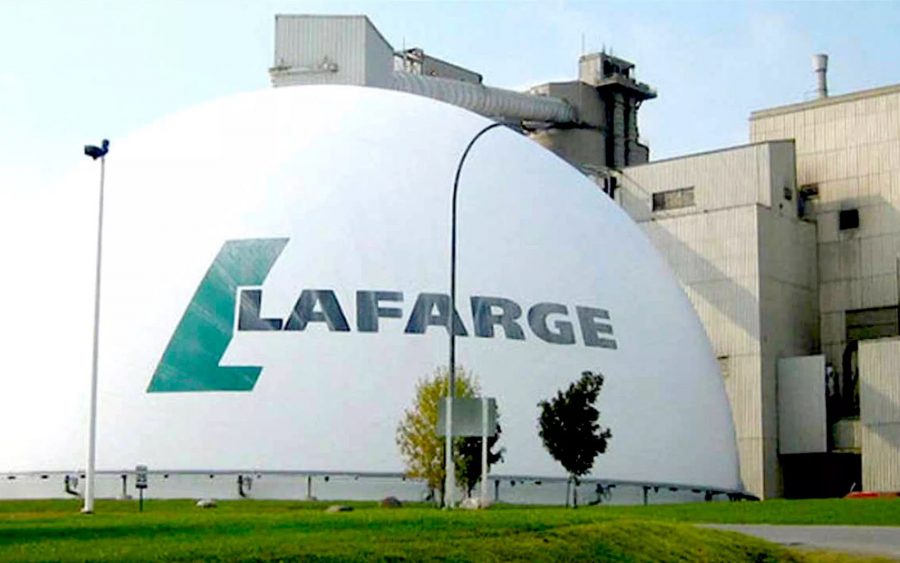 The Board of Lafarge Africa Plc has resolved to sell off its 35% shareholding in Continental Blue Investment Ghana Limited, in order to cut down on costs impacting the Group's profit.
This disclosure was made in a notification tagged- "Notice of Divestment in Continental Blue Investment Ghana Limited", which was issued by the Company Secretary, Mrs. Adewunmi Alode.
According to the statement, the Board of Directors of the Group made the decision to divest its 35% shareholding in Continental Blue Investment Ghana Limited ("CBI Ghana"), in line with the resolutions made at the emergency board meeting which held yesterday 20th, January 2020.
This move was made to set off the cement manufacturer on the path of sustainable growth and profitability, as Lafarge's investment in CBI Ghana has depleted significantly over the years.
What you should know
This is not the first time the company has had to sell off an unproductive investment in an effort to cut down on deadweight cost, as key players in the Cement industry like BUA and Dangote Cement continue to show strength and resilience through their effective cost minimization strategy which worked well in 2020.
Recall that in August 2019, Lafarge Africa sold off all its stakes in Lafarge South Africa Holdings (LSAH). This move helped the company to cut down costs coming from its South African subsidiary, which had been making billions of naira worth of losses for years.
Multiverse forecasts N39.5 million profit in Q1 2021
The management of Multiverse Plc has projected a revenue of N76 million and a profit of N39.5 million in Q1 2021.
Multiverse Mining and Exploration Plc has projected that in the first quarter of 2021, the mining and exploration company will generate N76 million in revenue, and post a profit of N39.5 million.
These projections were made by the company in a recent earnings forecast issued by the Management, and signed by the Corporate Secretaries of the company.
Key highlights of the earnings forecast for Q1 2021
Total revenue is projected at N76 million.
Turnover from agency sale is projected at N1 million.
Agency cost is s projected at N850 thousand.
Total expenses are projected at N7.8 million.
Operating Profit is projected at N67.3 million.
EBIT (Earnings Before Interest and Taxation) is projected at N67.3 million.
Interest Expense is projected at N27.8 million.
Profit after tax is projected at N39.5 million.
Key assumptions made to support the earnings forecast and projection of the company
The earnings forecast was made on the ground that there won't be any significant change in the economic policies of the Federal Government, while the monetary policies of the CBN would not be altered significantly.
The company also maintained that there would not be any industrial unrest that would affect its production and sales volume, while the profit of the company would not be pressured by rising costs of inputs, as prices of materials used in production shall be stable in the period under review.