How Peter Amangbo became the CEO of one of Nigeria's biggest banks
When Zenith Bank Plc recently released its third quarter 2018 financial report, Nairametrics was quick to associate it wirh Mr. Peter Amangbo.  
It is a normal thing to associate a company's name/reputation with the names of those in charge of administering its affairs, especially the Chairman and CEO. This is the case, whether a company is performing well or otherwise. Consequently, when Zenith Bank Plc recently released its third quarter 2018 financial results, Nairametrics was quick to associate the impressive result with the company's Chief Executive Officer, Mr. Peter Amangbo.
Agreed, he is not the only one who worked towards actualising the recorded growth in the company. As a matter of fact, Mr. Amangbo might have even done the least strenuous work, for all we know. But he is the man in charge, the man with the strategy, the man tasked with the responsibility of ensuring that Zenith Bank Plc accomplishes every set goal, or at least most of it.
Mr. Peter Amangbo is our corporate personality for this week. As is our tradition here at Nairametrics, we have selected him based on the simple fact that he is an accomplished professional. In this article, we will avail you the opportunity to know more about him, especially how he rose steadily up the corporate ladder to become the head of one of Africa's biggest banks.
Mr.  Amangbo's early days and academic background
Peter Amangbo studied Electrical and Electronics Engineering at the University of Benin. He graduated in 1988 with a B.Engr. degree. He is also an alumnus of the Warwick Business School where he studied for a Masters in Business Administration (MBA) degree, graduating in 1995. He has participated in the Advanced Management Programme at INSEAD and is also a Fellow of the Institute of Chartered Accountants of Nigeria (FCA).
Building his career over the years
Mr. Amangbo has many years of professional experience under his belt. Most of his years as a professional has been spent in the financial services sector, particularly in banking where he has garnered immense experience across such key areas as operations, investment banking, corporate finance, credit & marketing, business development, as well as financial control and strategic planning.
But before pursuing a career in banking, he worked as a Senior Consultant at PriceWaterHouseCoopers. His job entailed covering assignments in manufacturing, financial services and general commerce, but he only worked in the company for four years before joining Zenith Bank Plc in 1993.
Some of the key highlights of his career at Zenith Bank include his appointment as an Executive Director in 2005. Prior to his appointment as the bank's Chief Executive Officer in June 2014, he had served as the company's Head of corporate & retail banking, as well as a Zonal Head in Lagos.
Apart from his powerful position as the CEO of Zenith Bank Plc, he currently serves as the company's Group Managing Director. He is also a Non-Executive Director at Zenith Securities Limited, which is a subsidiary of Zenith Bank Plc. In the same vein, the accomplished professional sits on the board of Zenith Bank UK as a Non-Executive Director.
On his enviable remuneration and shareholding in Zenith Bank Plc
As Nairametrics reported earlier in June, information available in Zenith Bank Plc's 2017 financial report shows that Peter Amangbo earns an average of ₦88 million per annum. This makes him one of the highest earning top CEOs in Nigeria.
His shareholding structure in the company is such that he holds five million (5,000,000) units of direct shares and two million, three hundred thousand (2.3 million) units of indirect shares. This brings his total shareholding in Zenith Bank to seven million, three hundred thousand (7.3 million). When calculated with the company's share price of ₦24 as at November 12th 2018, this translates to a value of ₦175 million.
His interrogation by EFCC
On August 27, 2018, Mr. Amangbo and some other staff of Zenith Bank Plc were invited to the Economic and Financial Crimes Commission (EFCC) where they were reportedly interrogated over the bank's supposed failure to flag some large cash withdrawals to the tune of ₦117 billion. The suspicious transactions were carried out by officials of the Rivers State government over the last three years.
Investigations are still ongoing and we hope that the outcome would not be accompanied by a heavy fine for wrongdoing.
Zenith Bank's growth under his leadership
There is no gainsaying the fact that Mr. Amangbo has contributed immensely towards the development of Zenith Bank Plc, since his assumption of office in 2014. The figure below shows how the company's financials have improved considerably over the past five years (of which he has been CEO for four of those years), with turnover increasing from some ₦311.2 billion in 2013 to ₦673.6 billion in 2017. Similarly, the company's profit after tax surged from ₦83.4 billion in 2013 to ₦157.1 billion in 2017.
The company, under the leadership of Amangbo, continued the impressive success in 2018 by reporting a gross earning of ₦474.6 billion and a profit after of ₦144.1 billion.
Forex turnover drops by 28.3% as naira depreciates against the dollar at I&E window
Naira improved against the dollar by N1.35, closing at N386.33 to a dollar, as against the indicative rate of N387.68 to a dollar that it opened with.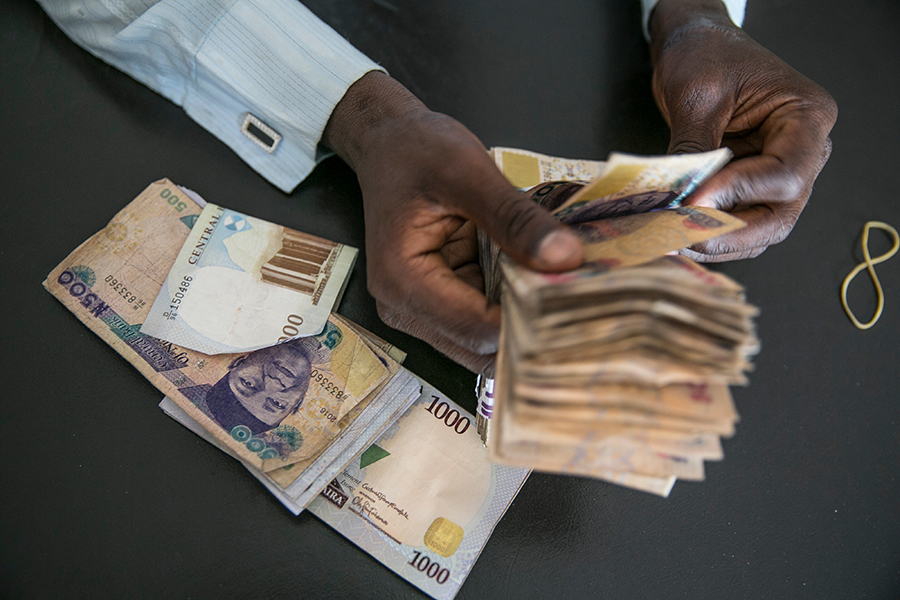 The naira has depreciated to N386.33 to a dollar at the Investors and Exporters (I&E) window, as the volatility of the foreign exchange market continues. The local currency was weakened by N0.83 against the dollar, when compared to the N385.50 to a dollar that it traded on Tuesday, June 2, 2020.
The exchange rate at the I&E window is different from the Central Bank of Nigeria's published exchange rate, which currently stands at N360/$1. This is also different from the exchange rate at the parallel market, which is still stable at N445/$1, according to information on AbokiFX as of Wednesday, June 3, 2020.
Available information from the daily trading at FMDQ (where FX is traded by importers and investors) shows that the naira improved against the dollar by N1.35, closing at N386.33 to a dollar, as against the indicative rate of N387.68 to a dollar that it opened with on Wednesday.
Further analysis of the information from the FMDQ shows that the turnover for the day declined by about 28.3% at $24.64 million. This is against the $34.35 million turnovers that was recorded the previous day.
(READ MORE:Naira appreciates at parallel market)
The foreign exchange market seems to have stabilized at the parallel market, following the reduction in demand for dollars especially by currency speculators, and improved liquidity. The rebound of crude oil prices appears to have eased the concerns of investors over possible devaluation of the naira.
The gap between the CBN official rate and the parallel market rate, also known as the black market, has been greatly reduced as the naira appreciated to N445 to a dollar from N460 to a dollar last week, following CBN's intervention.
READ ALSO: UPDATED: Nigeria's inflation rate rises to 12.34% as COVID effects bite harder
According to data compiled by Bloomberg, the Naira spot market rate is overvalued by 10% when measured by its current real effective exchange rate relative to the 5-year average.
Manufacturing PMI slide into recession territory
This is the first clear data-driven sign that Nigeria is in a recession.
The much-awaited Purchasers Managers Index (PMI) was released on May 29th by the Central Bank of Nigeria. According to the latest data, Manufacturing PMI in the month of May stood at 42.4 index points, indicating contraction in the manufacturing sector for the first time after recording expansion for thirty-six consecutive months.
The figure compares to 51.1 and 49.2 index points in March 2020.
The latest number now falls squarely within recession numbers and this is a clear sign that Nigeria is closer to recording a major contraction in the second quarter of the year.
Meanwhile, the nation's PMI's number hit a year low in April 2016 of 43.7, before plummeting further to 41.9 in June 2016. Nigeria subsequently fell into a recession by the end of the second quarter of 2016 and remained in recession throughout the course of the year.
The nation's non-manufacturing PMI fell for a consecutive month to an all-time low of 25.3. The decline in manufacturing PMI was significant following thirty-six consecutive months of expansion, while the non-Manufacturing PMI contracted for the second consecutive month.
A further look into the report shows that the manufacturing sector employment level index stood at 24.5 points in May, a decline compared to 47.1 points recorded in March and 56.4 points in February 2020.
This downturn is mostly attributed to the halt in economic activity as businesses in Nigeria result in layoffs and pay cuts in order to survive the effect of the lockdown.
READ ALSO: What I'll do if I was CBN Governor – Experts
Also, all 14 subsectors of the manufacturing sector, reported lower raw material inventories, consequently contracting the inventories index to 37.4 points in May 2020. An effect of the supply chain bottleneck associated with the lockdown measures implemented in most countries of the world.
Specifically, this figure translates the effect of lockdown procedures and trade restrictions implemented by Nigeria's major trade partners in response to the COVID-19 pandemic. Note that Nigeria's major trade partners; China, USA, Spain, and the Netherlands account for about 45% of the nation's import.
What you need to know:  PMI is a survey that is conducted by the Statistics Department of the Central Bank of Nigeria. The respondents are purchasing and supply executives of manufacturing and non-manufacturing organizations in all 36 states in Nigeria and the Federal Capital Territory (FCT).
In his reaction to the data, the Central Bank Governor, Godwin Emefiele, in the Monetary Policy Communique, highlighted how dire the situation.
READ MORE: Insufficient electricity, unfavourable economy are among challenges hindering companies –CBN
He said, "The contraction in the manufacturing and non-manufacturing PMIs was attributed to slower growth in production, new orders, employment level, raw materials, and input prices.
"The employment level index for the manufacturing and non-manufacturing PMIs also contracted further to 25.5 and 32.0 index points, respectively, in May 2020 compared with 47.1 and 47.3 index points in March 2020.
"Generally, the purchasing managers' activities in May 2020, were largely affected by the lockdown of the global economy to curtail the spread of the COVID-19 pandemic."
The CBN thereafter reduced its monetary policy rate from 13.5% to 12.5% for the first time since March 2019.
READ ALSO: CBN projects macroeconomy confidence to rise by 118.3% in November
What this means: This survey is a bellwether for economic growth in Nigeria and helps the central bank gauge the mood of businesses in the economy.
PMI above 50 typically indicates a positive mood for the manufacturing and non-manufacturing sectors. Two major causes for concern in the data are the new orders and employment levels.
At 42.8 points, the new orders index declined after thirty-sixth consecutive months of growth, indicating declines in new orders in May 2020. Three subsectors reported growth, 2 remained unchanged while 9 recorded declines in the review month.
Covid-19 Update in Nigeria
On the 4th of June 2020, 350 new confirmed cases and 8 deaths were recorded in Nigeria bringing the total confirmed cases recorded in the country to 11,516.
The spread of novel Corona Virus Disease (COVID-19) in Nigeria continues to rise as the latest statistics provided by the Nigeria Centre for Disease Control reveal Nigeria now has 11,516 confirmed cases.
On the 4th of June 2020, 350 new confirmed cases and 8 deaths were recorded in Nigeria.
To date, 11516 cases have been confirmed, 3535 cases have been discharged and 323 deaths have been recorded in 35 states and the Federal Capital Territory having carried out 71,336 tests.
Covid-19 Case Updates- 4th June 2020
Total Number of Cases – 11,516
Total Number Discharged – 3,535
Total Deaths – 323
Total Tests Carried out – 71,336
The 350 new cases were reported from 20 states- Lagos (102), Ogun (34), FCT (29), Borno (26), Kaduna (23), Rivers (21), Kwara (16), Ebonyi (17), Katsina (14), Edo (10), Delta (10), Kano (10), Bauchi (10), Bayelsa (9), Imo (8), Plateau (4), Ondo (3), Nasarawa (2), Gombe (1), Oyo (1).
READ ALSO: COVID-19: Western diplomats warn of disease explosion, poor handling by government
The latest numbers bring Lagos state total confirmed cases to 5542, followed by Kano (970), Abuja at 792, Katsina (385), Edo (351), Borno (322), Kaduna (320), Oyo (318), Ogun (316), Rivers (290), Jigawa (274),  Bauchi (256),  Gombe (170), Kwara (127).
Delta State has recorded 116 cases, Sokoto (115), Plateau (113), Nasarawa (90), Ebonyi (80), Zamfara (76),  Yobe (52), Osun and Imo (47), Akwa Ibom (45), Adamawa (42), Niger (41), Ondo (36),  Kebbi  (33), Bayelsa (30), Ekiti (25), Enugu (24), Taraba (18), Abia (15), Benue (13), Anambra (12), while Kogi state has recorded only 3 cases.
Lock Down and Curfew
In a move to combat the spread of the pandemic disease, President Muhammadu Buhari directed the cessation of all movements in Lagos and the FCT for an initial period of 14 days, which took effect from 11 pm on Monday, 30th March 2020.
The movement restriction, which was extended by another two-weeks period, has been partially put on hold with some businesses commencing operations from May 4. On April 27th, 2020, President Muhammadu Buhari declared an overnight curfew from 8 pm to 6 am across the country, as part of new measures to contain the spread of the COVID-19. This comes along with the phased and gradual easing of lockdown measures in FCT, Lagos, and Ogun States, which took effect from Saturday, 2nd May 2020, at 9 am.
READ ALSO: Bill Gates says Trump's WHO funding suspension is dangerous
| Date | Confirmed case | New cases | Total deaths | New deaths | Total recovery | Active cases | Critical cases |
| --- | --- | --- | --- | --- | --- | --- | --- |
| June 4, 2020 | 11516 | 350 | 323 | 8 | 3535 | 7646 | 7 |
| June 3, 2020 | 11166 | 348 | 315 | 1 | 3329 | 7522 | 7 |
| June 2, 2020 | 10819 | 241 | 314 | 15 | 3239 | 7266 | 7 |
| June 1, 2020 | 10578 | 416 | 299 | 12 | 3122 | 7157 | 9 |
| May 31, 2020 | 10162 | 307 | 287 | 14 | 3007 | 6868 | 7 |
| May 30, 2020 | 9855 | 553 | 273 | 12 | 2856 | 6726 | 7 |
| May 29, 2020 | 9302 | 387 | 261 | 2 | 2697 | 6344 | 7 |
| May 28, 2020 | 8915 | 182 | 259 | 5 | 2592 | 6064 | 7 |
| May 27, 2020 | 8733 | 389 | 254 | 5 | 2501 | 5978 | 7 |
| May 26, 2020 | 8344 | 276 | 249 | 16 | 2385 | 5710 | 7 |
| May 25, 2020 | 8068 | 229 | 233 | 7 | 2311 | 5524 | 7 |
| May 24, 2020 | 7839 | 313 | 226 | 5 | 2263 | 5360 | 7 |
| May 23, 2020 | 7526 | 265 | 221 | 0 | 2174 | 5131 | 7 |
| May 22, 2020 | 7261 | 245 | 221 | 10 | 2007 | 5033 | 7 |
| May 21, 2020 | 7016 | 339 | 211 | 11 | 1907 | 4898 | 7 |
| May 20, 2020 | 6677 | 284 | 200 | 8 | 1840 | 4637 | 7 |
| May 19, 2020 | 6401 | 226 | 192 | 1 | 1734 | 4475 | 7 |
| May 18, 2020 | 6175 | 216 | 191 | 9 | 1644 | 4340 | 7 |
| May 17, 2020 | 5959 | 388 | 182 | 6 | 1594 | 4183 | 7 |
| May 16, 2020 | 5621 | 176 | 176 | 5 | 1472 | 3973 | 7 |
| May 15, 2020 | 5445 | 288 | 171 | 3 | 1320 | 3954 | 4 |
| May 14, 2020 | 5162 | 193 | 168 | 3 | 1180 | 3815 | 4 |
| May 13, 2020 | 4971 | 184 | 164 | 6 | 1070 | 3737 | 4 |
| May 12, 2020 | 4787 | 146 | 158 | 6 | 959 | 3670 | 4 |
| May 11, 2020 | 4641 | 242 | 152 | 10 | 902 | 3589 | 4 |
| May 10, 2020 | 4399 | 248 | 142 | 17 | 778 | 3479 | 4 |
| May 9, 2020 | 4151 | 239 | 127 | 11 | 745 | 3278 | 4 |
| May 8, 2020 | 3912 | 386 | 118 | 10 | 679 | 3115 | 4 |
| May 7, 2020 | 3526 | 381 | 108 | 4 | 601 | 2818 | 4 |
| May 6, 2020 | 3145 | 195 | 104 | 5 | 534 | 2507 | 1 |
| May 5, 2020 | 2950 | 148 | 99 | 5 | 481 | 2370 | 4 |
| May 4, 2020 | 2802 | 245 | 94 | 6 | 417 | 2291 | 2 |
| May 3, 2020 | 2558 | 170 | 88 | 2 | 400 | 2070 | 2 |
| May 2, 2020 | 2388 | 220 | 86 | 17 | 351 | 1952 | 2 |
| May 1, 2020 | 2170 | 238 | 69 | 10 | 351 | 1751 | 2 |
| April 30, 2020 | 1932 | 204 | 59 | 7 | 317 | 1556 | 2 |
| April 29, 2020 | 1728 | 196 | 52 | 7 | 307 | 1369 | 2 |
| April 28, 2020 | 1532 | 195 | 45 | 4 | 255 | 1232 | 2 |
| April 27, 2020 | 1337 | 64 | 41 | 0 | 255 | 994 | 2 |
| April 26, 2020 | 1273 | 91 | 41 | 5 | 239 | 994 | 2 |
| April 25, 2020 | 1182 | 87 | 36 | 3 | 222 | 925 | 2 |
| April 24, 2020 | 1095 | 114 | 33 | 1 | 208 | 855 | 2 |
| April 23, 2020 | 981 | 108 | 32 | 3 | 197 | 753 | 2 |
| April 22, 2020 | 873 | 91 | 29 | 3 | 197 | 648 | 2 |
| April 21, 2020 | 782 | 117 | 26 | 3 | 197 | 560 | 2 |
| April 20, 2020 | 665 | 38 | 23 | 1 | 188 | 466 | 2 |
| April 19, 2020 | 627 | 86 | 22 | 2 | 170 | 436 | 2 |
| April 18, 2020 | 541 | 48 | 20 | 2 | 166 | 356 | 2 |
| April 17, 2020 | 493 | 51 | 18 | 4 | 159 | 317 | 2 |
| April 16, 2020 | 442 | 35 | 13 | 1 | 152 | 277 | 2 |
| April 15, 2020 | 407 | 34 | 12 | 1 | 128 | 267 | 2 |
| April 14, 2020 | 373 | 30 | 11 | 1 | 99 | 263 | 2 |
| April 13, 2020 | 343 | 20 | 10 | 0 | 91 | 242 | 2 |
| April 12, 2020 | 323 | 5 | 10 | 0 | 85 | 228 | 2 |
| April 11, 2020 | 318 | 13 | 10 | 3 | 70 | 238 | 2 |
| April 10, 2020 | 305 | 17 | 7 | 0 | 58 | 240 | 2 |
| April 9, 2020 | 288 | 14 | 7 | 1 | 51 | 230 | 2 |
| April 8, 2020 | 274 | 22 | 6 | 0 | 44 | 226 | 2 |
| April 7, 2020 | 254 | 16 | 6 | 1 | 44 | 204 | 2 |
| April 6, 2020 | 238 | 6 | 5 | 0 | 35 | 198 | 2 |
| April 5, 2020 | 232 | 18 | 5 | 1 | 33 | 194 | 2 |
| April 4, 2020 | 214 | 5 | 4 | 0 | 25 | 185 | 0 |
| April 3, 2020 | 209 | 25 | 4 | 2 | 25 | 180 | 0 |
| April 2, 2020 | 184 | 10 | 2 | 0 | 20 | 162 | 0 |
| April 1, 2020 | 174 | 35 | 2 | 0 | 9 | 163 | 0 |
| March 31, 2020 | 139 | 8 | 2 | 0 | 9 | 128 | 0 |
| March 30, 2020 | 131 | 20 | 2 | 1 | 8 | 121 | 0 |
| March 29, 2020 | 111 | 22 | 1 | 0 | 3 | 107 | 0 |
| March 28, 2020 | 89 | 19 | 1 | 0 | 3 | 85 | 0 |
| March 27, 2020 | 70 | 5 | 1 | 0 | 3 | 66 | 0 |
| March 26, 2020 | 65 | 14 | 1 | 0 | 2 | 62 | 0 |
| March 25, 2020 | 51 | 7 | 1 | 0 | 2 | 48 | 0 |
| March 24, 2020 | 44 | 4 | 1 | 0 | 2 | 41 | 0 |
| March 23, 2020 | 40 | 10 | 1 | 1 | 2 | 37 | 0 |
| March 22, 2020 | 30 | 8 | 0 | 0 | 2 | 28 | 0 |
| March 21, 2020 | 22 | 10 | 0 | 0 | 1 | 21 | 0 |
| March 20, 2020 | 12 | 4 | 0 | 0 | 1 | 11 | 0 |
| March 19, 2020 | 8 | 0 | 0 | 0 | 1 | 7 | 0 |
| March 18, 2020 | 8 | 5 | 0 | 0 | 1 | 7 | 0 |
| March 17, 2020 | 3 | 1 | 0 | 0 | 0 | 3 | 0 |
| March 16, 2020 | 2 | 0 | 0 | 0 | 0 | 2 | 0 |
| March 15, 2020 | 2 | 0 | 0 | 0 | 0 | 2 | 0 |
| March 14, 2020 | 2 | 0 | 0 | 0 | 0 | 2 | 0 |
| March 13, 2020 | 2 | 0 | 0 | 0 | 0 | 2 | 0 |
| March 12, 2020 | 2 | 0 | 0 | 0 | 0 | 2 | 0 |
| March 11, 2020 | 2 | 0 | 0 | 0 | 0 | 2 | 0 |
| March 10, 2020 | 2 | 0 | 0 | 0 | 0 | 2 | 0 |
| March 9, 2020 | 2 | 1 | 0 | 0 | 0 | 2 | 0 |
| March 8, 2020 | 1 | 0 | 0 | 0 | 0 | 1 | 0 |
| March 7, 2020 | 1 | 0 | 0 | 0 | 0 | 1 | 0 |
| March 6, 2020 | 1 | 0 | 0 | 0 | 0 | 1 | 0 |
| March 5, 2020 | 1 | 0 | 0 | 0 | 0 | 1 | 0 |
| March 4, 2020 | 1 | 0 | 0 | 0 | 0 | 1 | 0 |
| March 3, 2020 | 1 | 0 | 0 | 0 | 0 | 1 | 0 |
| March 2, 2020 | 1 | 0 | 0 | 0 | 0 | 1 | 0 |
| March 1, 2020 | 1 | 0 | 0 | 0 | 0 | 1 | 0 |
| February 29, 2020 | 1 | 0 | 0 | 0 | 0 | 1 | 0 |
| February 28, 2020 | 1 | 1 | 0 | 0 | 0 | 1 | 0 |