Julius Berger appoints new Managing Director
Dr. Lars Richter to takeover as Julius Berger new Managing Director.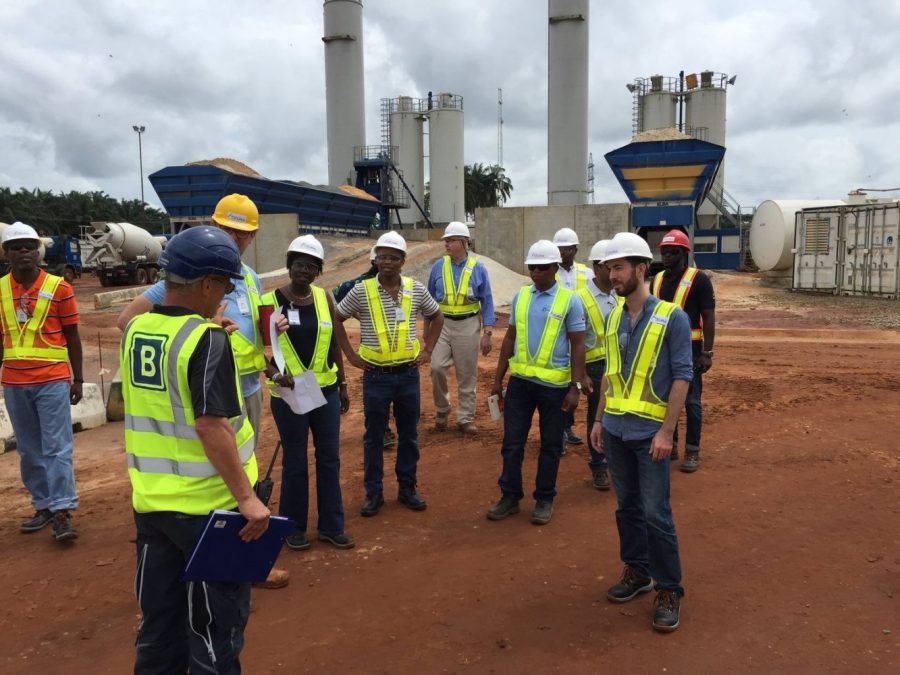 The Board and Management of Julius Berger Nigeria Plc, has announced the appointment of Dr. Lars Richter, who will serve under the company as its new Managing Director.
Richter would be replacing Engr. Wolfgang Goetsch, whose exit from the company's Board of Directors will take effect from October 15, 3018.
In its notice to the Nigerian Stock Exchange (NSE), the company also announced that a new Directorate, Corporate Development would be established to be head by Mr. Tobias Meletschus. He will assume his responsibilities from October 16, 2018.
The newly appointed Directors and Directorate, according to the notice, will bring to bear on their functions as Executive Directors and the future directions of the Group, the wealth of their experience and expertise.
The construction giant, had earlier this month sent a notice to the NSE, hinting at the management changes. It also informed the bourse of a closed period from September 13 2018 to September 27 2018. During a closed period, parties with access to sensitive information are not allowed to trade their shares.
The company's  financial statements for the second quarter ended June 30, 2018 show revenue stood at N73 billion compared to N70 billion in 2017. Profit before tax was N4 billion as against N55 million in 2017. Profit after tax stood at N2.6 billion as against as against N365 million in 2017.
The stock closed at N25 in yesterday's trading session on the Nigerian Stock Exchange, unchanged from the prior day. Year to date, the stock is down 10.7%.
Stripe plans corporate banking services for merchants, vendors
Stripe Inc is partnering with American elite banks in offering corporate-banking services to its merchants and vendors.
Stripe Inc, one of the most valuable start-ups on this planet, is partnering with American elite banks such as Goldman Sachs Group Inc. and Citigroup Inc. in offering corporate-banking services.
This is as the fast-rising startup, known for simplifying payment, seeks to diversify its business offering, amid a competitive ecosystem that includes PayPal, Visa, Mastercard, Adyen.
What this means
Stripe, best known for handling millions of online businesses and e-commerce web pages, will soon start offering some of its client's interest yielding bank accounts, debit cards, and other cash-management services, according to a report credited to WSJ.
However, these service offerings listed are for its merchants and vendors that do business with Stripe.
Recall Nairametrics revealed how Stripe had raised $600 million to invest and acquire payments companies in developing nations. It disclosed that Nigerian startup, Paystack, had been on Stripe's bucket list for a while since 2018 when Stripe led an $8 million funding round for it.
 Stripe acquired Paystack for an undisclosed deal believed to be worth over $200 million, making it the biggest fintech startup acquisition to date to come out of Nigeria, as well as Stripe's biggest acquisition to date.
Patrick Collison, CEO of Stripe, spoke on the company's strategy at the time it acquired Paystack. He said:
"Stripe thinks on a longer time horizon than others, because we are an infrastructure company. We are thinking of what the world will look like in 2040-2050."
He added that Stripe also planned to understand the ecosystem and keep its eyes open so it would see where help was needed, as the company did not tie up its investments into "complicated strategic investments."
COVID-19 Update in Nigeria
On the 3rd of December 2020, 343 new confirmed cases and 2 deaths were recorded in Nigeria
The spread of novel Corona Virus Disease (COVID-19) in Nigeria continues to record significant increases as the latest statistics provided by the Nigeria Centre for Disease Control reveal Nigeria now has 68,303 confirmed cases.
On the 3rd of December 2020, 343 new confirmed cases and 2 deaths were recorded in Nigeria, having carried out a total daily test of 7,101 samples across the country.
To date, 68,303 cases have been confirmed, 64,291 cases have been discharged and 1,179 deaths have been recorded in 36 states and the Federal Capital Territory. A total of 779,708 tests have been carried out as of December 3rd, 2020 compared to 756,237 tests a day earlier.
COVID-19 Case Updates- 3rd December 2020,
Total Number of Cases – 68,303
Total Number Discharged – 64,291
Total Deaths – 1,179
Total Tests Carried out – 779,708
According to the NCDC, the 343 new cases were reported from 14 states- FCT (123) Lagos (106) Kaduna (72) Nasarawa (14) Rivers(5), Bauchi (4), Imo (4), Ogun (4), Ekiti (3) Edo (2), Oyo (2), Plateau (2) Akwa Ibom (1) and Kano (1).
Meanwhile, the latest numbers bring Lagos state total confirmed cases to 23,545, followed by Abuja (6,991), Plateau (3,904), Oyo (3,730), Kaduna (3,245), Rivers (3,001), Edo (2,705), Ogun (2,237), Delta (1,824), Kano (1,799), Ondo (1,728), Enugu (1,332),  Kwara (1,110), Ebonyi (1,055), Katsina (1,030), Osun (947), Gombe (938). Abia (926), Bauchi (778), and Borno (745).
Imo State has recorded 681 cases, Benue (496), Nasarawa (493), Bayelsa (456),  Ekiti (377), Akwa Ibom (340), Jigawa (331), Niger (298), Anambra (285), Adamawa (261), Sokoto (166), Taraba (163), Yobe (100), Kebbi (93), Cross River (90), Zamfara (79), while Kogi state has recorded 5 cases only.
READ ALSO: COVID-19: Western diplomats warn of disease explosion, poor handling by government
Lock Down and Curfew
In a move to combat the spread of the pandemic disease, President Muhammadu Buhari directed the cessation of all movements in Lagos and the FCT for an initial period of 14 days, which took effect from 11 pm on Monday, 30th March 2020.
The movement restriction, which was extended by another two weeks period, has been partially put on hold with some businesses commencing operations from May 4. On April 27th, 2020, Nigeria's President, Muhammadu Buhari declared an overnight curfew from 8 pm to 6 am across the country, as part of new measures to contain the spread of the COVID-19. This comes along with the phased and gradual easing of lockdown measures in FCT, Lagos, and Ogun States, which took effect from Saturday, 2nd May 2020, at 9 am.
On Monday, 29th June 2020 the federal government extended the second phase of the eased lockdown by 4 weeks and approved interstate movement outside curfew hours with effect from July 1, 2020. Also, on Monday 27th July 2020, the federal government extended the second phase of eased lockdown by an additional one week.
On Thursday, 6th August 2020 the federal government through the secretary to the Government of the Federation (SGF) and Chairman of the Presidential Task Force (PTF) on COVID-19 announced the extension of the second phase of eased lockdown by another four (4) weeks.
READ ALSO: Bill Gates says Trump's WHO funding suspension is dangerous
Engineer Sanusi Garba assumes office as Chairman of NERC
The new NERC boss has assumed office today in an investiture event witnessed by other Commissioners of the Commission.
Engineer Sanusi Garba, today, December 3, 2020, formally assumed office as the Chairman of the Nigerian Electricity Regulatory Commission (NERC).
This is according to the statement issued by the media team of the NERC via the official Twitter handle of the Commission.
Professor Momoh hands over to Engineer Sanusi Garba

Professor James Adeche Momoh has handed over to Engineer Sanusi Garba in a ceremony witnessed by Commissioners of the Nigerian Electricity Regulatory Commission. Engineer Sanusi thanked Professor Momoh @NERCNG

— NERC Nigeria (@NERCNG) December 3, 2020
Engineer Garba whose appointment was confirmed by the Nigerian Senate on Tuesday will be replacing Professor James Momoh, the outgoing chairman of the Commission.
Speaking at the handover ceremony today, the New Chairman of the Commission recognized the efforts and the hard work of Prof. Momoh and thanked the outgoing chairman for his contributions to the development of the Commission and the sector in general.
However, Professor Momoh on his part pledged his continuous support to the Commission and thanked President Muhammadu Buhari for the opportunity to serve the country.
What you should know
The new Chairman of Nigerian Electricity Regulatory Commission (NERC), Engineer Sanusi Garba is a seasoned professional in the Nigerian Energy Supply Industry (NESI), and also a top officer in the Commission.
Prior to his nomination as the Chairman of NERC, Garba served as the Vice Chairman of NERC, under the leadership of Prof. Momoh. He also served as the Chief Executive of Katsina Steel Rolling Co. Ltd and the Director (Power) in the Federal Ministry of Power with responsibility for the Generation, Transmission and Distribution aspects of the electricity industry.
He also served as Executive Director (Generation) at the Niger Delta Power Holding Co. Ltd during which he provided technical and commercial leadership for the efficient operation of seven (7) NIPP thermal power plants.
Engr Garba, who is a seasoned professional has served on many Federal Government Committees including the Presidential Committee on Power Sector Reform (2007/8) and the Presidential Task Force on Power (2009/10).