NSE to sanction Fidelity Bank, others for late filing of reports
The Nigerian Stock Exchange (NSE) has announced plans to sanction 28 companies for failing to meet post-listing requirements.
The Nigerian Stock Exchange (NSE) has announced plans to sanction 28 companies for failing to meet post-listing requirements. This include defaultment in timely release of operational reports and financial statements.
The list of offenders released by the exchange include three commercial banks, a microfinance bank, three mortgage bankers, five insurance companies, one investment management firm and 15 other firms in various non-financial sectors.
According to the NSE, the companies failed to submit their interim report and accounts for the period ended June 30, 2018. Such default is marked out by the Exchange as a corporate governance failure, which attracts monetary fines, "naming and shaming" tag, suspension of shares from trading and delisting in incurable cases of default.
It further noted that twenty of the firms missed the regulatory deadline of July 30, while Fidelity Bank, which audits its half-year results, missed the August 29 deadline.
Under the listing rules, a late submission attracts a fine of N100,000 daily for the first 90 calendar days of non-compliance, another N200,000 per day for the next 90 calendar days and a fine of N400,000 per day thereafter until the date of submission.
With these, late submission under the first instance of 90 days could attract N9 million, the additional 90 days will attract N18 million while such delay beyond the first 180 days to the next 180 days could attract as much as N72 million, bringing fines payable by a defaulting company within a year to N99 million.
The list of sanctions shows fines ranging from a low of N0.1 million to as high as N51.4 million. Companies had been fined more than N400 million and N500 million in 2016 and 2017 respectively for failure to submit accounts within scheduled periods.
The defaulting firms include:
Unity Bank Plc
Skye Bank Plc
Fidelity Bank Plc
Fortis Microfinance Bank Plc
Staco Insurance Plc
African Alliance Insurance Plc
Goldlink Insurance Plc
UNIC Insurance Plc
International Energy Insurance
Aso Savings & Loans Plc
Resort Savings & Loans
Union Homes Savings & Loans Plc
Deap Capital Management & Trust Plc.
R.T Briscoe Plc,
Smart Products Nigeria Plc
Afromedia Plc,
Roads Nigeria Plc
Nigerian German Chemical Plc,
Thomas Wyatt Nigeria Plc
Golden Guinea Breweries Plc
Anino International Plc
Juli Plc,
Ekocorp Plc
Union Dicon Salt Plc
FTN Cocoa Processors Plc
Evans Medical Plc
Omatek Ventures Plc
Dn Tyre & Rubber Plc.
There are 15 companies currently under suspension for failure to meet scheduled submission of financial statements. Forty one monetary fines have so far been placed on companies in 2018, more than 38 monetary fines slammed on companies in 2017.
Microsoft Teams' rival, Slack shares drop on withdrawal of full-year billings guidance
Slack reported steady revenue growth 50% in Q1 2020, compared with 49% recorded in Q1 2019 on an annualized basis this brought in more customers
 Slack shares dropped as much as 17% yesterday after the company's reported first-quarter earnings.
Investors and stock traders were not happy with Slack's annual revenue forecast of $855 million to $870 million, up just slightly from Slack's projection in March stock analysts, on the average, estimated $856.5 million, according to data obtained from Bloomberg.
"Slack's withdrawal of full-year billings guidance looks conservative to us and likely suggests a pull-forward of revenue amid faster new-customer additions due to remote work," Mandeep Singh, a Bloomberg Intelligence analyst, wrote in a note yesterday.
Slack grew revenue 50% in Q1 2020, compared with 49% recorded in Q1 2019 on an annualized basis.
However, Slack reported steady revenue growth during  Q1 2020 brought in more customers, as organizations sought to keep communications going with their newly remote workforces during coronavirus pandemic. It had earnings per share of 2 cents loss per share, adjusted and adjusted revenue of $201.7 million
(READ MORE: How to Profit from Directors' Share Dealing Notifications)
Slack, in a statement, yesterday reported that it added a record 12,000 paid customers Q1 2020 as against two prior quarters when it added about 5,000 new customers. Slack's top competitor, Microsoft's Teams, has also experienced growth in recent months.
"What you saw with Zoom, what you saw with Teams is a great indication that this is not apples-to-apples and that the products are not truly competitive with one another," Butterfield the Chief Executive Officer of Slack told Investment analysts on a conference call yesterday.
Paid users spent over 120 minutes per day in Slack at the end of the quarter, up from below 90 minutes one quarter earlier. 
"I can't care about the stock price on the level of individual days," Butterfield said when asked about the reaction to earnings. "I just wouldn't be able to do my job. I care about where the share price is five years from now and 10 years from now. This is just a very volatile time." 
Precious metals slump, investors focus on Central Bank's intervention
Gold fell on Friday morning to $1,717.10. as global investors await the release of Friday's U.S non-farm payrolls data for May
Spot gold went slightly lower, trading at $1,711.57 per ounce by 4 am local time on Friday morning and gold futures was down to $1,717.10.
"Gold collapsed like a house of cards as investors overlooked civil unrest in the United States and heavily focused on hopes around central bank intervention and economic recovery," said Lukman Otunuga, senior research analyst at FXTM.
Gold fall on Friday morning also came as global investors await the release of Friday's U.S (United States.) non-farm payrolls data for May, scheduled to be released at 1.30 pm Nigerian local time.
"There are quite a few market participants still bargain-hunting gold given the fundamental backdrop of the coronavirus crisis and ongoing recession," Julius Baer analyst Carsten Menke said.
(READ MORE: Gold prices surge by 17.4% in 2 months due to global economic crisis)
However, investors are still waiting to see whether the easing of restrictions will lead to a second wave of infections, supporting demand for gold, Menke added.
What you need to know about Precious metals: Precious metals include gold, silver, and platinum. Gold and silver are the most popular metals, and have been used by jewelers, and as wealth status symbols since ancient times. Global investors use precious metals to hedge against inflation.
Meanwhile, palladium gained 0.34% to $1,947 an ounce, while platinum lost 0.31% to $833.91. Silver was down 0.63% to $17.9 4am local time, having hit a more than three-month high of $18.36 on Monday. 
"Some people are buying silver just because it's much cheaper than gold (or) platinum," a trader from Tokyo-based retailer Tokuriki Honten said.
Tether expected to surpass Ethereum, based on strength of the U.S dollar
The organic growth of Tether's market capitalization is one of the major reasons for the gain Bitcoin (BTC) is presently having in the mid-term.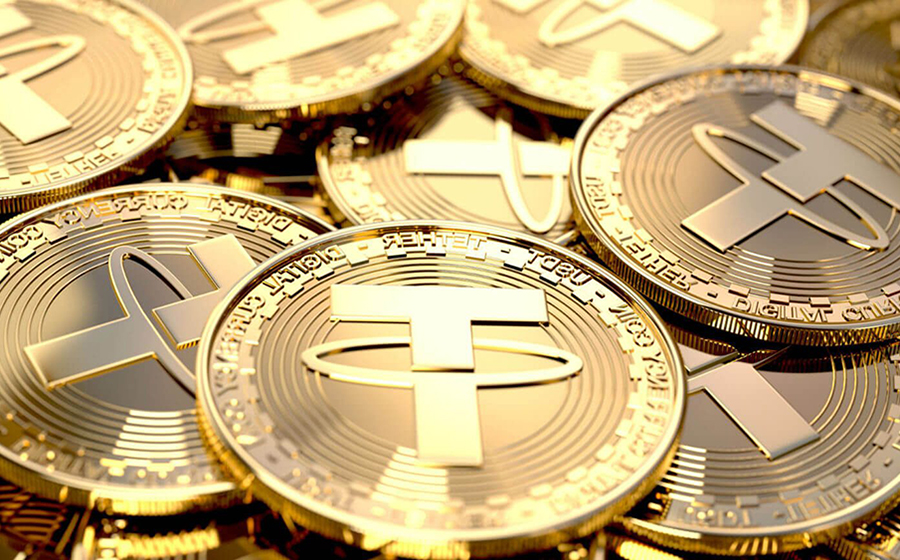 Tether, the third most valuable cryptocurrency with a market capitalization of about $9.1 billion, is expected to pass Ethereum ($27 billion)) as the number two cryptocurrency, on the strength of the dollar.
Bloomberg News reported recently that there is a high probability that it expects Tether (USDT) to outsize Ethereum (ETH) in market capitalization.
The report outlines the organic growth of Tether's market capitalization as one of the major reasons for the gain Bitcoin (BTC) is presently having in the mid-term.
"Interest in digital links to the dollar represents the need to handle and store value in the world's reserve currency without an intermediary." 
(READ MORE:Bitcoin loses $1500 in 3 mins, pigs get slaughtered in BTC market)
What you need to know: Tether is designed as a blockchain-based cryptocurrency whose digital coins in circulation are backed by the same value of traditional fiat currencies, like the U.S dollar, Japanese Yen, or the Euro. It trades under the ticker symbol USDT.
Recall that Nairametrics earlier reported how Tether had overtaken XRP (XRP) as the number three most valuable cryptocurrency by market capitalization. Bloomberg reports added that the momentum with the help of the U.S dollar is expected to make Tether gain and move to the second spot:
"Absent an unlikely reversal in predominant crypto trends, it should be a matter of time until Tether passes Ethereum to take the No. 2 spot in total assets behind Bitcoin. Receiving help from widespread adoption with a workable case as a proxy for the world's reserve currency, there seems little to stop the increasing adoption of the dollar-linked stable coin." 
Also, Bloomberg's report expects Tether to rise based on Ethereum's limited upside. 
"We see little upside in the ETH price absent a rising tide from Bitcoin. The pre-eminent crypto is breaking away from the pack in terms of adoption and is supported by almost-ideal macroeconomic conditions for stores-of-value amid quantitative easing.  
"Tether is in a similar position. Strengthening Dollar Supports Stable Coins. The advancing dollar will fuel demand for the Tether stable coin, in our view. In terms of gold and Bitcoin, the dollar is depreciating, but it is going in the other direction vs. most other currencies.  
"The greenback appears best positioned as global currency values retreat, with all facing unlimited supply.  
"Tether and stable coins are gaining traction as vehicles for dollar exposure without intermediaries and for transferring value among the numerous highly speculative and volatile crypto assets."