FCMB Bank (UK) Limited Launches Personal and Business Banking Proposition to Deepen Inclusiveness
FCMB Bank (UK) Limited, an independently incorporated subsidiary of First City Monument Bank Limited (which is a member of FCMB Group Plc), has introduced its Personal and Business banking proposition in London, United Kingdom and Lagos, Nigeria at an impressive ceremony attended by the top echelon of the business community within and from outside the country.
The development follows the latest variation of permission obtained by the United Kingdom-based Bank to extend its services to include retail (investments) for individuals and business enterprises. This is in addition to the existing wholesale deposit taking activities, foreign exchange, treasury, corporate banking and trade finance offerings to corporate and institutional customers of FCMB Bank (UK) Limited.
The variation of permission was granted by the Prudential Regulation Authority, the financial services regulatory body of the United Kingdom, and it became effective on June 8, 2018.
The Personal and Business banking proposition of FCMB Bank (UK) Limited is anchored on the Bank's London Leverage and Africa Awareness. This will enable the financial institution deliver its promise of being the Corporate and Private Bank for African-oriented entrepreneurs, investors and professionals across all their banking needs.
The Group Chief Executive of FCMB Group Plc, Mr. Ladi Balogun, explained at the ceremony that the launch of FCMB Bank (UK) Limited's personal and business banking proposition is as much a statement of substance as it is one of intent. According to him, "our successful UK platform has proven to be of great importance to the Nigeria stockbroking and international trade finance activities of FCMB Group. Leveraging our deep networks in Africa's biggest economy, the importance of a London presence to many of our Personal and Business banking customers, and technological innovation, we welcome this opportunity to meaningfully serve more of our customers and grow the value of our UK franchise".
Also speaking, the Chief Executive Officer of FCMB Bank (UK) Limited, Mr. James Benoit, said, "with the extension of its services, the Bank is now able to receive deposits from both customer segments as well as provide them bank loans to enable them meet their financing needs. The deposit products on offer include current, notice savings and fixed deposit accounts at competitive rates; while its lending products include Buy-to-Let Mortgage Loans enabling target customers to acquire a piece of London and purchase property to include in their investment portfolios.''.
He added that the Bank will be expanding its premises and entering into partnerships with Fintech providers to open up service options to its clients and enhance their overall banking experience.
Dignitaries at the launch commended the Board and Management of FCMB Group Plc for going the extra mile in ensuring the institution has a very strong presence in the United Kingdom through FCMB Bank (UK) Limited, which will go a long way to boost individual and business transactions between Nigeria and the United Kingdom, thereby enhancing customer experience.
Operating in the City of London, FCMB Bank (UK) Limited began its operations as a BIPRU €50k investment firm in September 2009 with CSL Stockbrokers (another subsidiary of FCMB Group Plc), providing the services of "receiving and transmitting" institutional client orders for Nigerian listed securities. Subsequent to the variation of its permission on September 27, 2013, the Bank commenced wholesale deposit taking activities across various segments.
See pictures from the launch below:
Audiomack partners Slum2School to support the education of students from underserved communities
These funds will go towards supporting 38 learners with tablets in the virtual learning program.
Moving music forward means empowering the next generation of creatives. In that spirit, Audiomack will be donating $5000 USD worth of tablets and headsets that will support the Slum2School initiative in Africa, which is a volunteer-driven development organization empowering underserved children in slums and remote communities with quality education, entrepreneurial skills, and psychosocial support to enable them to realize their full potential and become social reformers.
These funds will go towards supporting 38 learners with tablets in the virtual learning program which was designed to combat the impact of COVID-19 on education in disadvantaged communities in Nigeria.
Speaking about the initiative, Charlotte Bwana, Head of Business Development and Media Partnerships for Audiomack Africa reiterated Audiomack's commitment to empowering its host communities. She said, "While the Coronavirus pandemic has impacted all aspects of our lives including the education sector, we recognize the increased gap on children from underprivileged communities as they are unable to access quality education and learning materials. This donation demonstrates our efforts to bridge this gap because we are committed to fostering a world where everyone has the opportunity to learn and prosper."
Also commenting, Otto Orondaam, Founder of Slum2School Africa said, "We are glad to collaborate with Audiomack who shares in our vision to transform the society by empowering underserved children in slums and remote communities with quality education. We also call on individuals and organizations to support this cause and help make an impact in Nigeria's educational development".
This donation comes on the heels of Audiomack donating to Girls Who Listen and Pretty Girls Sweat for Women's History Month.
Dangote: Cement price from our factories is between N2,450 and N2,510 per bag, VAT inclusive
…says Nigeria price is in line with or lower than prices across the West African coast.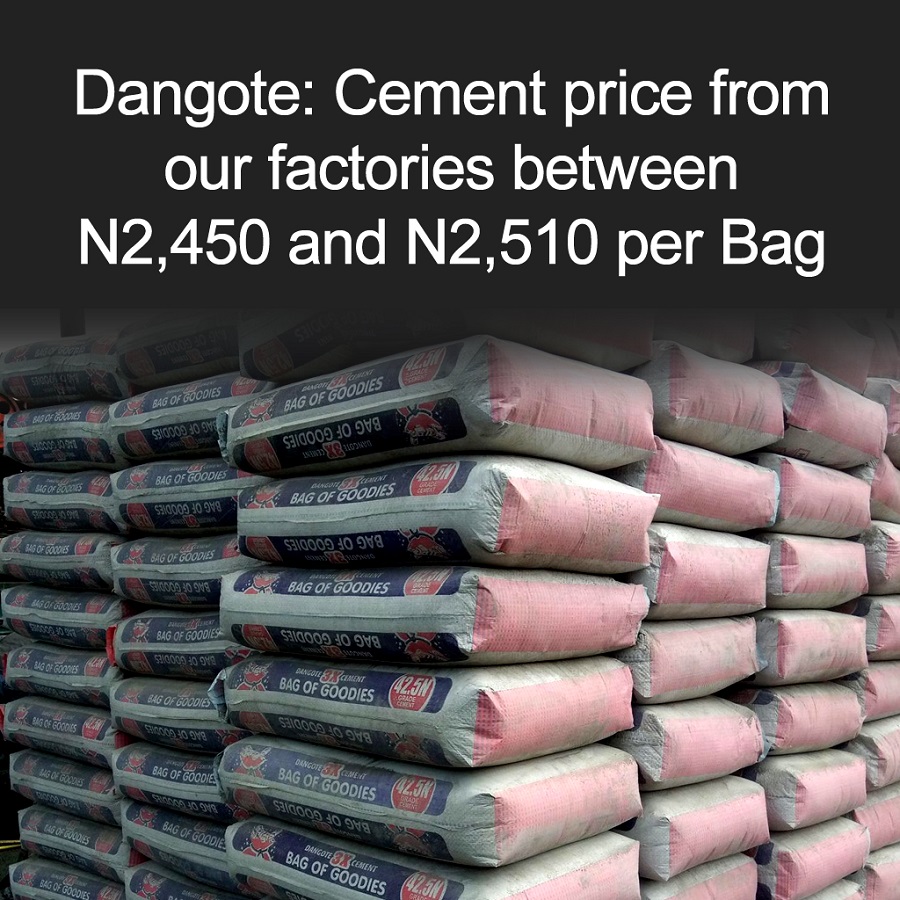 Management of Dangote Cement Plc has clarified that the price of a bag of cement from its factories and plants across Nigeria (as at 12th April, 2021) is N2,450 in Obajana and Gboko, and N2,510 in Ibese inclusive of VAT. The clarification was made in view of recent insinuations that the company sells cement in Nigeria at significantly higher prices relative to other countries, particularly Ghana and Zambia.
Dangote's Group Executive Director, Strategy, Portfolio Development & Capital Projects, Devakumar Edwin revealed that, while a bag of Cement sells for an equivalent of $5.1, including VAT in Nigeria, it sells for $7.2 in Ghana and $5.95 in Zambia ex-factory, inclusive of all taxes. He said that though the company has direct control over its ex-factory prices, it cannot control the ultimate price of cement when it gets to the market. He advised that it is important to distinguish Dangote's ex-factory prices from prices at which retailers sell cement in the market.
READ: Dangote Cement pays N1.1 trillion in dividends in 5 years.
He, therefore, frowned at intentional misinformation or demarketing, allegedly sponsored by some individuals, that Dangote sells its cement at higher prices in Nigeria relative to other African countries at the expense of Nigerians. He described the allegation as false, misleading, and unfounded, while giving the media persons present at the press conference copies of invoices from Nigeria and some other African countries (Cameroun, Ghana, Sierra Leone, Zambia), and urging them to conduct independent investigations on the price of cement across the West African coast.
Edwin further explained that while Dangote cement has 60% share of the market, other companies have the remaining 40%. DCP has no control over neither the prices charged by other cement manufacturers nor the prices charged by retailers in the markets.
READ: Dangote Cement joins MTN in the trillion-naira club, as 2020 revenue surpassed N1 trillion
He further explained that "Demand for cement has risen globally as a fallout of the COVID crisis. Nigeria is no exception as a combination of monetary policy changes and low returns from the capital market has resulted in a significant increase in construction activity. To ensure that we meet local demand, we had to suspend exports from our recently commissioned export terminals, thereby foregoing dollar earnings. We also had to reactivate our 4.5m ton capacity Gboko Plant which was closed 4 years ago and run it at a higher cost all in a bid to guarantee that we meet demand and keep the price of Cement within control in the country."
READ: Dangote Cement considers debt funding options under 300 billion bond issuance programme
He said: "Over the past 15 months, our production costs have gone up significantly. About 50% of our costs are linked to USD so the cost of critical components like: gas, gypsum, bags, and spare parts; has increased significantly due to devaluation of the Naira and VAT increase. Despite this, DCP has not increased ex-factory prices since December 2019 till date while prices of most other building materials have gone up significantly. We have only adjusted our transport rates to account for higher costs of diesel, spare parts, tyres, and truck replacement. Still, we charge our customers only N300 – 350 per bag for deliveries within a 1,200km radius. We have been responsible enough not to even attempt to cash in on the recent rise in demand to increase prices so far." 
Nairametrics | Company Earnings
Access our Live Feed portal for the latest company earnings as they drop.