Company profile: Chams Plc and the perils of competition. 
Chams Plc really needs to step up its game in order to remain relevant.
The Nigerian tech ecosystem is undoubtedly one of the most vibrant in the whole of Africa. It is also the most alluring for many startup founders who are constantly innovating, while taking advantage of the opportunities that abound.
In view of the innovations and disruptions, it is important not to forget that some companies earlier paved the way for the success we now see. One of such companies is Chams Plc, which by the way, is an NSE-listed corporation though it is not so popular.
For today's company profile, we shall be looking at Chams Plc, focusing on everything from its history to its various services, management team/board of directors, and of course, the investment prospects. Most importantly, we shall also be looking at how the company manages to stay relevant amidst growing competition. Get to know more about Chams Plc.
Corporate information about the company: incorporation date, founder and more
Chams Plc is a Nigerian company which operates in the ICT sector. At the core of its business model is identity management and e-Payment service provision. It works with several government ministries/agencies, and even private companies to document the identities of Nigerians, while verifying same whenever needed.
The company was founded by Sir Demola Benjamin Aladekomo and incorporated in 1985 as a private limited company, initially serving as a computer and hardware maintenance service provider. But in the course of about thirty years, it has transformed to become one of the biggest providers of all-round technology solutions in Nigeria. Information available on their website claims that it has been a part of Nigeria's identity management history since 1992.
It is important to note that Chams Plc has a number of 'firsts' under its credit. It is said to have pioneered the first card payment scheme in Nigeria. The card payment scheme, which was a partnership with VISA, is called Valucard. It has received license from the Central Bank of Nigeria to provide services such as POS terminal service provision, mobile payment, prepaid card issuance, independent ATM deployment, etc.
The company is also reputed to have set up the ChamsCity Digital Mall, a feat for which it received a Guinness World Book of Records' feature. It is also one of the foremost ICT companies to have its equities listed on the floor of the Nigerian Stock Exchange.
Moving on, Chams Plc is the front-end partner to the National Identity Management Commission (NIMC), the rather inefficient government agency responsible for assigning unique identification numbers to Nigerians.
The company has four subsidiaries which include:
Chams Access
Chams Switch
Card Centre
Chams Mobile
A look at the company's target market
Chams Plc targets government agencies and private companies with its identity management and e-Payment solutions. As such, some of the company's most notable clients include the Independent National Electoral Commission (INEC), the Nigerian Customs Service (NCS), Nigerian Airforce, the National Health Insurance Scheme (NHIS), Nigerian Communications Commission (NCC), ICAN, PenCom, NAHCO, etc.
The company's business outsourcing arm also caters to the needs of corporates by providing facilities for computer-based/e-Testing centres across Lagos and elsewhere. It also offers training and provides training spaces for organisations, while also offering contact/call centre services.
Here are some of the individuals on the company's board of directors
Mr. Sunday Olufemi Williams, the Chief Executive Officer: This highly-experienced business executive has had a nearly three-decades-long career at Chams Plc, having started out in 1989 as a Corps Member. He is a graduate of the Obafemi Awolowo University, graduating in 1989 with a degree in Electronics and Electrical Engineering. He also has a Master's in Business Administration from the Abubakar Tafawa Balewa University, Bauchi.
He is an alumnus of the Massachusetts Institute of Technology (MIT) and the Lagos Business School where he has completed different kinds of academic/professional programmes.
Due to his many contributions towards ensuring the growth of the company, Mr. Williams was constantly promoted. He was a Non-Executive Director at Chams Plc for more than fifteen years. By 2012, he became the Deputy Managing Director, a position he held till 2015 when he was appointed as the Group Managing Director/CEO, a position he still occupies till date.
Sir Demola Aladekomo (Founder/Non-Executive director): He is the brain behind Chams Plc. After many years of working hard to build the company, he retired in 2015 as the Group Managing Director. He currently serves as a Non-Executive Director in the company.
He graduated from the Obafemi Awolowo University, Ife, in 1982 with a degree in Computer Engineering. By 1984, he had bagged an MBA from the University of Lagos. He is also an alumnus of the Lagos Business School, as well as a Member/Fellow of different associations, including the Nigerian Computer Society and Computer Professional Registration Council (FCPN), etc.
Sir Demola currently sits on the board of several organisations.
Other notable members of the company's Board of Directors include:
Very Rev. Ayo Richards: Chairman
Mrs. Funke AlomoOluwa: Executive Director
Mrs. Mayowa Olaniyan: Executive Director
Dr. Evans Woherem: Non-Executive Director, etc.
The company's ownership structure
Information about the company's substantial shareholding structure, as contained in its 2017 full year financial report, has it that some 494,900,229 units of shares belong to Stanbic Nom./AMCON/Access Bank Plc. This makes up about 10.54%.
For more on the company's substantial shareholding structure, see the picture below:
On the company's growing competition
Although Chams Plc can always pride itself as one of the foremost companies in Nigeria's vibrant tech space, it is currently not enjoying any monopoly. This is because so many more companies have emerged on the scene since 1985, offering similar services for which Chams is known, and perhaps even doing it a lot better.
We have the likes of eTranzact, Computer Warehouse Group, Courteville Business Solutions Plc, Cellullant, etc. To some extent, some companies that perform outsourcing services for firms (such as C & I Leasing Plc and others) also pose as competition to Chams.
All of these companies are competing for market share, meaning that Chams really needs to step up its game in order to remain relevant. But has the company been able to do this?
The company still commands a considerable market share especially with government contracts in the area of data security and identity management. However, it has lost ground to the more lucrative enterprise management and tech support to more innovative local companies and more importantly the might of Chinese tech giant Huawei.
You would expect Chams to compete in the area of software development and solutions for utilities such as the telecoms and power sector but Chams seem to be struggling in these growth areas.
Chams heavy reliance on government sponsored projects is perhaps its greatest weakness and needs to change if it wants to compete in the businesses of the future.
A look at the company's financial report 
Unfortunately, Chams Plc has failed to maintain steady growth over the last five years. Both revenue and profit have fluctuated, dropping from N3.4 billion in 2013 to N1.9 billion in 2017. The company also recorded a loss after tax of N1.2 billion in 2017, down from N1.5 billion in the preceding year.
According to a shareholders' address by the company's Chairman, as contained in its 2017 financial report, the recorded loss was due to a number of factors such as unfavourable economic conditions, impairment of receivables and investments in subsidiaries to the tune of N1.24 billion. He, however, gave assurance that a lot is being done to turn around the fortunes of the company.
On a final note, it is worth noting that Chams Plc has a lot of potential, thanks to its valuable business model. More so, if its Q1 2018 is anything to go by, it is already on the right path to financial recovery. Revenue grew to N739 million, up from N334 million in Q1 2017. Profit after tax also stood at N119 million, up from N89 million in Q1 2017.
Access Bank Plc reports profit of N40.9 billion for Q1 2020
Access Bank Plc recorded a profit after tax of N40.9 billion in the first quarter period ended March 31st, 2020, according to the company's latest earnings report which was released earlier this afternoon.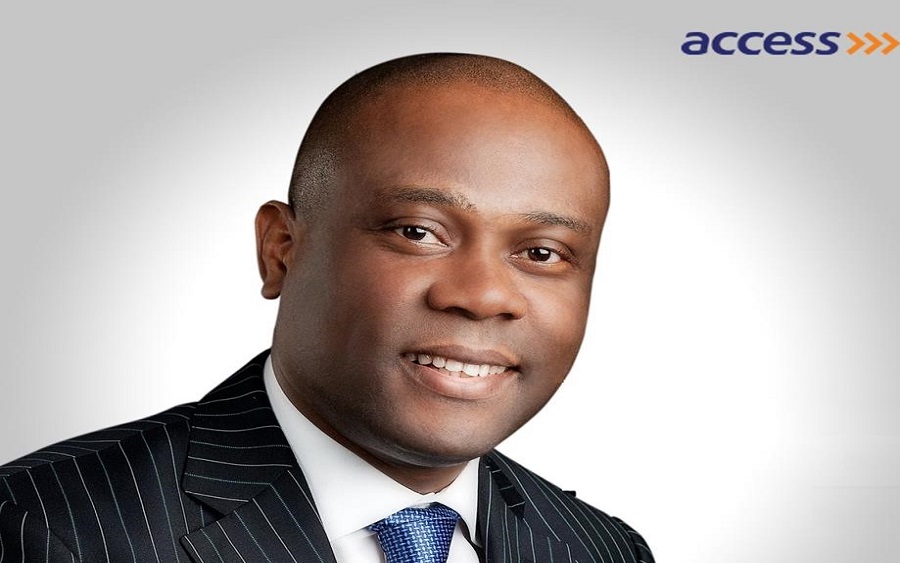 Access Bank Plc recorded a profit after tax of N40.9 billion in the first quarter period ended March 31st, 2020. This is according to the company's financial statement for Q1 2020, which was released earlier this afternoon. Other key details about the company's Q1 financial performance can be seen below.
Net Interest Income: Access Bank's net interest income for the period under review stood at N72.2 billion. This indicates a 27% increase compared to N56.8 billion that was recorded in Q1 2019.
Personnel and Operating Expenses: In Q1 2020, the tier-1 bank incurred a total cost of N19.6 billion in personnel expenses. This shows a 53.5% jump compared to N12.8 billion in Q1 2019. In the same vein, other operating expenses also jumped sharply to N63.5 billion, marking a 69.8% increase when compared to N37.4 in Q1 2019.
READ ALSO: Sterling Bank attempted to 'scam' its customers; but it's a drill
Profit before tax & profit after tax: Access Bank's profit before tax for Q1 2020 stood at N46.2 billion. This is 2.6% more than N45.1 billion reported in Q1 2019. On the other hand, profit after tax decreased slightly by 0.53% to N40.9, down from N41.1 billion.
Note that Access Bank's earnings per share (basic) for the period decreased to 121 kobo as against 139 kobo. Diluted earnings per share also decreased to 119 kobo in Q1 2020 as against 137 kobo in Q1 2019.
READ ALSO: World Bank says remittances to Nigeria, other LMICs will drop by 20% in 2020
You may download the full report right here.
SumoBank rebrands to SumoTrust, introduces bank account numbers
An online savings platform, SumoBank has rebranded as it metamorphosed to SumoTrust to continue the race of digital savings App in Nigeria.
The firm, launched its operation as a digital savings and investment platform, has grown from 0 to serving about 4000 customers.
An online savings platform, SumoBank has rebranded as it metamorphosed to SumoTrust to continue the race of digital savings App in Nigeria.
The firm launched its operation as digital savings and investment platform, and has grown from 0 to serving about 4000 customers.
The development was announced on the Sumobank blog on the 27th of December 2019 by the Chief Executive Officer, Igwe Chrisent.
[READ ALSO: Budget: FG completes only 31.7% of constituency projects(Opens in a new browser tab)]
"In 6 months, we have grown from 0 to serving almost 4000 customers and to serve you better; we decided to carry out a product-service survey which will help us to do more.
"Based on the feedback we got from our 'Esteemed users' on our Product and service survey; we're happy to announce that our vision just got bigger and we've set out to give you the very best of platform for Savings, Investment, learning and more.
"Because our vision got broader and clearer, it is important to know that having 'Bank' attached to our name will not serve the product updates which will be effected in the coming months/years, so we decided to pick a new name."
[READ MORE: Mr Biggs rebrands, launches new model restaurants across Nigeria)
Highlights of rebranding: The Change of name from SumoBank to SumoTrust also came with some updates on the SumoTrust savings App which include:
Addition of NUBAN ACCOUNT numbers which allow users to have their unique bank account numbers for transactions (deposits) in their SumoTrust account.
Group Saving feature which allows users to go on a savings mission with a group of friends, family, associations, challenges, etc to reach a savings goal. See image below:
The article also mentioned that their Learn feature (Motute) which will enable you to teach or learn anything from anywhere in the world will be ready and announced in a few months and will be released on Entrepreneur Platform. This means the Sumotrust's partnership with Entrepreneur Platform will enable you to access the company's course for free and get third party course at a discounted rate.
From this, it is clear Sumobank (SumoTrust) is preparing to become another big company to come out of Nigeria or there's something else we don't know yet, whichever it is, Both names sound alike and non will be forgotten easily since they are all 'Sumo'.
Cornerstone Insurance in consolidation talk with two underwriting firms
Cornerstone Insurance Plc is planning to consolidate with some insurance companies ahead of the recapitalization deadline set by NAICOM. 
Cornerstone Insurance Plc is in merger talks with some insurance companies ahead of the recapitalization deadline set by the National Insurance Commission (NAICOM) for the insurance sector.
The move is to strengthen its capital base. The Group Managing director of the company, Ganiyu Musa, said consolidation with other market players was more efficient compared to just seeking fundraising.
Although Musa didn't reveal the names of the insurance companies negotiating with Cornerstone Insurance, he said consolidation would place the firm in a stronger position, boost expertise, improve technical capacity and even strengthen the capital base of Cornerstone Insurance.
While the consolidation is expected to aid the company's recapitalization process, Musa said the Cornerstone Insurance had already met the recapitalization request by NAICOM.
According to him, the company has exceeded the N18 billion new minimum capital required by the insurance market regulator. Musa said the sale of its property and head office boosted the liquidity of the company, placing its finances in a better footing.
"The sale of our new property along Lekki axis has further increased the liquidity of the company to meet and surpass expectations. The company would have loved to keep the property for the long run, but we were challenged with the fact that real estate investment is not admissible in the ongoing recapitalisation.
"This necessitated the sale of the building for a handsome amount that covers the cost of the building project and still left with profit. At present, we are in a stronger financial position to scale through the exercise as our balance sheet is stronger and healthy," he said. 
[READ MORE: NAICOM boss makes case for recapitalisation, insists exercise will build a stronger insurance sector)
He added that, "The company came out from its loss position of N1.7 billion in 2017 to N1.8 billion profit in 2018, even as the 2019 profit outlook is showing sign of higher profit from that of the previous year, judging from its 2019 third-quarter report."
While the insurance companies don't have a choice but meet the deadline through fundraising and consolidation, the chairman of Mutual Benefit Assurance, Akin Ogunbiyi, said the company was against the planned recapitalisation scheme by NAICOM.
The company has said it could survive the wave of the recapitalisation, it said its concern was for other players who might become victims to the plan. Mutual Benefit also condemned the handling of foreign acquisitions in the Nigerian market.