The economics of Igbo Marriage explained
There has been a lot of assertions that Igbo Marriage in Eastern Nigeria is expensive.
While this is widely believed, a lot people do not also know what is required to get married in the East
This article seeks to show that bride prices in the east do not cost much.
It provides a generally accepted must-know info of what is considered to be bride price.
---
For an Igbo girl, it is when you come of age, that you start hearing stories of how Igbo bride price is costly. Guys, Igbos and non-Igbos, now seem to weave their delay in marrying their Igbo girlfriends with explanations/excuses of wanting to save more to accommodate the cost. To me, it's a myth; one that most people find interesting and do not want to disabuse their minds from.
These days, lots of Igbo brides are getting married and no one is breaking into the bank to do so. Men are marrying Igbo women according to their means. So why does this assumption persist? I know my husband did not have to get a loan or save for a trillion years to get married and I was there for my traditional marriage to see that no one was wailing about spending all of his life's savings in marrying me. I was there! I have also attended lots of Igbo traditional law and custom marriages to know that the groom did not spend everything he had to get a wife and that is why I write this.
The Igbos are the predominant occupants of Eastern Nigeria. They are a very industrious people with an estimated population of 33 Million as recorded in 2016. They are spread across Abia, Anambra, Ebonyi, Enugu, Imo, and some parts of Delta state.
They have a very rich traditional heritage with a long-standing respect for culture and tradition in every aspect of their day to day lives. When it comes to marriage in Igbo land, there is a process involved before the bride and the groom are pronounced as husband and wife according to the native law and custom generally known as the igba nkwu nwanyi.
Recognized steps to paying bride price
Courtship (knowing each other)
When a man is interested in an Igbo lady, the usual practice is to get to know each other's likes and dislikes before making intentions known to the family of the lady. This process is common to all tribes in Nigeria. The courtship period will also afford the man the opportunity of knowing where the lady hails from and what some of their traditions are. In Igbo tradition however, a man's family may handpick a girl they like and arrange for marriage on behalf of the man. This is common with mothers who want their successful sons to marry girls they choose. I call this protecting your investment; infact, most mothers do this.
Knocking at the door
This is a serious stage, more like a semi marriage ceremony with the whole works. These days though, most people do it on a low-key level due to costs, circumstances or so that people with evil intentions won't foil wedding plans. When a man's intention has been known and he is serious in having an Igbo lady's hand in marriage, the first process is to undergo what is known as knocking at the door, called iku aka n'uzo.
This ceremony is done thrice and it is accompanied by the carriage of palm wine. These three times must coincide with three market days. If the first iku aka n'uzo falls on an Eke market day for example, it means the man will repeat the second and third iku aka n'uzo on Eke market days. If it falls on Nkwor market day, same process is followed. Mine was only done once though. The three visits were discarded due to distance and convenience.
The man must come with at least two members of his family to see his future bride's family and specially inquire for the hand of that particular lady. In the olden days, palm wine used to be the main drink that was used in coming for this mission, but modern life has seen the use of beer and hot drinks in carrying out the iku aka n'uzo ceremony.  Though, some still stick to that tradition. When you come for this ceremony, you will be asked series of questions by the girl's people.
Your future in-laws will then make their own investigations about where you come from and your family lineage and background. This is done to avoid marriages between closely related families and to same blood lines. It is also done to uncover if there is a history of madness, or any taboo related occurrence. After the iku aka n'uzo, if the investigation is not favorable, the family of the girl will disapprove of the union.
What Igbo bride price contains
After the third iku aka n'uzo, the man's family will request for a list containing all the items for the traditional marriage rites. Most times, the list is gotten after conferring with the family elders. In circumstances where the girl comes from a royal or highly respected family, the Eze or chief compiles the list.
Before the list is given to the man's family, a bottle of hot drink is given to the eldest man of the lady's family. A sum ranging from N1000 to N2000 is given to the secretary who is usually member of the girl's family. The secretary will go through the list and then give the man's family a copy.
Details of the list
The father of the girl has his own part in the list that must be fulfilled. These items must be bought according to how they appear on the list.
Walking stick
Traditional cap
Native dress that has been sewn
Pair of shoes
N20,000 to N30,000 cash depending on the family
Mother's part
The bride's mother also has items to be bought for her on the list. These include:
1 big basin
1 big covered basin
1 George wrapper
2 Abada (Ordinary wrapper popularly called Hollandis)
3 blouses which have been sewn
A Set of earrings and necklace
Wrist watch
Handbag
3 big head ties
Pair of shoes
20 tubers of yam
2 big stock fishes
1 bag of rice
1 bag of salt
Carton of tin tomatoes
20 liters of Tin groundnut oil
N2,000 to N5,000 cash
Umunna (men)
After settling the list for the father and mother, next you get to the list for Umunna. Their list also contains items that must be bought and presented to them before the marriage rites are approved.
Head of tobacco
A roll of cigarette
Potash
20 gallons of palm wine
4 cartons of beer
4 cartons of maltina
6 bottles of Hot drink
Goat
N10,000 cash
Umuada (women)
The women's group is not left out. They have their own list which must be fulfilled.
20 tubers of yam
1 tin of 20 litres kerosene
1 bag of salt
1 carton of bar soap
1 carton of Lux soap
4 big containers of talcum powder
N10,000 cash
Some of the above listed items can be monetized by the groom in agreement with the girl's family to make it convenient for them in cases where the location of the ceremony is a bit far.  After settling the father, mother, Umunna (men) and Umuada (women), the next and crucial stage is the payment of dowry which is regarded as bride price. This is not done outside, but inside the room. The man and two members of his family will go inside to meet his father in-law and discuss the bride price (dowry).
On the cost of Igbo bride price
In the East, there is no fixed amount for bride price, each family determines what their son in-law pays. Some parts of Abia state set the bride price at 30 shillings – mine, for example. The irony is that if you provide all that is stated in the list and neglect to pay the 30 shillings, you are not yet married. I tell you this, because hubby was unable to give the '30 shillings' and despite the list completed, my dad at various moments would say, "you're still not married, so…," But I digress. I also know that some things we could not bring due to distance were covered with the cash that we could afford and they let us be.
On the other hand, apart from the aforementioned, Anambra, Enugu, Ebonyi and Imo states do not have any particular amount known as bride price. The prices vary, I dare say, "as the spirit leads", when it comes to this.  As regularly observed, parents of the bride will decline accepting the bride price, stating instead that the list for the Umunne be fulfilled and to go ahead and live in peace with their daughter. Even more notable in some cases is parents collecting a particular amount for bride price and then returning it back to the groom with the instruction/advice to take care of their daughter. They always assert that their daughters are not for sale.
The government price for dowry is N60 (Sixty Naira) which is boldly written on the government stamp that is given to the groom's family. Most families in the East do not make huge demands for bride prices because they believe they are not selling their daughters. So no matter how much one pays for dowry, what is officially given as evidence is the N60 government stamped receipt. After the dowry has been paid, the father of the girl or elder brother, elder in the family will then place the girl's hand in that of the boy's father. The father of the boy will then bless the couple and as soon as the girl is handed over, there is jubilation and singing by both families. If the bride has a little sister who is not married, she will follow the couple home and stay for about a week before going back home. They will buy things for her when she is returning.
On Igbo marriage
In the case of serious disagreement, if the woman is no longer interested in the marriage, she will return the dowry to her husband through her family. This must be done before the woman is free to marry another man.
In the East, once the dowry of a woman is paid, you both become one. If she dies, her corpse is usually taken to her husband's place for burial. In extreme cases, where the woman has complained to her family about maltreatment by the man before she dies and the man goes ahead to bury her in his place, her corpse can be exhumed by her own family for reburial in her own village.
Is Igbo bride price cheap?
In summary, the dowry paid for the average Igbo lady cannot be pegged because it differs from family to family, but it is generally small. What consumes a lot is the traditional marriage expenses in tagged 'lists' and this discourages a lot of eligible bachelors from taking an average Igbo girl's hand in marriage. A rough estimate of a million naira is usually needed to accomplish all the various rites before the actual dowry is paid and both partners are declared as husband and wife according to the standard Igbo tradition.
On the other hand, most of the items on the lists could be monetized according to the pockets of the prospective grooms all depending on the understanding among all parties involved so men need not shy away from proposing to their Igbo sweethearts.
Forex turnover drops by 28.3% as naira depreciates against the dollar at I&E window
Naira improved against the dollar by N1.35, closing at N386.33 to a dollar, as against the indicative rate of N387.68 to a dollar that it opened with.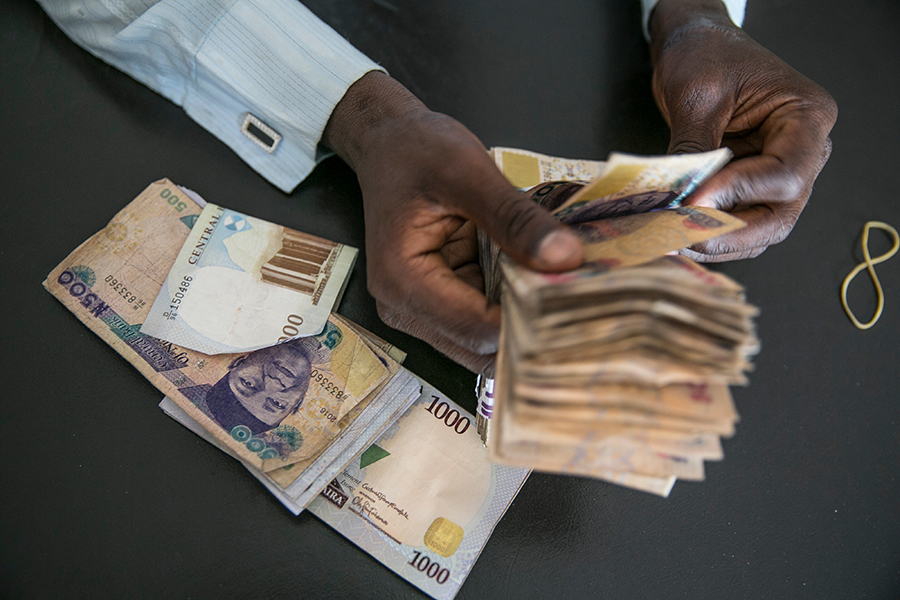 The naira has depreciated to N386.33 to a dollar at the Investors and Exporters (I&E) window, as the volatility of the foreign exchange market continues. The local currency was weakened by N0.83 against the dollar, when compared to the N385.50 to a dollar that it traded on Tuesday, June 2, 2020.
The exchange rate at the I&E window is different from the Central Bank of Nigeria's published exchange rate, which currently stands at N360/$1. This is also different from the exchange rate at the parallel market, which is still stable at N445/$1, according to information on AbokiFX as of Wednesday, June 3, 2020.
Available information from the daily trading at FMDQ (where FX is traded by importers and investors) shows that the naira improved against the dollar by N1.35, closing at N386.33 to a dollar, as against the indicative rate of N387.68 to a dollar that it opened with on Wednesday.
Further analysis of the information from the FMDQ shows that the turnover for the day declined by about 28.3% at $24.64 million. This is against the $34.35 million turnovers that was recorded the previous day.
(READ MORE:Naira appreciates at parallel market)
The foreign exchange market seems to have stabilized at the parallel market, following the reduction in demand for dollars especially by currency speculators, and improved liquidity. The rebound of crude oil prices appears to have eased the concerns of investors over possible devaluation of the naira.
The gap between the CBN official rate and the parallel market rate, also known as the black market, has been greatly reduced as the naira appreciated to N445 to a dollar from N460 to a dollar last week, following CBN's intervention.
READ ALSO: UPDATED: Nigeria's inflation rate rises to 12.34% as COVID effects bite harder
According to data compiled by Bloomberg, the Naira spot market rate is overvalued by 10% when measured by its current real effective exchange rate relative to the 5-year average.
Manufacturing PMI slide into recession territory
This is the first clear data-driven sign that Nigeria is in a recession.
The much-awaited Purchasers Managers Index (PMI) was released on May 29th by the Central Bank of Nigeria. According to the latest data, Manufacturing PMI in the month of May stood at 42.4 index points, indicating contraction in the manufacturing sector for the first time after recording expansion for thirty-six consecutive months.
The figure compares to 51.1 and 49.2 index points in March 2020.
The latest number now falls squarely within recession numbers and this is a clear sign that Nigeria is closer to recording a major contraction in the second quarter of the year.
Meanwhile, the nation's PMI's number hit a year low in April 2016 of 43.7, before plummeting further to 41.9 in June 2016. Nigeria subsequently fell into a recession by the end of the second quarter of 2016 and remained in recession throughout the course of the year.
The nation's non-manufacturing PMI fell for a consecutive month to an all-time low of 25.3. The decline in manufacturing PMI was significant following thirty-six consecutive months of expansion, while the non-Manufacturing PMI contracted for the second consecutive month.
A further look into the report shows that the manufacturing sector employment level index stood at 24.5 points in May, a decline compared to 47.1 points recorded in March and 56.4 points in February 2020.
This downturn is mostly attributed to the halt in economic activity as businesses in Nigeria result in layoffs and pay cuts in order to survive the effect of the lockdown.
READ ALSO: What I'll do if I was CBN Governor – Experts
Also, all 14 subsectors of the manufacturing sector, reported lower raw material inventories, consequently contracting the inventories index to 37.4 points in May 2020. An effect of the supply chain bottleneck associated with the lockdown measures implemented in most countries of the world.
Specifically, this figure translates the effect of lockdown procedures and trade restrictions implemented by Nigeria's major trade partners in response to the COVID-19 pandemic. Note that Nigeria's major trade partners; China, USA, Spain, and the Netherlands account for about 45% of the nation's import.
What you need to know:  PMI is a survey that is conducted by the Statistics Department of the Central Bank of Nigeria. The respondents are purchasing and supply executives of manufacturing and non-manufacturing organizations in all 36 states in Nigeria and the Federal Capital Territory (FCT).
In his reaction to the data, the Central Bank Governor, Godwin Emefiele, in the Monetary Policy Communique, highlighted how dire the situation.
READ MORE: Insufficient electricity, unfavourable economy are among challenges hindering companies –CBN
He said, "The contraction in the manufacturing and non-manufacturing PMIs was attributed to slower growth in production, new orders, employment level, raw materials, and input prices.
"The employment level index for the manufacturing and non-manufacturing PMIs also contracted further to 25.5 and 32.0 index points, respectively, in May 2020 compared with 47.1 and 47.3 index points in March 2020.
"Generally, the purchasing managers' activities in May 2020, were largely affected by the lockdown of the global economy to curtail the spread of the COVID-19 pandemic."
The CBN thereafter reduced its monetary policy rate from 13.5% to 12.5% for the first time since March 2019.
READ ALSO: CBN projects macroeconomy confidence to rise by 118.3% in November
What this means: This survey is a bellwether for economic growth in Nigeria and helps the central bank gauge the mood of businesses in the economy.
PMI above 50 typically indicates a positive mood for the manufacturing and non-manufacturing sectors. Two major causes for concern in the data are the new orders and employment levels.
At 42.8 points, the new orders index declined after thirty-sixth consecutive months of growth, indicating declines in new orders in May 2020. Three subsectors reported growth, 2 remained unchanged while 9 recorded declines in the review month.
Covid-19 Update in Nigeria
On the 3rd of June 2020, 348 new confirmed cases and 1 death were recorded in Nigeria bringing the total confirmed cases recorded in the country to 11,166.
The spread of novel Corona Virus Disease (COVID-19) in Nigeria continues to rise as the latest statistics provided by the Nigeria Centre for Disease Control reveal Nigeria now has 11,166 confirmed cases.
On the 3rd of June 2020, 348 new confirmed cases and 1 death were recorded in Nigeria.
To date, 11166 cases have been confirmed, 3329 cases have been discharged and 315 deaths have been recorded in 35 states and the Federal Capital Territory having carried out 69,801 tests.
Covid-19 Case Updates- 3rd June 2020
Total Number of Cases – 11,166
Total Number Discharged – 3,329
Total Deaths – 315
Total Tests Carried out – 69,801
The 348 new cases are reported from 19 states- Lagos (163), FCT (76), Ebonyi (23), Rivers (21), Delta (8), Nasarawa (8), Niger (8), Enugu(6), Bauchi (5), Edo(5), Ekiti (5), Ondo (5), Gombe (5), Benue(4), Ogun (2), Osun (1), Plateau (1), Kogi (1), Anambra (1).
READ ALSO: COVID-19: Western diplomats warn of disease explosion, poor handling by government
The latest numbers bring Lagos state total confirmed cases to 5440, followed by Kano (970), Abuja at 763, Katsina (371), Edo (341), Oyo (317), Kaduna (297), Borno (296), Ogun (282), Jigawa (274), Rivers (269), Bauchi (246),  Gombe (169), Sokoto (115).
Kwara State has recorded 111 cases, Plateau (109), Delta (106), Nasarawa (88), Zamfara (76), Ebonyi (63), Yobe (52), Osun (47), Akwa Ibom (45), Adamawa (42), Niger (41), Imo (39), Kebbi and Ondo (33), Ekiti (25), Enugu (24), Bayelsa (21), Taraba (18), Abia (15), Benue (13), Anambra (12), while Kogi state has recorded only 3 cases.
Lock Down and Curfew
In a move to combat the spread of the pandemic disease, President Muhammadu Buhari directed the cessation of all movements in Lagos and the FCT for an initial period of 14 days, which took effect from 11 pm on Monday, 30th March 2020.
The movement restriction, which was extended by another two-weeks period, has been partially put on hold with some businesses commencing operations from May 4. On April 27th, 2020, President Muhammadu Buhari declared an overnight curfew from 8 pm to 6 am across the country, as part of new measures to contain the spread of the COVID-19. This comes along with the phased and gradual easing of lockdown measures in FCT, Lagos, and Ogun States, which took effect from Saturday, 2nd May 2020, at 9 am.
READ ALSO: Bill Gates says Trump's WHO funding suspension is dangerous
| Date | Confirmed case | New cases | Total deaths | New deaths | Total recovery | Active cases | Critical cases |
| --- | --- | --- | --- | --- | --- | --- | --- |
| June 3, 2020 | 11166 | 348 | 315 | 1 | 3329 | 7522 | 7 |
| June 2, 2020 | 10819 | 241 | 314 | 15 | 3239 | 7266 | 7 |
| June 1, 2020 | 10578 | 416 | 299 | 12 | 3122 | 7157 | 9 |
| May 31, 2020 | 10162 | 307 | 287 | 14 | 3007 | 6868 | 7 |
| May 30, 2020 | 9855 | 553 | 273 | 12 | 2856 | 6726 | 7 |
| May 29, 2020 | 9302 | 387 | 261 | 2 | 2697 | 6344 | 7 |
| May 28, 2020 | 8915 | 182 | 259 | 5 | 2592 | 6064 | 7 |
| May 27, 2020 | 8733 | 389 | 254 | 5 | 2501 | 5978 | 7 |
| May 26, 2020 | 8344 | 276 | 249 | 16 | 2385 | 5710 | 7 |
| May 25, 2020 | 8068 | 229 | 233 | 7 | 2311 | 5524 | 7 |
| May 24, 2020 | 7839 | 313 | 226 | 5 | 2263 | 5360 | 7 |
| May 23, 2020 | 7526 | 265 | 221 | 0 | 2174 | 5131 | 7 |
| May 22, 2020 | 7261 | 245 | 221 | 10 | 2007 | 5033 | 7 |
| May 21, 2020 | 7016 | 339 | 211 | 11 | 1907 | 4898 | 7 |
| May 20, 2020 | 6677 | 284 | 200 | 8 | 1840 | 4637 | 7 |
| May 19, 2020 | 6401 | 226 | 192 | 1 | 1734 | 4475 | 7 |
| May 18, 2020 | 6175 | 216 | 191 | 9 | 1644 | 4340 | 7 |
| May 17, 2020 | 5959 | 388 | 182 | 6 | 1594 | 4183 | 7 |
| May 16, 2020 | 5621 | 176 | 176 | 5 | 1472 | 3973 | 7 |
| May 15, 2020 | 5445 | 288 | 171 | 3 | 1320 | 3954 | 4 |
| May 14, 2020 | 5162 | 193 | 168 | 3 | 1180 | 3815 | 4 |
| May 13, 2020 | 4971 | 184 | 164 | 6 | 1070 | 3737 | 4 |
| May 12, 2020 | 4787 | 146 | 158 | 6 | 959 | 3670 | 4 |
| May 11, 2020 | 4641 | 242 | 152 | 10 | 902 | 3589 | 4 |
| May 10, 2020 | 4399 | 248 | 142 | 17 | 778 | 3479 | 4 |
| May 9, 2020 | 4151 | 239 | 127 | 11 | 745 | 3278 | 4 |
| May 8, 2020 | 3912 | 386 | 118 | 10 | 679 | 3115 | 4 |
| May 7, 2020 | 3526 | 381 | 108 | 4 | 601 | 2818 | 4 |
| May 6, 2020 | 3145 | 195 | 104 | 5 | 534 | 2507 | 1 |
| May 5, 2020 | 2950 | 148 | 99 | 5 | 481 | 2370 | 4 |
| May 4, 2020 | 2802 | 245 | 94 | 6 | 417 | 2291 | 2 |
| May 3, 2020 | 2558 | 170 | 88 | 2 | 400 | 2070 | 2 |
| May 2, 2020 | 2388 | 220 | 86 | 17 | 351 | 1952 | 2 |
| May 1, 2020 | 2170 | 238 | 69 | 10 | 351 | 1751 | 2 |
| April 30, 2020 | 1932 | 204 | 59 | 7 | 317 | 1556 | 2 |
| April 29, 2020 | 1728 | 196 | 52 | 7 | 307 | 1369 | 2 |
| April 28, 2020 | 1532 | 195 | 45 | 4 | 255 | 1232 | 2 |
| April 27, 2020 | 1337 | 64 | 41 | 0 | 255 | 994 | 2 |
| April 26, 2020 | 1273 | 91 | 41 | 5 | 239 | 994 | 2 |
| April 25, 2020 | 1182 | 87 | 36 | 3 | 222 | 925 | 2 |
| April 24, 2020 | 1095 | 114 | 33 | 1 | 208 | 855 | 2 |
| April 23, 2020 | 981 | 108 | 32 | 3 | 197 | 753 | 2 |
| April 22, 2020 | 873 | 91 | 29 | 3 | 197 | 648 | 2 |
| April 21, 2020 | 782 | 117 | 26 | 3 | 197 | 560 | 2 |
| April 20, 2020 | 665 | 38 | 23 | 1 | 188 | 466 | 2 |
| April 19, 2020 | 627 | 86 | 22 | 2 | 170 | 436 | 2 |
| April 18, 2020 | 541 | 48 | 20 | 2 | 166 | 356 | 2 |
| April 17, 2020 | 493 | 51 | 18 | 4 | 159 | 317 | 2 |
| April 16, 2020 | 442 | 35 | 13 | 1 | 152 | 277 | 2 |
| April 15, 2020 | 407 | 34 | 12 | 1 | 128 | 267 | 2 |
| April 14, 2020 | 373 | 30 | 11 | 1 | 99 | 263 | 2 |
| April 13, 2020 | 343 | 20 | 10 | 0 | 91 | 242 | 2 |
| April 12, 2020 | 323 | 5 | 10 | 0 | 85 | 228 | 2 |
| April 11, 2020 | 318 | 13 | 10 | 3 | 70 | 238 | 2 |
| April 10, 2020 | 305 | 17 | 7 | 0 | 58 | 240 | 2 |
| April 9, 2020 | 288 | 14 | 7 | 1 | 51 | 230 | 2 |
| April 8, 2020 | 274 | 22 | 6 | 0 | 44 | 226 | 2 |
| April 7, 2020 | 254 | 16 | 6 | 1 | 44 | 204 | 2 |
| April 6, 2020 | 238 | 6 | 5 | 0 | 35 | 198 | 2 |
| April 5, 2020 | 232 | 18 | 5 | 1 | 33 | 194 | 2 |
| April 4, 2020 | 214 | 5 | 4 | 0 | 25 | 185 | 0 |
| April 3, 2020 | 209 | 25 | 4 | 2 | 25 | 180 | 0 |
| April 2, 2020 | 184 | 10 | 2 | 0 | 20 | 162 | 0 |
| April 1, 2020 | 174 | 35 | 2 | 0 | 9 | 163 | 0 |
| March 31, 2020 | 139 | 8 | 2 | 0 | 9 | 128 | 0 |
| March 30, 2020 | 131 | 20 | 2 | 1 | 8 | 121 | 0 |
| March 29, 2020 | 111 | 22 | 1 | 0 | 3 | 107 | 0 |
| March 28, 2020 | 89 | 19 | 1 | 0 | 3 | 85 | 0 |
| March 27, 2020 | 70 | 5 | 1 | 0 | 3 | 66 | 0 |
| March 26, 2020 | 65 | 14 | 1 | 0 | 2 | 62 | 0 |
| March 25, 2020 | 51 | 7 | 1 | 0 | 2 | 48 | 0 |
| March 24, 2020 | 44 | 4 | 1 | 0 | 2 | 41 | 0 |
| March 23, 2020 | 40 | 10 | 1 | 1 | 2 | 37 | 0 |
| March 22, 2020 | 30 | 8 | 0 | 0 | 2 | 28 | 0 |
| March 21, 2020 | 22 | 10 | 0 | 0 | 1 | 21 | 0 |
| March 20, 2020 | 12 | 4 | 0 | 0 | 1 | 11 | 0 |
| March 19, 2020 | 8 | 0 | 0 | 0 | 1 | 7 | 0 |
| March 18, 2020 | 8 | 5 | 0 | 0 | 1 | 7 | 0 |
| March 17, 2020 | 3 | 1 | 0 | 0 | 0 | 3 | 0 |
| March 16, 2020 | 2 | 0 | 0 | 0 | 0 | 2 | 0 |
| March 15, 2020 | 2 | 0 | 0 | 0 | 0 | 2 | 0 |
| March 14, 2020 | 2 | 0 | 0 | 0 | 0 | 2 | 0 |
| March 13, 2020 | 2 | 0 | 0 | 0 | 0 | 2 | 0 |
| March 12, 2020 | 2 | 0 | 0 | 0 | 0 | 2 | 0 |
| March 11, 2020 | 2 | 0 | 0 | 0 | 0 | 2 | 0 |
| March 10, 2020 | 2 | 0 | 0 | 0 | 0 | 2 | 0 |
| March 9, 2020 | 2 | 1 | 0 | 0 | 0 | 2 | 0 |
| March 8, 2020 | 1 | 0 | 0 | 0 | 0 | 1 | 0 |
| March 7, 2020 | 1 | 0 | 0 | 0 | 0 | 1 | 0 |
| March 6, 2020 | 1 | 0 | 0 | 0 | 0 | 1 | 0 |
| March 5, 2020 | 1 | 0 | 0 | 0 | 0 | 1 | 0 |
| March 4, 2020 | 1 | 0 | 0 | 0 | 0 | 1 | 0 |
| March 3, 2020 | 1 | 0 | 0 | 0 | 0 | 1 | 0 |
| March 2, 2020 | 1 | 0 | 0 | 0 | 0 | 1 | 0 |
| March 1, 2020 | 1 | 0 | 0 | 0 | 0 | 1 | 0 |
| February 29, 2020 | 1 | 0 | 0 | 0 | 0 | 1 | 0 |
| February 28, 2020 | 1 | 1 | 0 | 0 | 0 | 1 | 0 |