Implication for stocks, now that MSCI has retained Nigeria in the frontier index
Cardinal Stone: Late Thursday (oct 26th), Morgan Stanley Capital International (MSCI) announced that Nigeria stocks will remain part of its frontier index and are no longer under review for a possible demotion to a standalone status. The decision was hinged on improved FX liquidity in the Nigeria market, likely related to improved FX transactions at the "Investors and Exporters" (IE) window.
For context, MSCI had previously announced in June 2016 that it was considering Nigeria for a possible downgrade to stand-alone status, highlighting deteriorating FX liquidity as well as FX restrictions as key concerns. This development led to a massive outflow of capital from the Nigeria equities market – Market capitalization declined by 17.14%. Until now, the decision whether or not to retain Nigeria in its Frontier Market Index has been a recurring theme in the Nigerian equity market space among both local and foreign institutional investors.
The Central Bank of Nigeria (CBN) in April, 2017 established the IE window that allowed for FX transactions at market determined rates in a bid to ease the concerns of foreign investors. Consequently, the MSCI decision on whether to retain Nigeria in its Frontier market indexes in June, 2017, was postponed to ascertain the effectiveness of the IE window. Unequivocally, the MSCI's decision to retain Nigeria in the Frontier index reflects the success and effectiveness of the IE window.
Possible Impact of Decision 
Sequel to the implementation of the window, foreign sentiments improved significantly towards Nigerian equities. Despite the uptick in foreign interest, a handful of foreign fund managers waited on the side-lines in anticipation of the final MSCI announcement. We believe this potential demand from these foreign investors as well as tactical local market participants will spur positive sentiments in the short term.
With the reassurance that investors can complete their transactions at a market determined exchange rate, we expect to see further influx of capital into the equities market. Currently, foreign portfolio managers tracking the MSCI Frontier Market index allocates weights varying from 3.98% to 4.99% compared to the 7.96% benchmark weight of the MSCI frontier index.
This implies that these fund managers are still significantly underweight. Thus, we expect underweighted fund managers to rebalance their portfolios in favour of the Nigeria market. This will consequently improve sentiments and demand for Nigerian equities.
MTN, Stanbic IBTC lead Nigerian stocks in a hat trick
A turnover of 353.32 million shares valued at N7.03billion in 4,659 deals was recorded in today's trading as FBNH was the most traded stock.
The Nigerian stock market extended its positive stance into the third trading session, as the All Share Index (ASI) rose marginally by 0.10 % to settle at 25,407.96 basis points, pegging Year-to-Date return at -5.33% while the market capitalization sits at N13.25 trillion.
A turnover of 353.32 million shares valued at N7.03 billion in 4,659 deals was recorded in today's trading. FBNH was the most traded stock by volume at 50.2 million units, while NB topped by value at N2.02 billion.
Market breadth finished flat, with 19 gainers led by SKYEAVN (+9.66%) and PRESCO (+9.04%), while 19 stocks declined, topped by PZ (-9.43%).
Analyzing by sectors, the Insurance index recorded 0.05% increase as LASACO and AIICO gained +8.00% and +4.55% respectively, while losses recorded in ACCESS (-3.54%), UBA (-1.47%), GUINNESS (-5.00%), and WAPCO (-0.87%) closed the Banking, Consumer Goods and Industrial indices by -0.58%, -0.38% and -0.16% respectively. The Oil and Gas index remained flat.
(READ MORE:Why Nigeria's banking stocks performed well in May)
Top gainers 
SKYAVN up 9.66% to close at N2.27; PRESCO up 9.04% to close at N45.25; ETI up 7.77% to close at N5.55; STANBIC up 2.15% to close at N33.2; and MTNN up 1.29% to close at N118.
Top losers 
PZ down 9.43% to close at N4.8; CILEASING down 9.35% to close at N4.85; UACN down  8.33% to close at N7.7; GUINNESS down 5.00% to close at N19; and DANGCEM down 0.35% to close at N140.5.
Outlook 
The bullish momentum continued for the third day, passing the market capitalization resistance level of N13 trillion, triggered by favorable macro fundamentals as the price of crude gained past $40 a barrel.
Nairametrics recommends you seek counsel from a certified financial advisor when buying stocks.
UPDC reaps benefits of NSE's resilience with listing of N16 billion Rights Issue
"We congratulate the Management and Team at UACN Property Development Company Plc, as well as the professional parties to the issue for the successful completion of the transaction." – Oscar Onyema, CEO of the NSE.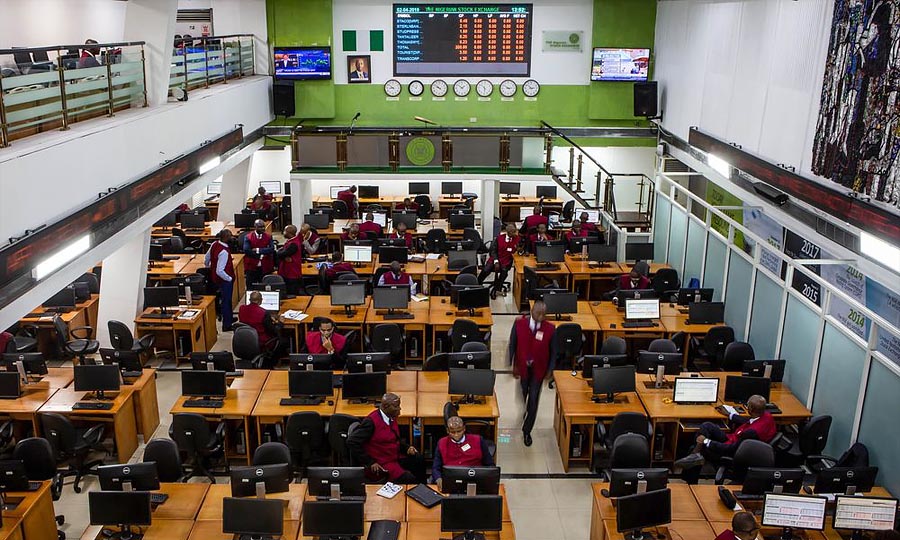 UACN Property Development Company Plc (UPDC) has become yet another beneficiary of The Nigerian Stock Exchange's (NSE or The Exchange) commitment to provide continued access to capital even in the face of COVID-19.
The company successfully listed its N16 billion Rights Issue of 15,961,574,145 Ordinary Shares of 50 kobo each at N=1.00 per Share on the NSE platform on Tuesday, 2 June 2020 shares of 50 kobo each at N=1.00 per Share on the NSE platform on Tuesday, 2 June 2020.
Speaking at the virtual Closing Gong ceremony to commemorate the listing, the Chief Executive Officer, NSE, Mr. Oscar N. Onyema, OON commented, "We congratulate the Management and Team at UACN Property Development Company Plc, as well as the professional parties to the issue for the successful completion of the transaction. At the NSE, we prioritize our responsibility to support the development of Issuers, Dealing Member Firms and the investing public, and we continue to work assiduously to respond to the needs of our stakeholders at every time. We are, therefore, pleased to provide support to UPDC on this successful capital raise, and we remain committed to providing opportunities for trading activities across multiple asset classes – equities, bonds, ETFs."
READ ALSO: Seplat denies swindling FG of N600 billion despite co-conspirator's guilty plea
Commenting on the transaction, the Group Managing Director, UPDC, Mr. Folasope Aiyesimoji said, "I am deeply honoured to virtually sound the Closing Gong at the NSE today. The innovation and forward-thinking displayed by The Exchange in harnessing technology to make this possible is truly commendable. We at UPDC are excited about the milestone we have achieved today, and we are confident that the funds raised will further strengthen our capital structure and position us for growth. We count ourselves fortunate to be listed on the NSE which exposes us to a wide pool of investors and funding options. We must also commend the NSE for its efforts in building investor confidence which has made it possible for us to access this capital. We are grateful for the trust reposed in us by investors and we are keen to get on with the invaluable projects this capital will support."
The Exchange remains focused on leveraging technology and business innovation to sustain full operations during this pandemic. Since the activation of its Business Continuity Plan which saw the transition to remote trading and working in March, the NSE has enjoyed seamless operations on the back of electronic platforms such as FIX Protocol, X-NET, and the newly implemented Virtual Private Network (VPN). The NSE digital Closing Gong ceremony also attests to the resilience of the NSE's technology platforms with UPDC being the third company to feature in the series following Sterling Bank and FBNQuest Merchant Bank.
Analysis: Is this a Lafarge rebirth?
Lafarge Africa Plc, one of the biggest building and concrete solutions companies in the world's three biggest Achilles' heels.
Lafarge Africa Plc, a unit of LafargecHolcim Group – one of the biggest building and concrete solutions companies in the world, has had a pretty long run in the construction sector. With projected growth in urbanization and inevitable population expansion, the leading producer of building materials and construction solutions has its stake in the huge Nigerian housing market. The company had served customers in Nigeria and South Africa (now discontinued) for decades, their customer base cutting across individuals requiring small building projects to major construction and infrastructure projects. All of these do well to place the company as an active participant in the economic growth of Africa.
Yet, so much has plagued the company in the past few years, curtailing its success with avoidable losses and below-par profits. While it, no doubt, has a series of challenges to worry about – like most organizations – three of its biggest Achilles' heels had been its failing South African operations, its incessant changes in its corporate leadership, and of course, the one pandemic threatening to rip the global economy to shreds – COVID-19.
Lafarge South Africa
The company's experience with its South African subsidiary gives credence to the phrase, "If anything is not serving you well, cut it off." After years of dragging the African cement-maker down, the subsidiary was eventually spun off in July last year – not before it incurred a final loss of N3.2 billion in the first quarter of 2019. It was only after, when Lafarge restated its accounts by adjusting figures from the discontinued operations from its books, that the company set off on a positive growth trajectory.
Following the sale of Lafarge South Africa Holdings (LSAH) in Q3, there was a remarkable improvement in gross and operating margins, clearly showing that the sale of LSAH was valued accretive to shareholders. For one, the total debt reduced drastically. Short term loans and long term loans also had a drop of 79% and 75% respectively in comparison with the first quarter of last year. Other financial assets increased significantly from N1.7 billion in 2019 to N4.8 billion in Q1 2020. Also resulting from the sale was the increase in EPS from Q1 2019 of 0.36 to Q1 2020 of 0.93.
(READ MORE: Analysis: Total Nigeria needs a financial overhaul)
Khaled El Dokani, CCEO of Lafarge Africa had stated, "Our turnaround and cost-reduction strategy in FY 2019 and the divestment of the South African business, have delivered strong results. The decrease in net debt has significantly strengthened our balance sheet and has placed us in a vantage position to face the future."
Its Changing Leadership
In 2018 alone, the firm appointed four directors in the space of three months. 9 months ago, in September, former CFO of Lafarge Africa Plc., Bruno Bayet, resigned.  Just a month later, the board had announced the appointment of Lolu Alade Akinyemi as the new CFO. Next, the group CEO, Michel Puchercos, also resigned leaving Khaled Abdelaziz El Dokani in charge. Even amidst the challenges of 2020, Jean-Philippe Benard resigned from being a Non-Executive Director in January 2020 and by April, the retirement of two Non-Executive Directors was announced, as well as the appointment of three new directors. The high turnover of its leadership means one (or both) of two things. The first is the possibility that there could be more than meets the eyes within the company and the second is the truth that the newer leadership will need time to adjust to the company's operations before the wins.
COVID-19
Just when things started looking up, COVID-19 came with all its challenges and it didn't help that the first carrier of the virus – an Italian man, had been visiting Lafarge Africa's factory in Ogun State. The loss in the demand for cement with the stalled construction activities will pose an additional challenge for the organization. In the performance summary released alongside the financials, the company had noted that the pandemic "will adversely affect the company's results in Q2, 2020." This is also coupled with the burgeoning competitive landscape with bigger brands like BUA and Dangote owning larger market shares.
While the company seems to be moving in the right direction, it might take a while for things to pick up. At its current price of N11.65 juxtaposed with its indicative dividend yield of 8.58%, the company could serve as an easy buy capable of yielding dividend income while investors wait patiently and hopefully for its wins to come.