Corporate News roundup for the week ended October 28, 2017
This is a weekly compilation of corporate news from the Nigerian Economy. It covers news from the telecoms, financial services, oil and gas, tech, industrial aviation sectors of the economy.
Econet owned Kwese TV debuted in Nigeria last week announcing that it will also offer Pay as You go services. According to Kwese TV, consumers can purchase three and seven-day subscriptions at N990 and N1, 850, as well as a 30-day subscription option for N6, 275. Kwese TV will be in direct competition with the likes of DSTV, Startimes, GO TV and TsTv.
Signal Alliance announced last week that it been appointed by Microsoft Corporations as a Tier-I Cloud Solution Provider (CSP). The deal enables the company to provide direct billing, sell combined offers and services, as well as directly provision, manage and support Microsoft cloud offerings. So, from this month, Signal Alliance owns the complete customer lifecycle, allowing it to easily sell Office 365, Microsoft Azure, Dynamics CRM Online, Enterprise Mobility Suite and Microsoft Intun. Microsoft's Azure is second to Amazon Cloud as the world's largest cloud computing business. This deal looks like a major score for Signal A.
Lafarge Plc announced last week that it has obtained approval from the FMDQ to raise N60 billion in Commercial Paper. It will also list the commercial paper on the FMDQOTC. Nigerian corporates have increased the utilization of the FMDQOTC platforms this year, as they leverage on the demand for yield seeking investors to sell debts.
Air Peace Limited celebrated its 3rd anniversary last week. The airline has increased its market share of the domestic airline market and is neck and neck with Arik as the largest local airline operator. The airline appears to be extending its efforts abroad after it announced it has procured six ERJ145 and B737 aircraft aircraft to increase its fleet to 24. It claims it wants to start operating international routes. International routes have been like a Waterloo for local airlines considering the scale of operations and efficiency required to scale it. t will be interesting to see how Air Peace succeeds in this area. Will it negatively affect their operations locally? Will they amass debt?
Reports emerged last week that about 13 companies were vying for the ownership of 9 Mobile Ltd. The companies are MTN, Airtel, ntel. Others who put in bids but do not currently own licenses to operate are Bua Group, owned by Alhaji Abdulsamad Rabiu; Morning Side Capital Partners, promoted by Alex Otti, the former Managing Director of Diamond Bank Plc, and Africell, a subsidiary of the Lebanon-based Lintel Group of Companies. The report also lists Obot Etiebet & Co, belonging to a former petroleum minister, Mr. Don Etiebet; Blackstone Private Equity; Tel-ology Holdings Limited, a special purpose vehicle led by a former chief executive of MTN Nigeria, Mr. Adrian Wood, and Ericsson; De-elim Services Limited; Veittel, a firm owned by the investment arm of the Vietnamese military which has telecoms assets in Africa; ; AB-Bro Limited, a Nigerian venture company; Hamilton and George International Limited; look at that list and I wonder if this suggest 9 Mobile might just be in the driving seat for negotiations. It is quite unlikely that the current operators will be allowed to own 9Mobile, while it is also interesting to note the absence of Globacom on this list.
And in a related development, the Senate announced that it was investigating the Etisalat debt crisis following the adoption of a motion by Senator Olamilekan Adeola (Lagos-West). The Senate claims it is investigating Etisalat due to the ripple effect it could have on banks, if the loans were never to be recovered and the impact it could have on foreign investors. It also claimed it was imperative that it investigate as it was "aware of allegations that the loans have been diverted to other uses not related to the business for which the huge loan was obtained, as there was no evidence of what the company did with the loans." The interesting part of the report was its decision to task a committee nominated to consider the issue "to make recommendations on ways the Nigeria Financial Governance Structure can be strengthened by legislation to prevent any future similar reoccurrence." This should worry businesses as new laws that enhance regulations can end up stifling ease of doing business.
This is our "one chance" news of the week. The real estate market in Nigeria got introduced to its very first network marketing scheme following a press release from KingBuilder a real estate company based in Lagos. According to the folks at KingBuilder, you have an "opportunity to own a 3 Bedroom Bungalow, win a trip to Dubai, cash worth of N10m and other bonuses with just N25k under H.O.M.E PLAN initiative." We visited the website and the scheme is entirely a network marketing scheme, the type you get with alternative medicine. So, you register by paying a non-refundable N25k and will be expected to recruit 5 people who will also deposit N25k each. Once you achieve that you cross level 1, you move to level 2 where "you win" laptops. Level 3 is where "you win" a Land and level 5 "a house" You can check it out by following this link. Caveat Emptor oh See their website https://www.kbhomeplan.com/how_it_works.php
Wema Bank paved the road towards dividend payment, after it announced last week that its shareholders had approved that it sets off about N40 billion in its share premium account against its reserves. By law, dividend cannot be paid out of negative reserves and as such to avoid this trap, companies with positive share premium set it off against negative reserves. The share premium account is the where companies record the premium paid by investors (who are not the original promoters) to be part of an existing business that they find valuable. Companies like Transcorp & Forte Oil have also set off their share premium accounts against reserves in the past.
In perhaps the only deal announced last week, FCMB will increase its stake in Legacy Pension funds to 88.2% after it reached an agreement to acquire additional 60% equity stake in Legacy Pension Managers Limited. The deal is subject to regulatory approvals and if approved will make the pension company a subsidiary of FCMB. This gives FCMB access to cash flows from pension contributors which it can invest and earn fees from. PF Administration has become a lucrative business for most PFA's due to their relatively strict regulations which allows them to invest cautiously while retaining their fees. The Pension regulations also make it difficult for contributors to move from one fund to other, a move that may have encourage competition.
Unity Bank announced last week that it has appointed Aminu Babangida, son of IBB, former military head of state, as chairman of the bank. He takes over from Thomas Etuh. He has been on the board of the bank since 2011. Also on the board is Funsho Obasanjo, the daughter of former President Obasanjo. AMCON owns about 34% of Unity Bank, while Babangida and Obasanjo represents holdings of another 5.5% and 7.9% respectively.
Sendje Berge Limited, a subsidiary of BW Offshore Limited, announced that it has now agreed terms of a contract extension for the FPSO Sendje Berge with Addax Petroleum Exploration (Nigeria) Ltd on the Okwori field offshore Nigeria. The Contract extension will be for a four-year fixed term with two additional one-year extension options, commencing 6 November 2017.
In further confirmation that DisCos now reject power supply in Nigeria, Kainji and Jebba hydro power plants announced that they are cutting down on the quantum of power they generate by about 320 megawatts and 96.4MW, respectively. They claim this is because of rejection of electricity load by distributors. Reports indicate DisCos have increased the rejection of power supplies to reduce their losses and debt to the electricity market. It appears that the less power DisCos have the better they can manage commercial and collection losses.
The Bayelsa State Government announced last week that it has signed a MoU, with Rehoboth refinery for the construction of 60,000 bpd modular refinery. The refinery is expected to cost about $120 million and will be concluded in 18 months. The company claimed that it bought land from the community where the refinery will be located. It also claims to be raising about 60% of the amount in loans and will start the first phase of 12,000 bpd for phase 1. The company also added that it is still expecting "incentives" from the FG & is working with the Bayelsa State Government to help facilitate that Rehoboth has been planning to build a refinery since the days of the Obasanjo administration.
As you may well have heard, Oando got a court order last week, to lift the suspension of trading in its shares and halt a forensic audit planned by the Securities and Exchange Commission (SEC). SEC stated on its website that the stock is now on Technical Suspension and has commenced investigation into the allegations against Oando. It did not comment on the court order.
Head of Research and Technical Affairs in the NPA, the regulatory body in Ghana's emerging downstream sector. According to her, "We are developing a national policy on LPG in Ghana and we're seeking a Nigerian perspective because we're impressed with the strides made by some Nigerian companies in the LPG market. Our desire is to raise the volume of LPG consumption by up to 50% in Ghana by 2030 because LPG is the way to go in domestic energy needs.'' Thus, they visited Technoil which Oil was currently building a 12,000 metric-ton LPG storage facility in Lagos. Technoil is also building an LPG cylinder manufacturing plant, expected to roll out no fewer than 5 million LPG cylinders every year. Technoil said it's "also seeking partner companies and government in West Africa, to achieve common goals in LPG consumption in the sub-region."
The Dangote Group, Nigerian National Petroleum Corporation and Black Rhino Group have purchased the rights to develop the 540-megawatts Qua Iboe Power Plant from a JV owned by the NNPC and Mobil Producing Nigeria. The power plant is one of the lowest cost thermal power plants in Nigeria due to its efficient combined cycle design &competitive gas price. The plant, according to them, will receive gas from Mobil Producing Nigeria under a 20-year Gas Sales Agreement via a new 400 million standard cubic feet per day undersea gas pipeline from MPN's existing offshore production facilities. They also noted that the power plant would unlock investment in transmission infrastructure, including a new 58-kilometre transmission line to be built by the QIPP. Emir of Kano Muhammad Sansui II is the Chairman of the Black Rhino Group.
Diamond Bank CEO, Uzoma Dozie, over the weekend, revealed that the bank is on track to retreat from its African sojourn. The bank which has raked in over N100b in losses in recent years, will now change its strategy to the home front, focusing on retail. The bank is basically saying it is no longer interested in being an "international bank". The CEO, Uzoma Dozie also claimed they won't be looking to do a big-ticket loan transaction,the type that has put them into a massive hole.
Nestle Results blew the pack last week after it reported a whopping 43% growth in revenue to N185 billion for the period ended Sep 2017. The company also reported profits of N22.9 billion compared to N484 million same periods last year. Nestle has shown Nigeria's consumer market is to place to be and they lead the pack of Kings of the Consumer Market.
Dangote Flourmills gained 19.5% last week after it released yet, another strong earnings. The company reported a pre-tax profit of N18 billion in the 9 months ended September 2017 compared to N1.7 billion a year earlier. Dangote has within 2 years of buying the company back from Tiger Branded for $1, wiped out the company's losses. It can now pay dividend.
NB Plc to raise additional N20 billion from its N100 billion Commercial Paper
Nigerian Breweries has announced the continuation of its N100 billion Commercial Paper (CP) Issuance Programme.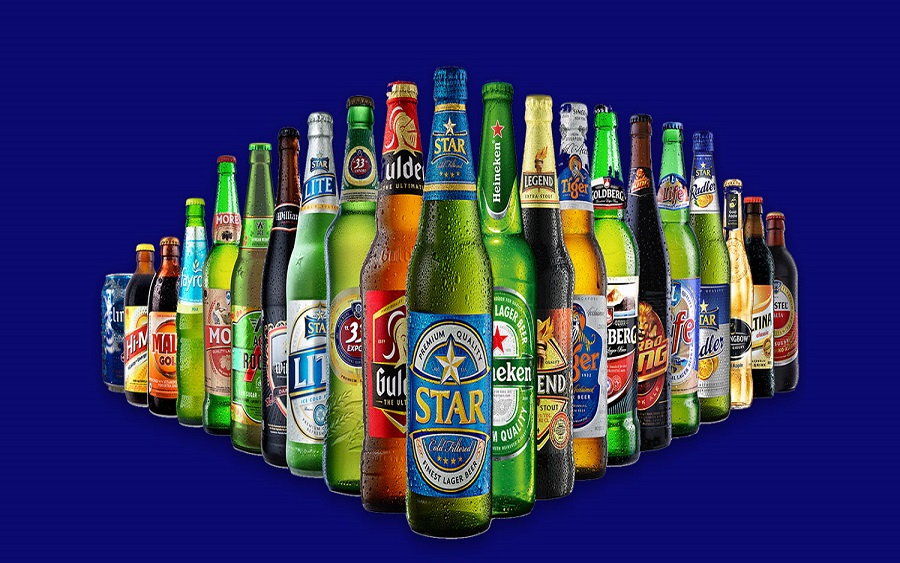 Nigerian Breweries has announced the continuation of its N100 billion Commercial Paper (CP) Issuance Programme in a bid to raise up to N20 billion to support its short term funding needs. The company has launched Series 9 and 10 of the programme for this purpose.
This information was disclosed in a notification signed by the Company's Secretary, Uaboi G. Agbebaku, and sent to the Nigerian Stock Exchange.
The notification reads;
"[Nigerian Breweries Plc] is pleased to inform the Nigerian Stock Exchange and the investing public of the continuation of its "CP" (Commercial Paper) programme with the launch of Series 9 and 10 of the programme.
"Series 9 of the Commercial Paper programme would be for a tenor of 180 days, while Series 10 would be for 270 days. However, the launch of the CP opens today 23rd October 2020."
(READ MORE:Nigerian Breweries stock up by 58% since August )
What you should know
According to data obtained from Financial Market Dealers Quote (FMDQ), Nigerian Breweries has raised up to N90.12 billion since the start of the year.
N52.76 billion was raised from Series 6 between February 12 to November 6, 2020.
N13.03 billion was raised from Series 7 from April 15 to October 14, 2020.
N24.33 billion was raised from Series 8 from April 15 to January 8, 2021.
The recent issuance of the Series 9 and 10 CP will bring the total funds raised to N110.12 billion.
Why it matters
The CP will help the company navigate through the recent impact of COVID-19 and other trade disruptions.
The programme will strengthen the balance sheet of the company, and enable the brewer to execute its plans while delivering value to customers and creating wealth for shareholders,
In like manner, the CP programme is expected to provide opportunities for non-equity investors to invest in the company and support its cost management initiatives.
MTN shareholders have made approximately N1 trillion since April 2020
Shareholders of MTN Nigeria gained close to a trillion naira in less than 7 months.
MTN Nigeria shareholders have gained N986.58 billion since the first trading session in April 2020.
This was uncovered by calculating the difference in the telecommunication giant's market capitalization of ₦1.832 trillion at the open of trade, for the first trading session in the month of April 2020, and the market capitalization of ₦2.646 trillion at the close of trade in the first trading session in the month of October.
READ: Shell to cut 9,000 jobs globally due to oil price crash as it shifts to clean energy
This gives a whopping N814 billion increase in market capitalization, and this with the dividend the company has paid to shareholders on two occasions between this time period, brings the total gains both realized and unrealized to approximately N1 trillion.
READ: FUGAZ; Nigerian banks considered too big to fail
Hence, the N814 billion increase in market capitalization translates to the joint gains MTN investors have made from the increase in the shares of the company, as the share price of the company has increased by 44.44% or ₦40.00 between April 1, 2020, and October 2, 2020, with the share price of increasing from ₦90.00 to ₦130.00.
However, the gains MTN NG investors have made from their investments in the telecommunication company, is not limited to the gains driven by the increase in the price of the shares.
READ: World Bank says Nigerian banks are at risk of being destabilised by COVID-19
Recall that the company declared payment of dividends to its shareholders on two occasions, as investors/shareholders of the company, whose names appear in the Register of Members, as of the close of business on April 17, 2020 and August 14, 2020 were paid a cumulative dividend per share of ₦8.47, for all the outstanding shares of 20,354,513,050 held by the shareholders, and this translates to a total dividend payout of N171 billion by the company to its shareholders.
It is noteworthy that the realized and unrealized gains MTN investors have made from holding the shares over this period stands at N986.58 billion.
LASACO Assurance Plc Chairman, Aderinola Disu resigns from the Board of Directors
Aderinola Disu resigned her position as a Director on the Board of LASACO Assurance.
Lasaco Assurance Plc has announced the resignation of its former Chairman, Mrs. Aderinola Disu, as a Director on the Board. The resignation took effect from the 8th of September, 2020.
The following information is contained in a press release made available to the public, signed by the company Secretary, Gertrude Olutekunbi, and verified by Nairametrics.
The notification also revealed that, the aforementioned firm has received a provisional approval from the National Insurance Commission (NAICOM) to appoint two other directors.
READ: 3 bank directors resign from NESG in protest to CBN immunity letter
The two newly appointed directors are; Dr (Mrs.) Maria Olateju Phillips, and Prince Jamiu Adio Saka, both appointed to a Non-Executive Director role.
Profile of the two newly appointed Directors
Chief (Mrs.) Teju Phillips, is a successful Chartered Accountant, who holds an ACCA from England and Wales. She is multilingual and has extensive experience in Management/Consultancy services, that spans across many years in both the public and private sectors. She has served as a Director in Keystone Bank; Director, Lagos State Lottery Board; Honorable Commissioner for Special Duties & Inter-Governmental Relations in Lagos State; Managing Director of Alma Beach Estate Ltd (a subsidiary of Rims Merchant Bank Ltd); Managing Director, Maridot Ventures Ltd. among others.
READ: FIRS retires coordinating directors, appoints new ones
Prince Jamiu Adio Saka, is an accomplished Insurance professional, having practiced in Canada and Nigeria. He brings to the board over 30 years of experience as a Broker.
Lasaco Assurance Plc, is a listed Nigerian firm that provides life and general insurance services, which includes motor, bond, contractors-all-risk, fire, burglary, aviation, marine, general accident, life, pension schemes, engineering, and oil and gas. The company has a market capitalization of about N2.05 billion and it share price currently trades at N0.28 kobo.