This is why August 1 is a key date in the crypto world
For cryptocurrency investors and traders, August 1 is a date they have kept  marked in their diaries. August 1 is the date that has been chosen for a change in the way data blocks are "stacked" in the block chain. One of two things could happen. The first option is a soft "fork" or change. The changes would be minor and they would be of little significance. The more likely option is a hard "fork" or change. A hard fork would represent both those opposing the change in stacking and those backing it, going their separate ways. That would result in bitcoin splitting into two separate currencies.
Why is this important ?
Bitcoin is the foundation of the cryptocurrency world. Direct dollar to the alternative currencies purchase is not yet in place. You have to buy bitcoin to buy other currencies. A split could see one holding two different currencies, one of which may not do so well in value.
What are crypto exchanges in Nigeria saying ?
Luno one of the popular bitcoin exchanges in the country has hinted that it may suspend operations around that period, till the picture is clearer.  Naira4dollar which is one of the oldest e currency exchanges in the country is yet to issue any statement. Ditto remitano.
What should you do ?
As the date draws nearer, three options have emerged. The first option is to sell down all stakes in cryptocurrencies and hold regular money like Naira or Dollars. Another option is to switch to alternative currencies (or alt coins) besides bit coin. Some investors and readers believe they will appreciate as people buy into them in place of bit coin. The last option is to hold on to bitcoin, regardless of what happens. If you are not into trading, please move all your coins to a hard or offline wallet.
ChainLink's digital coin skyrockets 388% in 130 days, still soaring
LINK continues to see sky-high daily active addresses.
LINK, an altcoin powered on Chainlink's decentralized network, is smashing BTC and many other fast-growing digital coins, in terms of the rate at which it has been appreciating in dollar terms lately.
Data from a crypto analytic ranking firm, Coinmarketcap, shows the 12th most valued crypto asset is presently valued at over $2.2 billion dollars (1.2 times more valuable than Nigeria's most valued bank) with a daily trading volume of over $595 million. It traded as low as $1.60 dollars to its present-day value of over $6.20, showing a percentage gain of more than 387.5% as the price keeps drifting up.
Crypto behavior analytics platform, Santiment, in it feeds detailed that its on-chain volume, along with social volume and daily active addresses, is a "great triple thread to track." These macros help track whether a given crypto asset is poised to continue its bullish momentum, and in LINK's case, it shows that the momentum is still on.
READ ALSO: 3 Crypto exchanges control about 14.3% circulating BTC supply
$LINK is continuing to see sky-high daily active addresses, indicating just how active the network has been. The four highest outputs in network activity over the past year for #Chainlink have occurred in the past six days. https://t.co/9Vn1WSNKjX pic.twitter.com/1xVMVgfWAV

— Santiment (@santimentfeed) July 10, 2020
About Chainlink
Chainlink is a blockchain that is designed to bridge the space between blockchain technology-based smart contracts (created by ETH), and other user programs. Since blockchains by principle can't have access to data outside their paths or networks, a defi instrument is needed to facilitate data feeds in smart contracts, and Chainlink helps to solve such needs.
READ MORE: Tether market capitalization surges close to $10 Billion
Among the leading 20 cryptocurrencies by market capitalization, it is viewed as the only top-20 token with a broad, adaptable business application that is easily explained to an average person. Chainlink is the first successful Blockchain application to interact with the outside world.
Tether mints 80,000,000 USDT to unknown wallets within 24 hours
Tether Treasury minted a whopping 80 million USDT in less than 24 hours.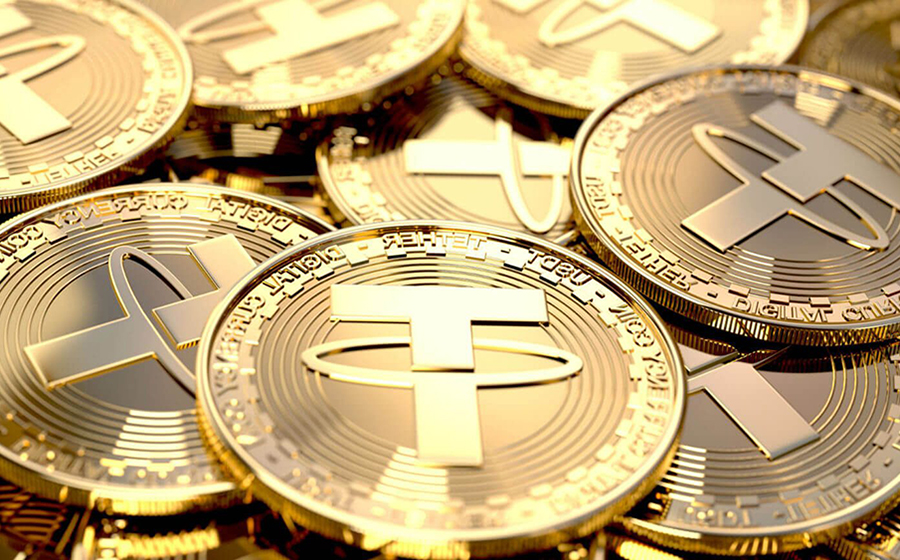 Tether, the world's most valuable stable coin by market capitalization, has been gaining a lot of traction lately. The latest development is that Tether treasury minted a whopping 80 million USDT to unknown wallets in less than 24 hours, as seen on Whale Alert, an advanced blockchain tracker and analytics system.
Tether is ranked the 3rd largest cryptocurrency by market cap of $9.2 billion, with a daily volume of $22.8 billion as at the time this report was drafted.
READ MORE: U.S regulator invites Banking and Crypto industry leaders for partnership
Quick fact: Tether is designed as a blockchain-based cryptocurrency whose digital coins in circulation are backed by the same value of traditional fiat currencies like the U.S dollar, Japanese Yen, or the Euro. It trades under the ticker symbol USDT.
Barely weeks ago, Bloomberg reports stated that the momentum with the help of the U.S dollar was expected to make Tether gain and move to the second spot.
READ MORE: Fastest growing cryptocurrency, Compound (COMP) up over 143% in 24 hours
"Absent an unlikely reversal in predominant crypto trends, it should be a matter of time until Tether passes Ethereum to take the No. 2 spot in total assets behind Bitcoin. Receiving help from widespread adoption with a workable case as a proxy for the world's reserve currency, there seems little to stop the increasing adoption of the dollar-linked stable coin," the report stated.
Ripple payment now operational in U.S, 22 geopolitical regions
Ripple (XRP) plays dual roles as a payment platform and a currency.
The infusion of Ripple by global banks has gained traction lately, as Spanish biggest bank by total asset and market capitalization, Santander, designed a Ripple enabled payment app called Pay FX that offers a borderless blockchain-based payment channel.
Santander recently just added 19 geopolitical regions to its One Pay FX international payments app offering in collaboration with blockchain and crypto payment powerhouse Ripple.
Before now, the blockchain payment app was available only in Poland, Spain, Brazil, and the United Kingdom; One Pay FX now enables users from the world's biggest economy, United States, and emerging markets that include Chile to sit among others on the list of added countries, totaling the number of countries on its offering to 22.
Explore Economic Research Data From Nairametrics on Nairalytics
Quick fact: Ripple (XRP) plays dual roles as a payment platform and a currency. It has an open-source platform that is created to allow quick and cheap transactions.
Unlike its crypto rival, Bitcoin, which was never intended to be a simple payment system, Ripple has gained the attention of major global banks, like Standard Chartered, and Barclays for international transactions worldwide.
"Customers told us that the international payments process could be better so we partnered with Ripple to explore how BTC could make transactions faster, cheaper and more transparent," Ed Metzger, CTO of One Pay FX said in the statement.
READ ALSO: Uber expands food delivery business in a $2.65 billion acquisition 
Metzger described feedback from customers, noting difficulties with transaction exchange rate clarity and timing confusion.
"Ripple helps us directly address the issues raised by our customers […] Whether they are putting down a deposit on a holiday rental or paying a foreign supplier, they see exactly how much will arrive when they're making the payment and have certainty about when it will get there."
What this means ; The Ripple enabled app will allows customers to see exactly how much will arrive when they're making international payments, while the low-cost transactions happen instantly or on the same day, instead of the traditional 3-5 timeframe.