Nigerian Stocks: Summary of Trading Today (28/07/2016)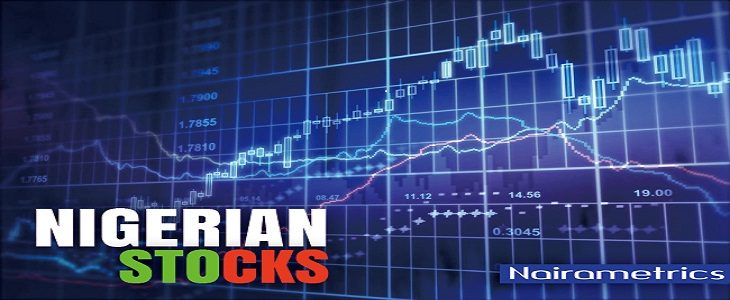 Nigerian stocks closed trading on a negative note as the all share index dropped -0.56%. Market capitalization at the close of trading was N9,632,710,701,938.11.
Highlights of today's trading session.
NSE All Share Index

 was 28,046.96 down

 -0.56%

.
Market capitalization closed at N9.63 trillion compared to yesterday's market capitalization of 9.69 trillion.
Volume of shares traded was 270,721,574.00 units
Top Trades
| | | |
| --- | --- | --- |
| Company (By Volume) | Volume | Value |
| FBNH | 86,186,699 | 289,795,449.23 |
| GUARANTY | 38,609,562 | 902,105,091.65 |
| SKYEBANK | 22,813,596 | 16,201,089.10 |
| ZENITHBANK | 21,852,146 | 361,729,861.53 |
| UBA | 14,538,386 | 64,442,046.58 |
Top Gainers
| | | | | |
| --- | --- | --- | --- | --- |
| S/N | Symbol | 7/27/2016 Closing Price(N) | 7/28/2016 Closing Price(N) | % Change |
| 1 | MRS | 35.19 | 38.78 | 10.2 |
| 2 | PHARMDEKO | 1.65 | 1.73 | 4.85 |
| 3 | LAWUNION | 0.5 | 0.51 | 2 |
| 4 | UACN | 20.51 | 20.73 | 1.07 |
| 5 | NASCON | 8 | 8.02 | 0.25 |
| 6 | GUINNESS | 94 | 94.2 | 0.21 |
| 7 | GUARANTY | 23.47 | 23.5 | 0.13 |
| 8 | OKOMUOIL | 34.73 | 34.75 | 0.06 |
Top Losers
| | | | | |
| --- | --- | --- | --- | --- |
| S/N | Symbol | 7/27/2016 Closing Price(N) | 7/28/2016 Closing Price(N) | % Change |
| 1 | SKYEBANK | 0.76 | 0.7 | -7.89 |
| 2 | BERGER | 8.03 | 7.63 | -4.98 |
| 3 | CUTIX | 1.61 | 1.53 | -4.97 |
| 4 | FCMB | 1.41 | 1.34 | -4.96 |
| 5 | UAC-PROP | 3.71 | 3.53 | -4.85 |
| 6 | NEIMETH | 1.24 | 1.18 | -4.84 |
| 7 | FBNH | 3.52 | 3.35 | -4.83 |
| 8 | VITAFOAM | 3.33 | 3.17 | -4.8 |
| 9 | MANSARD | 2.35 | 2.24 | -4.68 |
| 10 | NPFMCRFBK | 0.95 | 0.91 | -4.21 |
US Capitol complex temporarily shut down
The US Capitol complex was shut down temporarily on Monday as a precautionary measure after a small fire broke out nearby.
The US Capitol complex was shut down temporarily for about an hour on Monday as a precautionary measure after a small fire broke out nearby, highlighting the security concerns that are being raised days before the inauguration of President-elect Joe Biden.
The security concerns and the lockdown follows the January 6 attack on the US Capital by supporters of the outgoing US President, Donald Trump, after his encouragement and inciting comments, calling the Presidential election a fraud without any proof of evidence.
READ: President Trump says he won't attend Joe Biden's inauguration
Some of them even called for the death of the US Vice President, Mike Pence for presiding over the certification of Joe Biden's November election victory.
While making the disclosure in a statement, the Capitol Police said that the lockdown has been lifted and the nearby fire contained.
The Acting Chief of the Capitol Police had said that the complex which comprises of the Capitol, its grounds and several buildings were shut down as a precautionary measure.
READ: US Supreme court dismisses Texas bid to overturn presidential election results
The US Secret Service in a tweet post on its official Twitter handle said, "Out of an abundance of caution the U.S. Capitol complex was temporarily shutdown. There is no threat to the public.''
The city's fire department in its tweet post said that firefighters put out a fire outside near the Capitol complex.
The fire department said, "There were no injuries. This accounts for smoke that many have seen."
READ: Huawei accuses the United States of hacking
What you should know
President-elect, Joe Biden is expected to be sworn in at the US Capitol on Wednesday amid an unprecedented cordon of security, with strict physical distancing measures in place due to threats of violent attacks in Washington and the rising cases of coronavirus infections.
Donald Trump, who is just fresh from a historic second impeachment from the congress had said he would not attend, although his deputy, Vice President Mike Pence, had given an indication that he would attend.
Kinyungu Ventures Research calls for changes to cut-and-paste VC strategy in Africa
The Paper recommends investment structures and approaches tailored to African operating conditions.
East African venture advisory firm, Kinyungu Ventures has published a white paper Chasing Outliers: Why Context Matters for Early Stage Investing in Africa that has found that there continues to be a wide misalignment between traditional venture capital models and the African market. The team behind the report is now calling for a broadening of approaches to institutional investment on the continent. Speaking with 100 Pan-African founders, investors, and LPs across 15 African countries, the research suggests investors should prioritize investing structures and practices that reflect the realities of operating in Africa. This includes adopting more flexible investing structures with longer time horizons.
According to the paper, there are multiple mismatches between key characteristics of Silicon Valley VC and African markets, which influence how startups and funds maneuver as well as what results they expect and produce. Findings show that African markets are large, but also fragmented, and its consumers have limited purchasing power. Furthermore, consumers on the continent are difficult to acquire and retain, yet the sheer size of the African market also presents a real opportunity for profit once the environment is clearly understood. The paper's key recommendations for funds include:
Adopting more focused investment strategies, such as investing in b2b companies or cross-subsidizing a portfolio with less risky, steady return assets.
Considering non-unicorn investing models geared at more resilient companies, with returns distributed more widely across the portfolio
Using flexible structures such as debt or PCVs to accommodate market-level changes, where feasible
Allowing a longer time horizon for returns, understanding that growth could be slow and difficult to achieve for many companies
Kinyungu Ventures catalyzes resilient businesses for local intergenerational prosperity. The East African-centric investor focuses on entrepreneurship in East Africa, startups, seed funding, debt financing, impact investing and angel investing.
Speaking on the launch of the white paper, Tony Chen, Managing Director of Kinyungu Ventures and co-publisher of the report says, "Capital in Africa is scarce and pursuing a "growth at all costs" strategy where capital pools are shallow presents huge risks for companies. We've also found that many great businesses don't fit the typical VC profile, but have tremendous unfulfilled potential".
Tayo Akinyemi, lead researcher and writer of the report added: "In our conversations with numerous investors and founders, it is clear that nuances in variables such as consumer behavior, cultural norms, and business practices impact startups significantly and being on the ground is crucial for success. While African markets aren't always able to provide the outsized returns that Silicon Valley typically looks for in high-growth companies, a more focused strategy here could unlock real gems, as has been proven by some of the startup successes the continent has seen over the years."
Neimeth Pharmaceuticals to raise N5 billion in additional equity
The Board of Neimeth is set to raise N5 billion additional equity upon the approval by shareholders of the company at the AGM.
The Board of Directors of Neimeth Pharmaceuticals has revealed plans to raise N5 billion in additional equity upon approval by shareholders of the company.
The information was contained in a press
release
published on the NSE and signed by the Company Secretary, Mrs. Florence Onhenekwe.
The disclosure is part of the resolutions reached at the Board of Directors meeting of 15th January 2021. At the end of the meeting, it was resolved that the company would raise additional equity to the tune of N5 billion.
In line with this development, a board resolution proposing to raise equity will be presented at the Annual General Meeting of the Company scheduled to hold on 9th March 2021.
What you should know
The Board of the Company is yet to disclose if the additional equity would be a rights issue or a private placement, as the details of the additional N5 billion equity set to be raised are yet to be finalized.
The fund will help the company's management to execute key strategies that will reposition the company as a leader in the healthcare industry, with the hope to deliver better returns on investment to shareholders.
The additional equity financing will also increase Neimeth's outstanding shares, which will dilute earnings and impact the Company's stock value for existing shareholders.
The move has the potential to trigger a sell-off of the company shares on the Nigerian Stock Exchange.